This is one of those meals that is so clean and yet absolutely delicious, it's comforting. Pressure Cooker Cheesy Chicken and Zoodles! In the pot goes vegetables and chicken and when it's done, shredded and lightly cooled… you have tender meat in a thick, yellow, CHEESY sauce! Such a creation could only be paleo/AIP. Only those of us who know true food restrictions would venture to get this creative, to cook like magicians with electric cauldrons, hoping for the best.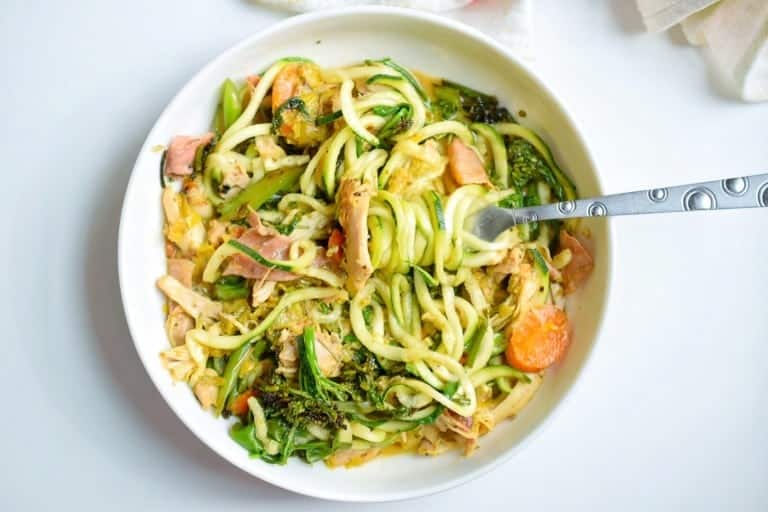 How can it be cheesy if you don't eat cheese?
Nutritional Yeast. Those mysterious yellow flakes. That UMAMI flavor just hits the spot. Cheesy Chicken and Zoodles is pure magic. I've made this three times this week. The first time I was in a rush and was amazed at how good it turned out. The second time I left dinner for the boys while I went to spinning and they didn't leave me any. Finally tonight, I made it, wrote down everything I added to the pot and was able to thoroughly enjoy it, again.
I love how the sauce, which is thin when you first open the pressure cooker, will quickly thicken to a silky, smooth concoction as it reaches a comfortable, warm temperature. Mixed in with disintegrated leeks, carrots, and succulent shredded chicken. Magic I tell you. Ok, it's more like beef gelatin. But that's another kind of magic. This unflavored white powder adds gut healing, sauce thickening, protein to your meal. Win-win!
Now add fresh zoodles and garlicky sauteed vegetables to the mix, and you tell me if you're not transported right to a bowl of baked ziti!
Can I Make this Cheesy Chicken and Zoodle Stove Stop?
If you don't have an instant pot, you can do this on the stove, with a large pot with a tight-fitting lid, it will probably take up to 40 minutes for very tender chicken.
Hop to it folks, this family favorite is just 30 minutes away, and you'll know you have most of these ingredients on hand!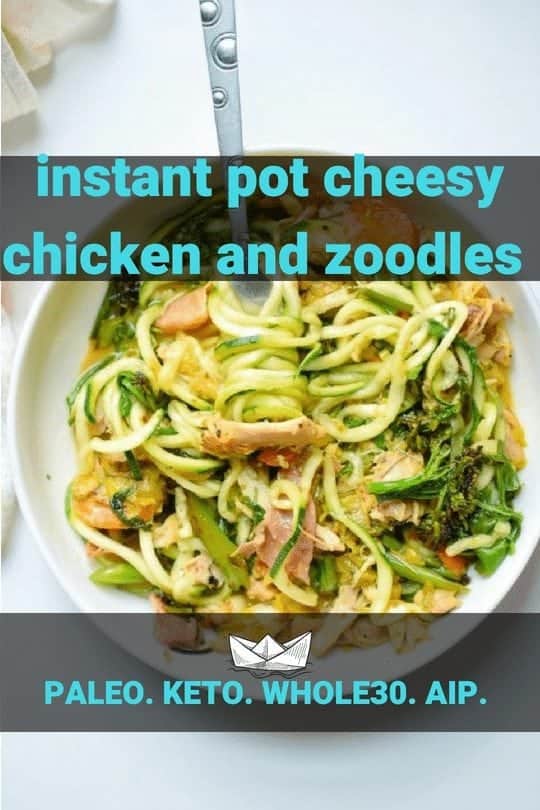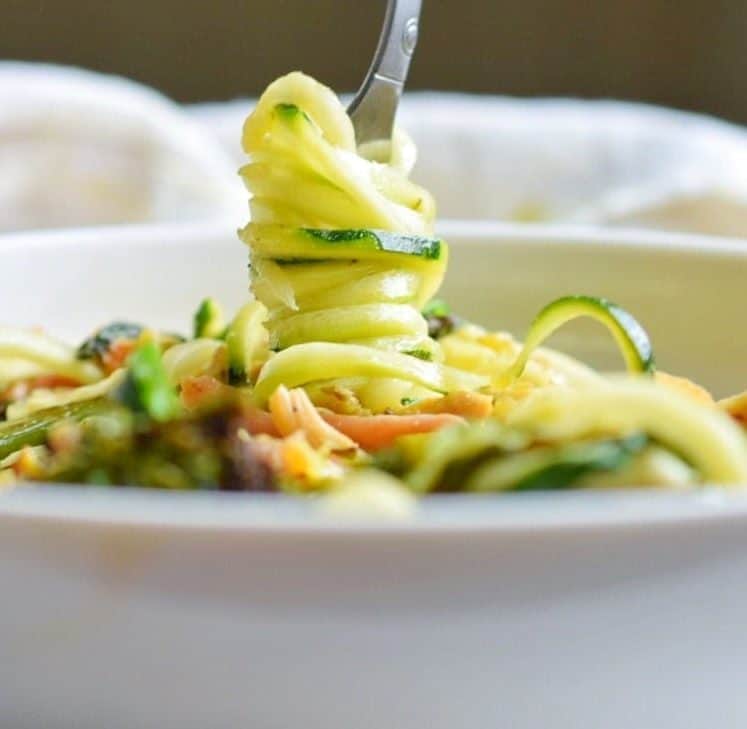 Pressure Cooker Cheesy Chicken & Zoodles (Paleo, Whole30, AIP, Keto)
---
Author: Cristina Curp
Prep Time: 5
Cook Time: 35
Total Time: 40 minutes
Yield: 4 1x
Category: Entree
Method: Instant Pot
Cuisine: American
Diet: Gluten Free
Description
Cheesy Chicken and Zoodles in your Instant Pot
---
Scale
Ingredients
1 1/2 pounds boneless, skinless thighs
1 1/2 tablespoons ghee or olive oil
1 1/2 to 2 cups sliced leeks (or sweet onion)
2 tablespoons Apple cider vinegar
1/2 cup sliced carrots
4 garlic cloves (or 1 tsp garlic powder)
1 tablespoons Great Lakes Beef gelatin
1/2 cup nutritional yeast
1/2 teaspoon salt
1 teaspoon Italian herb blend
1 teaspoon rosemary
2 large zucchini
1 clove garlic
1 bunch broccoli rabe
a fist full of greens (arugula, baby kale, spinach)
extra ghee (or other cooking fat) and salt for vegetables
optional: 2 slices prosciutto or bacon
---
Instructions
Heat pressure cooker in saute mode, add in the ghee (or tallow).
As it heats, slice and add leeks, carrots and garlic to the pressure cooker.
You don't have to give them a proper browning, but this way the leek caramelize a bit before hand.
Once all the veggies are in, add in the vinegar, then the herbs, the chicken and lastly the yeast and beef gelatin.
Stir well. Set to pressure cook, poultry mode, or on medium pressure for 20 minutes.
My pressure cooker takes about 25 minutes. In that time spiralize 2 zucchini, spread the zoodles out over kitchen towels, and sprinkle with salt.
Cover with a paper towel and pat down. Set aside. Mince a few cloves of garlic.
Dice up some broccoli or broccoli rabe and saute in a skillet on high heat with more ghee (or tallow).
Stir often until the edges are browned, you can also add some prosciutto or bacon to the mix.
Turn heat down and add a fist full of greens (spinach, kale, or arugula). Mix in.
When wilted, remove from heat. Sprinkle with salt. When the chicken is done and the pot has released pressure, remove the insert from the pressure cooker and set it under a fan to cool off a bit, at this point you can also shred the chicken carefully with a fork.
You don't want it to get cold, but as the sauce cools it will thicken to a gravy-like consistency (like melted cheese!). Toss zoodles and broccoli mix in a large bowl.
Spoon chicken over vegetables generously. Use tongs to plate it. Serves 4!
Nutrition
Serving Size: 1/4 recipe
Calories: 381
Fat: 16g
Carbohydrates: 17g
Fiber: 7g
Protein: 45g
Keywords: Pressure Cooker Cheesy Chicken & Zoodles, Paleo, Whole30, AIP, Keto