OODLES OF ZOODLES!
Lately zoodles are my BFF. They're great for salads, as pasta substitute and come one, they're fun to make! I can't be the only one who has play-doh flash backs when cranking the spiralizer!?!? If you don't have one yet and are wondering which one I use, it's the Vegetti Pro. I like this one because it works really well, it has a suction cup thingy that sticks to the counter so you can apply adequate pressure when making the spirals, and it creates nice, even, long strings!
For these fritters I highly recommend using zoodles instead of grated zucchini. The length, the tangles of the zoodles definitely play a part in the structural integrity of these crispy poppers. Being thorough and all, I made a batch with zoodles (collard greens) that I chopped up. While they sorta held together, it wasn't a complete disaster, they didn't have the compact, together feel of the original version. So yeah. Zoodles. Do it. If you don't have a zoodler, and you don't want one, you can try making string with your potato peeler… like ribbons!
Either way, make these fritters. They are healthy and delicious, and I've made them twice in four days, because yum.
Side note, when will zoodle become a real word? Witting this, red squiggles fill my screen. It's hilarious.
BREAKFAST OF CHAMPIONS… OR YOUR NEXT STUNNER APPETIZER… YOU PICK.
I've been watching my macros for a while now, in my ongoing effort to improve myself. While paleo has healed my leaky gut… now I want another kind of gut to disappear. When doing low carb paleo it's eye opening how many foods, especially vegetables are high in carbs, and no, I'm not about to cut my vegetable intake, but I do have to choose wisely. I love these fritters because they're crispy, satisfying and made with zucchini, while packing weight and crunch because of the almond. It's a great comforting, combination. You can make smaller fritters and get maybe 6 out of this recipe, but I liked the 4 hefty rounds. I also ate them all. As a meal. Not a low calorie meal by any means, but the macro's were on point and it held me over enough to have a protein shake for lunch.
But I mean, you don't have to eat them all, you can share… but why?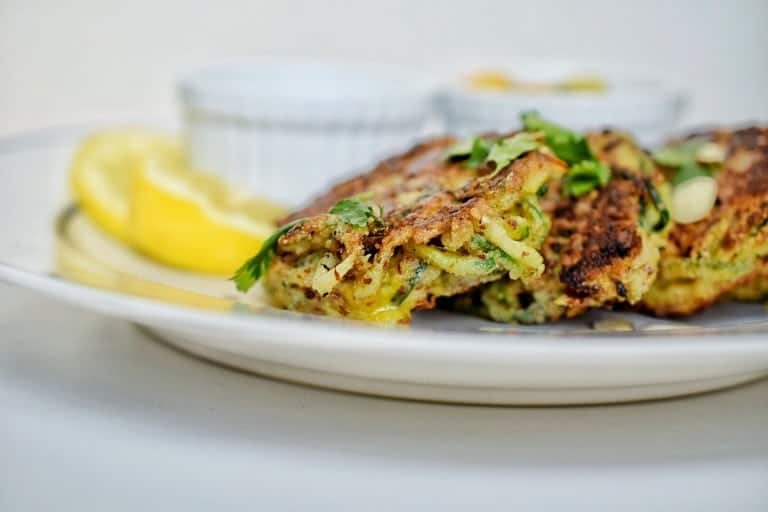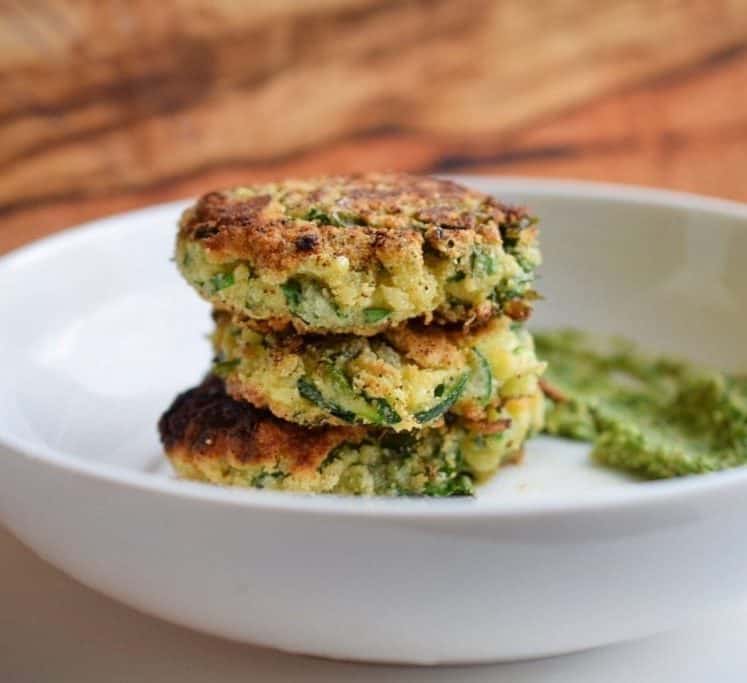 Low Carb Zucchini Fritters (Paleo, Whole30, Keto)
---
Author: Cristina Curp
Prep Time: 35
Cook Time: 10
Total Time: 45 minutes
Yield: 4 Fritters 1x
Category: Breakfast
Method: Skillet
Cuisine: American
Description
Perfect for breakfast or an appetizer – low carb zucchini fritters
---
Scale
Ingredients
1 cup zoodles (zucchini noodle)
1 large egg
1/4 cup almond meal
1 tbsp sesame seeds
1 tbsp sliced almond
2 tbsp Tin Star Foods ghee
1/4 tsp salt
1/4 tsp mustard powder
---
Instructions
Prepare zoodles ahead of time.
Lay out on a clean kitchen towel, sprinkle with salt and let them lose liquid for 30 minutes. Remove from kitchen towel, bunch up and place in another clean towel, wrap it up and squeeze out as much excess liquid as possible.
(You can do this a day ahead, and leave it wrapped in a towel in the fridge).
Mix salt, mustard powder, almond meal, sesame seeds & sliced almonds on a plate.
In a bowl, whisk your egg, you can add a pinch of salt and pepper to your egg too.
Heat a skillet on medium high, melt a spoonful of ghee in it.
Make 4 small mounds with your zoodles.
You can use the long strings go your advantage and make little knots with them.
One at a time, dredge your zucchini bunches in the egg, then thoroughly in the almond mix. Place on the hot skillet.
Cook on medium high for 2-3 minutes, until golden brown and flip over.
I cooked one at a time as not to crowd the skillet or burn any.
You will be able to smell the almond toasting when they are getting too dark.
Add more ghee to the skillet as needed for cooking.
Remove fritters with spatula after 2-3 minutes a side, they should hold together really well and he toasted and firm.
Place on a paper towel.
I mixed paleo mayo, mustard, lemon & cilantro for a tangy dipping sauce!
Nutrition
Serving Size: 4 fritters
Calories: 532
Fat: 49g
Carbohydrates: 12g
Fiber: 5.5g
Protein: 15.9
Keywords: Low Carb Zucchini Fritters