Easy Like A Sunday Morning
Today began a little weird. My son, who is usually up before 7am, slept until almost 8 am! That threw me off, I, of course, was still up at 6:30am, on Sunday, out of habit. When I didn't hear a peep from his room I snuck in there to make sure he was still breathing. My husband laughs at me, but it's a mom thing. Just to clarify, my son is three. It's not like I'm sneaking into my teenager's room. I've heard that is ill-advised. Gah. Ok, can we freeze time so I don't have to deal with awkward teenage boy stuff?
Moving on! I made paleo pancakes for the boys today. Jack is really digging the ol' banana, almond butter, egg thing Which great! Anytime he'll eat a grain free meal I am all over it. No pancakes for me, however. Now, I can eat eggs and almonds (recently successful btw), but I'm watching my carb intake, and you wouldn't think, but a little banana and some almond butter go a long way in the carb department.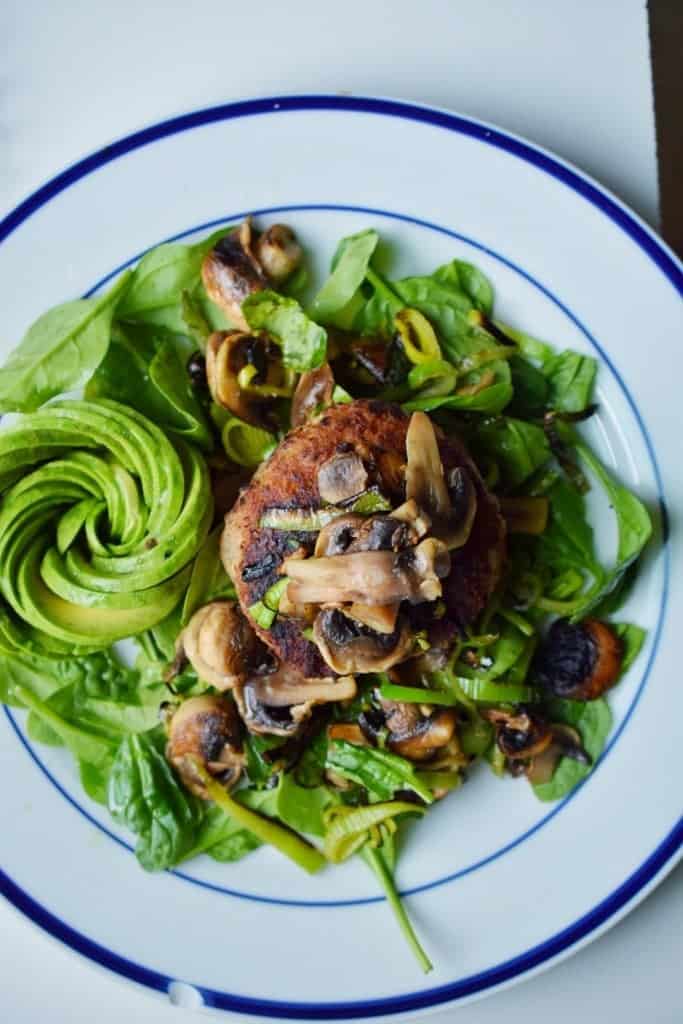 My Beef With Re-Intro's
Before I talk about these turkey burgers I want to touch upon successful re-introductions a second. One, it's hard sometimes, being able to add things back into my diet. I still want to share with all of you, my AIP family. We have all been through so much together. Now that I can have eggs, ghee, nuts, and seed based spices… it's hard finding my place. I can't do nightshades like the regular paleo folks. I can't do grains like the gluten-free folks. It's like an island of one. Something about having such specific food restrictions is isolating all over again. You know? Not that I'm not happy about all the things I can eat, or that I don't appreciate how much I have healed…. it's just there was such a great sense of support during the elimination phase, and that gets a little lost after that. I feel like I have to defend my ingredients or my food choices sometimes, or I'm scared to share a recipe that is mostly AIP, because using black pepper might upset of confuse someone. Wah! I wish we could all just eat all the things.
Anyway, just a random rant. I am, however, trying to use my creativity to produce more fully AIP compliant recipes, despite my successful reintroduction's, with the intention to help those still in the elimination phase forest. This recipe is part of that effort!
Finally… About This Burger!
They are absolutely delicious. Crisp on the outside, juicy and full of flavor, bonus, it's an easy-peasy recipe.
Ground turkey, dried herbs, garlic powder, and prosciutto! Relatively unassuming list ingredients, creating something delicious when combined. Awesome right?!
I served mine over a bed of baby spinach. I quickly sauteed some leek & mushrooms in the same skillet and threw those on there too.
Had to have an avocado rose in there too, because, food roses are so in right now?
NOTE: If you want to use bacon instead of prosciutto for the recipe, cook the bacon first, let it cool, then mince it up before mixing in.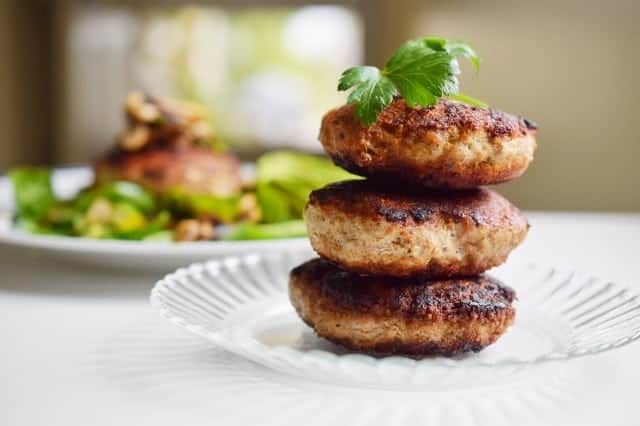 Easy AIP Breakfast Burger
---
Author: Cristina Curp
Prep Time: 5
Cook Time: 10
Total Time: 15 minutes
Yield: 4 1x
Category: Breakfast
Method: Skillet
Cuisine: American
Description
egg free breakfast options!
---
Scale
Ingredients
1lb ground turkey
2 slices prosciutto (check labels, look for ones that are just pork and salt)
2 tsp granulated garlic or garlic powder (not garlic salt!)
2 tsp Italian herb blend (just herbs, check labels)
1 tsp pink Himalayan salt
2–3 tbsp chicken schmaltz, bacon fat or beef tallow (you can use plant based fat, but the animal fat adds great flavor!)
---
Instructions
With a sharp knife, carefully mince 2 slices of prosciutto.
Add all the ingredients to a bowl, except the fat.
Mix well and shape in to four patties.
Heat a large skillet on medium-high heat.
Add half the fat to the skillet.
When it's hot, place the four patties in the skillet, don't crowd them.
Cook 4-5 minutes.
Drizzle the rest of the fat over the patties.
Flip them and cook another 4-5 minutes.
You may need to lower the heat to medium, if they begin to brown too much.
This might make it a little smoky in your house make sure to have your kitchen fan on, maybe open a window ?
Nutrition
Serving Size: 1 burger
Calories: 204
Fat: 15g
Carbohydrates: 3g
Fiber: 0g
Protein: 26g
Keywords: aip breakfast burger