During my first AIP elimination phase I gave up eggs for 4 months! During that time I made a lot of variations of this Egg Free Breakfast Pot Pie. It's the brain-food baby of a paleo quiche and my cauliflower alfredo sauce. You can make this egg free breakfast with a cauliflower cream or cashew cream and I will list both variations in the post!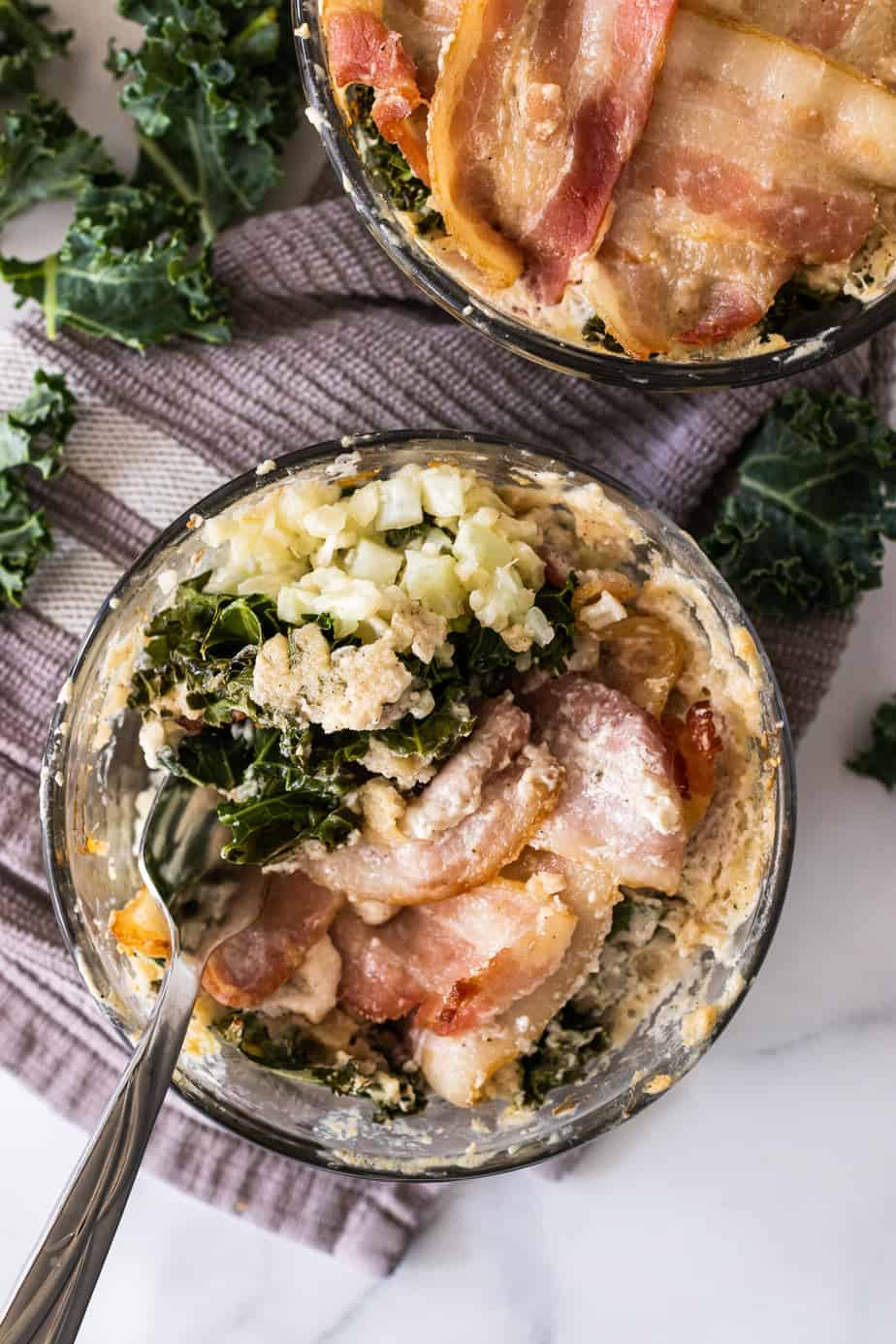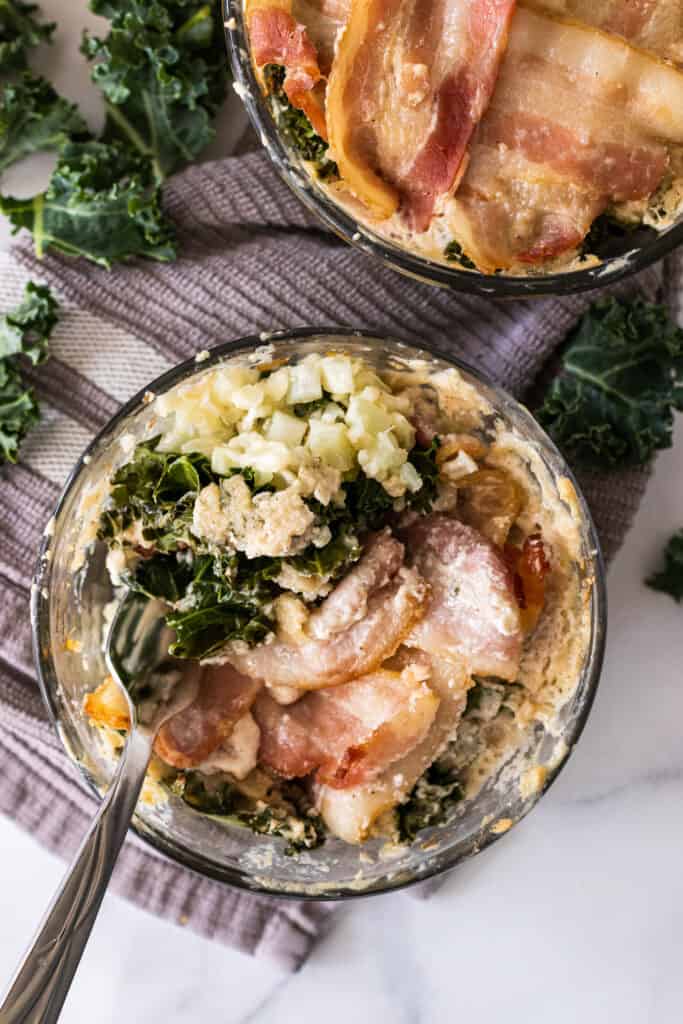 Table of Contents
Make Ahead Egg Free Breakfast!
You can put these together and store them until ready to cook, or cook them all ahead, and store them until ready to eat; or prepare them for a brunch! With cauliflower rice readily available and the cream super easy to make, this 5 ingredient recipe is a no-brainer for simple and delicious breakfast options. So versatile too, you can beef them up with shredded chicken or ground sausage!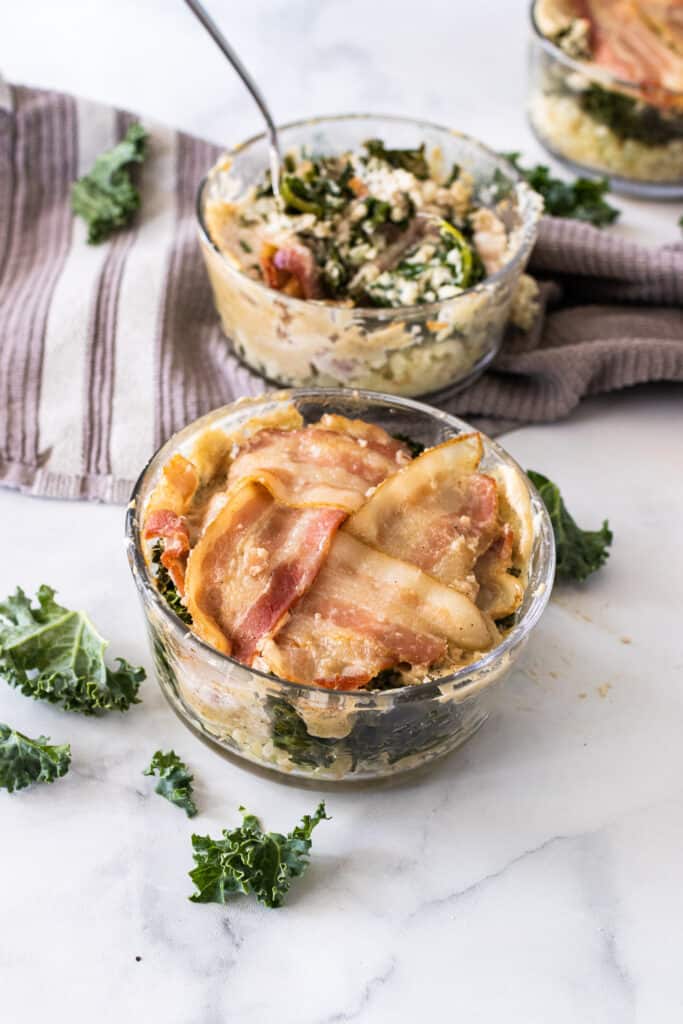 All About the Ingredients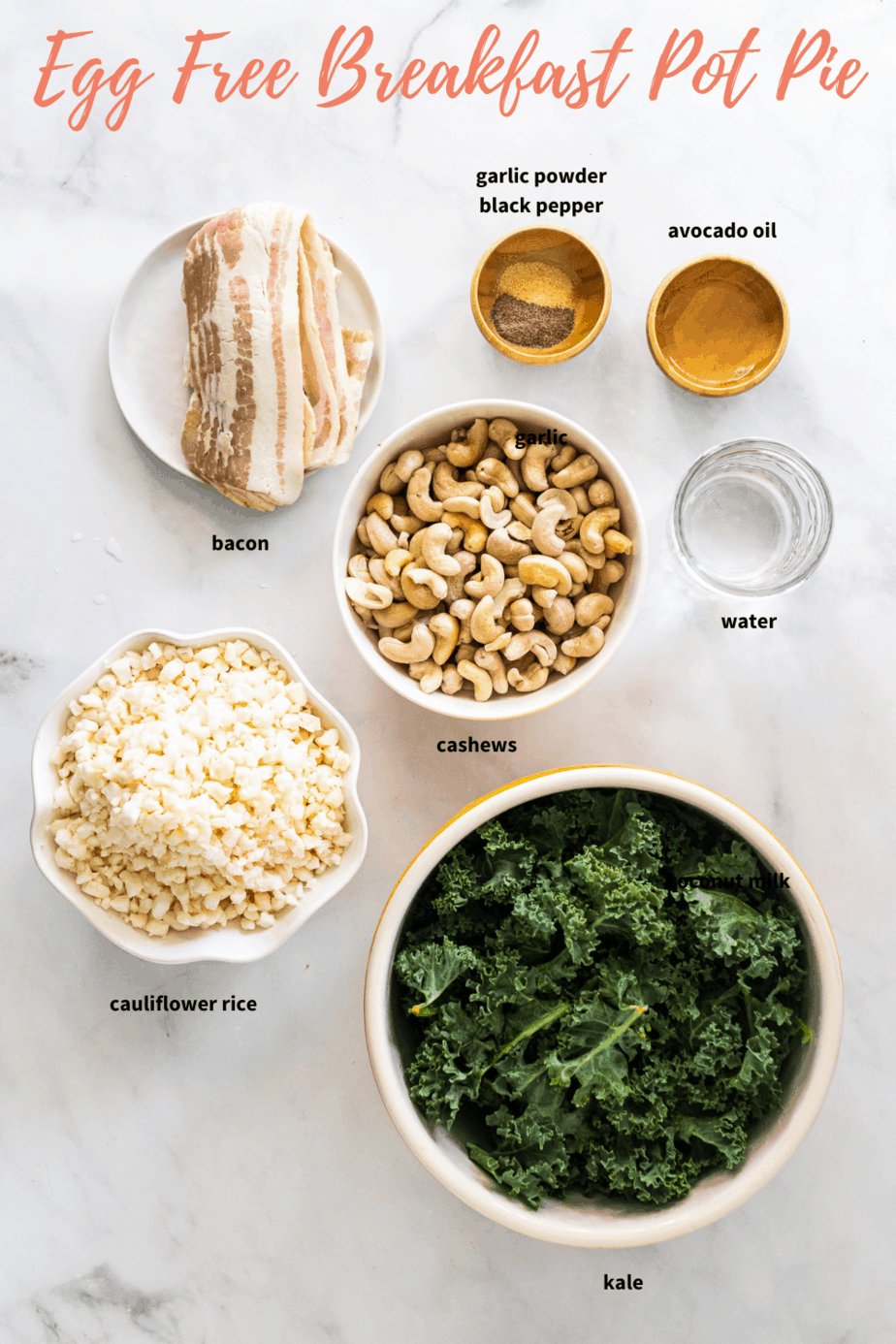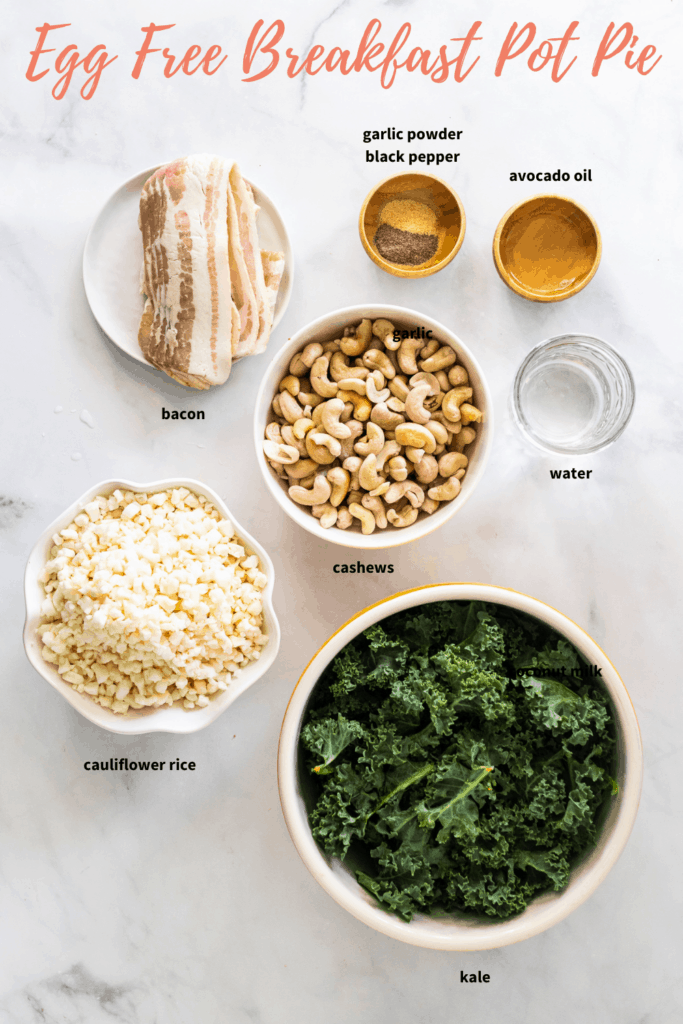 Quality bacon to weave the top crust, which as it cooks melts bacon grease into the pot pie adding flavor!
Cauliflower rice, but you can also use broccoli rice or riced sweet potato!
Chopped up kale or another hearty leafy green.
Raw unsalted cashews for the cashew cream, along with water and seasonings.
If you're nut-free or AIP you can use cauliflower florets or sweet potato to make the cream!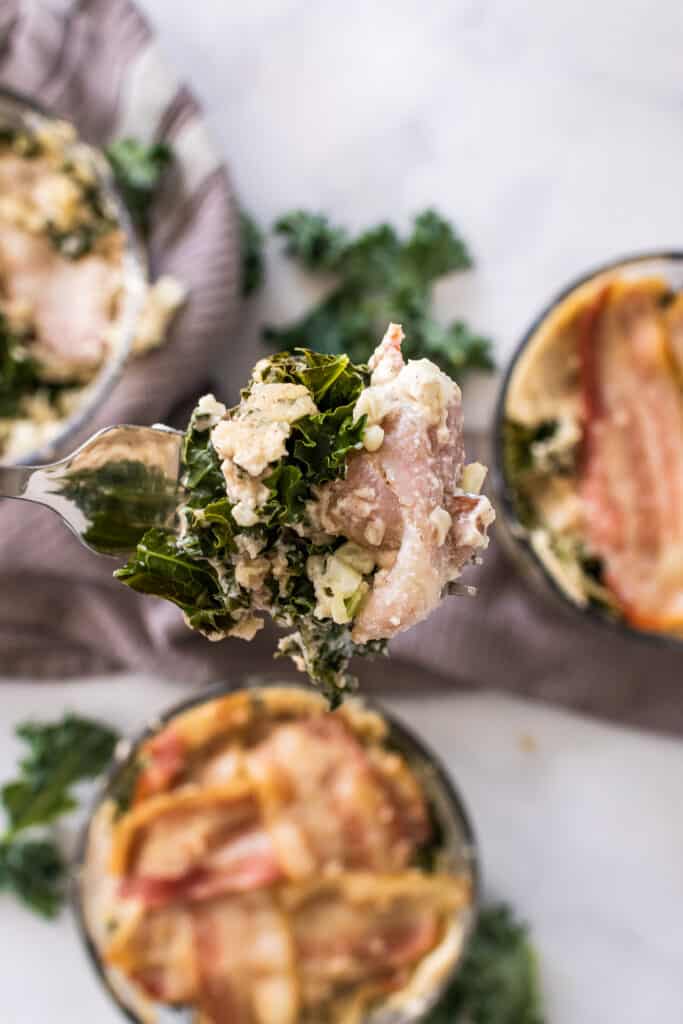 Make it Your Way
These are very versatile, you can make them keto with cauliflower rice and cashew cream (as pictured below) or AIP Keto with cauliflower rice and cream. You can use a starchier rice like real rice or riced sweet potato and use your cream of choice. No matter your combination, the result is tasty and delicious!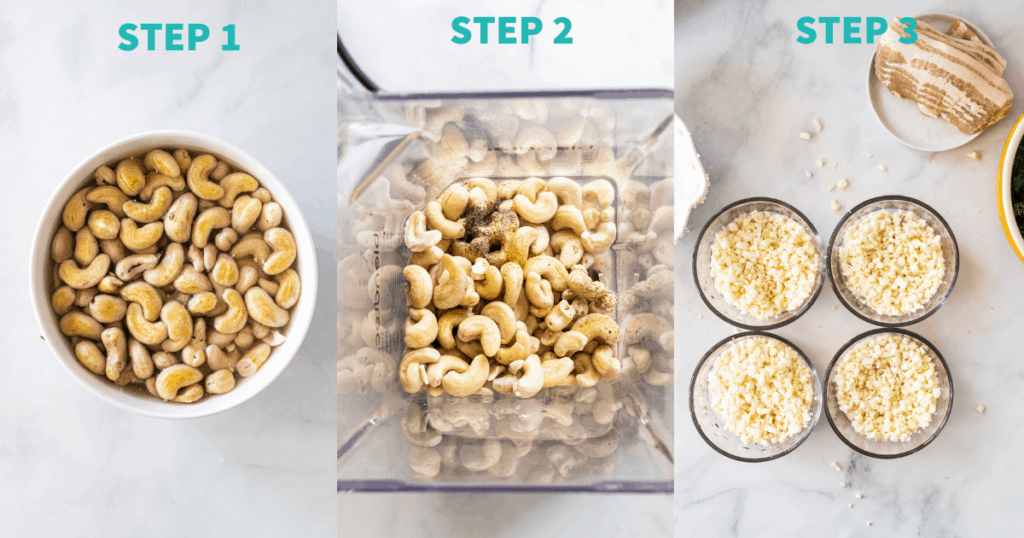 Start by making your cream, if using cashews then soak them overnight, blend with fresh water, salt, pepper and garlic powder. Next, assemble your bowls, first, you put a layer of cauliflower rice on the bottom, sprinkle with a pinch of salt.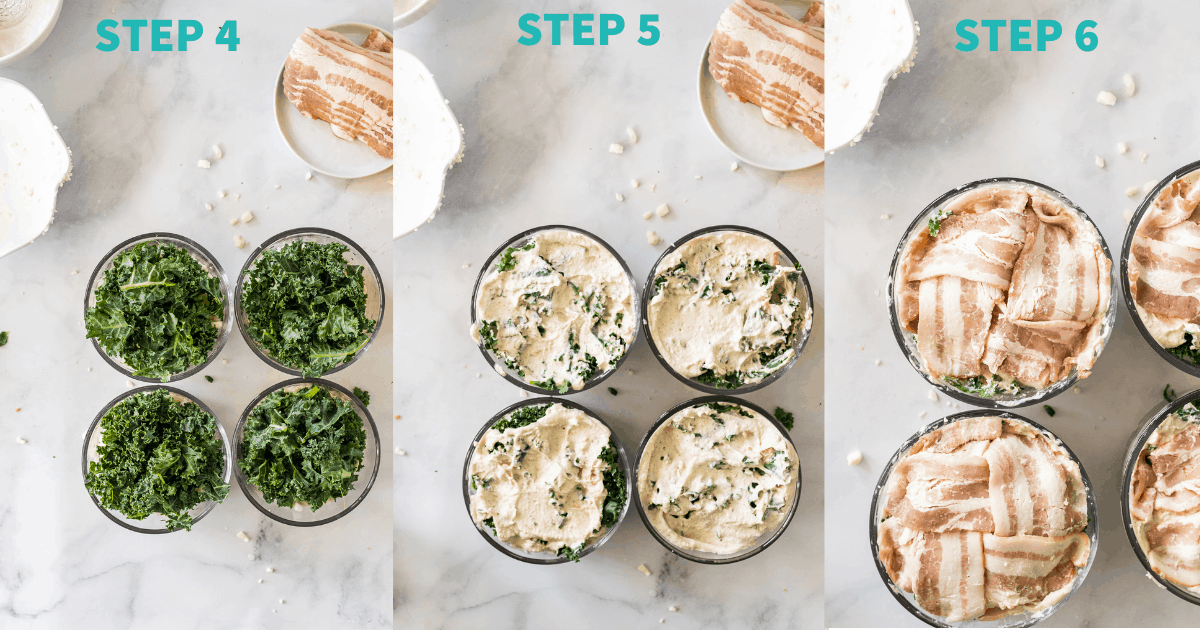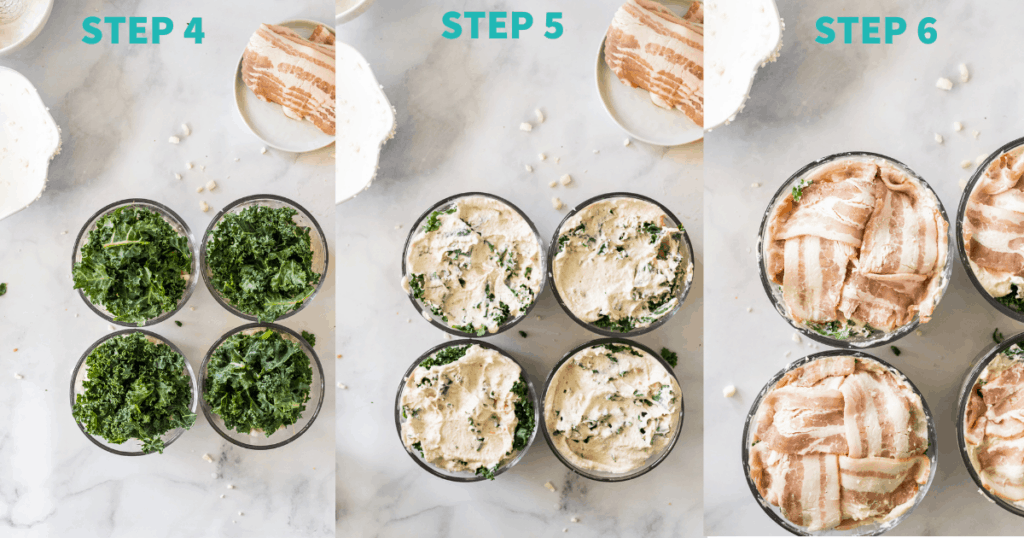 Next step in your egg free breakfast pot pie is to pack a bunch of chopped up kale in there. Remember the kale and cauliflower will shrink when cooked so pack it in! Top with cream of choice (alternative recipes below). Then weave your bacon crust. Then bake until the bacon is crispy!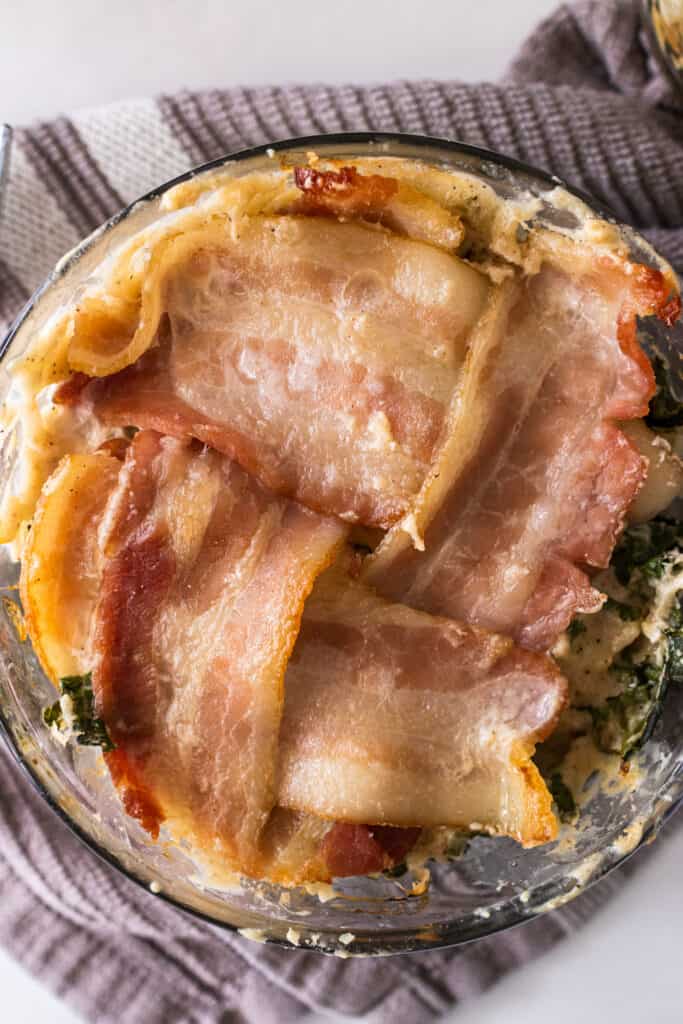 Frequently Asked Questions
How do I make the AIP cauliflower cream?
Steam together 2 cups of cauliflower florets, 3 cloves garlic until very tender. Drain then puree with 2 tablespoons coconut cream, 1/4 teaspoons salt and a splash of fish sauce.
Can I use turkey bacon?
Absolutely!
Can these be frozen?
They freeze well when uncooked, you can can cook them from frozen, you will just have to cook them much longer.
Can I make this into one big casserole?
Yes! Double the recipe to make an 8 portion casserole dish. Make sure to fill it up a lot because as it cooks it will flatten.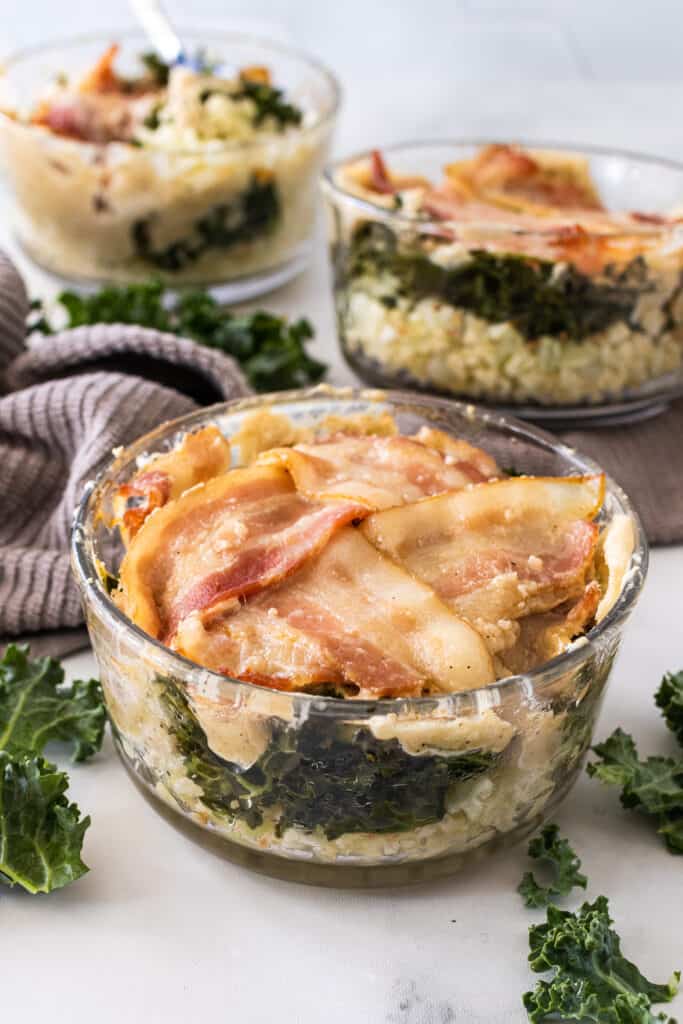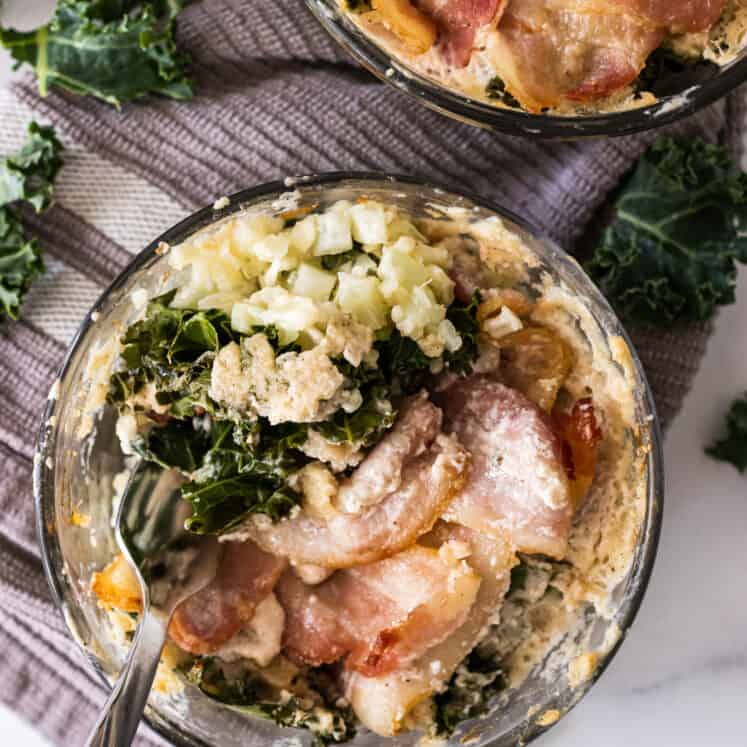 Egg Free Breakfast Pot Pie
---
Author: Cristina Curp, FNTP
Prep Time: 15
Cook Time: 20
Total Time: 35 minutes
Yield: 4 1x
Category: Breakfast
Method: Oven
Cuisine: American
Diet: Gluten Free
Description
A delicious and simple whole food breakfast without eggs! Perfect for Whole30, AIP or Keto!
---
Scale
Ingredients
4 cups riced cauliflower (or riced batata)
4 cups chopped kale
8–10 slices AIP or Whole30 compliant bacon
2 cups cashew cream (for AIP use cauliflower cream, or mashed sweet potato)
Cashew Cream
1 1/2 cups raw whole cashews (+ water to soak + 2 tsp salt)
1/2 cup filtered water
2 tbsp lemon juice
1 tsp garlic powder
1 tsp black pepper
---
Instructions
Cashew Cream
Place cashews in container & cover with water, mix in salt.
Soak 3-4 hours. Drain & rinse, drain again.
Then mix with remaining ingredient list in vitamix, blend until smooth.
Use prod to keep it moving.
Don't stop when it's almost smooth and you still see little grains, you want it silky!
Store in an airtight container in the fridge, up to a week. Makes about 2 cups.
Pot Pies:
Distribute the riced veggies in your ramekins evenly and sprinkle with a little salt.
Next, add in the kale, be sure to really pack it in there! Also sprinkle with a little salt.
Grab your cream of choice and smear about 1/2 cup over the kale in each ramekin.
Make the bacon crust: arrange 2 slices of bacon, cut in half, to 4 short slices on across the top & tuck in the sides.
Bake at 350F for 20 minutes, or until bacon is at desired crispiness.
Serve hot! Or store in the fridge for a ready-to-go breakfast. Microwave or bake to reheat.
Recipe Notes:
See FAQ's for AIP cauliflower cream recipe
Macros for pot pies with cauliflower cream and cauliflower rice
Nutrition
Serving Size: 1
Calories: 373.4
Fat: 27.2g
Saturated Fat: 5.7g
Carbohydrates: 20g
Fiber: 4g
Protein: 16.7g
Keywords: egg free breakfast pot pie