This Paleo Bacon Wrapped Chicken is stuffed with ripe pear and pesto!! Trust me, it works. Made this meal for our special guests, who came all the way from Antarctica to visit. Yup, you read right!

If you haven't noticed by now, I'm a sauce girl! I love having a jar of fresh homemade sauce to add that extra umph to any meal. This was no exception! You can get the pesto recipe from my cookbook Made Whole (that has AIP modifications).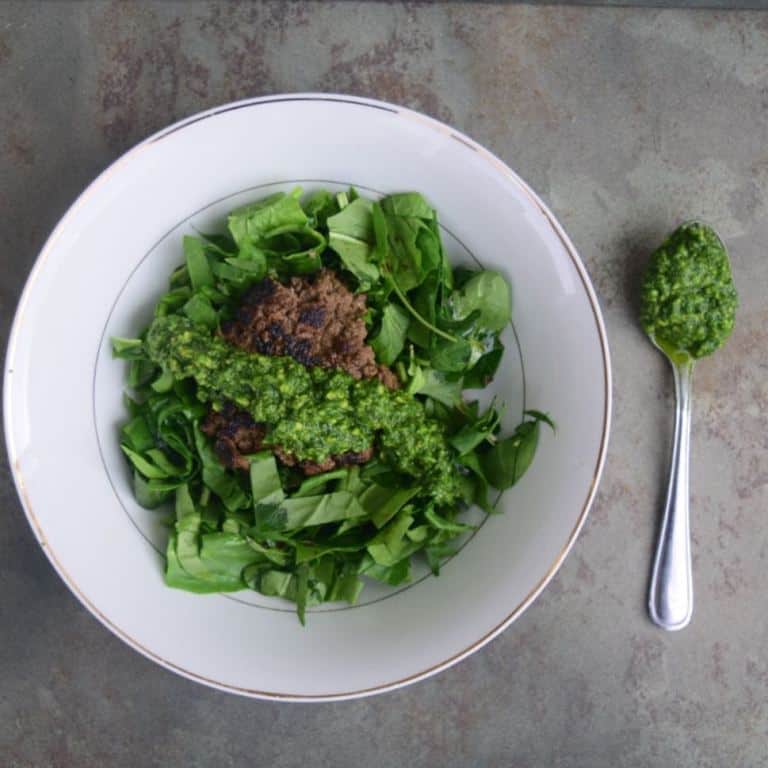 I had the idea of doing these stuffed chicken breasts a few days ago, I didn't even know I was going to add the pesto, until I saw it there, all green & bright!
It really was a welcome addition. I think you're going to love this different paleo bacon wrapped chicken breast recipe. So juicy and flavorful. Bonus, per usual… it's flexible! So it works with a number of dietary needs because that is how WE roll at TCK. We figure out what works for YOU!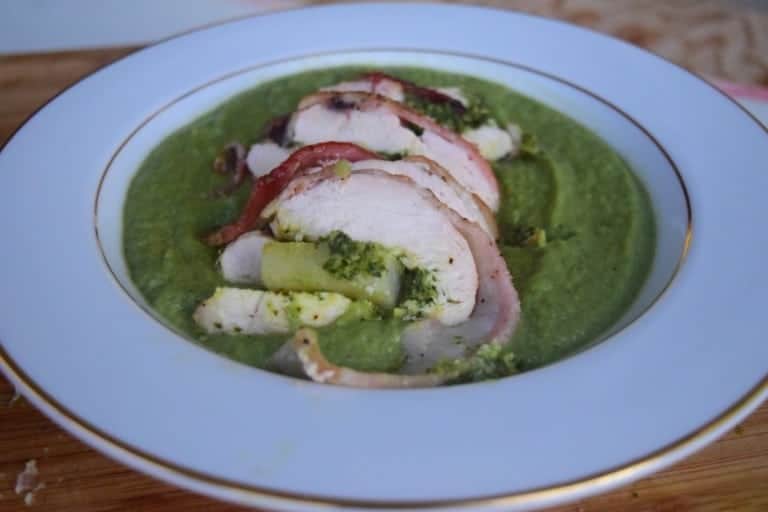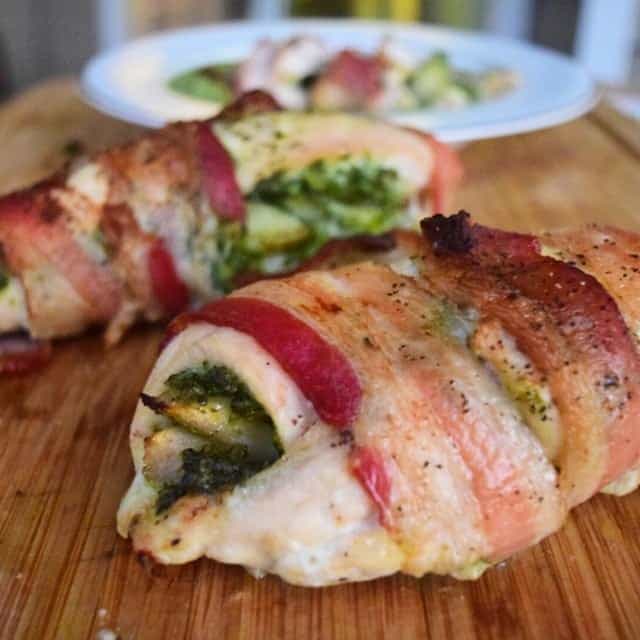 Paleo Bacon Wrapped Chicken Breast
---
Author: Cristina Curp
Prep Time: 20
Cook Time: 35
Total Time: 55 minutes
Yield: 5 1x
Category: Entree
Method: Oven
Cuisine: American
Description
Delicious and juicy chicken breast!
---
Scale
Ingredients
5 tbsp paleo pesto, see link above (or recipe below)
5 chicken breasts
2 ripe pears (or apples, peach etc)
5 tsp mustard (omit or use horseradish for AIP)
2 teaspoons fine salt
10 slices bacon (check labels for sugar, nightshades etc)
Kale Pesto:
2 cups kale chopped stems & leaves
1/2 haas avocado
4 garlic cloves
1 tbsp apple cider vinegar
1 tsp salt
1/2 cup olive oil
---
Instructions
For Pesto:
Blend all ingredients in a food processor until desired smoothness.
For Chicken
Pre-heat oven to 350F
Peel & slice pears into 1/4 inch thick slices.
Butterfly chicken breasts, cut into them from the side, lengthwise to open them up like a book, leaving them attached in the middle.
If you have a meat hammer, give them a light pounding. It's not absolutely necessary, but it will help with the wrapping.
On one side of the breasts, smear pesto, on the other mustard sauce (or horseradish/wasabi)
Arrange 3-4 slices of pear on one side of the breast.
Fold over the other side, close like a book, pick up in one hand, holding it shut, and sprinkle with salt.
Then wrap with 2 slices of bacon in a diagonal, overlapping pattern.
Repeat with all breasts.
Arrange on a lightly oiled sheet pan.
Cook for 35 minutes, hitting it with the broiler the last 5 minutes.
Let them sit a few minutes before serving.
We had them over cream of kale, and it was delightful!
Nutrition
Serving Size: 1/5 of recipe
Calories: 378
Fat: 32
Carbohydrates: 15
Fiber: 4
Protein: 12
Keywords: bacon wrapped chicken breast