LATIN AMERICAN PALEO COOKING! I can't be more excited about this recipe, it's a Puerto Rican street food classic and it's from a new book coming out… LATIN AMERICAN PALEO COOKING! I know! It's like a dream come true. Amanda over at TheCuriousCoconut.com worked so hard with her Latina mother-in-law to make sure these paleo renditions are legit AF. THEY. ARE.
This book is absolutely beautiful, with bright pictures and easy-to-follow instructions. The book features recipes from various countries in Latin America: Puerto Rico, Cuba, Venezuela, Colombia, Peru, Argentina, El Salvador, Dominican Republic, and Brazil. All of the recipes are GLUTEN, DAIRY, AND NUT-FREE! Yes! Some have egg, but ALL BUT 2 recipes can be modified to be AIP compliant.
Can I just say as a Miami-born and raised Cubana I can proudly give this book my seal of approval! I can't wait to get it for my Tia's for Christmas! They're just going to love having all their favorite dishes back with healthy options!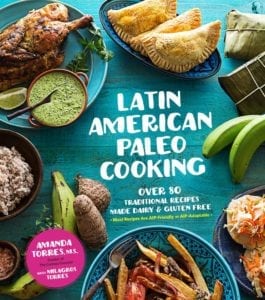 What's In The Book, from Amanda herself:
Platos de la Familia (Family Dinners) includes recipes meant to feed a crowd, and many of these recipes are great for batch cooking.
Comida Fiesta! (Party Food!) includes Paleo versions of Latin recipes that people get ridiculously excited about, like pupusas, pandebono ("cheese"buns), empanadas, arepas, plantain sandwiches, and more.
Rapido y Facil (Quick and Easy) includes recipes that are, like the name says, quick and easy to prepare. Some are still great for batch cooking, too, extra bonus!
Accompañantes (Sides)includes many ways to enjoy tropical starches like yuca, malanga, boniato, and plantains PLUS both a starchy and non-starchy rice replacement
AND starchy and non-starchy BEANS replacement!
Un Poco Dulce (A Little Sweet) is a short but delicious desserts chapter
Lo Esencials (The Essentials) includes cooking bases, sauces, marinades, condiments, broths, and more, which are used throughout the book and can be the launching point for readers to get creative with numerous uses!
Of note is the QUESO BLANCO recipe that is unlike any other "cheese" recipe I have seen in the Paleo/AIP
community. It melts and stretches like mozzarella!
While over 80 recipes are written, this book comes with numerous suggestions and options to create dozens of other recipes using different
combinations of meats/fillings/breads/ pastry shells/ condiments/marinaded. It is written to empower the reader to try new combinations!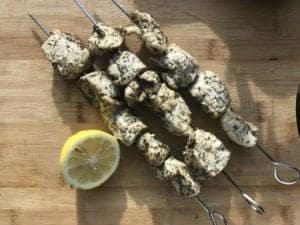 This recipe: I made this one night when I was in a rush, super hungry, and didn't even have much in the house. But man, it was delicious. Juicy and super fast to prepare. Definitely, one that will be made again and again in my house! There is mine, one didn't make the picture, lol we ate it too fast!
Pinchos de Pollo
---
Author: Amanda Torres
Prep Time: 10 minutes
Marinate: 12 hours
Cook Time: 20 minutes
Total Time: 30 minutes
Yield: 7 skewers 1x
Category: Entree
Method: Grill
Cuisine: Latin American
Diet: Gluten Free
Description
A peak at Latin American Paleo Cooking
---
Scale
Ingredients
2 tbsp (10 g) minced garlic
½ tsp fine Himalayan salt
½ tsp freshly ground black pepper
2 tsp (2 g) minced fresh oregano, or 1 tsp (2 g) dried
1 tbsp (15 ml) extra-virgin olive oil
1 tbsp (15 ml) freshly squeezed lime juice (from about . lime)
1½lb (680 g) boneless, skinless chicken breast
---
Instructions
Have ready 7 to 9 skewers. If using wooden or bamboo skewers, soak them in water for at least 30 minutes before grilling.
In a bowl, combine the garlic, salt, pepper, oregano, oil and lime juice and stir to form a paste.
Cut chicken breasts into 1-inch (2.5-cm) chunks and place in a glass container with a lid. Pour the marinade over the chicken and stir to combine.
Cover the chicken and refrigerate for a minimum of 2 hours, up to overnight.
Prepare a grill for direct cooking over medium heat (325 to 375F [170 to 190C]). Depending on the type of grill this may take 15 to 20 minutes.
Remove the chicken from the refrigerator and thread it onto the skewers, spreading each piece as flat as possible and leaving a very small space between each piece.
Once the grill is hot, brush the cooking grates clean, if necessary (to prevent sticking). Grill the kebabs over direct medium heat, keeping the lid closed as much as possible, until the chicken is firm to the touch and no longer pink in the center, 8 to 10 minutes total, turning once or twice during cooking. Take care not overcook.
Nutrition
Serving Size: 1 skewer
Calories: 229
Fat: 9g
Carbohydrates: 1g
Fiber: 0g
Protein: 36g
Keywords: Paleo Pinchos de pollo