The tender skinless, boneless thighs were cooked in ripe pear, fresh turmeric, and coconut aminos with a cinnamon stick and smoked salt for a delicate saucy finish. I added a little drizzle of maple syrup and reduced it too sweet perfection. I added the fresh mint and blueberries at the end to emphasize the sweetness of the dish, and boy oh boy, it really is pie-worthy! A fantastic savory dish that's a little on the sweet side!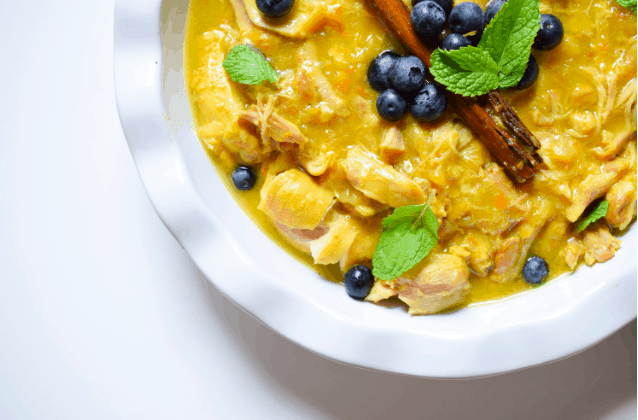 Since I was gifted my spaceship, my Breville FastSlow Pro, making last-minute meals has been a breeze.It's an impressive-looking machine and it makes all sorts of fun and often surprising noises. Hence it was dubbed the spaceship. One of my favorite foods to throw in there is chicken thighs. They lend themselves so well to saucy, pull apart kinds of dishes. Pork, bone broth, and rice too!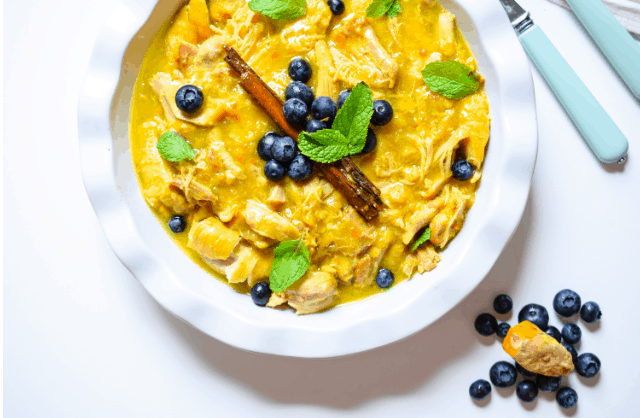 This last-minute inspiration came together because honestly, I have pie on the mind.
Ever since my fourth of July berry pie with a killer cassava flour crust, I am dying to make another one. And if we're being honest, this chicken would lend itself beautifully to a flaky cassava crust! But I'm just coming off a weekend of festivities and I'm watching my macros. In the pursuit of low carb paleo goals… I opted out of the pie crust for this pie-tastes pulled chicken… but I still served it in a pie dish, because it's adorable.
Tastes Like Pie Chicken (pressure cooker)
---
Author: Cristina Curp
Prep Time: 10
Cook Time: 30
Total Time: 40
Yield: 4 servings 1x
Description
Spiced and sweet this shredded chicken tastes like Christmas
---
Scale
Ingredients
2 pounds boneless, skinless chicken thighs
1 medium onion, vidalia or sweet
1 bosc pear, ripe (you may also use an apple or omit for keto)
1 tbsp fresh minced turmeric root
2 tsp smoked salt, I used smoked Maldon Salt
2 tbsp non-hydrogenated organic palm oil shortening (or preferred fat)
2 tsp lemon juice
2 tsp coconut aminos
1 smashed garlic clove
1 stick cinnamon
1 tbsp flour (tapioca starch, coconut flour or cassava)
1 tsp coconut aminos
2–3 sprigs mint
1/2 cup or more of fresh blueberries
---
Instructions
Set your electronic pressure cooker to 'saute" mode.
Add in palm oil shortening.
Peel and slice your onion.
Peel and mince an inch or so long chunk of turmeric root.
Peel and dice your pear.
Add in the onion and turmeric to the pot and stir occasionally while they brown for a few minutes.
Add in the flour and mix well.
Sprinkle the salt all over the chicken thighs and add it in to the pressure cooker next.
Stir well, then add in the garlic, lemon, pear and coconut aminos. Add in the cinnamon stick. Stir.
Set the pressure cooker to it's "pressure cooking" mode, then set it to poultry.
This should be 10.0-12.0 PSI for 20 minutes.
When it's done, and the pressure has been released, open the lid.
There will be quite a bit of liquid, drizzle in the coconut aminos.
Set the pressure cooker to "reduce" mode.
Let it reduce for 10 minutes.
Stir occasionally.
When done, serve, mix in blueberries and garnish with mint.
If you're up for it… top with pie crust or biscuits and bake to comfort food perfections…Or serve as it, over cauli-rice or over baked sweet potato!
Nutrition
Serving Size: 4
Calories: 500
Fat: 25g
Carbohydrates: 16g
Fiber: 3g
Protein: 49g
Keywords: instant pot shredded chicken