This elegant recipe looks fancy and tastes fancy but cooks up quickly and is actually really easy to assemble. It's got a killer flavor profile. The sweet and tangy plums complement the salty prosciutto perfectly!
Kitchen Therapy
Today I needed to lose myself in work. I missed the days where hours would blur and disappear in the rush of a busy kitchen. There is a point of madness in all restaurant kitchens when you are moving so fast, multitasking so efficiently, that most of it is just muscle memory. Your body goes into overdrive, your mind somewhere between razor-sharp focus and standby as your hands move at lightning speed.
With everything going on in the world, I yearned for the madness of a hot kitchen, somewhere to truly get lost, where the internet, smartphones, Facebook are not an option.
Alas, those days are behind me, and as I cooked for a few hours in my home kitchen for my private chef clients, and content for this blog, I managed to find a few moments of peace. A few moments where my mind was consumed with the task at hand, I felt inspired and the ugliness of the world fell away.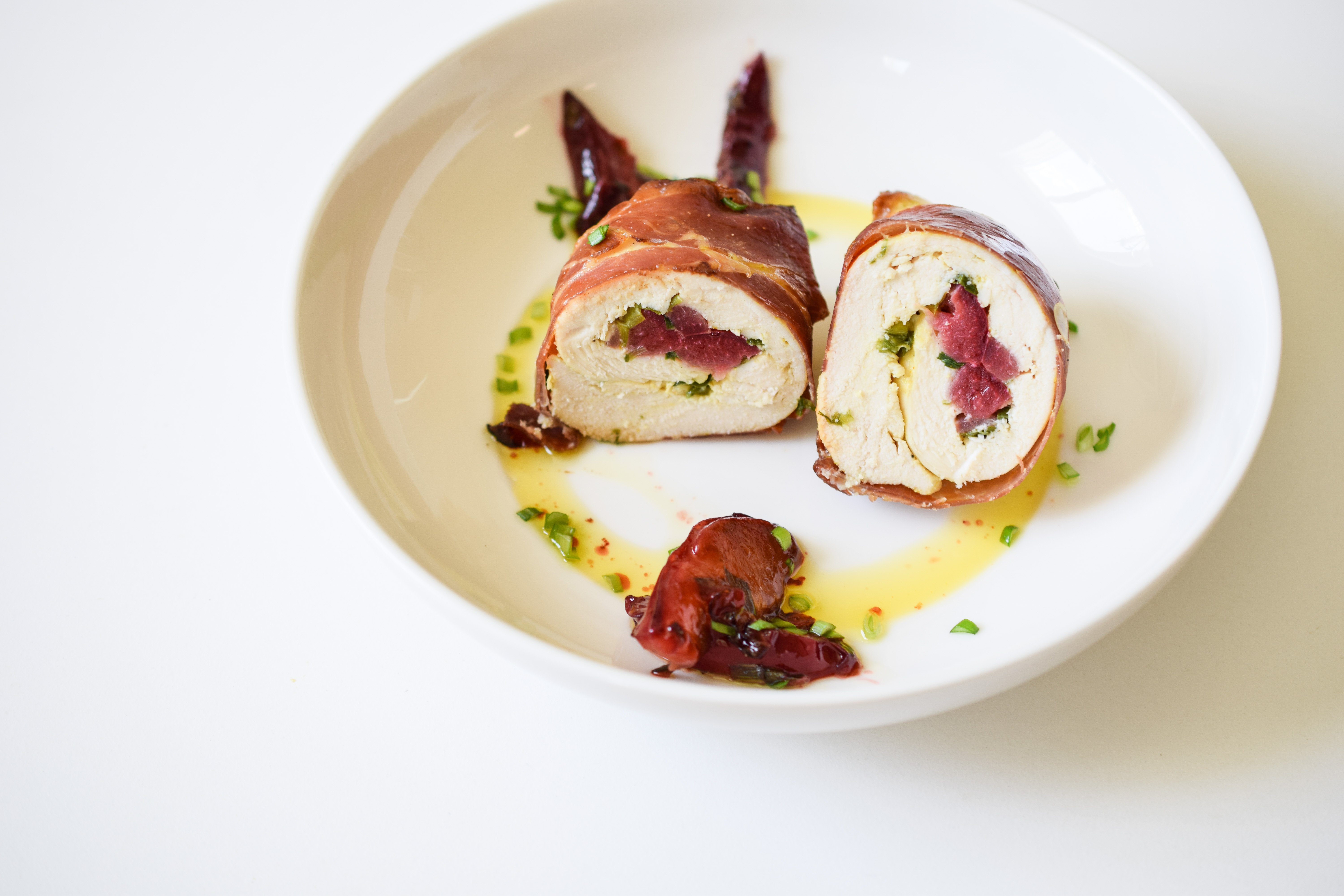 It all started with a dish. I bought a new dish today, just one. A lovely, white, ceramic, shallow bowl. Then I found the plums… and in a moment of serenity, this meal was born. A truly seasonal, light and beautiful plate. Whether you pick your plums from the farm or the market, there is something so right about working with fruit at the peak of its season. It's very rewarding.
Sugar plums are a petite egg-shaped fruit with a large seed in the middle.
As they ripen the fruits lime green flesh becomes rich and sweet. I used a mix of sugar plums and burgundy plums to get a little tartness and a little sweetness and for the variety in flesh color, as burgundy plums range from yellow to red flesh. The prosciutto contrasts the sweet plums perfectly and delicious Tin Star ghee adds rich buttery flavor which brings it all together and keeps the chicken moist. A simply, extraordinary meal with everyday ingredients. *AIP modification in the notes below the recipe. I hope you enjoy this Plum Chicken Recipe!
Plum & Prosciutto Chicken
---
Author: Cristina Curp
Prep Time: 15
Cook Time: 30
Total Time: 45
Yield: 8 wrapped filets 1x
Category: Entree
Method: Roast
Cuisine: Paleo
Diet: Gluten Free
Description
Delicate, delicious, gourmet but easy to make.
---
Scale
Ingredients
4 chicken breast, pastured
8 slices of prosciutto
1/2 bunch of chives
1/4 cup ghee, divided
2 tsp pink Himalayan salt
2 sugar plums
2 burgundy plums (or other stone fruit)
1/8 tsp nutmeg
1/4 red wine vinegar
1 tsp oregano
1 tsp black pepper
---
Instructions
Pre-heat oven to 375F.
Line your cutting board with plastic wrap. Butterfly your chicken breasts, but them open like a book, and then in half down the spine to create two chicken cutlets.
Place another piece of plastic wrap over the chicken and bang it out with a heavy object like a skillet or meat hammer, rolling pin etc. It doesn't have to be super thin, just flattened enough to be able to roll up.
Repeat this with all of the breasts.
Place the chicken in a large bowl and add in red wine vinegar, nutmeg, oregano, black pepper and salt. Toss well. Set aside to marinate.
Remove plastic wrap from cutting board.
Wash knife and hands. Clean area well. Cut your plums in half, do this by running the knife all around the fruit till the middle where you feel the seed and all the way around. Then with two hands as if you were moving a Rubix cube separate the two halves. Remove the seed. Slice your plum into 1/4 thick slices.
Next, mince your chives. Prepare your prosciutto, remove it from the packaging and separate the slices, careful not to tear them. One piece of chicken at a time, lay it on the sheet pan or cutting board.
Smear a tsp of ghee on it, then grab a few, 3-4 slices of plum slices and place them inside across the width of the chicken, sprinkle with chives and a little salt.
Save a few slices of plum and some chives for the garnish
Roll it up like a sushi roll. Brush the outside with a little more ghee. You can do this with your finger tips. Then carefully holding the roll up together in one hand, wrap it in a slice of prosciutto. I like to put the middle of the slice of prosciutto where the chicken roll opening is and wrap it in the opposite direction for structural integrity.
Place it on the sheet pan, with the seam of the prosciutto down.
Repeat with the rest of the chicken. Place your sheet pan in the oven in the middle rack.Roast at 375F for 25-30 minutes. While it roasts, make the garnish.
In a small skillet heat the remaining ghee, add in the remaining plum slices. Gently mix. Let it simmer and toast until plums are browned and tender. Remove from heat.
The ghee and plums will have made the lovely red spotted ghee sauce. Drizzle that on the dish, then add a few pieces of caramelized plum. Slice or halve your stuffed breast and center it. Sprinkle a little move chives and viola!
Recipe Notes:
DIETARY PREFERENCE MODIFICATIONS
*To make this AIP use bacon fat, tallow or coconut oil instead of ghee, swap out the nutmeg for cinnamon and omit the black pepper. *
Nutrition
Serving Size: 1.5 chicken breast
Calories: 313
Sugar: 4
Fat: 20g
Carbohydrates: 8g
Fiber: 1g
Protein: 29g
Keywords: prosciutto wrapped chicken