If you're looking for a legit, THIN crust that's AIP compliant, this is it. It's made with coconut and cassava flour and uses yeast for a true pizza flavor. This mini AIP pizza crust is easy to make and I've included my Hawaiian pizza toppings for you too! What's an AIP Pizza without killer nightshade-free toppings?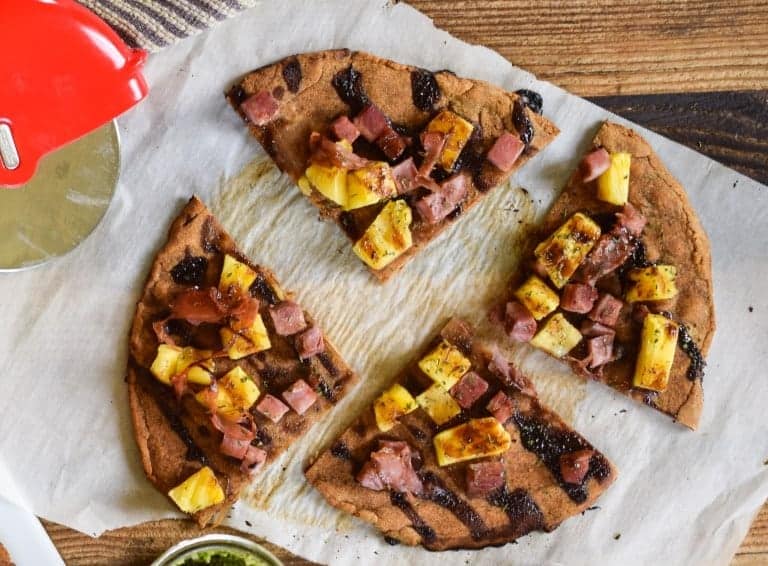 About This AIP Pizza!
It has yeast (don't freak out). It's soft and chewy with crunchy edges. I don't let my yeast rise before baking because I like a thin crust, but if you want a little more fluff to your pie, go ahead and place your ball of dough in a bowl and let it rise for 30-40 minutes in a warm place. About that yeast… here is what The Paleo Mom has to say about that…
So what about Active Dry Yeast for baking bread? Well, active yeast is the strain Saccharomyces cerevisiae. This strain of yeast is found naturally in some kefir cultures and some lacto-fermented foods. It is also the strain used to make wine and beer. It is very closely related to Saccharomyces boulardi, although from my reading it doesn't seem to possess the health benefits that Saccharomyces boulardii does. After thorough research, I have come to the conclusion that Saccharomyces cerevisiae is, at worst, neutral. So what does this mean? This means that if you allow wine and gluten-free beer in your diet, or if you make your own coconut milk Kefir, there is no reason to avoid dry active yeast in your paleo baking. So, dust off those Bread Machines because tomorrow I will be posting a recipe for yeast-based paleo bread!" -ThePaleoMom

Dr. Sarah Ballantyne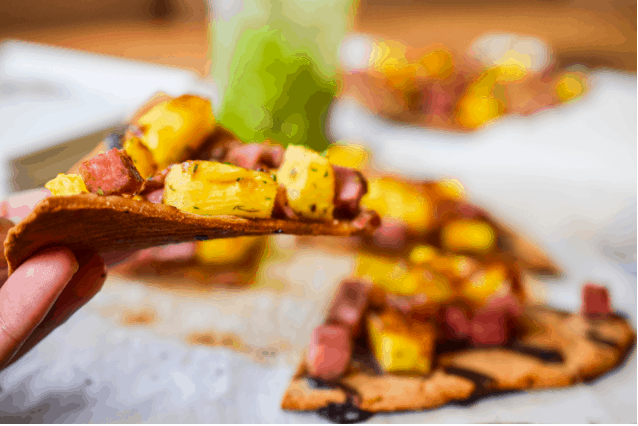 About the Ingredients
I used Otto's Cassava Flour for this experiment. I also opted for Hawaiian Pizza because I live in Hawaii and pineapples. I love pineapple. About the tamarind… you can buy the whole tamarind and boil it down for a paste, I find tamarind at Whole Foods, or you can just buy tamarind paste online or at Whole Foods. It's thick and concentrated and made of 100% tamarind. That's what I used today.
Also, a note on the ham, make sure to buy ham that is gluten-free, look for the ingredients in the solution. All ham is plumped up with a solution, make sure it doesn't have modified food starch in it as that will have corn or potato. I used Hormel Cure81. It's not organic, but it's the one at my store that I found that had decent ingredients. I also used prosciutto, you can use only prosciutto or bacon too. Really, you know, pizza toppings, anything goes, why listen to me!? Or make your own AIP Ham.
AIP Hawaiian Pizza
---
Author: Cristina Curp
Prep Time: 40
Cook Time: 16
Total Time: 56
Yield: 1 pizza 1x
Category: Entree
Method: Oven
Cuisine: Pizza
Diet: Gluten Free
Description
AIP Pizza that you will love 
---
Scale
Ingredients
1/4 cup coconut flour
1/4 + 1/3 cup Otto's Cassava Flour
1 tsp baking soda
1 tsp cream of tartar
1 tsp pink Himalayan Salt
3 tsp olive oil
1 tsp dry active yeast
2/3 cup warm water
parchment paper
avocado oil spray
diced ham
diced pineapple
2 slices prosciutto
2 tsp dried oregano
2 tbsp tamarind paste
2 tbsp coconut aminos
1 tbsp maple syrup
1 tsp ginger
---
Instructions
Preheat oven to 425F
Warm 2/3 cup water to around 100-110F. Mix in yeast & set aside.
In a large bowl mix flours, baking soda, cream of tartar and salt, whisk together.
Then add in the water with yeast, olive oil & combine with a spatula until dough forms.
Gently knead until dough is no longer sticky.
Shape a dough ball.
At this point you can gently oil your dough ball, place a clean towel over the bowl and set the dough to rise by a warm window for 30-40 minutes.
I just roll the dough in to a ball and let it rest for 20 minutes before shaping the crust, but I like my crust really thin! I use this time to prep my toppings.
With dusted hands, transfer dough ball to greased cast iron skillet or parchment lined baking sheet, cover with parchment paper and gently roll it out with a rolling pin until you have a 10″ pizza, 2 5-6 inch pizzas or to your liking.
Spray with avocado oil or brush with move olive oil.
Place in the oven, on the middle rack, Bake the crust for 8 minutes.
Remove from oven, add the toppings.
Bake another 8-10 minutes, check. If you want it more toasty, keep baking, if not remove from oven. slide off to a cutting board and enjoy!
Nutrition
Serving Size: 1/2 pizza
Calories: 358
Fat: 9g
Carbohydrates: 64g
Fiber: 10g
Protein: 6g