How to make Paleo Cassava Noodles from scratch! If you're on a grain-free diet, you don't have to miss pasta ever again! Nut, dairy, and gluten free!
The magic of homemade pasta
Making homemade pasta has always been something I wanted to be good at. As a child, my step-father's mother would visit from Argentina every few years. Her parents, who were from Italy, taught her to make handmade pasta, and she was an artist.
Marta would spend her days in my mother's kitchen working dough like a magician, weaving empanadas, fettuccine, ravioli, pies and the like. And I marveled at the ease in which she created beautifully crafted dough. I just began to dabble in dough myself, I even made a my own sourdough starter and bread! Then I realized wheat flour was not good for me. Enter this paleo pasta!
So, while I am a big proponent of whole food paleo, eating simple plant and animal meals… above all, I believe it's absolutely lovely and imperative for the longevity of this lifestyle to indulge in a bowl of proper pasta, a pizza, brownie or whatever it is.
And if you can have the real thing, awesome, good for you. However, I can't. Ever. So I make my grain free, paleo pasta… and you know what?!?! It's amazing.
Tender, chewy cassava noodles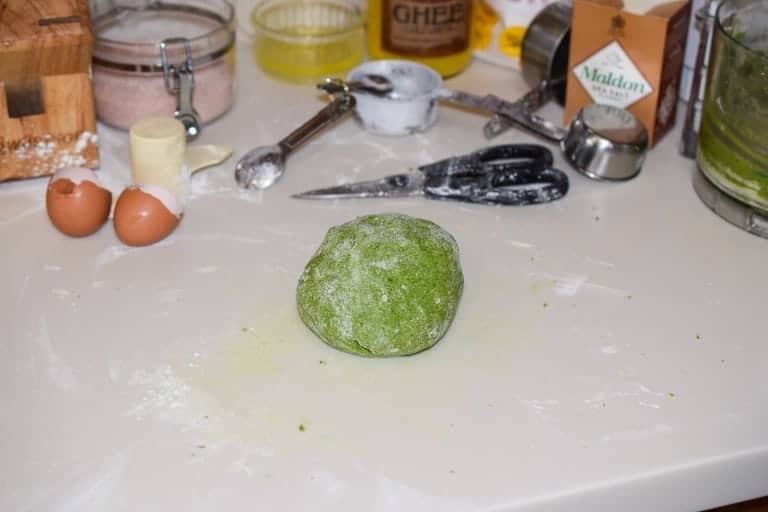 I love the quick boiling time of these paleo cassava noodles, simply dressing them with ghee and salt. As a result, they're utterly satisfying without the crampy, heavy, bloaty feeling that I would usually get after eating a bowl of noodles.
However, these cassava noodles are a perfect paleo pasta, and pretty damn authentic! I just love how versatile Otto's Cassava flour is!
When I first made these noodles, I made them with a pound of raw spinach mixed into the dough, and they were great! But for flexibility's sake, I will share the plain pasta recipe today. Because sometimes it's best to start with the blank canvas and work from there.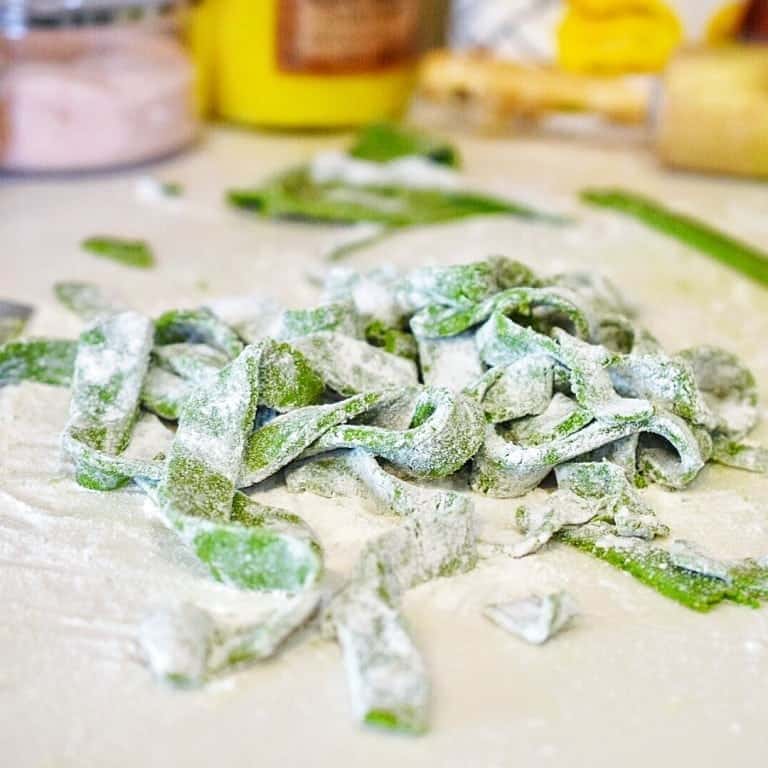 Homemade Cassava Noodles (Paleo)
---
Cook Time: 4
Total Time: 34
Scale
Ingredients
1 cup cassava flour, Otto's brand (more for dusting)
1 tsp salt
1 egg, plus 1 egg yolk
1/2 cup room temperature water (more if needed)
2 tbsp avocado oil (more if needed)
---
Instructions
On a large, clean, flat surface mix flour and salt, then scoop it together to make a little mound.
Make a well in the center of the mound and add eggs and oil into the mound.
With a fork gently mix the yolks, then carefully work the flour in to the egg mix. You will have a crumbly dry dough.
Slowly drizzle in the water as you work the dough with your other hand, kneading and folding until all the water is absorbed and you have a flexible dough. Separate in to four balls. Clean work area.
Dust the working surface with cassava flour. With wet hands, grab one ball at a time and work in the extra moisture. then shape into a rectangle.
Place on dusted work area and roll out with a rolling pin. Flip it over after each pass with the pin, dusting more if needed. When your pasta is a flat, wide sheet carefully lift is and set is aside, on a dusted corner. Repeat this with all of the remaining balls and let your pasta sheets dry out or 15 minutes.
Using a ruler (or saran wrap box) measure out 3/4 inch slices and use the ruler to cut straight strips. Gently move them from the surface, dust with flour and set aside to dry for another 5 minutes.
Bring a large pot of water to boil.
Using a knife to life the strips carefully from the work station, move slow and they will break with ease, place them in the boiling water. Add a drizzle of oil and salt and gently stir.
Boil for 3-4 minutes until pasta looks swollen and is floating.
Slowly drain, then add ghee, garlic and spinach to the pot and wilt spinach. Toss the pasta back in, add salt and mix. Serve and enjoy!