NOT SO FRIED, KETO FRIED CHICKEN! RECIPE MAKE OVER!
What's not to love about keto fried chicken? It's crunchy, juicy, flavorful & perfect for dipping in a sauce! I just gave this recipe a makeover! Super excited to spiff this one up for two reasons…
ONE: this super low carb/ high fat fried chicken is soooo my jam right now with my keto paleo thing.
TWO: This recipe was originally inspired by Kyndra Holley of Peace Love & Low Carb, who now, a year after originally writing this recipe has become a blogger pal of mine! In her book, The Low Carb Primal Kitchen.
In the book, she has a killer recipe for pork rind crusted chicken. Obvs due to her blog handle, she's been on the low carb train forever! Love this lady!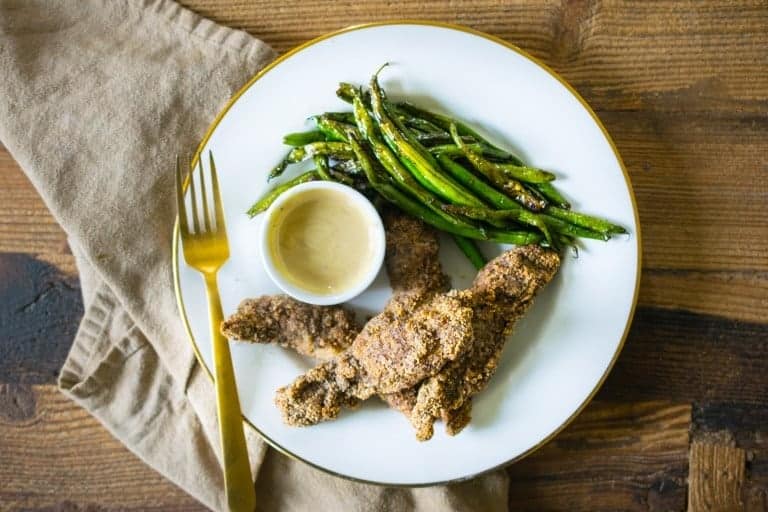 YOU INSPIRE ME!
So the original recipe for this keto fried chicken called for a flash fry then bake, but, PaleoPiggy on Instagram made these and skipped the frying, because, let's be honest, it's messy. And hers came out suuuuhhhh pretty, I tried it that way too!
Low and behold the recipe was still BOMB.COM. So! Here it is. Re-written and re-photographed. So keto fried chicken is now keto oven fried chicken!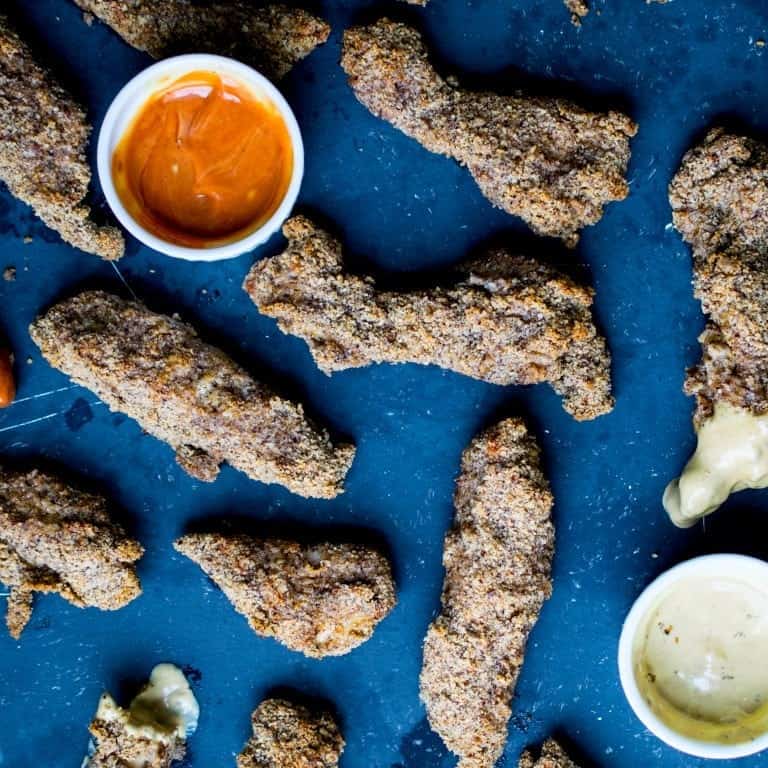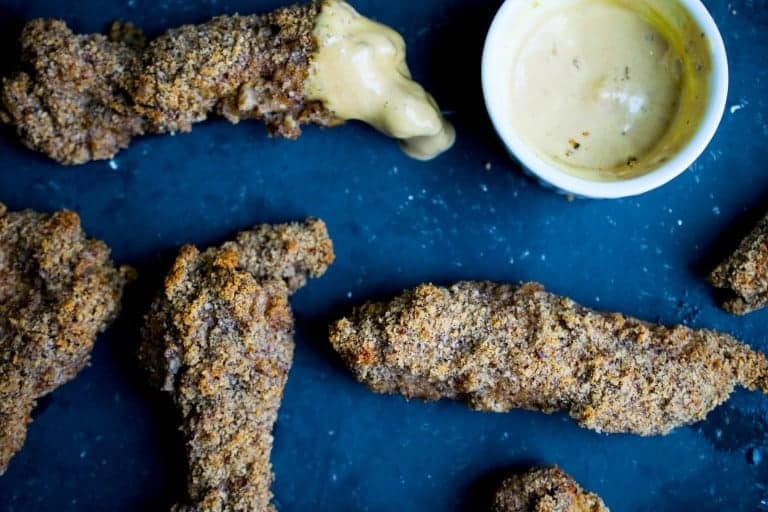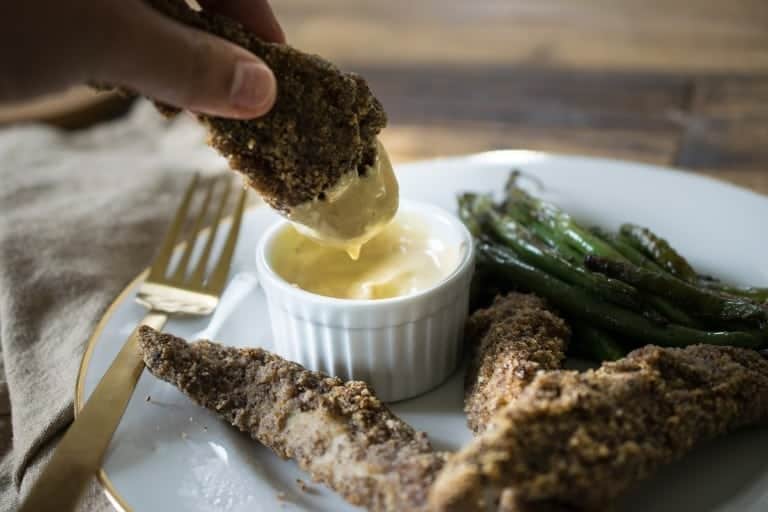 Ingredients: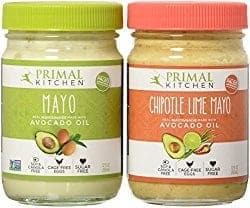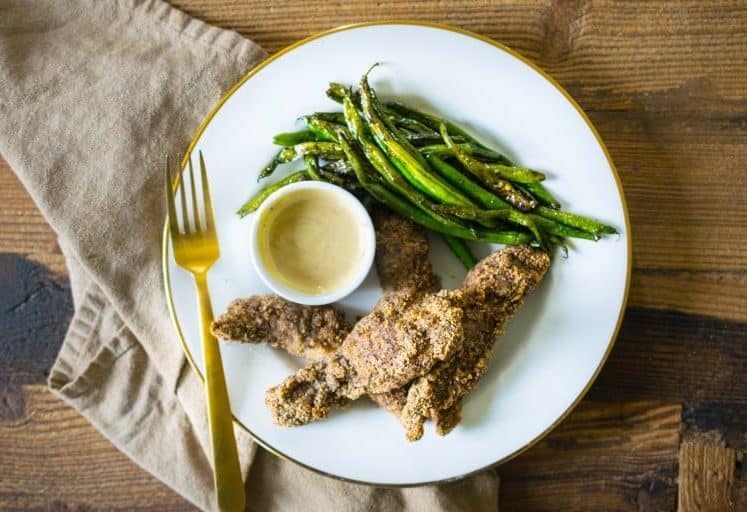 Keto Fried Chicken (Paleo, Whole30, Dairy Free)
---
Author: Cristina Curp
Prep Time: 10
Cook Time: 15
Total Time: 25
Category: Entree
Method: Stove Top
Cuisine: American
Description
This easy, crispy low carb chicken is deliciously crispy and breaded in a mix of nut meal and ground up pork rinds then baked to crispy perfection!
---
Scale
Ingredients
1lb boneless skinless chicken thighs
1lb boneless skinless chicken breast
2 cups crispy pork rinds (Epic Bar Salt + Pepper ones are bomb)
2 cups hazelnut or almond meal
1 tsp Wild Foods Co Truffle Salt (or favorite salt)
1 tbsp garlic powder
1 tsp black pepper
1 tsp mustard powder
3 eggs, beaten
---
Instructions
Pre-heat oven to 400F. Place a cooling rack or broil rack over the sheet pan and spray with fat. Set aside.
Pulse pork rinds, hazelnut meal & seasoning in a food processor until pork rinds are crumbly and the mix looks like flour. Pour out on to a large plate.
In a bowl beat eggs together until frothy.
Cut your chicken into strips. Make them as uniform as possible. I like them to be about 2 inches around and 4-5 inches long.
Dredge chicken in eggs then in breading mix and place or prepared baking rack/sheet.You only need to coat the thighs once, just make sure they are evenly coated.
Bake at 400F for 40-45 minutes until toasty!
Remove from the oven and let cool for 5 minutes before serving.
I like to mix up some sauces for dipping! Some of our favorites include mayo + dijon mustard, mayo + ketchup + mustard, guacamole, chimichurri + mayo and Primal Kitchen Ranch!
Meal Prep
These store really well! Let them come to room temp then store in an air tight container. Toast or make to heat!
Nutrition
Serving Size: 1/8 recipe
Calories: 658
Fat: 43
Carbohydrates: 7
Fiber: 3
Protein: 65
Keywords: Keto Fried Chicken