This recipe is so comforting and delicious that I almost feel nervous calling it Whole30 compliant. But I mean, it's veggies with a veggies sauce. So, HEALTHY AF, but it's like paleo mac and cheese magic.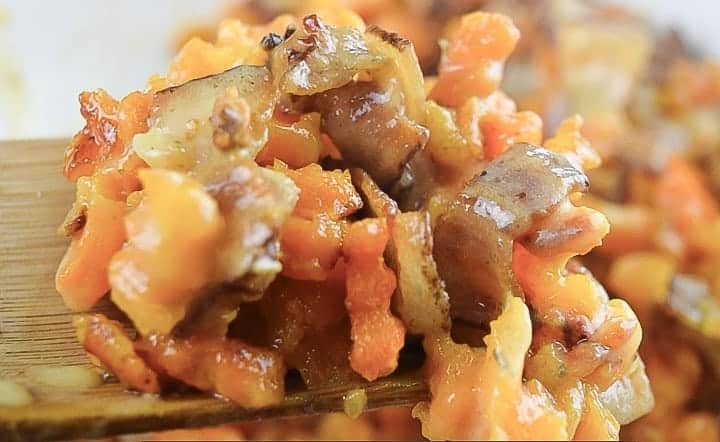 Again, excited to bring you an amazing VEGGIE PACKED recipe from Mann's Packing! Veggies Made Easy is a lifesaver for my veggie-filled diet. Saves my budget, my floor, my sanity. Find Mann's in a store near you!
Better Options, Better Choices
I used to love eating bowls of pasta with parmesan and garlic. But it was more like a bottomless bowl. I could eat large amounts of pasta and be hungry shortly after. Crazy! That won't happen here. We've not nutrient-dense veggies, roasted crispy with garlic and bacon. The sauce is packing gut-healing collagen and protein. A great balance of fat and protein on this low-carb rotini keeps you full and satisfied for hours.Top a bowl of this with a fried egg or a scoop of ground beef, bake this goodness into a casserole… the possibilities are endless with this family favorite!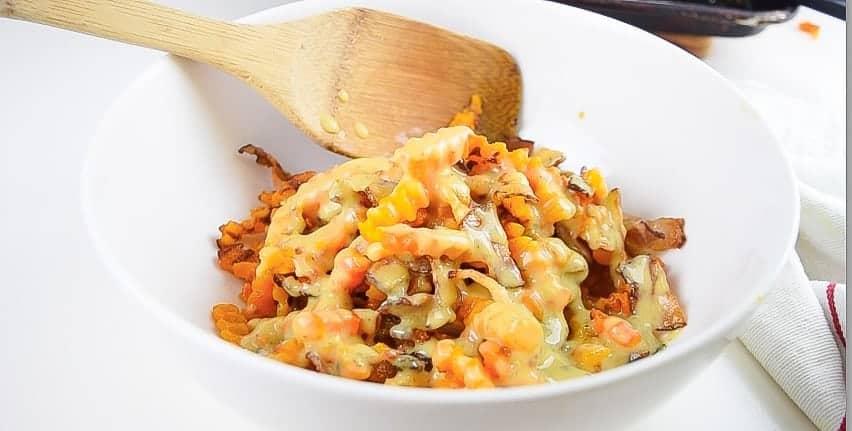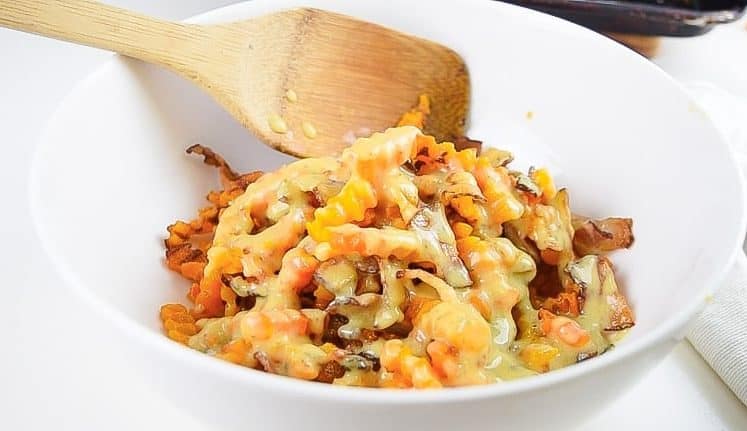 Bacon Cheese Butternut Rotini
---
Author: Cristina Curp
Prep Time: 5
Cook Time: 25
Total Time: 35
Yield: 6 servings 1x
Category: Side Dish
Method: Stove Top
Cuisine: Italian
Description
Delicious pasta like meal made with loads of veggies!
---
Scale
Ingredients
"Pasta"
2 bags Mann's Butternut Squash Rotini
5 slices bacon
4 cloves garlic
1 tsp salt
Sauce
1 cup cauliflower florets ( or ¾ cup raw cashews)
6 ounces bone both
2 tablespoons nutritional yeast
2 tablespoons apple cider vinegar
1 teaspoon dried Italian herbs
1 tablespoon pastured gelatin
---
Instructions
Spread the rotini on a sheet pan. Top with chopped bacon.
Sprinkle with minced garlic and salt.
Roast at 400F for 25 minutes.
In the meantime, simmer the cauliflower (or cashews) in the broth until tender.
Transfer everything to a blender, add in the vinegar, herbs and gelatin and blend until smooth.
When the rotini is done, remove it from the oven, scrape it up off of the sheet pan and toss in a bowl with 2 tablespoons to ¼ cup of cheese sauce.
Serve, share, enjoy!
Recipe Notes:
Find your ROTINI HERE: https://www.veggiesmadeeasy.com/
Nutrition
Serving Size: 1/6 recipe
Calories: 210
Fat: 10g
Carbohydrates: 22g
Fiber: 5g
Protein: 7g
Keywords: Dairy Free Cheesy Pasta