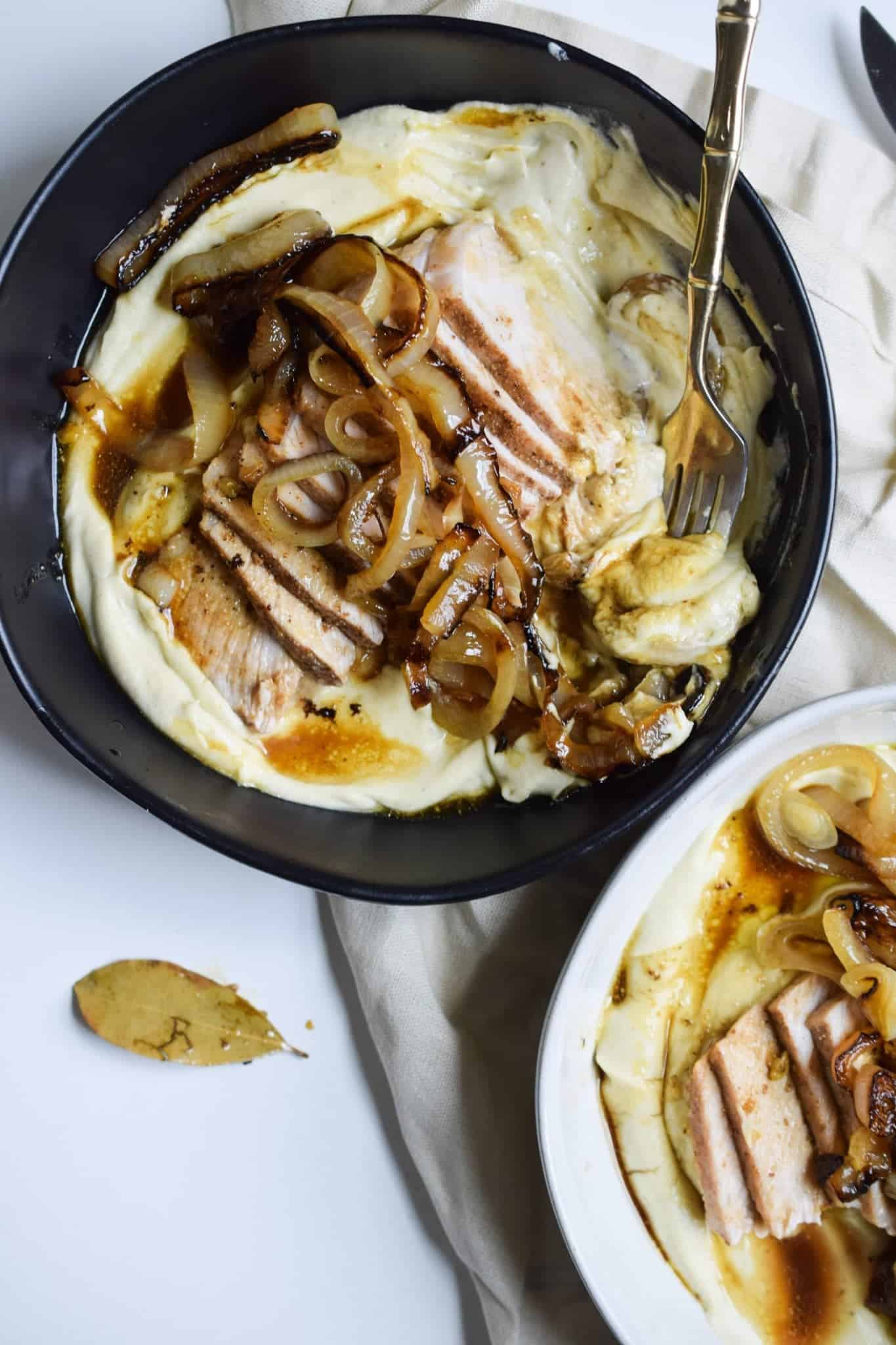 First time I made these Braised Pork Chops was during my last Whole30Recipes takeover on Instagram. I wish back then I had taken more photos of the dish because these pork chops with a creamy cauliflower side were a huge hit! This time around, on my 4th takeover I'm coming prepared!
The Pork Chops
I use thick cut pork chops, lightly spiced and seared. Then braised with a vinegar and broth combo for tender, flavorful meat! Opt for nice, 2 inch thick, boneless pork chops from your butcher. Cook with the fat on, it's easier to trim off after if it's not your thing. Spiced and seared these braised pork chops are anything but boring or dry!
The Cream
Bone broth simmered cauliflower blended to silky perfection with whole raw cashews and mayo. Trust me on this. It makes for a rich cream that is oh-so-satisfying while adding sating fats to your meal. I use THIS mayo recipe.
The Fixings
Sweet and tender sauteed onions and spoonfuls of reduced pan sauce. This meal check all the boxes and you will be surprised at how fast it come together!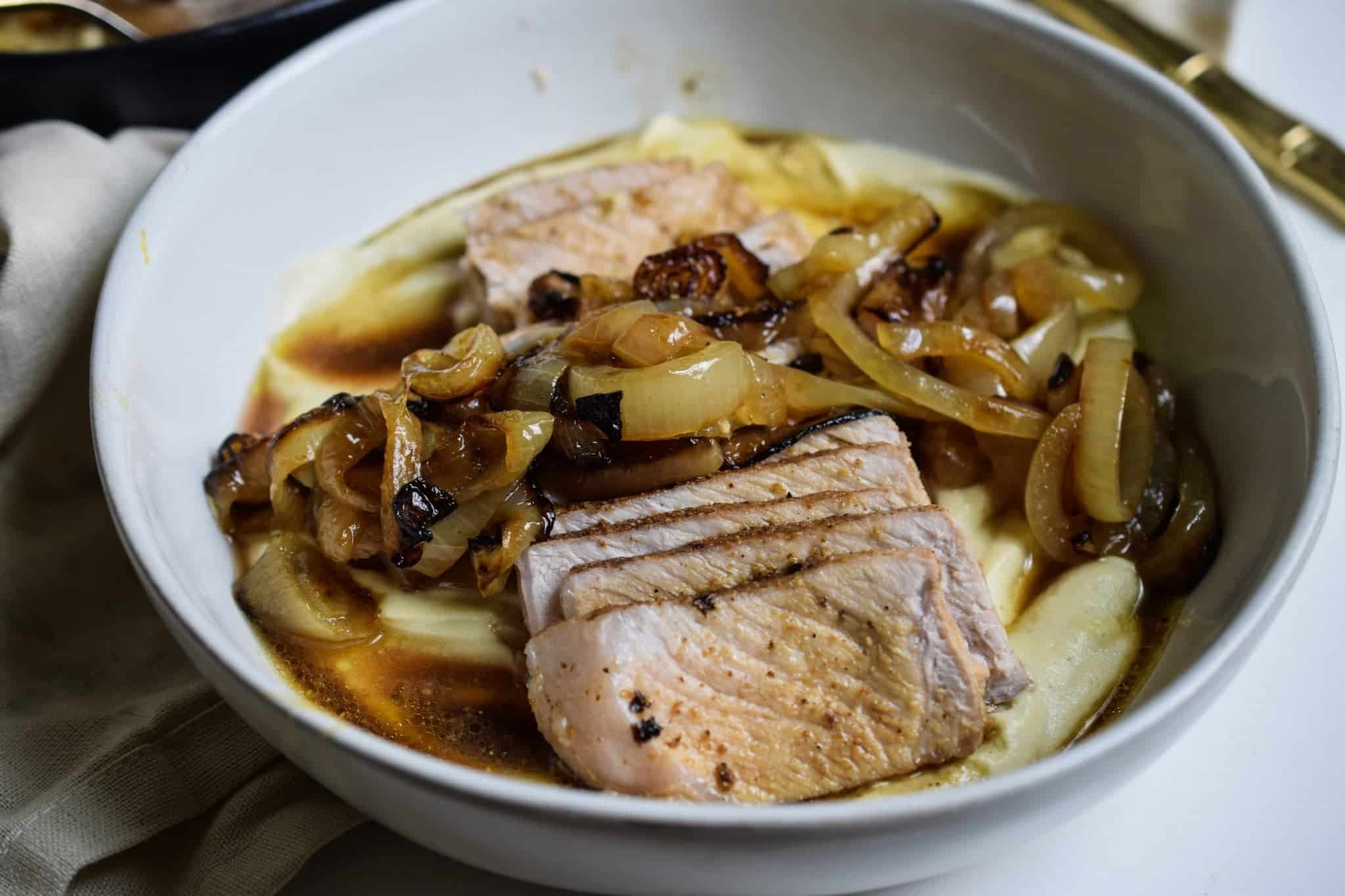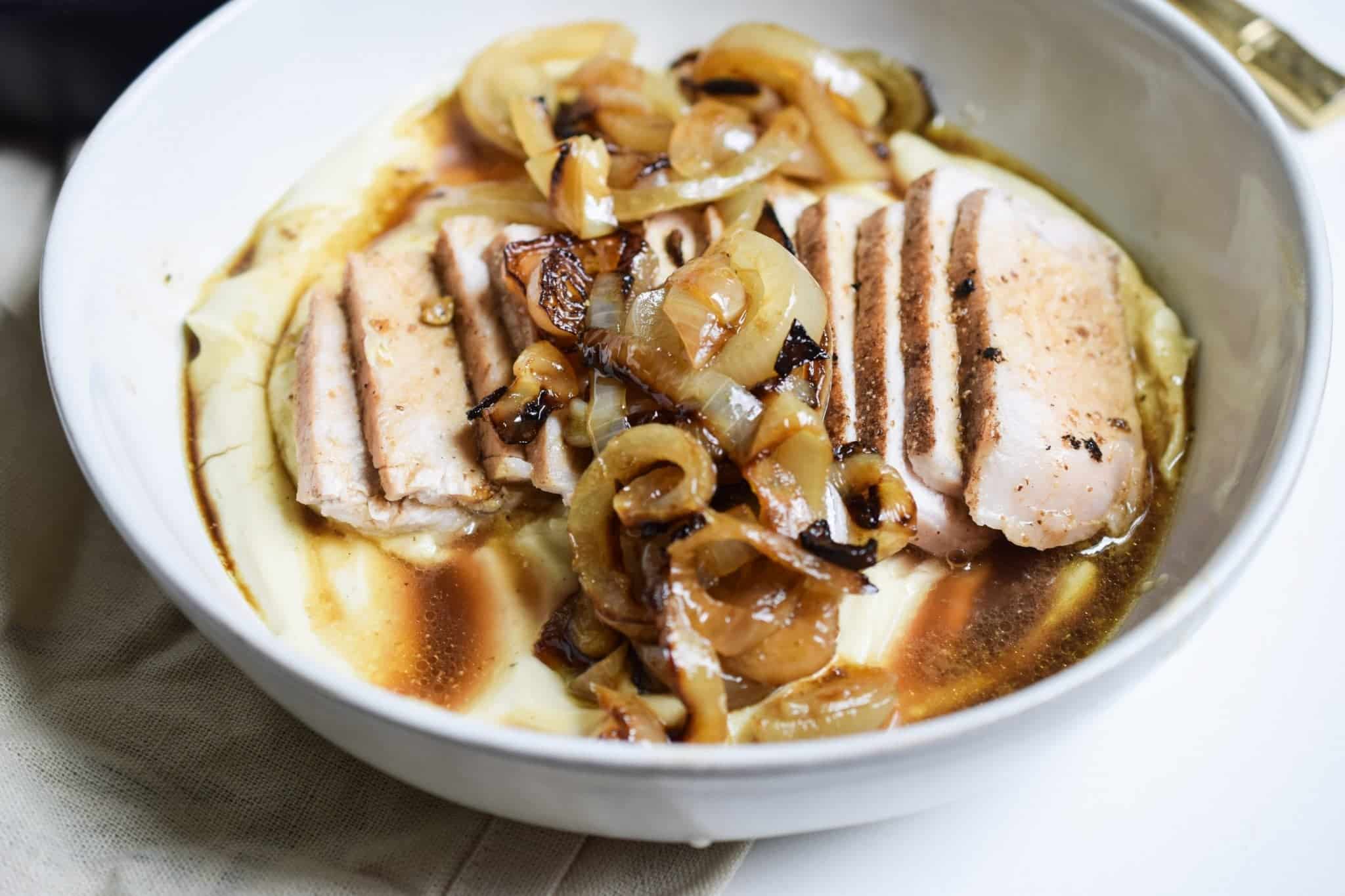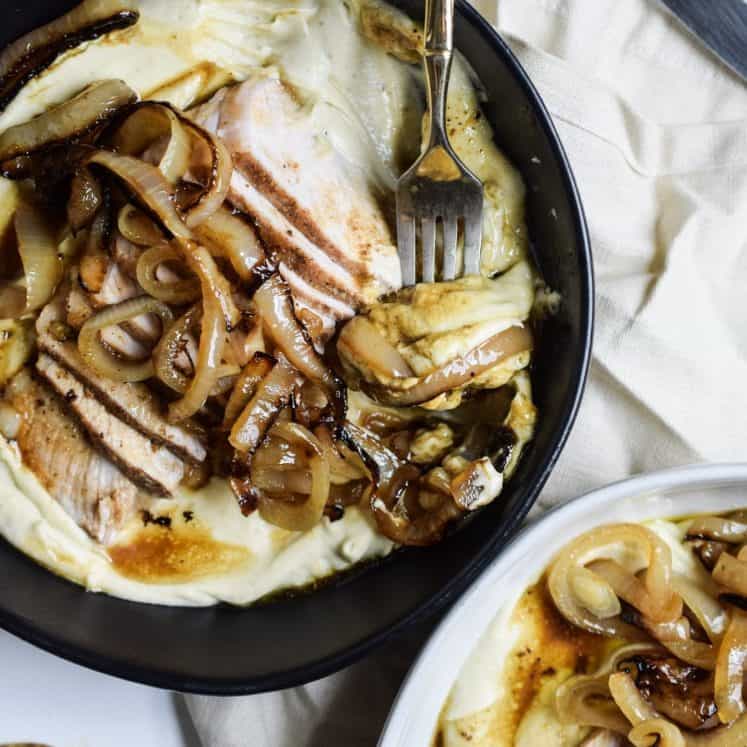 Braised Pork Chops with Cauliflower Cream
---
Author:
Prep Time: 5
Cook Time: 25
Total Time: 30
Description
A deliciously easy yet decadent weeknight meal!
---
Scale
Ingredients
Pork Chops
2 tablespoons avocado oil, divided
1 large vidalia onion, sliced
1 bay leaf
2 thick cut, boneless pork chops
1 teaspoon fine salt
1 teaspoons ground mustard seeds
1 teaspoons 5-spice
1 cup bone broth
2 tablespoons red wine vinegar
For the Cauli-Cream
1 tablespoon avocado oil
4 cloves garlic, minced
2–3 cups small diced cauliflower
1/2 cup broth
1/2 teaspoon fine salt
1/4 cup mayo (link below)
1/2 cup raw whole cashews
---
Instructions
Heat a large skillet over medium heat.
Add in 2 tablespoons avocado oil, sliced onions and a bay leaf. Sprinkle with a pinch of salt. Cover and cook here, stirring occasionally until tender, about 8 minutes.
In the meantime, start the mash. Heat 1 tablespoon avocado in a small sauce pot. Add in the garlic and cauliflower, stir until the garlic starts to smell toasty.
Add in the salt and bone broth. Cover and cook here 5 minutes.
Season the pork chops evenly all over with the salt, 5 spice and mustard.
When the onions are done, remove them from the skillet. Add in a little more oil and set the skillet back over medium heat, do not clean it.
Add the pork chops to the skillet so they aren't touching. Cook here, with the lid on, 5 minutes per side.
While these cook, take the lid off of the cauliflower and let the broth reduce by half. Then transfer everything to a blender, add in the mayo and cashews and blend until smooth. Set aside.
By now the pork chops are properly seared. Open the lid and add in the cup of broth and the red wine vinegar. Close the lid and cook for 5 minutes.
Remove the pork chops from the skillet and set them on a board to rest. Bring the heat up to high on the skillet and reduce the sauce by half.
Trim the fat off the pork chops then slice in thin, even slices with a sharp knife.
Spread the cauliflower cream on the bottom of two bowls.
Add the sliced pork chops and top with sauteed onions.
Take skillet off the heat and pour or spoon the reduced pan sauce over the onions.
Enjoy!
Recipe Notes:
Nutrition
Serving Size: 1/2 recipe
Calories: 606
Fat: 43g
Carbohydrates: 20g
Fiber: 8g
Protein: 33g
Keywords: braised pork chops