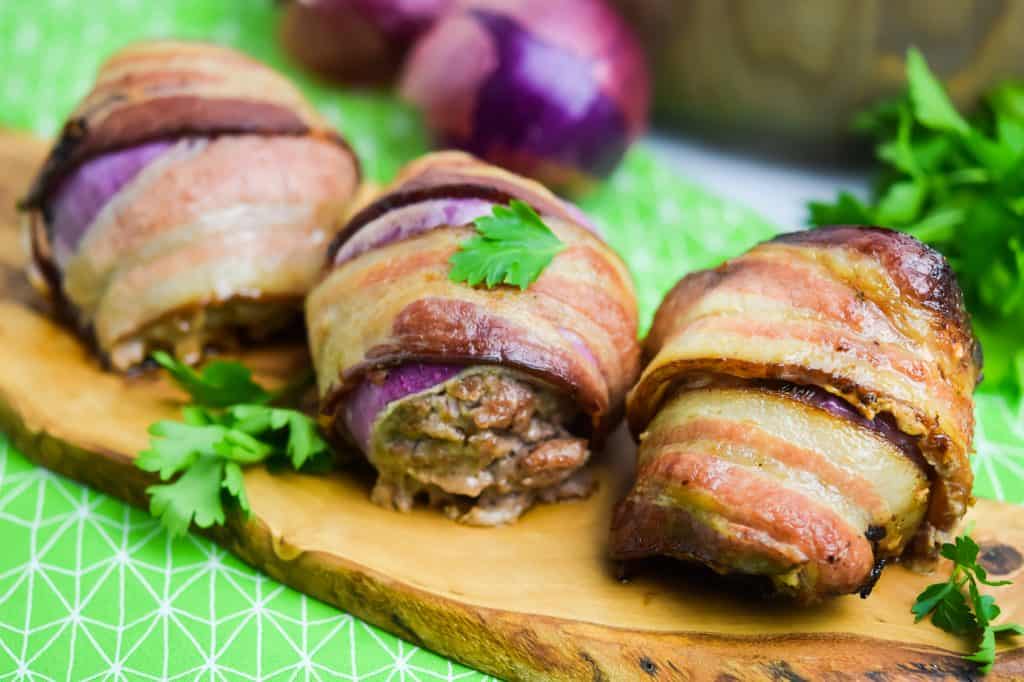 So, this is one of those things I saw on the internet forever ago, one of those Tasty style videos and was like, oh man I gotta make that. I mean Bacon Wrapped Onion Bomb? All my favorite flavors in one compact recipe. I'm all in.
I made this clean and simple, but the possibilities are endless here. I guess a lot of folks do these as BBQ Onion Bombs or BBQ Bacon Wrapped Onion Bombs and I can totally see the appeal. Nightshade Free BBQ sauce recipe here and a Whole30 approved, sugar free BBQ sauce here.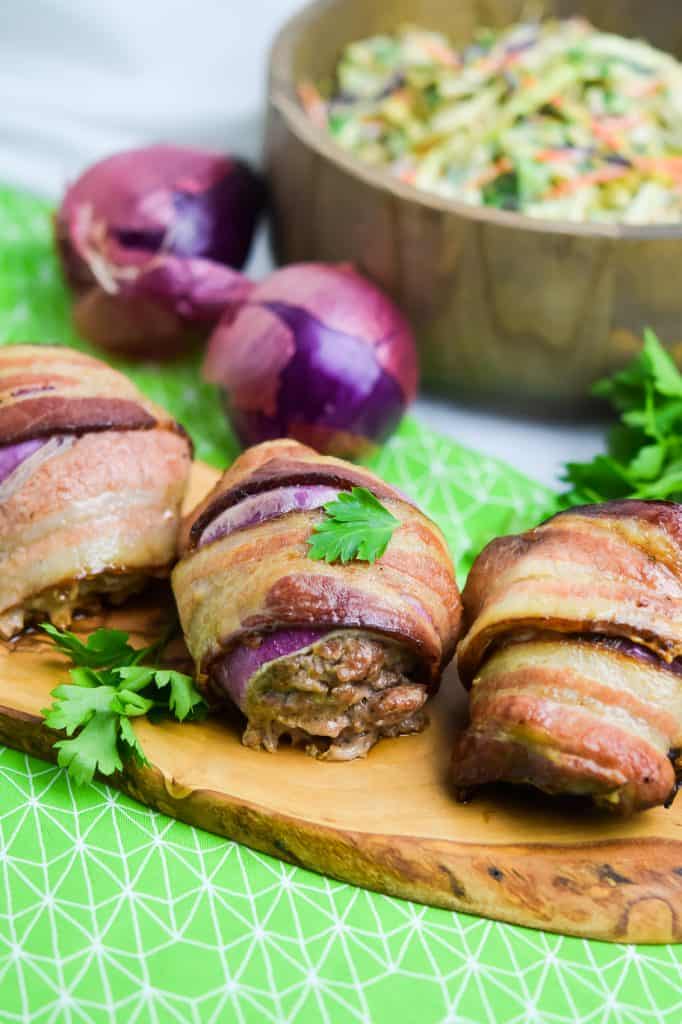 Super Duper Easy
These look labor intensive, but they're not. The little onion shell really works like a charm. I went with red onion because it's delicious and what I had on hand. I'd also use regular sliced bacon, the thick stuff will be a pain to wrap around the onion bomb. So now that we've established the basics, let's get cooking! These Bacon Wrapped Onion Bombs are the perfect recipe for weekend potlucks!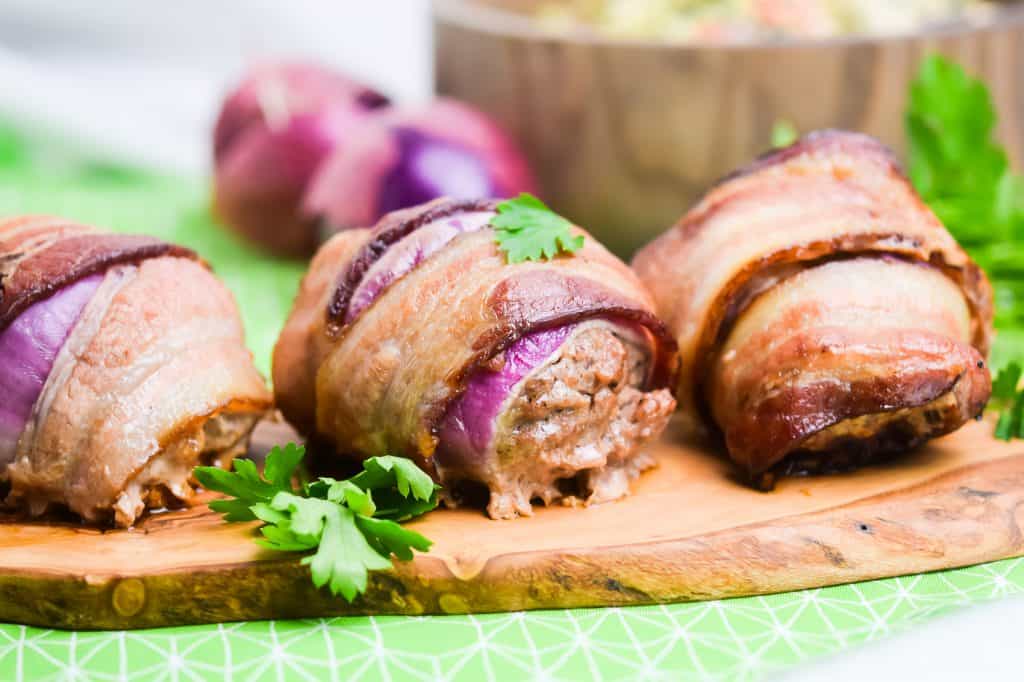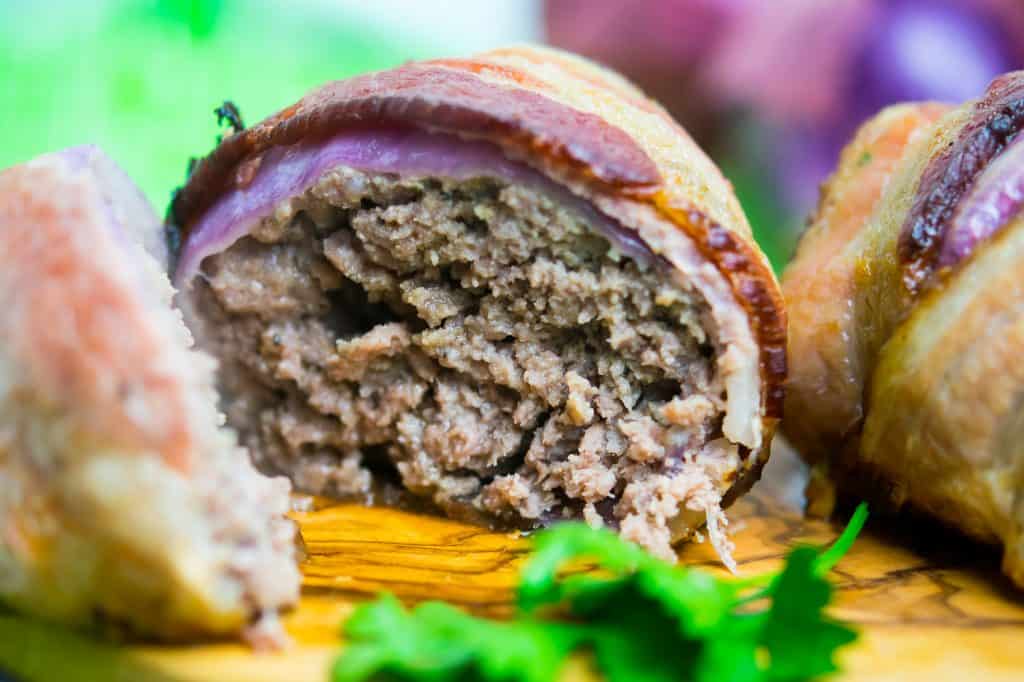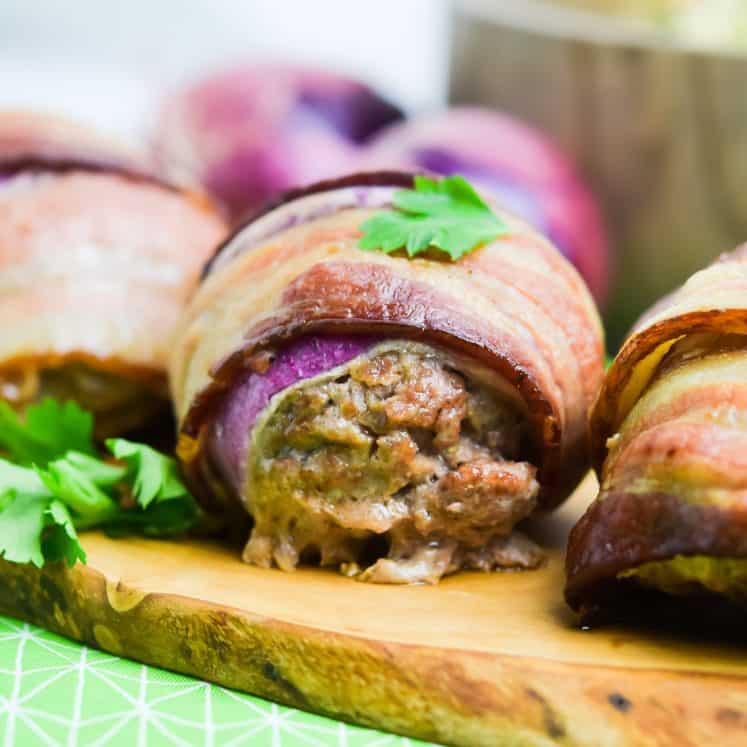 Bacon Wrapped Onion Bombs (Paleo, Keto, Whole30)
---
Author: Cristina Curp
Prep Time: 15
Cook Time: 35
Total Time: 50 minutes
Yield: 6 1x
Category: Entree
Method: Roast
Cuisine: American
Description
Delicious and easy bacon wrapped onion bombs are the perfect potluck recipe! Hello Summer!
---
Scale
Ingredients
2 pounds grass fed ground beef, 85% lean
1 large egg (or 1 tablespoon flax meal)
2 teaspoons coconut aminos
1 1/2 teaspoons fine salt
1 teaspoon garlic powder
1 teaspoon black pepper
1 teaspoon Spicy Brown mustard (I use this one)
1/4 teaspoon 5 spice (I use this one)
1/2 cup Pork Panko (I use this one)
2 round red onions
12 slices sugar-free bacon
Optional: BBQ Sauce, see post for options
---
Instructions
Pre-heat oven to 400F.
In a large bowl mix together the ground beef, eggs and all of the seasoning and the pork panko until well combined.
Trim the ends off of the onion, then carefully slice the onions along one side piercing through 3 layers only. Peel the skin off of the onions then carefully separate the top 3 layers of the onion so they remain whole, except for the opening made by the cut you made. You need 6 onion skins to fill.
Fill each onion with about 1/3 pound of beef and close the onion around it. Then use two slices of bacon to tightly wrap the stuffed onions so the ends line up on the same side and place seam (where the bacon ends meet) side down on the sheet pan. If some of the bacon does not want to stay in place, use toothpicks to make it stick.
Roast in the middle rack for 35 minutes. Remove from the oven and serve as it or brush with BBQ sauce if desired.
Goes great with coleslaw. See my recipe here. 
Nutrition
Serving Size: 1 Bomb
Calories: 435
Fat: 29.6g
Carbohydrates: 2g
Fiber: 0.1g
Protein: 44g
Keywords: Bacon Wrapped Onion Bomb