Can it be? A ZERO CARB KETO BREAD that is made with gut healing ingredients. ZERO nuts, seeds, coconut or anything else? Just… protein? Yes! This real life! When Vital Proteins sent me their Bone Broth Collagen I immediately thought of Lil Sipper's Bone Broth Bread! I knew it had a short ingredient list and I wanted to make it. However, when I pulled up the recipe, I saw ONE  CUP TAHINI. Gah! Don't get me wrong, I love tahini… but lately, I'm really watching my omega-6 intake and I know a lot of you are too. So I was like… I can totally make this bread without tahini. I MADE THREE LOAVES…  experimenting a bit with this zero carb bread thing.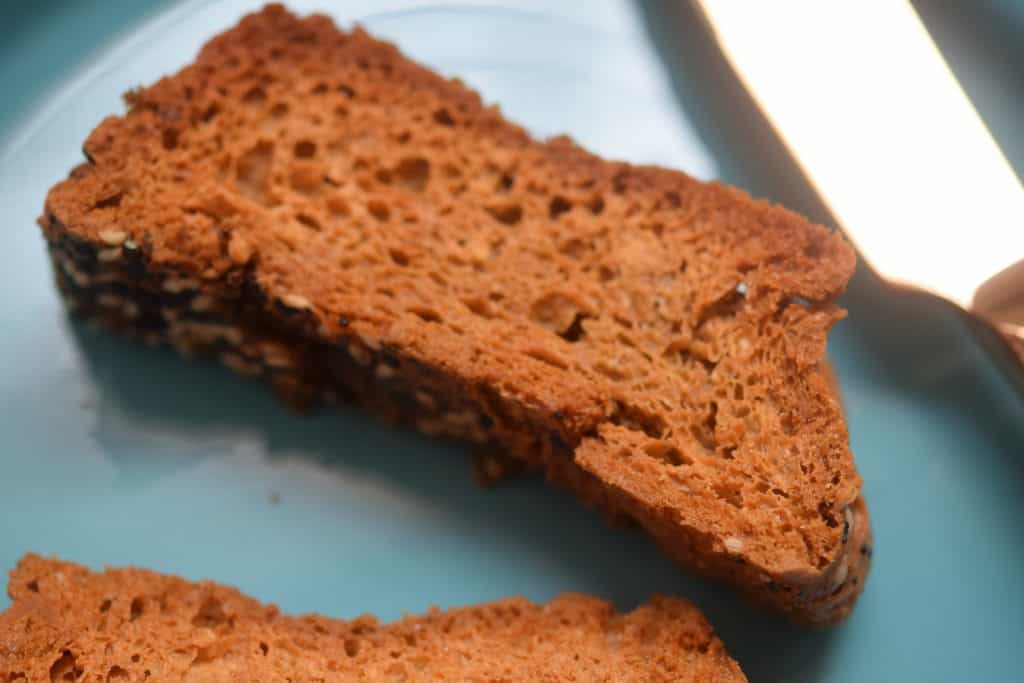 My Experiment with Zero Carb Bread Paid Off!
The first loaf was really dense and really sticky. So I had to further modify the recipe for a fluffy, still chewy, but lighter loaf. I knew it would not have the traditional rise, but hey, a zero carb loaf can be a shorty as long as it tastes good. Oh boy, it sure does. The second loaf came out fluffy and savory and with a lovely crust. The cooking time will vary depending on the protein used, your oven, etc. So, take some responsibility here. Use your senses and a toothpick to suss out just the right cooking time for your bread. Because when it works, it works! I started with 30 minutes and added time, landing at 4o minutes for the bone broth loaf and about 50 minutes for the beef protein isolate loaf. I have a gas oven too, so that might have something to do with it.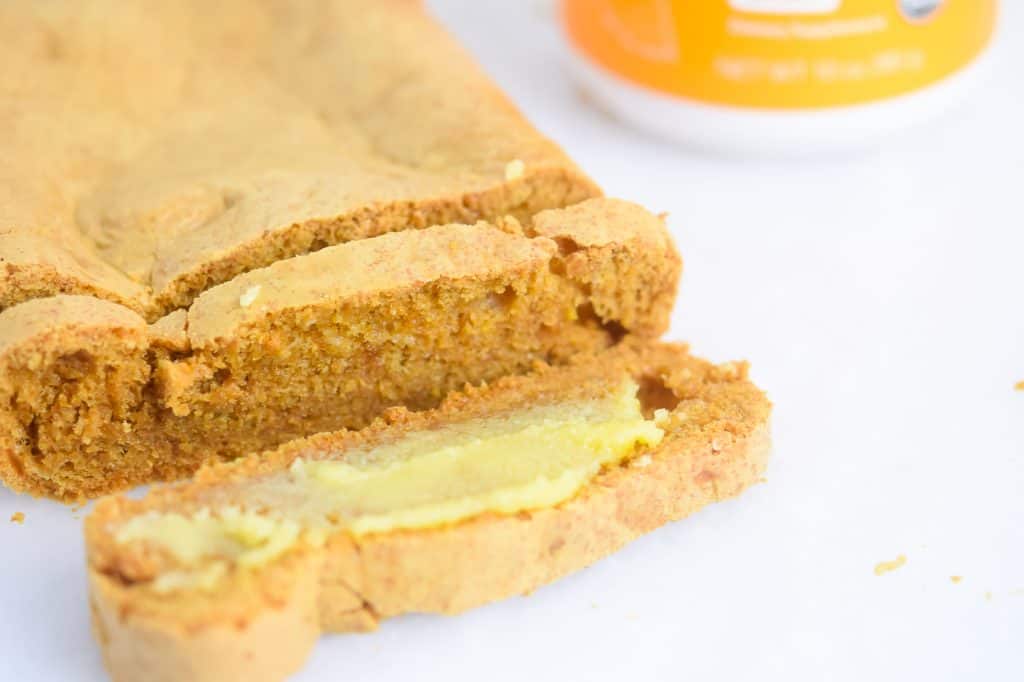 THE BONE BROTH OPTION (lighter loaf)

The recipe uses 3/4 cup of this product, which is about 1/2 of the canister. So, fair warning, $$$.
THE BEEF PROTEIN ISOLATE OPTION (darker loaf)
This is a 2.2-pound bag, which is huge and will make a lot of bread. Its also a very versatile protein supplement with no allergens, flavors or sweeteners. So I'm a fan.
THE RECIPE WILL VARY SLIGHTLY DEPENDING ON THE PRODUCT YOU USE,
BE SURE TO READ THE INSTRUCTIONS CAREFULLY!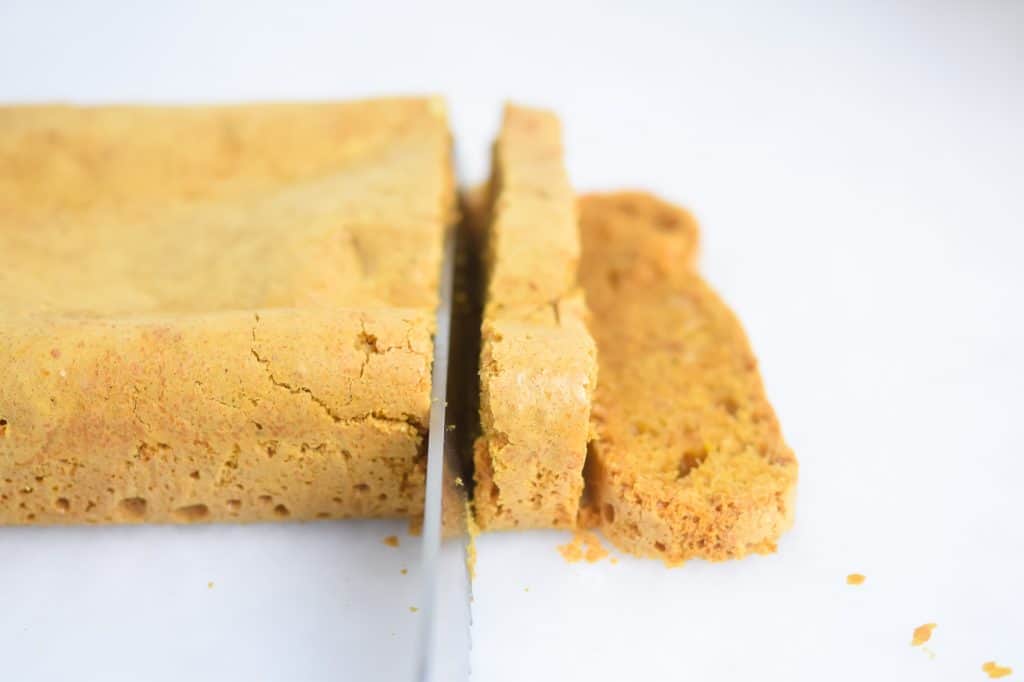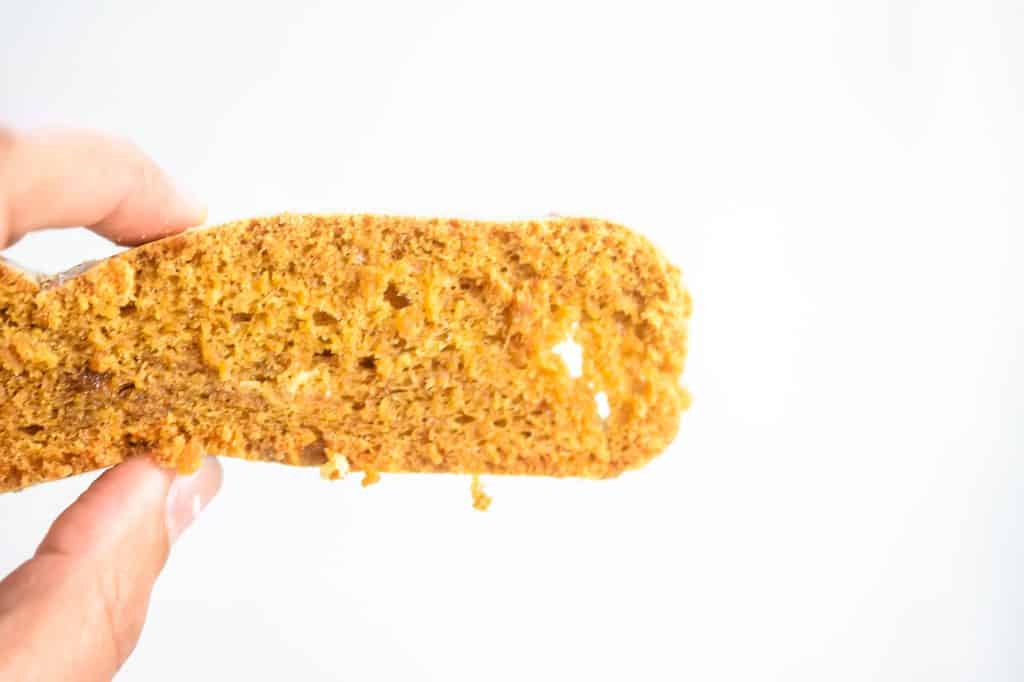 I love the savory flavor of this bread! Toasted and with some ghee on top is how I enjoy it. High in protein, I stick to 2 slices with plenty of ghee per serving!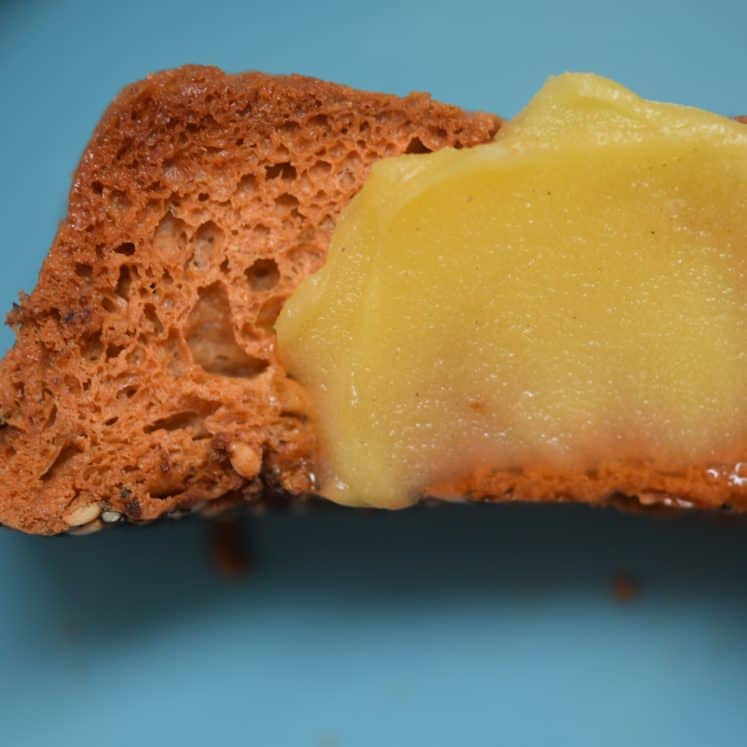 Zero Carb Bread (Paleo, Keto, Nut Free)
---
Author: Cristina Curp
Prep Time: 15 minutes
Cook Time: 45 minutes
Total Time: 1 hour
Yield: 1 loaf 1x
Category: Bread
Method: Bake
Cuisine: Keto
Description
This allergen free bread is made with pure protein for a low carb loaf that is super healthy!
---
Scale
Ingredients
4 large eggs
3 tablespoons extra virgin olive oil
1 teaspoon baking powder
1/8 teaspoon fine salt
1 teaspoon apple cider vinegar
3/4 cup Bone Broth Powder or Beef Protein Isolate (see posts for brands)
2 tablespoons collagen powder (only if using Protein Isolate)
Fat to grease the bread pan
---
Instructions
Pre-heat the oven to 350F.
In the bowl of your mixer whisk the eggs and olive oil until frothy on medium-high speed, then add in the baking powder, salt and apple cider vinegar,
Lower the speed to slow and then slowly add in the protein powder and whisk until well combined.
If using the bone broth powder the mix will become a sticky and runny dough. If using the beef protein isolate with the collagen the mix will become a thick batter. 
Grease the loaf pan well and transfer the mix into the pan. Bake in the center rack for 40-50 minutes. If using the protein isolate (which has a more fluid batter, it may need to bake up to an hour, use the toothpick test to determine doneness).
Your loaf should be risen, golden with a nice crust and sound hollow when you tap on the top. That's when you remove it from the oven. Next,  let it rest for 20-30 minutes before unmolding. Your fluffy perfect looking loaf WILL DEFLATE when it comes out of the oven. It's okay!
Note the images, the slices are short. That's okay! The texture of the bread will be chewy and fluffy and awesome, although narrow 🙂 Slice, toast, smear with ghee! Store in the fridge in an airtight container for up to a week.
TROUBLESHOOTING: Cut the bread into slices, if you feel the loaf is still too moist (it didn't bake long enough), you can pop the bread back in the oven for 20 minutes or so at 300F. Or you can slice the bread into 1 inch thick slices and lay them flat on a sheet pan and broil for 2-3 minutes each side to toast! Still so good!
Recipe Notes:
A reader suggested letting the loaf cool suspended, upside down, like Angel Food cake. I tested this and it worked but the slices were so fluffy it was hard to slice.
Nutrition
Serving Size: 1 slice/ 10
Calories: 123.8
Fat: 6.2g
Carbohydrates: 0.3g
Fiber: 0g
Protein: 25.8g
Keywords: zero carb bread