A few weeks back I got a box of fabulous housewares from Fab.com. My bestie works for them and she had a great idea, I was to write up a fall theme recipe they could share in their newsletter, photographed of course with said housewares. I was in! For one, I love everything they sell, second, how awesome that my job was able to let me collaborate with a sister from another mister. I hope you love these low-carb spiced pumpkin muffins!
The Goods
Copper flatware, luminescent green mixing bowls, stylish placemats,$ and fun party hosting pieces like smiley face cutting board and "Use In Event of Guests" plates! Seriously, I was drooling over these items and I'm sure you'll recognize them from my stories and photos. So beautiful! I immediately put them to use in my cooking and photography. What I love most about the pieces is that they are the perfect combination of stylish and functional! I've linked the items above (not affiliate links), because I've already had some questions on where I got these fabulous items. Not to mention they photographed beautifully with these low-carb spiced pumpkin muffins!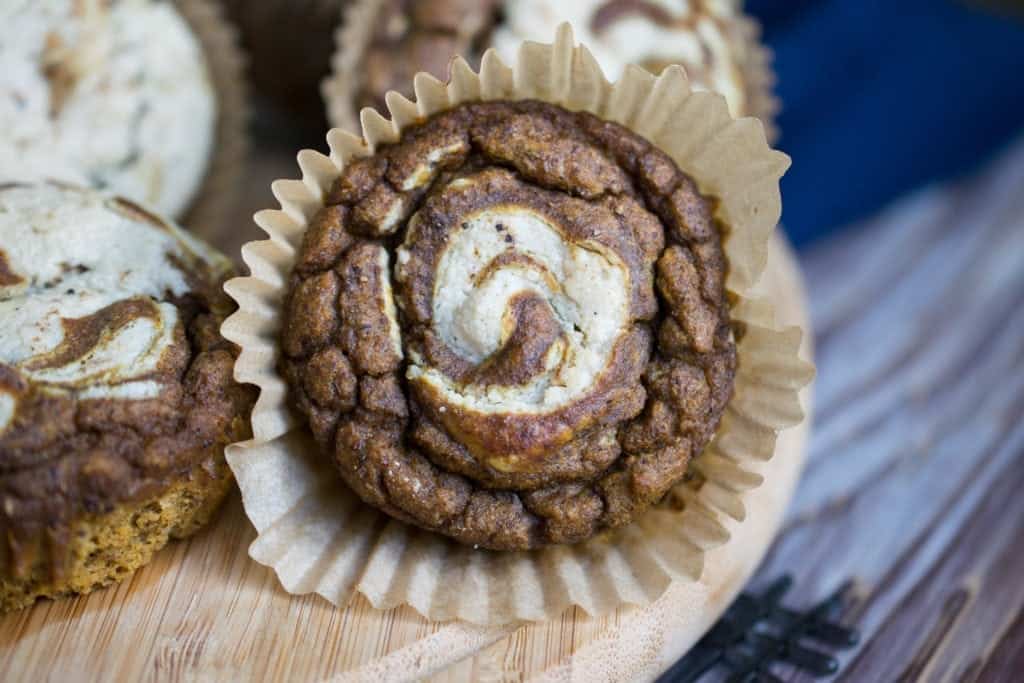 Feeling Famous
Not only was my recipe to be disseminated to their 1 million+ subscribers (oh my!), but they interviewed me for the piece too. The questions were very good and really got me thinking about what inspires me! The whole thing was so fun and I look forward to more opportunities like this one.
READ THE INTERVIEW HERE, TALKING DINNER WITH MY HERO AND HOW I PLAN THE PERFECT DINNER!
Fall Baking: Inspiration for these Low Carb Spiced Pumpkin Muffins!
I have been dying to dive into fall baking. Which really, a habit born from this blog. I probably ate more sweets in the fall, but I don't think I was ever into traditional fall baking. I attribute it to growing up in Miami and in a Cuban home. We ate turron and put out walnuts in the fall. Pumpkin bread…. not so much. Yet with this blog, following the social media trends of the season, and the need to create these recipes so that all of you had healthy options, I began to look forward to it! So thank YOU for teaching me something. Now that I am grown up (sort of) I am creating new traditions with my family. Hosting parties in my home (because I do all the cooking, duh) and sharing my favorite foods, cozy ambiance and good times with my family and friends.
The Recipe
You know me by now. You know I can't help myself. Ever the rebel. I didn't use pumpkin spice. That's why they are called LOW CARB SPICED PUMPKIN MUFFINS, NOT LOW CARB PUMPKIN SPICE MUFFINS.
I used Garam Masala and it worked beautifully. It plays off of the tahini so well. These are moist and rich. The nutty flavor on top really compliments the spiced pumpkin. East to make and lightly sweetened, these are perfect with a cup of coffee or tea, for breakfast or afternoon snack. Yum! I just love real food baking!
Low Carb Spiced Pumpkin Muffins
---
Author: Cristina Curp
Prep Time: 10
Cook Time: 25
Total Time: 35
Yield: 12 1x
Category: desserts
Method: baking
Cuisine: comfort food
Description
Dairy and nut free these low carb muffins are deliciously fall!
---
Scale
Ingredients
Pumpkin Muffin
1 heaping cup pumpkin puree (100% pumpkin, unsweetened)
¼ cup ghee or softened butter (coconut oil will work too)
2 teaspoons Ceylon cinnamon
2 teaspoons garam masala
1 teaspoon baking soda (or aluminum and corn free baking powder)
½ teaspoon pink Himalayan salt
1 teaspoon vanilla extract
5 large eggs
1/3 cup rounded granulated sweetener or 30 drops liquid stevia/ 2 tsp stevia glycerite
1/3 cup coconut flour
1/3 cup rounded ground flax seed
(golden flax will produce lighter muffins, regular flax meal will produce darker muffins like photographed)
Tahini Swirl
2 heaping tablespoons tahini
1 tablespoon toasted sesame oil
1 teaspoon granulated sweetener
Pinch of salt
---
Instructions
Pre-heat the oven to 350F.
Add cupcake liners to the muffin tin and lightly spray with coconut oil or another nonstick cooking spray.
Combine all of the pumpkin muffin ingredients in a large bowl and insert an immersion blender or hand mixer.
Blend up to combine until thick batter forms.
Use a ¼ measuring cup or scoop to distribute the batter to each muffin mold.
In a small bowl mix together the tahini swirl ingredients until smooth. Add a teaspoon to each muffin and use a toothpick to swirl it around.
Bake the muffins for 25-28 minutes. Remove from the oven, and let cool to room temperature on a rack before handling.
Recipe Notes:
Macros, per muffin (using swerve to sweeten): Calories 135, Fat 11g, Carbs 7g, Fiber 4g, Sugar 2g, Protein 4g
Nutrition
Serving Size: 1
Calories: 135
Fat: 11g
Carbohydrates: 7g
Fiber: 4g
Protein: 4g
Keywords: low carb spiced pumpkin muffins