Rich and gooey, made even richer and gooey by the melting chocolate chunks! These flourless muffins are made of eggs, cacao, tahini, and love. Little hands helped stir this recipe together and the hopes of a 5-year-old made it work. Sometimes, I swear, I don't know how these things turn out. I'm a mix everything up and hope for the best kind of cook. I'm instinctual and the opposite of calculated. But it works, and now you have these delicious muffins to share with your family.
Paleo. Check! Keto. Check! Dairy + Nut Free. Check!
Yup, flourless double chocolate muffins check the allergen boxes (except egg-free, sorry). Bonus, they're pretty flexible in terms of seed butter… which what you got. Tahini, sun butter, tigernut butter… even if you want to use peanut or almond butter. It'll do.
As far as the sweetener I used a mix of stevia and local raw honey since I made these for the boys. But using ChocZero, Lakanto or another low carb liquid sweetener will work just fine. When using a low carb sweetener these bad boys are only 10 total carbs per serving, which is pretty rad for a muffin!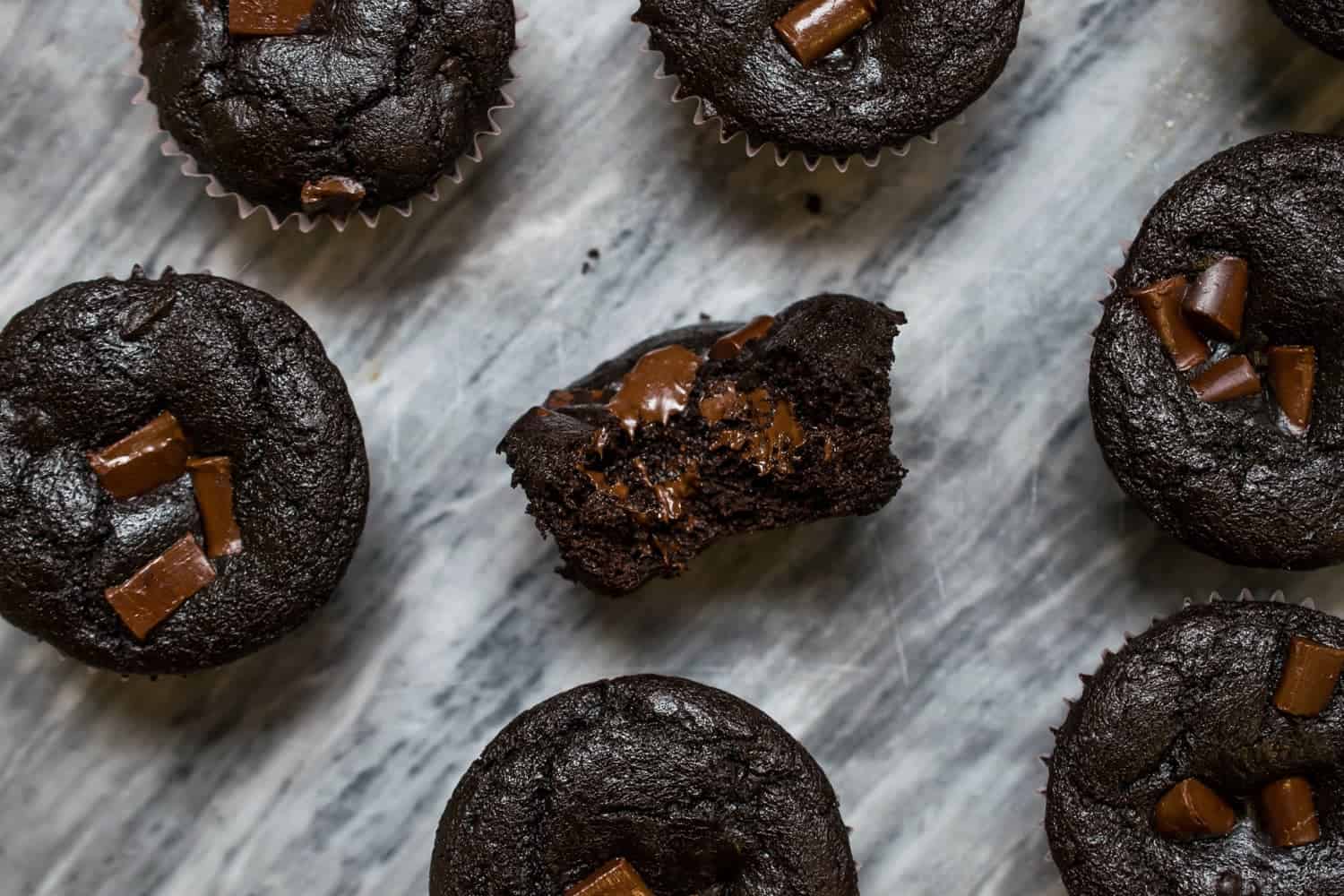 Chocolate Lover's Muffin
Today is my husband's birthday! We're in a new house, with no furniture and bare essentials in the kitchen. Luckily, I have some friends in town that lent me a skillet and a few kitchen wares to include a muffin pan. Hence… MUFFINS! Yup… I was itching to get recipe developing in the new place, and with J's bday, it just seemed right that it would be a sweet treat. Although these aren't for his birthday! Ha! Jack really wanted to bake. Today we're also making the muffins from my cookbook.
Flourless Double Chocolate Muffins
---
Author: Cristina Curp
Prep Time: 10
Cook Time: 15
Total Time: 25 minutes
Yield: 9
Category: keto
Method: baking
Cuisine: paleo
Diet: Gluten Free
Description
One bowl, easy peasy recipe for moist and rich chocolate muffins!
---
Scale
Ingredients
2 large eggs, room temp
1/4 cup room temp coconut oil (this one)
2 tablespoons nut or seed butter
1/3 cup Lakanto Sweetener or another granulated sweetener
1 teaspoon liquid stevia glycerite, not the regular liquid stevia (this one), optional, see notes
1 sifted cup (3/4 cup measured) cacao powder (this one)
1 scant teaspoons salt (this one)
1 teaspoon baking soda
1 teaspoon ground coffee (instant coffee or fresh espresso grind)
1/4 cup coconut cream (this one) or cashew creamer
1/4 cup hot water, more as needed
---
Instructions
Pre-heat the oven to 350F. Line a muffin tin with muffin liners and lightly spray with coconut or avocado oil.
In a large bowl whisk together the eggs, coconut oil, and seed butter with a fork until fluffy.  Add in the sweeteners and mix in thoroughly.
Stir in the cacao powder, baking soda, salt, and coffee until well combined, and sort of dry.
Add the coconut cream, followed by the hot water and stir until the mix is fluid again. If the mix is thick like a stiff paste, add in spoonfuls of hot water, one at a time, mixing it in completely before the next,  until it becomes fluid but thick like cake batter!
Give it a taste (that's right, lick the spatula), adjust salt or sweetness as needed.
Mix in half of the chocolate chunks or chips, if you are using a bar, chop it up into small pieces.
Distribute the batter into the muffin pan, filling 9 slots.
Top each muffin with 2-3 pieces of the remaining chocolate.
Bake for 15-20 minutes until slightly risen and firm looking, remove them from the oven and let them cool completely before handling.
Recipe Notes:
*Nutrition Facts Reflect Use of Low Carb/Calorie Sweetener Like Lakanto, total carbs not net* Depending on which keto sweetener you use you may need to use less than 1/4 cup. Please follow manufacturer instructions and/or your preferences.
*If you want to omit the Stevia use 1/2 cup granulated sweetener
Nutrition
Serving Size: 1
Calories: 145
Sugar: 0.2g
Sodium: 36.3g
Carbohydrates: 10.3g
Fiber: 3.8g
Protein: 3.8g
Keywords: flourless chocolate muffins