I love ice cream and I can't believe it took me this long to make HOMEMADE DAIRY FREE KETO ICE CREAM.
I have a hard time with store-bought ice cream for two reasons. There are either low carb dairy-based ice creams or dairy free sugar full ice creams. Also, most of the dairy-free ice creams are really icy and/or contain a bunch of fillers or gums which don't jive with me.

No Machine Needed
Oh yeah, I also don't have an ice cream machine. Between the pressure cooker, blender, food processor and mixer… my husband has me at my kitchen appliance max! Also, I feel like if I buy one I would make ice cream WAY too often. Just being honest.
Anywho… this recipe is amazing. It's like a dairy, sugar-free, nut free frozen custard. Blended up to thick, creamy perfection, then frozen to keto ice cream bliss. Easy peasy.


Ingredients
Eggs and egg yolks, hemp hearts, coconut milk, and cacao powder. Sweetener of choice.
The chocolate swirl is simple. Melt ¼ cup of your favorite dark chocolate. I recommend using this homemade keto chocolate for the swirl. It's what I did, and yum!

Variations
Omit the hemp hearts or use cashews instead. You could also switch the coconut milk out for cashew cream, recipe HERE.
However, I think this nut free, the coconut-hemp-egg mix was SPOT on! Even my Ben and Jerry's loving husband loved it!

MUY IMPORTANTE
Once you pop this dairy-free keto ice cream in the freezer you can wait as little as one hour to enjoy. I think two hours is the perfect time.
Once it has been frozen overnight you will NEED to set it out to thaw for 30 minutes before eating. If you try to eat it straight out of the freezer it will be hard AF. Once it thaws, it will be creamy, this ice cream doesn't melt to liquid because of the emulsified egg. Science.
Okay. Now go forth and enjoy LOW CARB, DAIRY FREE, SUGAR-FREE ICE CREAM!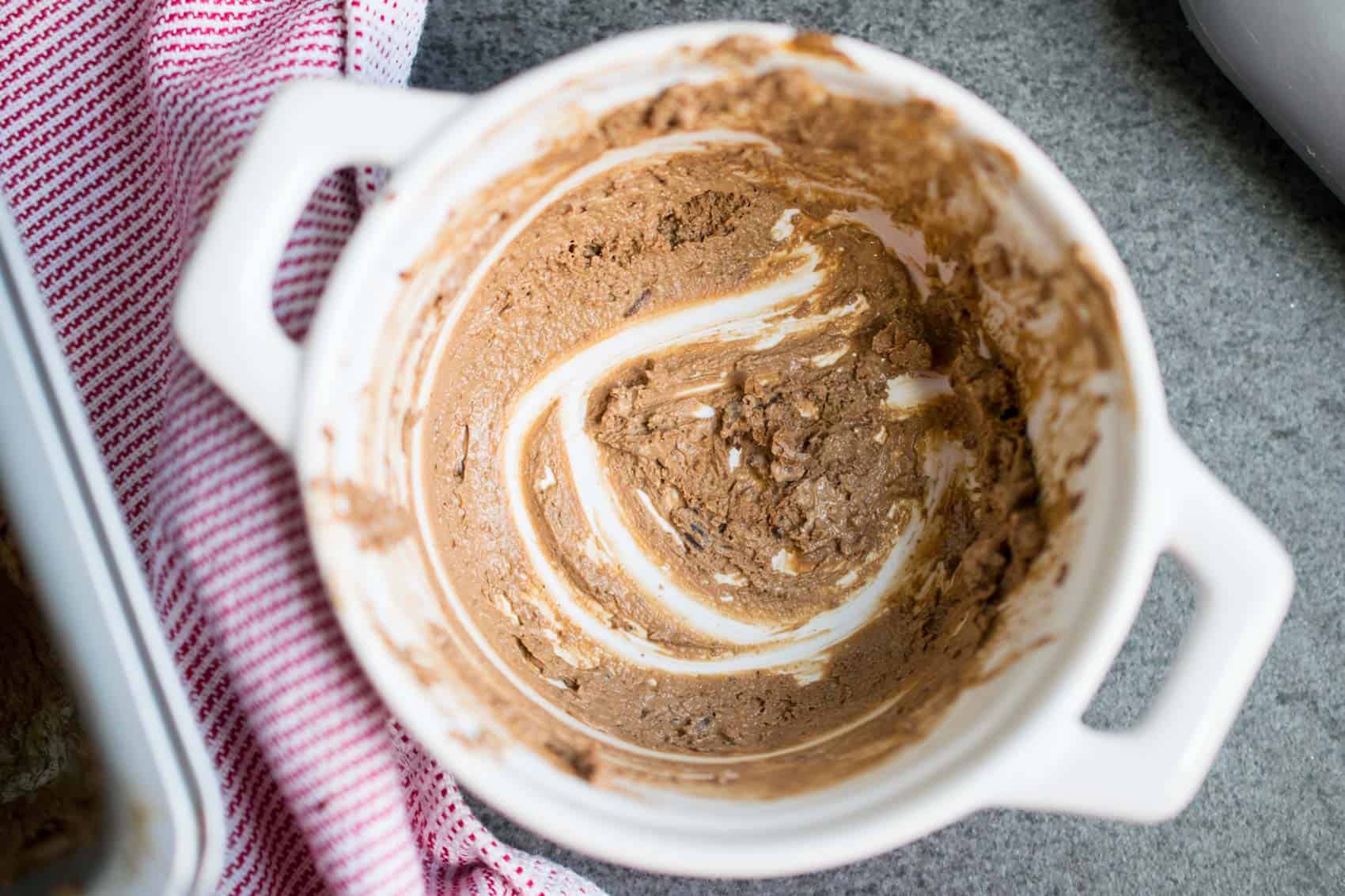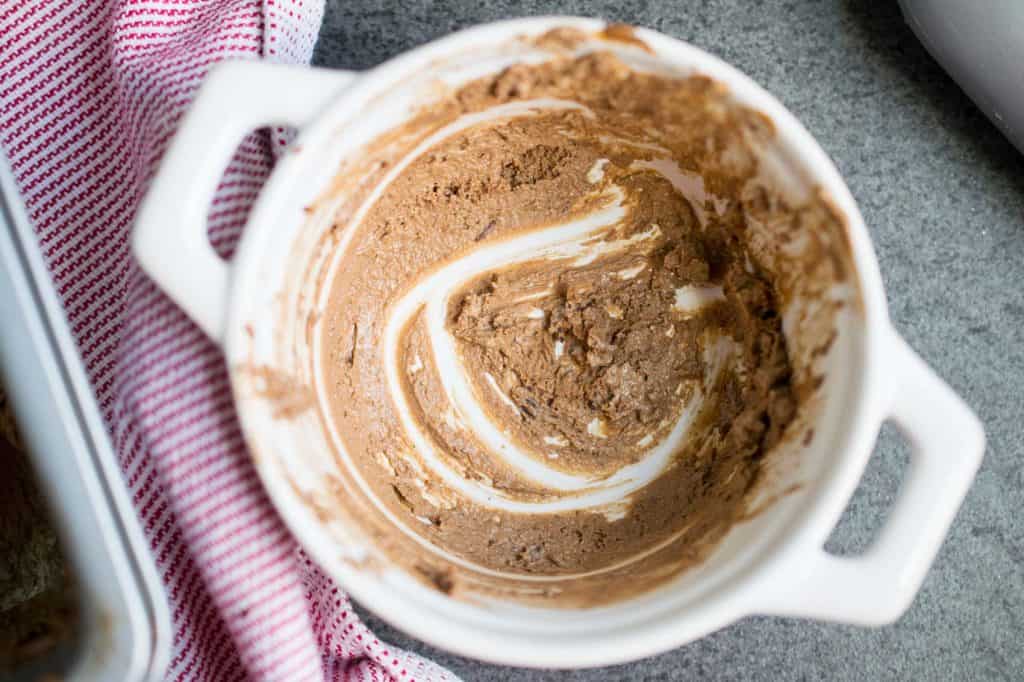 Shop For Recipe Essentials HERE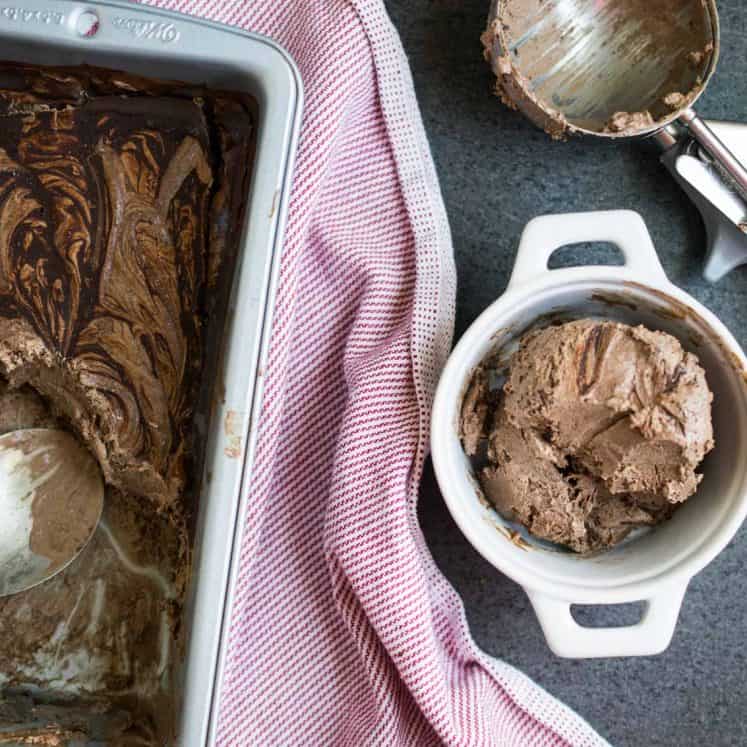 Dairy Free Keto Chocolate Ice Cream
---
Author: Cristina Curp
Prep Time: 10
Cook Time: 2 hours
Total Time: 2 hours 10 minutes
Yield: 6 servings 1x
Category: Dessert
Method: No Churn
Cuisine: Keto
Description
Rich, decadent, no-churn, sugar-free,  low carb ice cream!
---
Scale
Ingredients
3 large eggs
4 large egg yolks
1/2 cup shelled hemp seeds (optional)
1/4 tsp fine Himalayan salt
1/3 cup coconut oil
1 cup full fat coconut milk
1/2 heaping cup cacao powder
10 drops liquid stevia
1/4 cup erythritol
1/4 cup melted dark chocolate (Lily's or Homemade Keto Ice Cream)
---
Instructions
Combine all of the ingredients, except the melted chocolate, in a blender.
Blend on low, bringing the speed up to high. Blend for one mintue. Use a spatula to scrape the mix off of the sides. Then blend for another minute.
The mix will be thick and silky, like pudding! You can taste it, it's delicious! Adjust the sweetner if needed. I like mine LIGHTLY sweetened.
Use a spatula to scrapE and pour the ice cream mix in to a loaf pan. I use an 8×4.
With the spatula in one hand, and the melted chocolate in the other, slowly drizzle the chocolate in to the ice cream mix while you swirl it in with the spatula.
Set the loaf pan in the freezer. Set for up to two hours then enjoy right away.
Or wrap tightly in plastic wrap and freeze overnight. Set out for 30 mintues to thaw before serving!
Nutrition
Serving Size: 1/6 recipe
Calories: 339
Fat: 31g
Carbohydrates: 10g
Fiber: 4.2g
Protein: 12.8g
Keywords: dairy free ice cream