Yeah, you read that right. This is low carb AND it has actual sweet potato in it. This Low Carb Sweet Potato Casserole is creamy and creamy and easy to make! Perfect for your paleo Thanksgiving. Celebrating everything we are thankful for. We're getting a little feisty with this low-carb sweet potato casserole.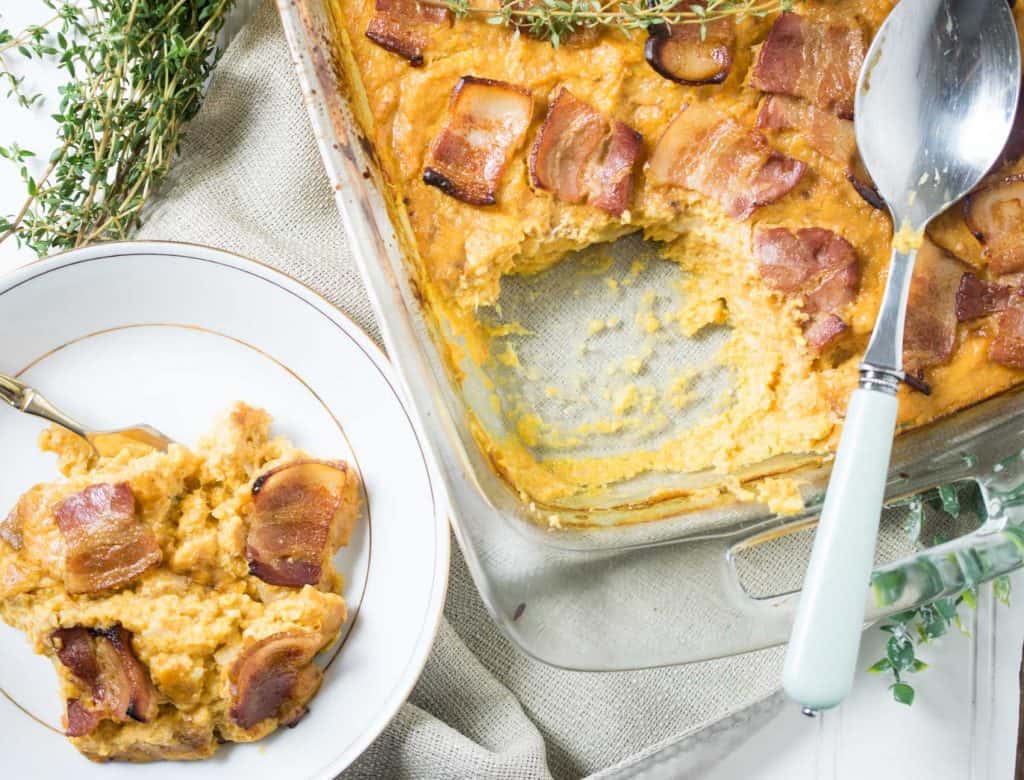 Have your Casserole and Eat it Too
That being said, you don't want to throw your whole way of eating out the window. For one, you want to actually ENJOY the day, and that means feeling great. Secondly, life goes on after Thanksgiving. Some folks brave the scary Black Friday crowds. Some have mountains of dishes and a house to clean. Others get on an airplane and fly home.
Yes, lots happens the day after Thanksgiving, and we can't afford to be balls deep in an autoimmune flare, or brain fog or with digestive distress.
So, I've made a few paleo/keto dishes for you to enjoy. They're real food, as it is meant to be. Packed with flavor and it's a beauty. So no FOMO here. Spiced and thickened with mayo and egg (trust me), and topped with crispy sweet bacon… that's totally sugar-free because coconut aminos are magic.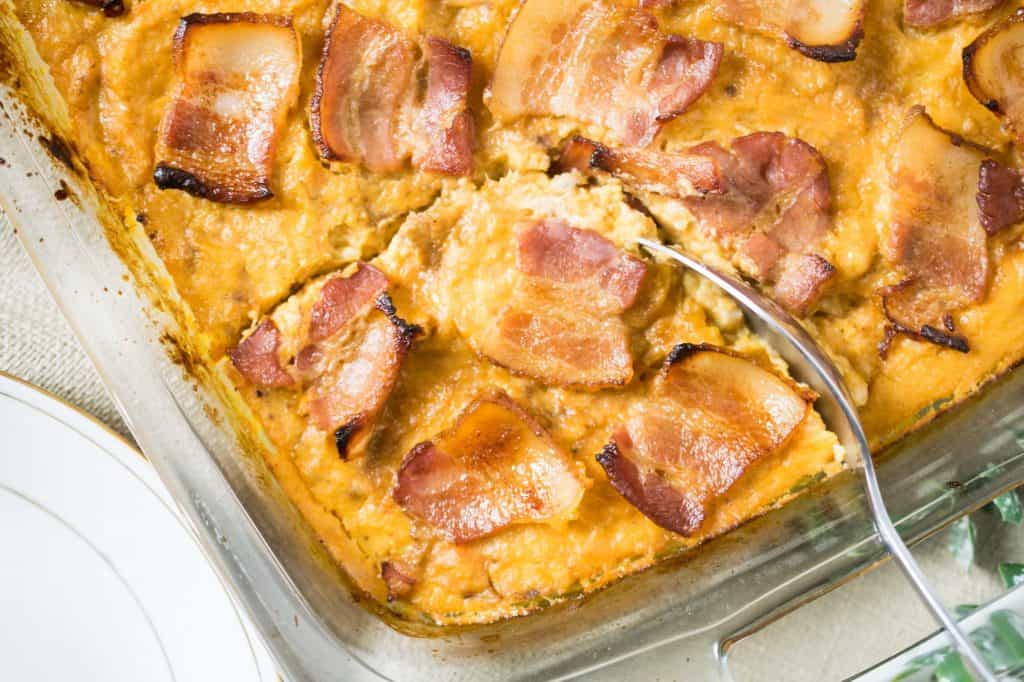 Grab Your Ingredients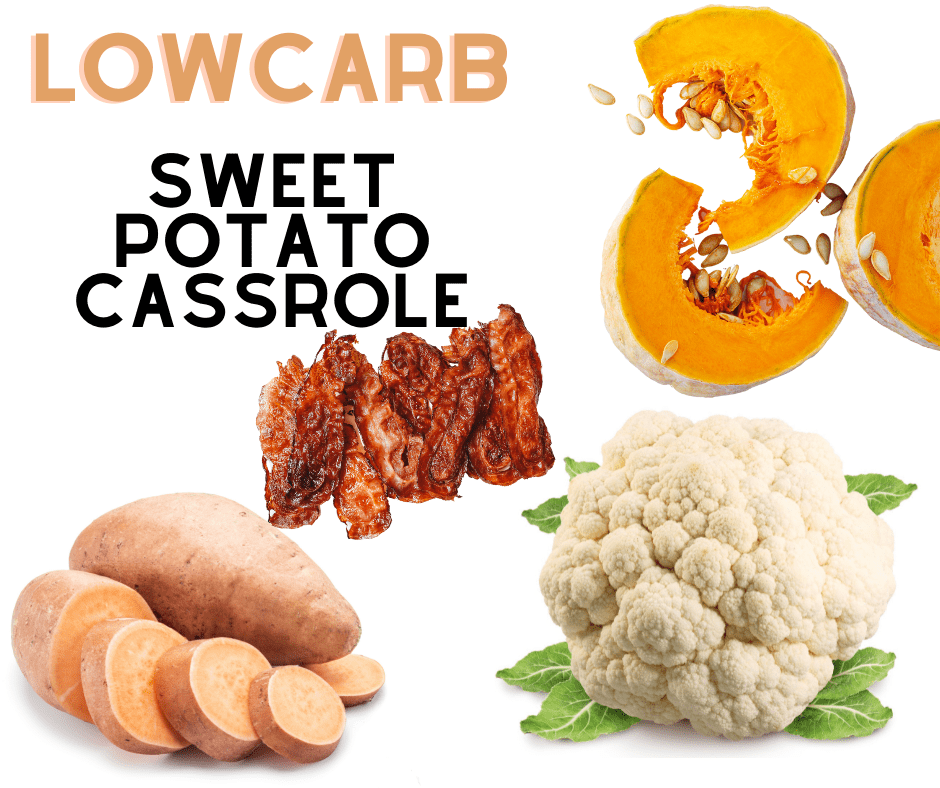 Garnet sweet potatoes for that classic color and flavor!
Cauliflower to fill in and lower the carbs.
Pumpkin as an intermediate low carb and fall flavor.
Primal Kitchen mayo for creamy goodness.
Bacon for flavor, fat and salt!
Frequently Asked Questions
Can I make this egg free?
I haven't tested it, but you can try omitting the mayo and eggs. Instead, use 1-2 teaspoons of agar agar powder in the mix.
Can I prepare this ahead of time for Thanksgiving?
Yes, just cover in foil and bake at 300F until warm to serve.
Can I leave out the sweet potato altogether?
If you want to do that I suggest you double the pumpkin but use freshly roasted kabocha squash instead.
Carbophobia: fear of carbs
It's a thing. I see it all the time. CALM DOWN, PEOPLE. It's a sweet potato, not a deep-fried glazed donut. This recipe is a delicious compromise. One sweet potato, mixed with some less starchy friends. A dish for your table that will let you indulge without the sugar spike.
I for one plan on ruling Thanksgiving as a CARB UP OR REFEED DAY. I plan to enjoy the day. Have this casserole, and green bean casserole, and turkey… and Brussel sprouts… and I don't give a FUH how many grams of anything, anything has.
You know I'm all for eating well. I love paleo, I love keto. I also love to live my life. Let's be adults about this. Thanksgiving isn't an excuse to binge. If you take the day to share a great meal with your loved ones and don't focus entirely on the food, you're going to have a better time. So relax. Enjoy. Be Thankful.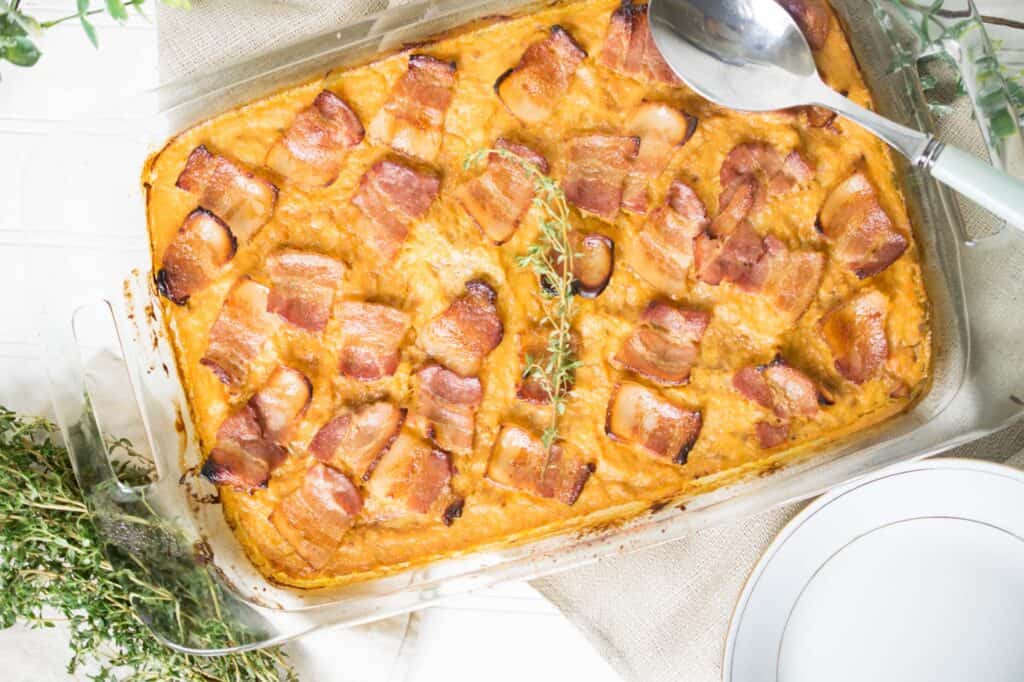 You May Also Like…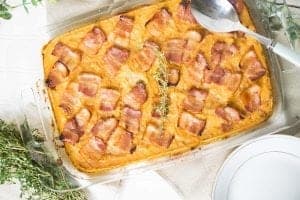 Low Carb Sweet Potato Casserole
---
Author: Cristina Curp
Prep Time: 10
Cook Time: 50
Total Time: 1 hour
Yield: 8 1x
Category: casserole
Method: bake
Cuisine: American
Diet: Gluten Free
Description
A great low carb option for sweet potato casserole!
---
Scale
Ingredients
Vegetable Prep
1 large head cauliflower (4 cups diced)
1 large sweet potato (1 cup small diced)
1 cup pumpkin puree
4 cloves garlic
1 teaspoon salt
½ cup bone broth
Mix To Mash
1/3 cup primal kitchen mayo
2 large eggs
½ teaspoon salt
1 tsp cinnamon
1 tsp garam masala (see notes)
¼ nutmeg
Caramelized Bacon
4 slices bacon
3 tablespoons coconut aminos
---
Instructions
Steam/ simmer the cauliflower and sweet potato with the garlic cloves in a pot with a tight fitting lid until they are fork tender. Or you can throw everything in the pressure cooker and set to low for8 minutes.
Heat the oven to 350F.
Add all of the cauliflower, sweet potato, garlic and broth to the bowl of your stand mixer (or a large bowl and use a hand mixer). Add in the pumpkin and mix with the paddle attachment on medium low speed.
While it mixes add in the mayo, then the eggs one at a time. Add in the seasoning. Mix until thick and well combined. Taste it! Add more salt or spice as you see fit.
Use a spatula to scrape all of the mash into a lightly greased casserole dish. Smooth out the top with a spatula and bake for 25 minutes.
In the time, cut the bacon slices into 1 inch pieces. Toss in a small bowl with 2 tablespoons coconut aminos. When the 25 minutes are up, open the oven and carefully distribute the bacon over the top of the sweet potato. Try to lay the pieces flat and so they don't overlap.
Sprinkle the remaining tablespoon of coconut aminos all over the stop. Close the oven, set to 400F. Bake for another 25 minutes.
Remove from the oven, let it rest a few minutes. Garnish with fresh herbs if you like. Serve with a large spoon or spatula.
Nutrition
Serving Size: 1/8 recipe
Calories: 173
Fat: 115g
Carbohydrates: 13.9g
Fiber: 4.3g
Protein: 5.3g
Keywords: low carb sweet potato casserole