I recently spent a week in San Diego with my family. We rented a house on AirBnb, I had thirty pounds of pastured protein shipped to the house and we hit up the farmers market for our produce.
We did a lot of cooking. A lot of talking. Walking. Cuddling. It was our Thanksgiving, Christmas, Birthdays all wrapping into one week. Alas, the life of a military family. We won't be home for the holidays, so this trip with my mom and dad (and their respective spouses), my sister, husband, and son… it was magical.
One of the meals we made was a turkey breast roast. I ordered a 3.5lb boneless turkey breast. We marinated it overnight and wrapped that bad boy in bacon and roasted it up to juicy perfection. It was such a hit, it comfortably fed six adults. I knew this was exactly what we needed to make for Thanksgiving. So naturally, the minute I returned home I bought another turkey breast to make it again and nail down a recipe. The second time I bought a bone-in breast. I will say that the boneless breast yielded more servings, the bone-in roast (pictured) while it held together beautifully, only yielded 3-4 servings. For the actual day, I want to acquire a 5lb bone-in turkey breast to feed 6-7 adults.
Of course, cooking time will vary depending on size, but I think a solid technique is starting high, at least 20 minutes, then going low until it's done, internal cooking temperature 165F. One of the bonuses of marinating the turkey and then wrapping it in bacon… it's going to be juicy, every time.
I used the Primal Palate Breakfast Blend to season it because turmeric, cinnamon, onion, oregano, sage, and pink Himalayan salt!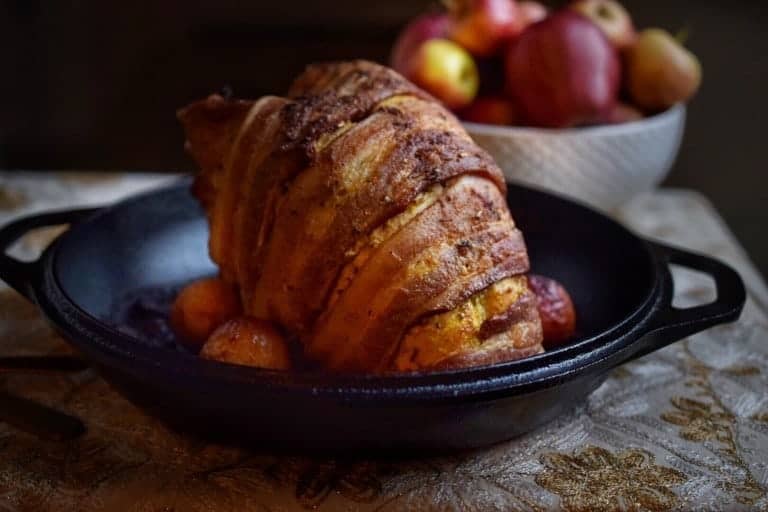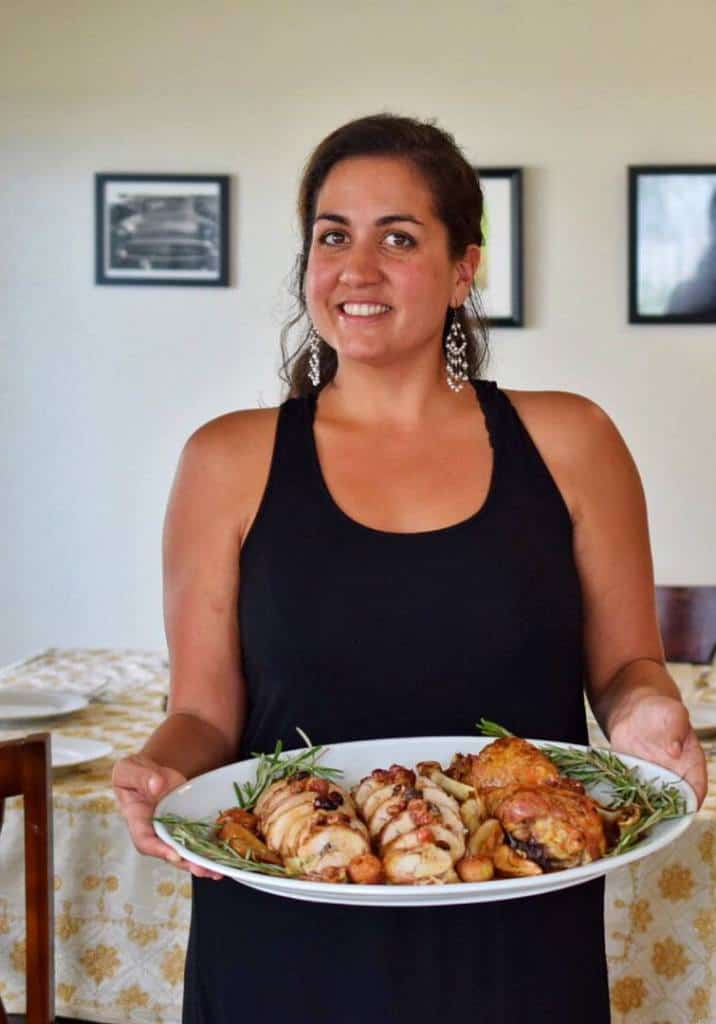 PALEO THANKSGIVING SPREAD  2016
Warm Kale & Bacon Salad with Apple Pecan Vinaigrette
Vampire Slayer Sweet Potato Mash
CASTAWAY THANKSGIVING 2017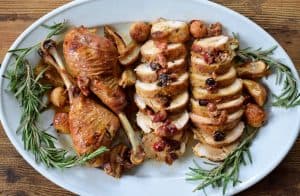 Crispy Creamy Green Bean Casserole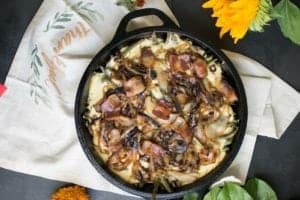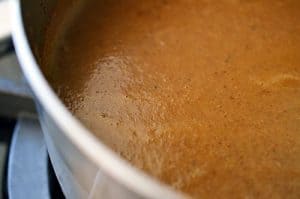 Low Carb Sweet Potato Casserole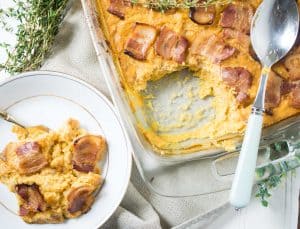 Dijon Pomegranate Roasted Brussle Sprouts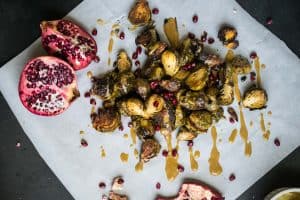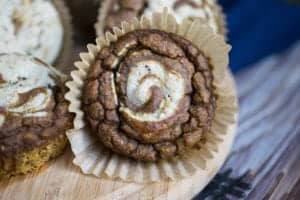 Shop For Thanksgiving Essentials: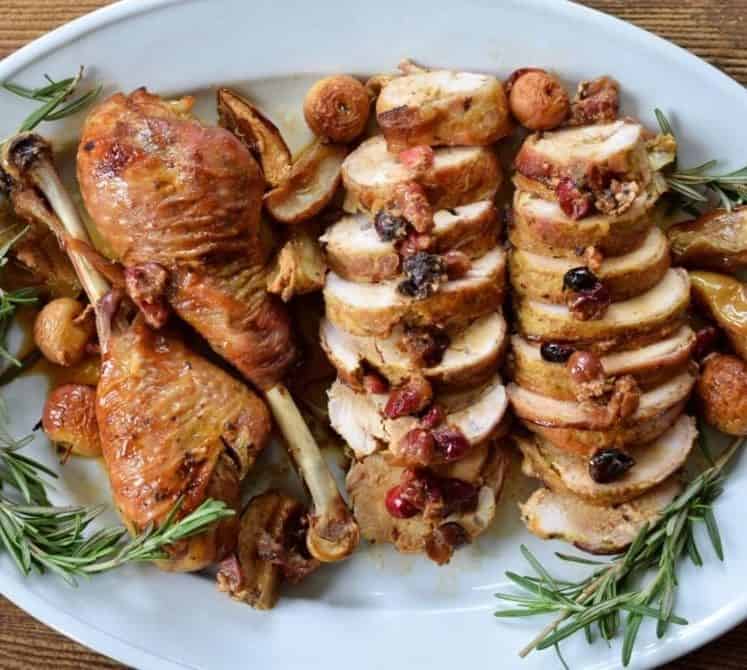 Bacon Wrapped Turkey Roast
---
Author: Cristina Curp
Prep Time: 4 hours
Cook Time: 1 hour
Total Time: 5 hours
Yield: 6 1x
Category: Entree
Method: Oven
Cuisine: American
Description
Bacon wrapped turkey breast – family favorite!
---
Scale
Ingredients
1 Turkey Breast, aprx 4lbs (boneless or bone-in)
1 pack pastured bacon, thick cut
1 tbsp Tin Star Foods Ghee or Coconut oil
1 tbsp Primal Palate AIP Breakfast Blend
1/2 tsp Pink Himalayan Salt
1 tbsp Apple Cider Vinegar
1 tsp fish sauce
6 mini apples (whole) or 3 gala apples (halved)
---
Instructions
Remove the skin from your turkey breast. This step is optional, but since the turkey is wrapped in bacon the skin doesn't crisp under it and I don't like soggy turkey skin.
Rub the turkey breast down with the seasoning blend and salt.
Rub in the ghee, the vinegar and fish sauce.
Cover, and set in the fridge. After two hours, flip the turkey breast over, and set back in the fridge for another two hours.
Set your turkey out so it's not super cold while the oven pre-heats.
Pre-heat the oven to 425F.
Set your turkey in a oven safe pan or cast iron pan, breast side up.
Arrange bacon slices over the breast, wrap them tightly and so they almost overlap.
Wrap two or three under the bottom and around the front.
Place the apples all around the base of the turkey.
Pour the remaining marinade that is left in the bowl all over the turkey and apples.
Set in the oven, roast at 425F convection for 20 minutes.
Then lower the heat to 300F and roast for another 25 minutes or until the turkey is cooked.
Let is rest for 5-10 minutes after removing from the oven before carving.
Recipe Notes:
Cooking time (and serving size) will vary depending on the size of the breast, a five pound breast may take up to 60 minutes total cooking time. If you are unsure of the size of your breast or cooking time, use a thermometer, and insert it into the thickest part of the breast all the way to the bone to check the temperature.
Nutrition
Serving Size: 1/6 of recipe
Calories: 420
Fat: 14g
Carbohydrates: 12g
Fiber: 2g
Protein: 61g