You're going to swoon over this Fall Quinoa Pilaf with cauliflower. It's got a bouquet of flavors and textures, is super easy to make, and makes the PERFECT side dish for Thanksgiving or any occasion. Pecans, peas, cranberries, leeks, and thyme just work together.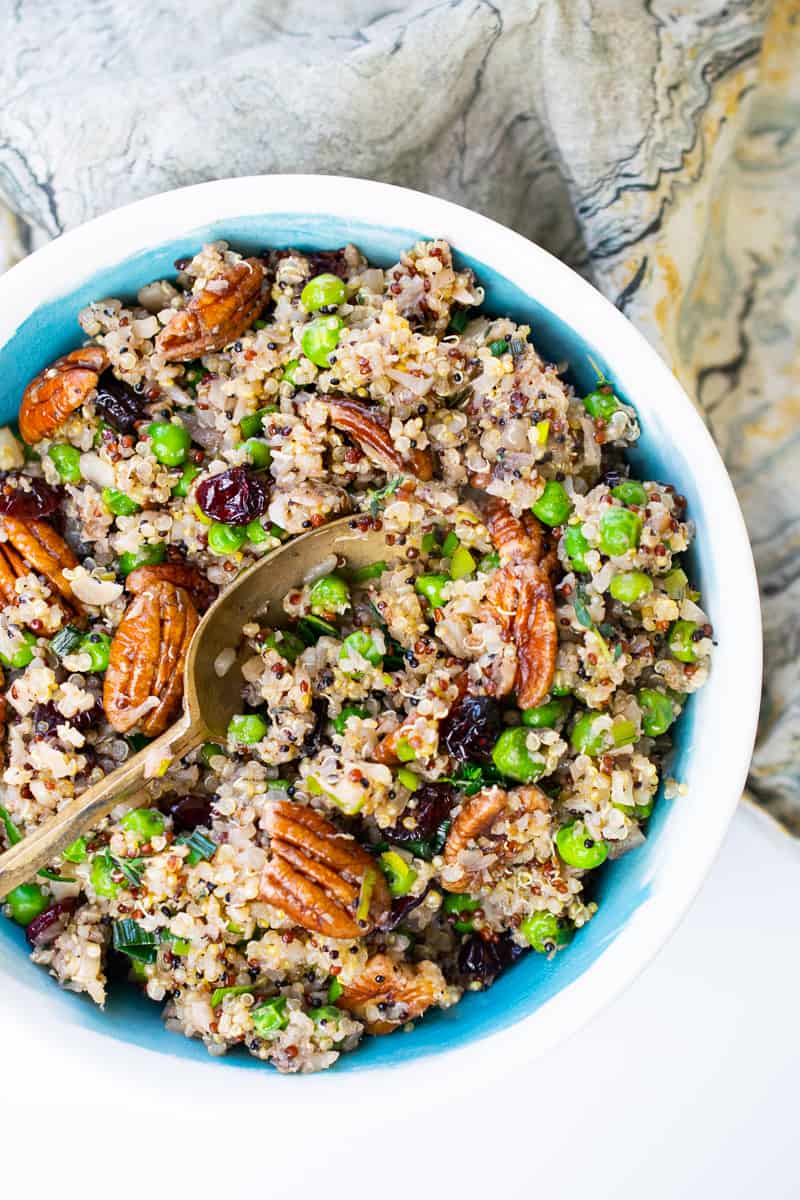 Table of Contents
Thanksgiving can often seem overwhelming for us. Us, the home cooks, the mamas, the papas, the spatula-wielding, apron sporting, what's the glob of dried food on my shorts, love to feed the masses kind of people.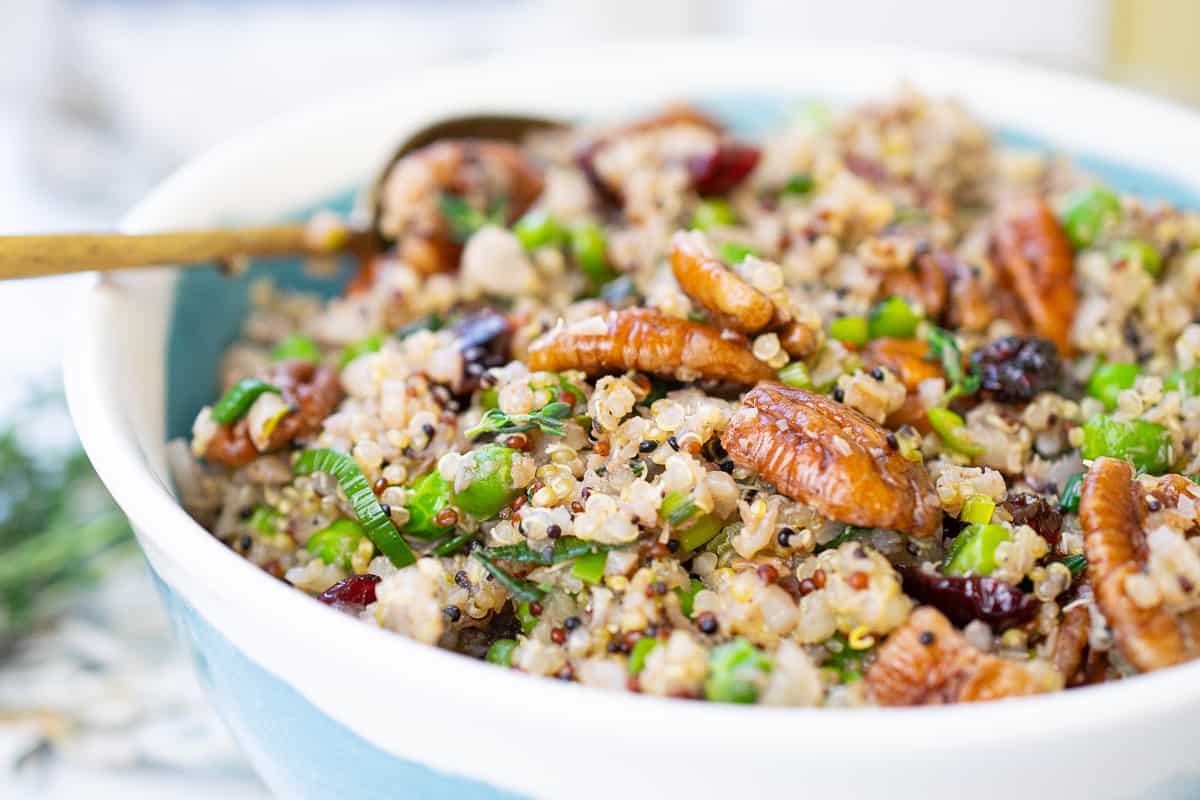 This Fall Pilaf is For You!
Thanksgiving is still hard. It's a puzzle of temperatures, serving sizes, and cooking times. A huge meal composed of various intricate meals. Now make that from scratch, paleo, healthy, and yes so delicious none of your guests will think twice about that thing called gluten…. with this side dish you can WOW the family with an easy and healthy recipe.
This Fall Quinoa Pilaf with Cauliflower is a veritable rainbow of flavors, colors, and textures. The peas and make this dish kid-friendly and add a nice heartiness. Organic dried cranberries add sweetness, while pecans add crunch.
Simple Ingredients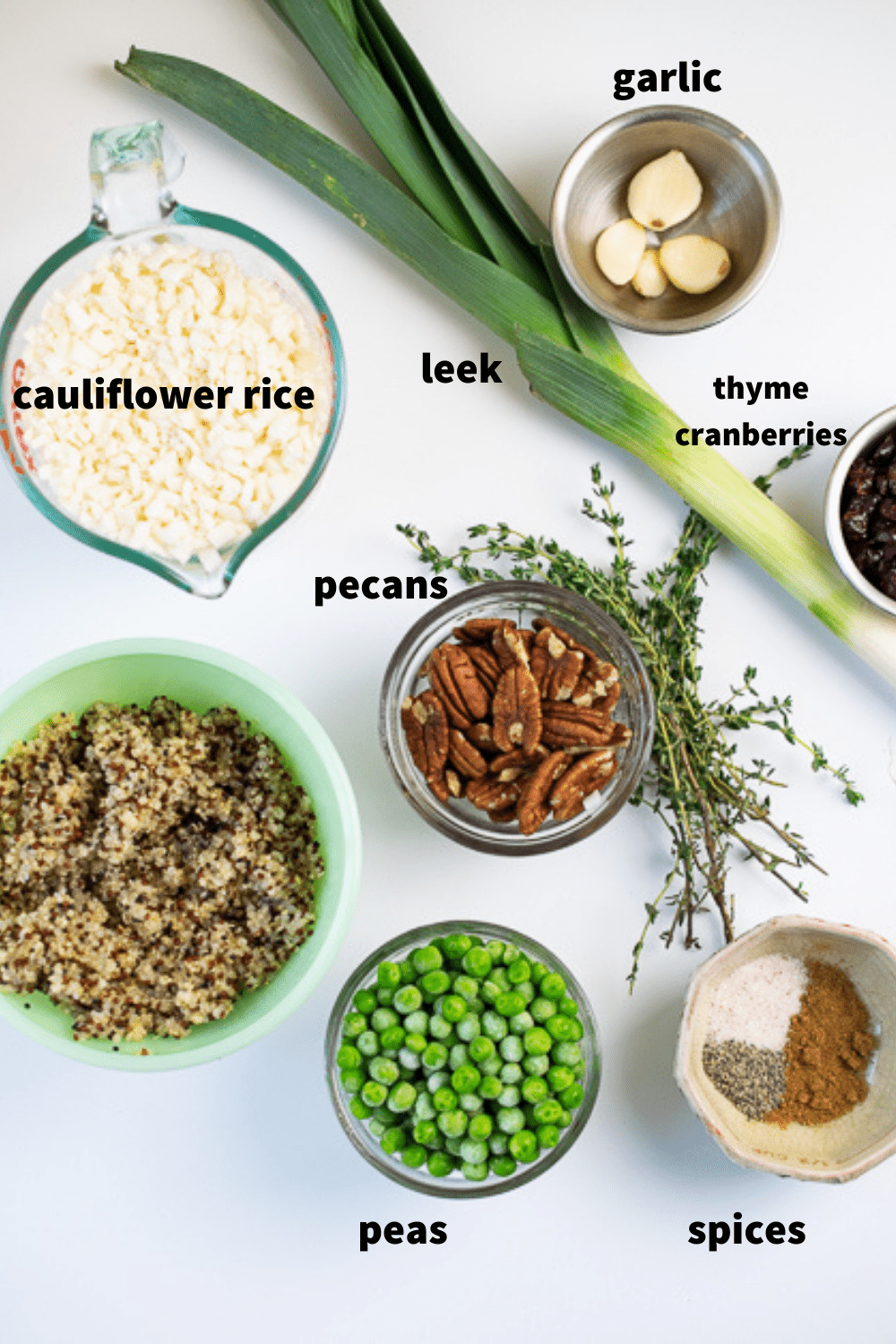 I prefer to use fresh cauliflower pearls instead of frozen cauliflower rice for fall pilaf because it adds to the texture. But you can use what you have on hand.
Quinoa is not an ingredient you have seen on this blog before, but I rather like this pseudo-grain that's more seed than grain. The tri-color quinoa is nutty and delicious and perfect for this Fall Quinoa Pilaf.
Dried cranberries add a touch of sweetness, aim for ones that do not have added sugars.
Leek instead of onion for a sweet flavor, you can also use shallots here.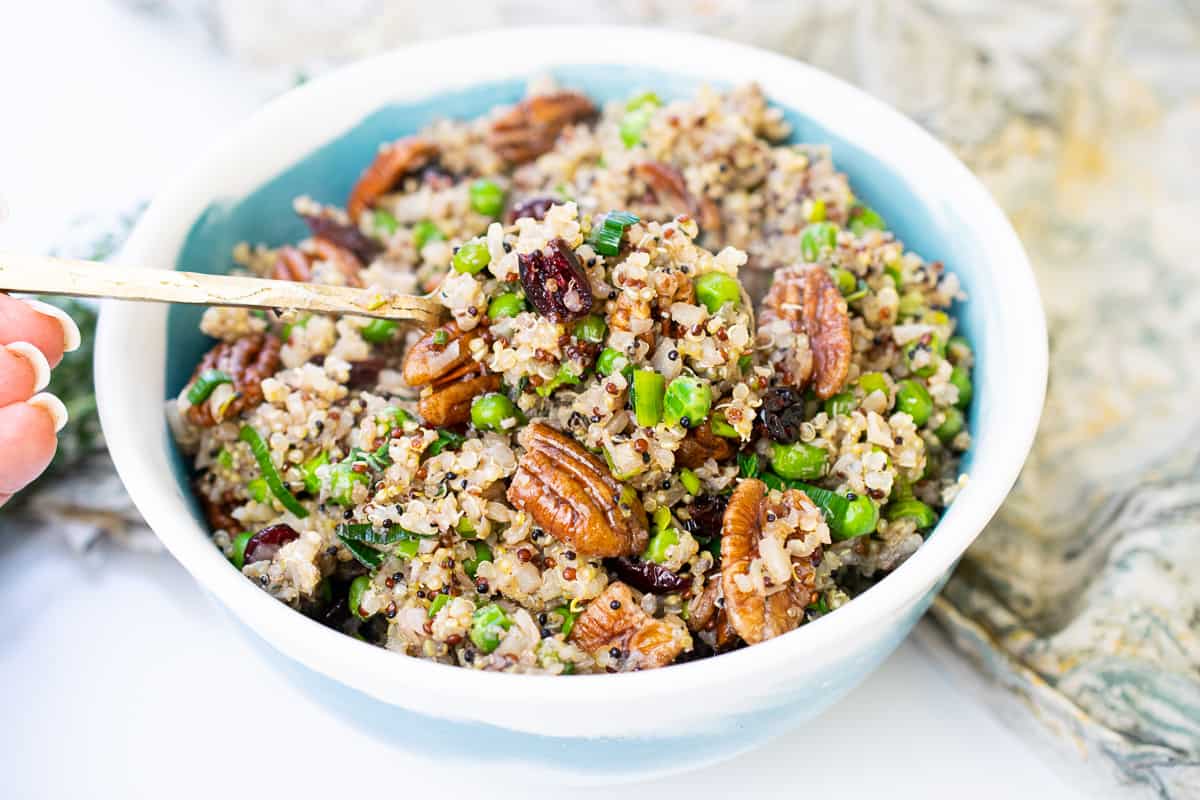 Step by Step Fall Quinoa Pilaf
Start with cooked quinoa – you can make it ahead of time or use a steamer pack. I will include instruction in the recipe card. You also want to prepare your ingredients.
Sautee the thyme, leek and garlic in olive oil until tender.
Add in the cauliflower rice and then the peas and pecans, and cook until tender, mixing in the seasoning.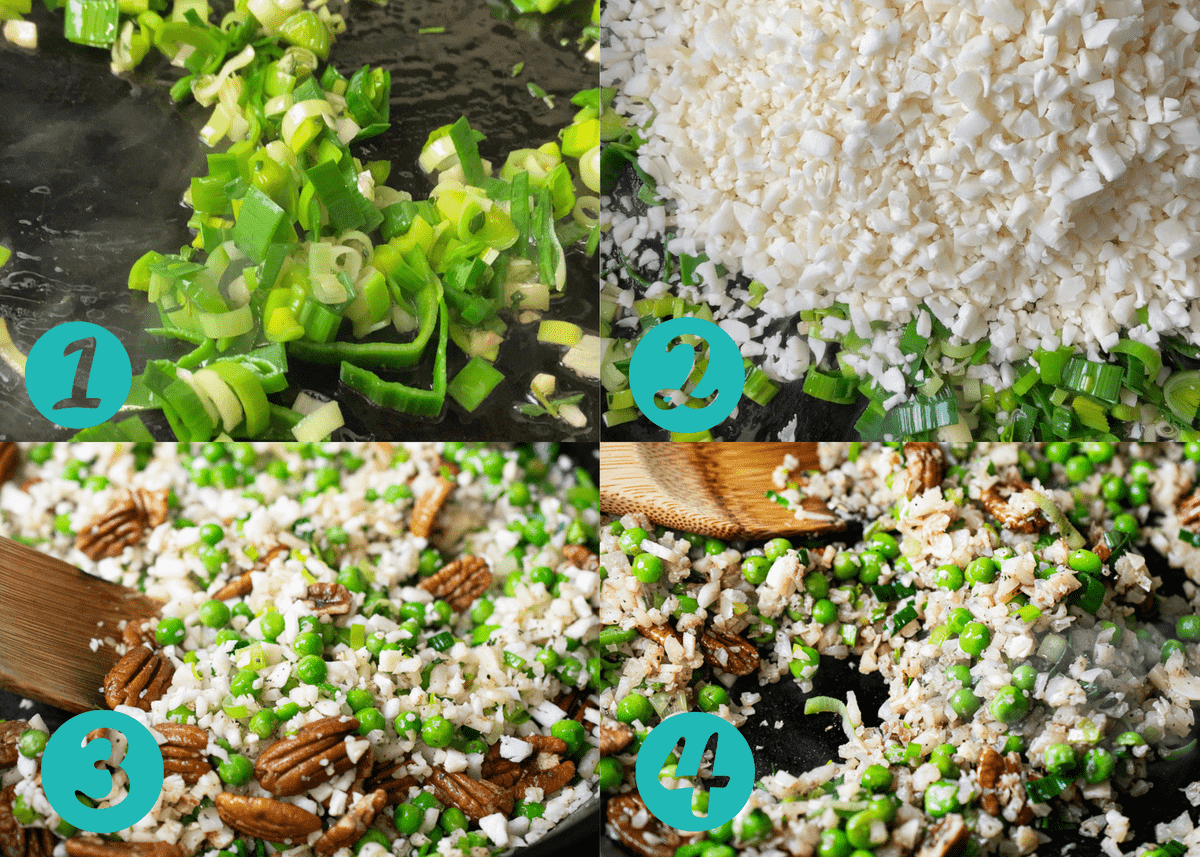 Once this mix is well incorporated, the cauliflower tender and the pecans browned, add in the cranberries and mix well.
Then add in the cooked quinoa, and stir and mix until it's well incorporated.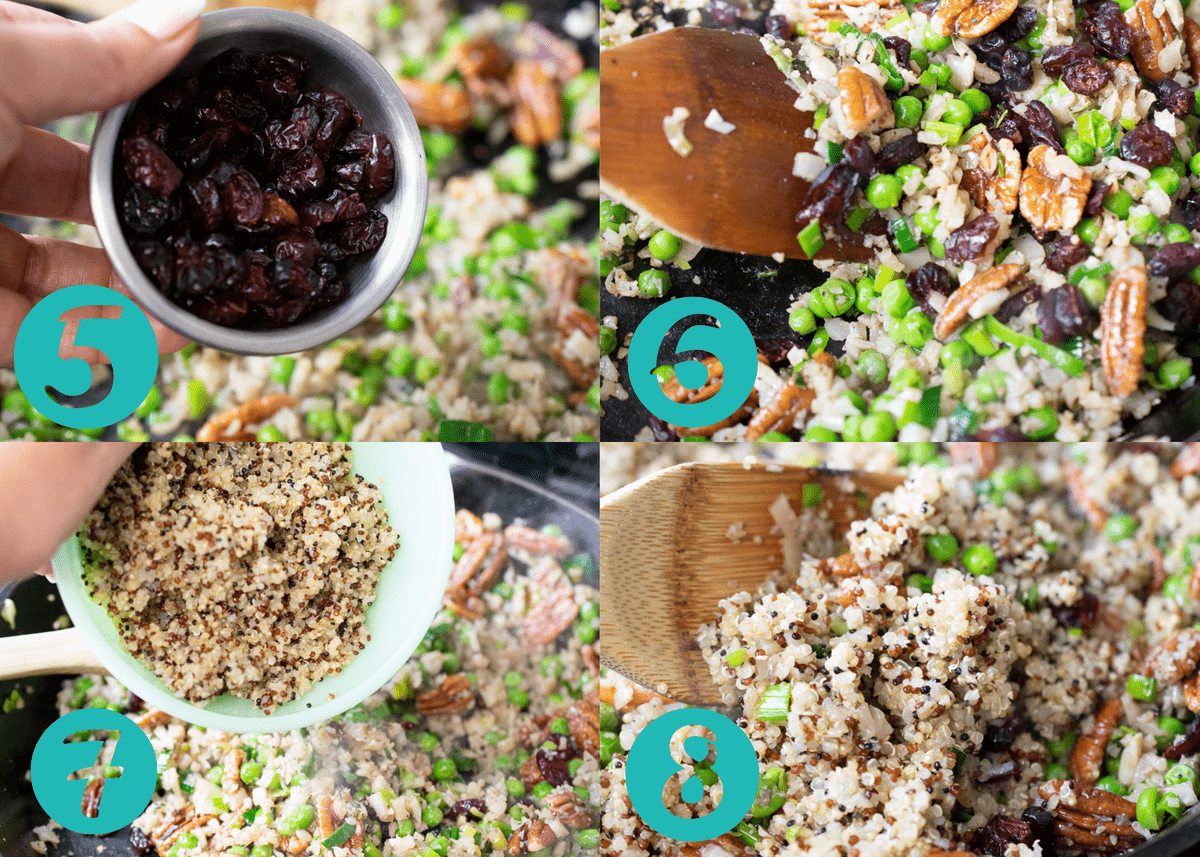 Serve your Quinoa and Cauliflower Pilaf hot and garnish with fresh herbs.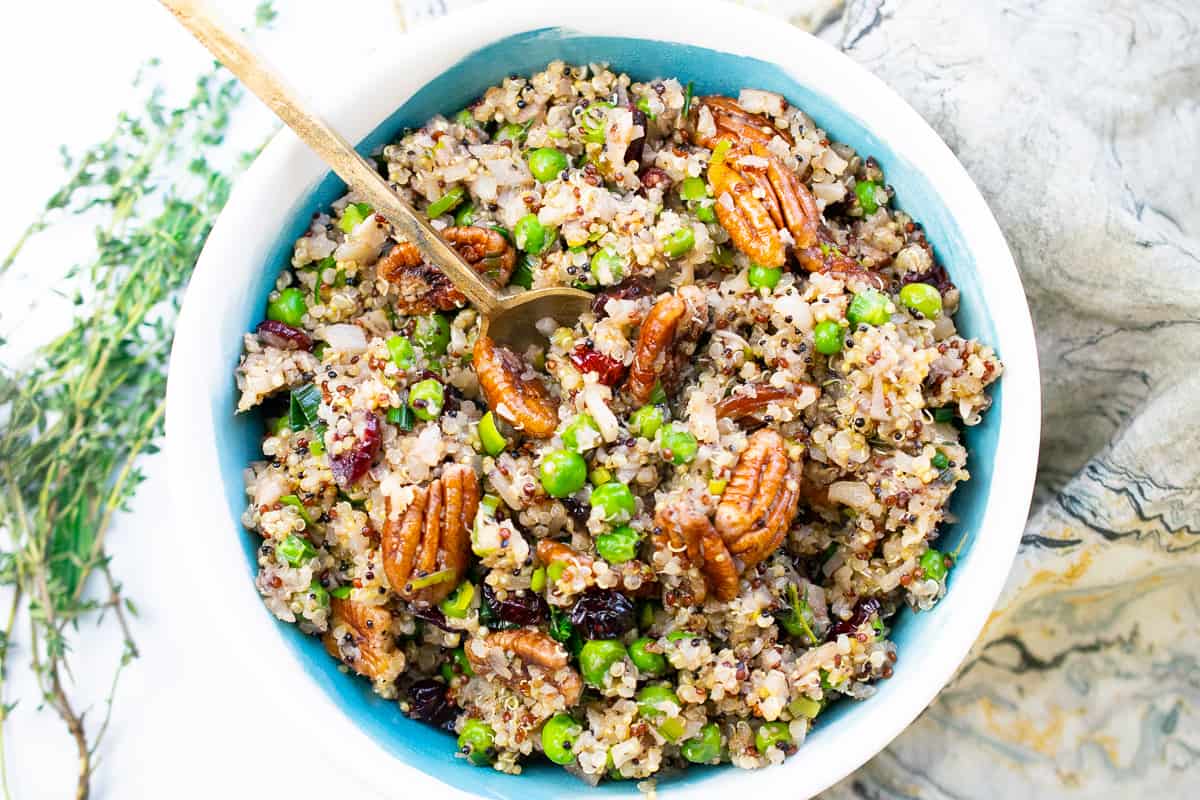 Frequently Asked Questions
If I don't eat grains can I skip the quinoa?
Yes, just use 4 cups of cauliflower rice.
Can I skip the peas or use something else?
You can use cut-up green beans instead or leave them out.
How do you cook quinoa?
I just follow the package instructions!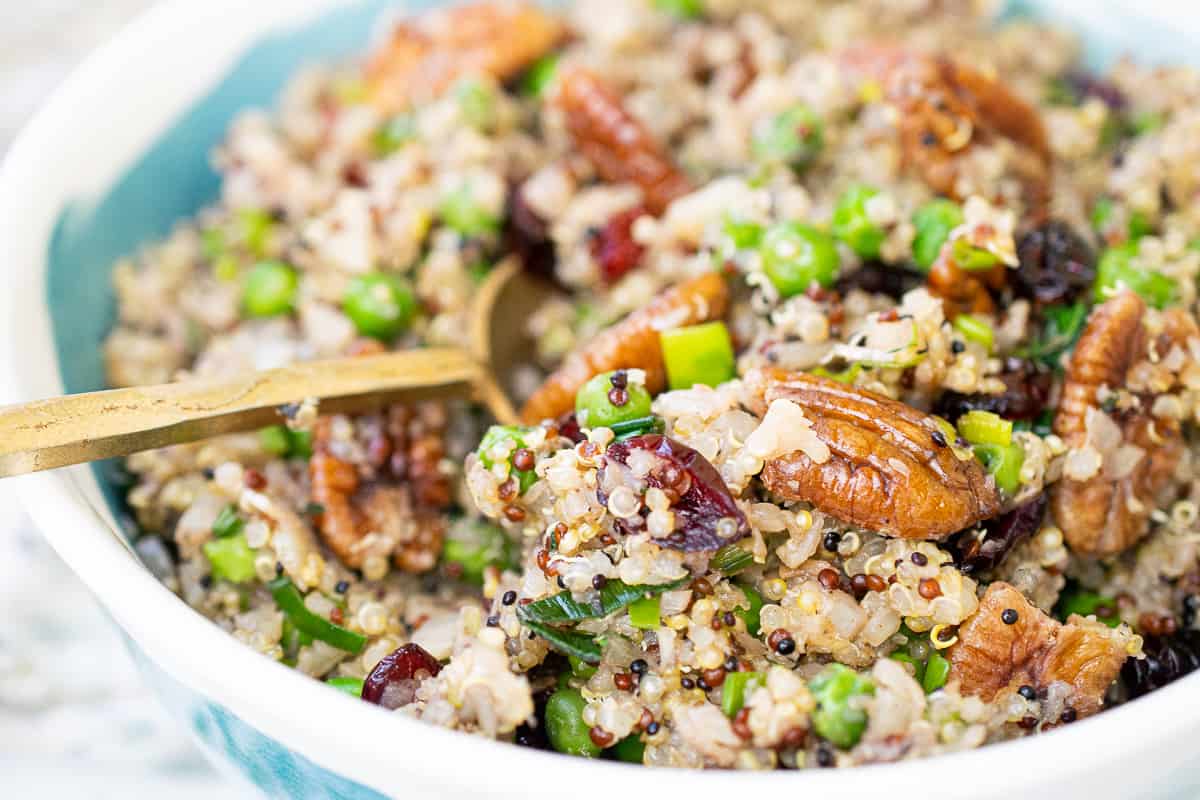 You Might Also Enjoy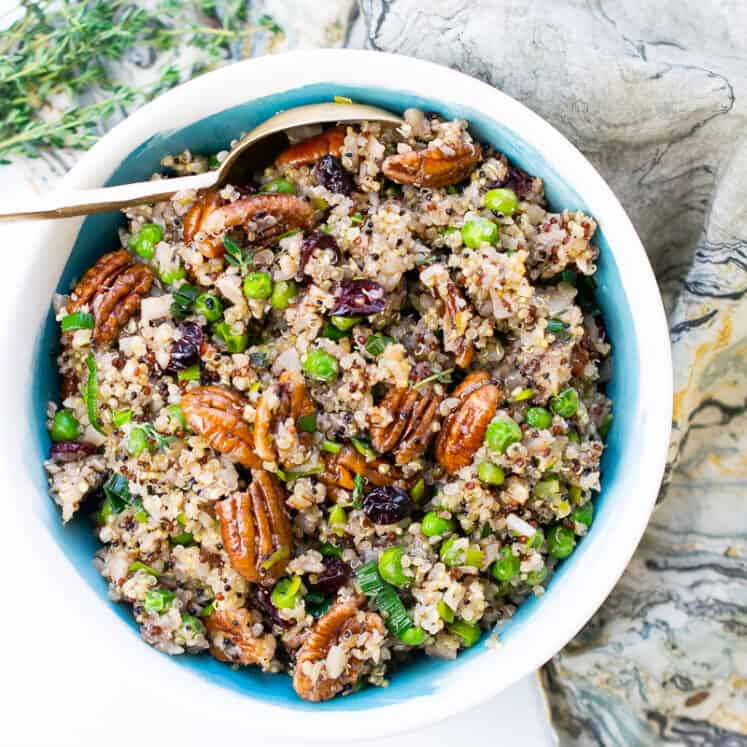 Fall Quinoa Pilaf with Cauliflower
---
Author: Cristina Curp
Prep Time: 5 minutes
Cook Time: 12 minutes
Total Time: 20 minutes
Yield: 5 servings 1x
Category: sides
Method: stove top
Cuisine: Holiday
Diet: Gluten Free
Description
This stunning Fall Pilaf is made with quinoa, cauliflower rice, pecans, peas, and cranberries it's a party in your mouth.
---
Scale
Ingredients
2 tablespoons extra virgin olive oil
1 small leek, diced
4 cloves garlic, minced 
3 sprigs thyme, minced
2 cups cauliflower rice 
1 teaspoon fine salt
1 teaspoon ground cumin
1/2 teaspoon black pepper 
1 cup frozen peas 
1/2 cup halved pecans
1/4 cup dried cranberries 
2 cups cooked quinoa, salt to taste 
---
Instructions
Heat a large skillet over medium heat. Once hot, drizzle in the olive oil.
Add in the leek, garlic, and thyme. Saute for 2-3 minutes or until aromatic. 
Mix in the cauliflower rice, peas, and seasonings and mix well. Then add in the pecans.
Cook here, stirring often for 5 minutes or until the cauliflower is tender. 
Mix in the cranberries and finally the quinoa and stir well until warm and incorporate. 
Serve hot! 
Recipe Notes:
How to cook 2 cups of quinoa: Rinse the quinoa in a fine-mesh sieve. In a saucepan combine 1 1/2 cups of water and 3/4 cup of quinoa. Salt with 1/2 teaspoon salt. Bring it to a boil. Reduce to low, keep covered with a tight-fitting lid for 15 minutes. Then let stand for 10 minutes o absorb the remaining water. Fluff with a fork. 
Nutrition
Serving Size: 1 cup
Calories: 350
Fat: 22.6g
Carbohydrates: 31.3g
Fiber: 6.8g
Protein: 8.1g
Keywords: Fall Quina Cauliflower Pilaf