I'm sure you've seen or tried the Cauliflower Gnocchi at Trader Joe's. Jack and Justin love it, but it's got potato starch. I don't eat potatoes because they're nightshade and a big trigger food for me. I love gnocchi and I love cauliflower and I'm so glad I finally made my very own Paleo Cauliflower Gnocchi. It's not a low-carb food, but definitely lower carb than regular pasta, and also with more nutrients.
Table of Contents
What is Gnocchi?
It's a variety of pasta made of flour, eggs, and potato. They're little dumpling really. A ball rolled on a fork to create the indentations. Like all fresh pasta (not dry) they boil very quickly. They've got a slightly fluffy look to them once cooked with a doughy consistency in the center. I like to pan-fry mine too. This adds a bit of a crust and really elevates the texture. For homemade paleo noodles, check out this recipe.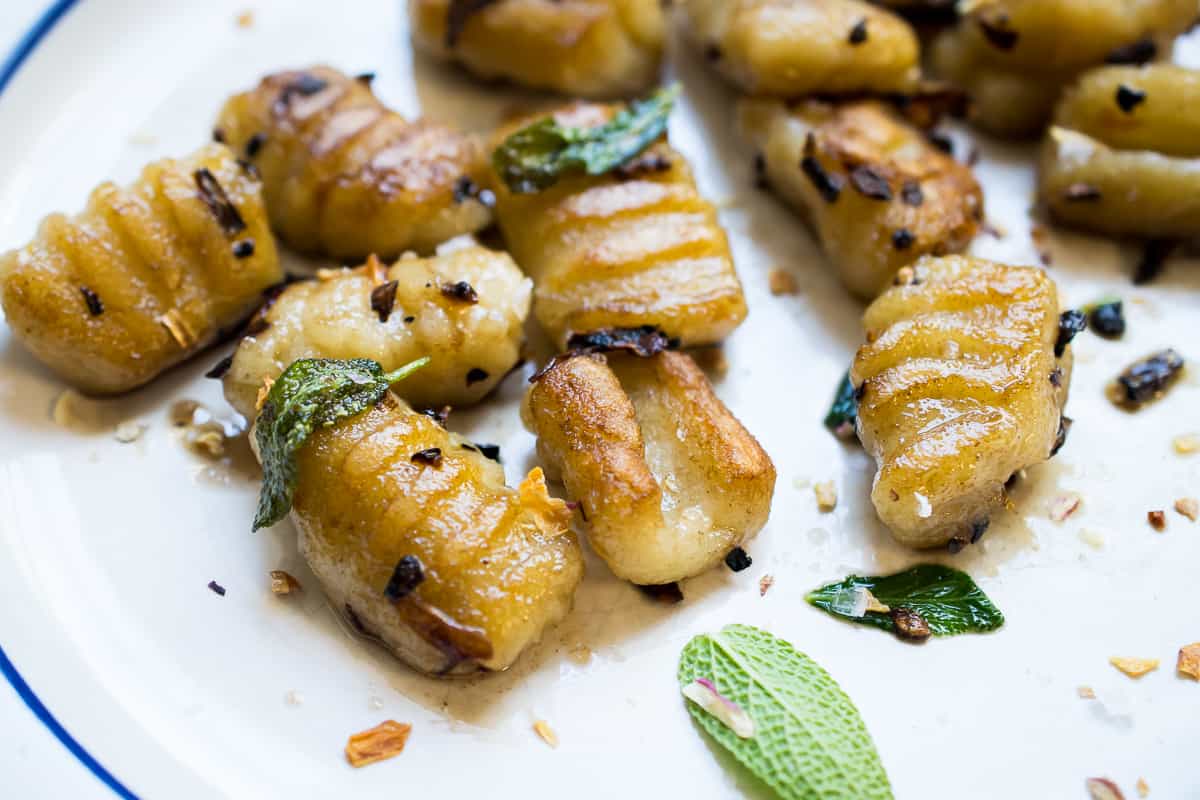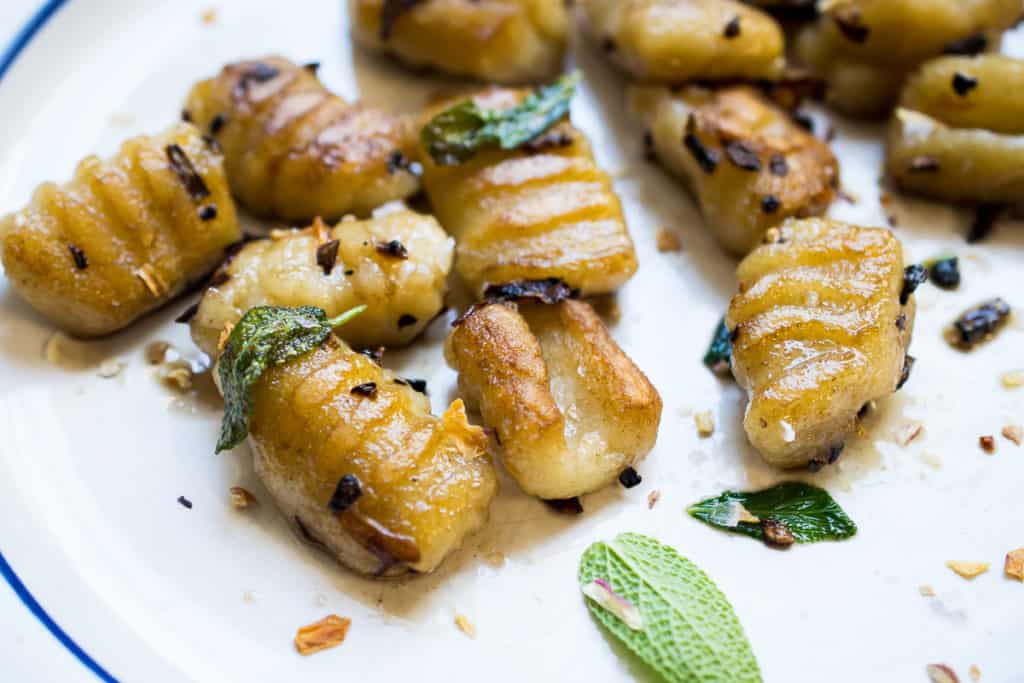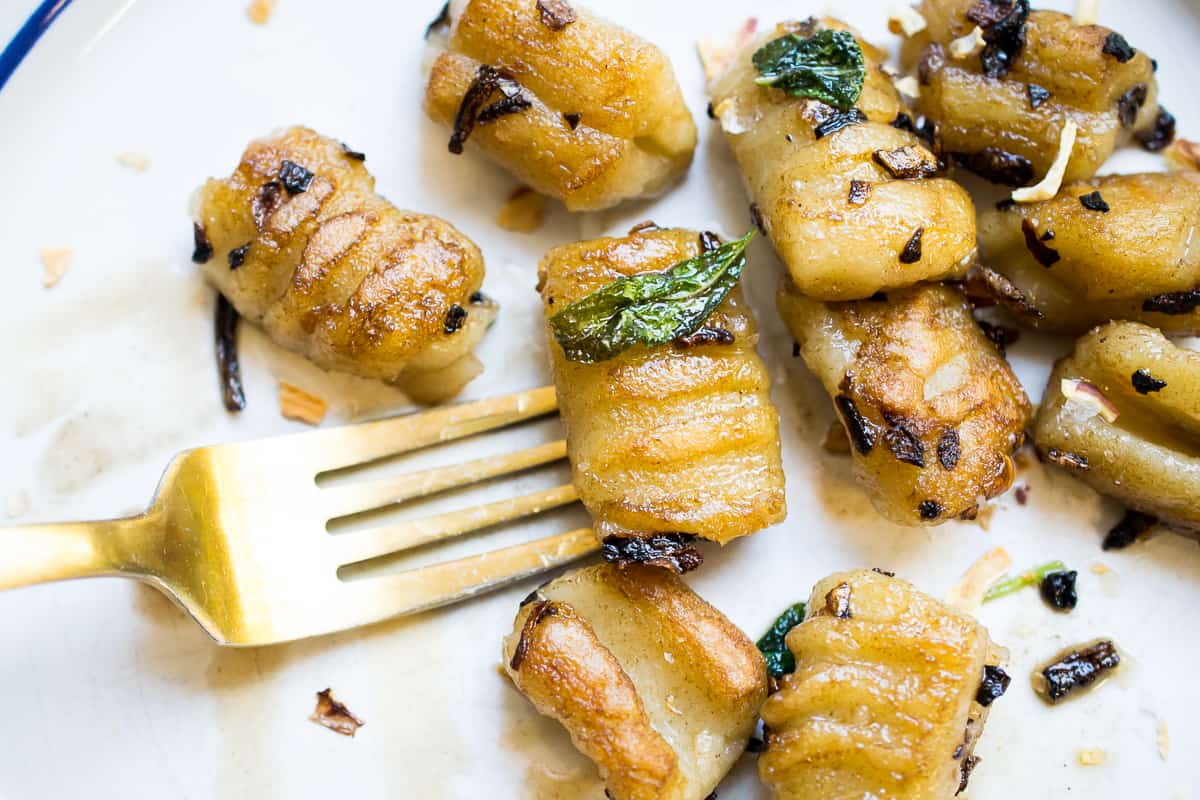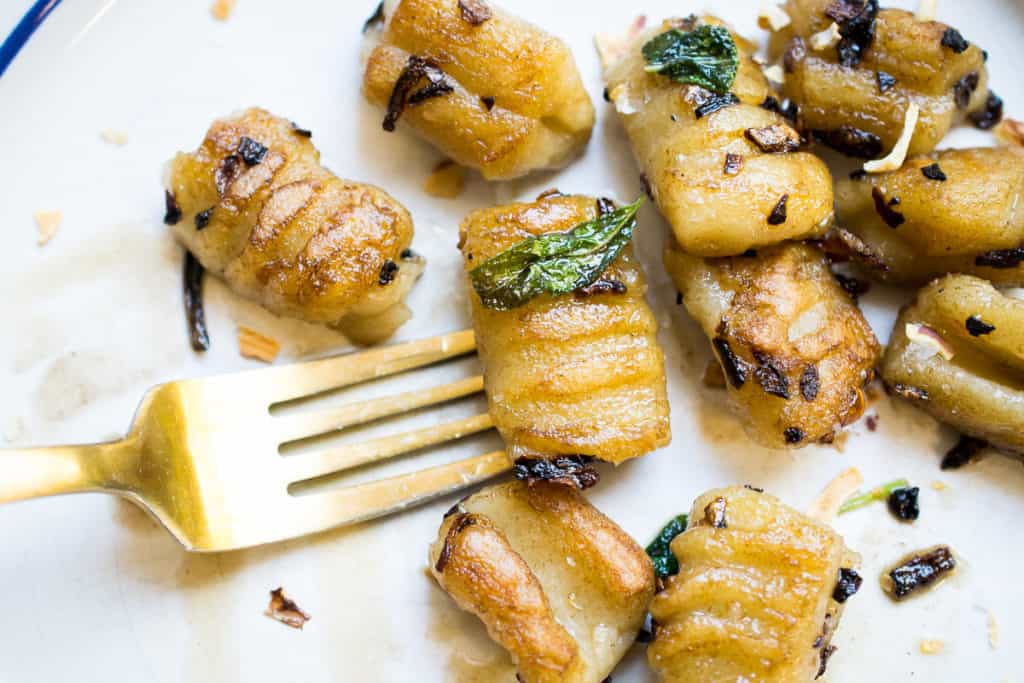 For another cauliflower pasta dish check out this low carb recipe.
Ingredients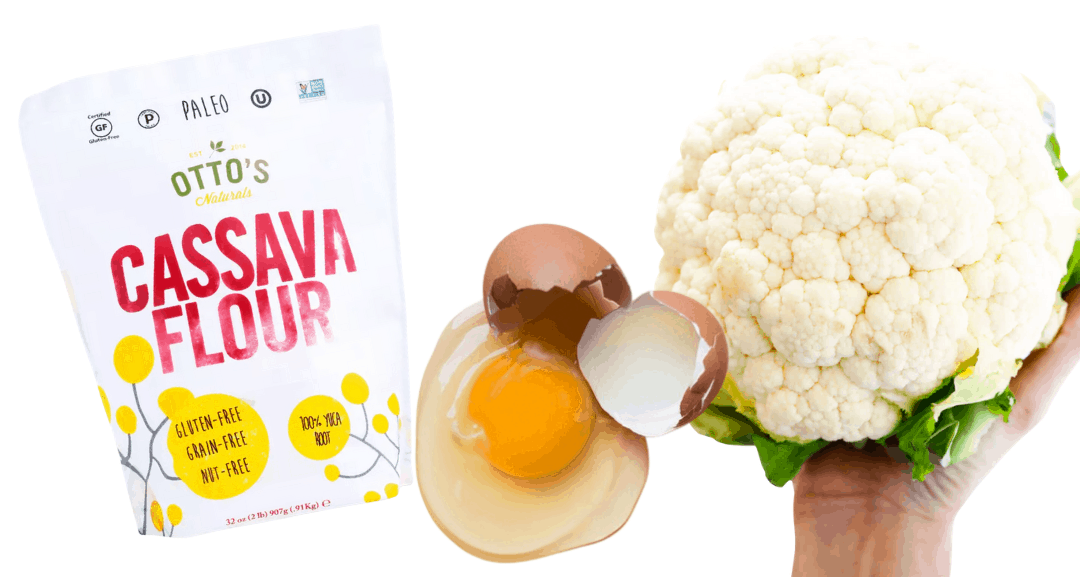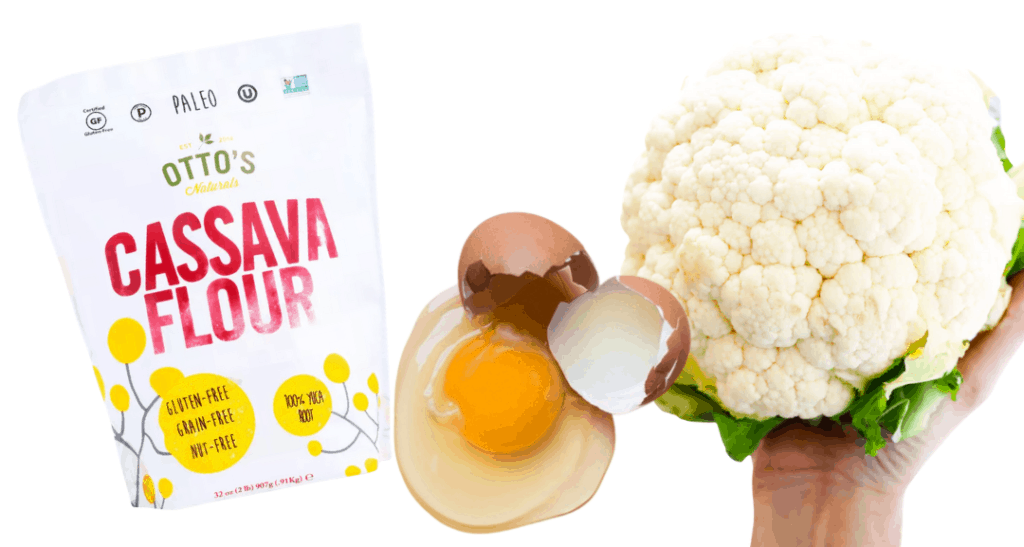 A whole head of cauliflower
1 large egg
Shop ingredients on Thrive Market
No Special Equipment Needed
You don't need a pasta maker, you don't need much. A pot to boil water, a blender, colander, large bowl, and a fork! I like to use a pastry mat to work on with dough, it helps the cleanup. However you can put down some parchment paper that works great too, just make sure to tape it down to your counter so it's not moving around on you.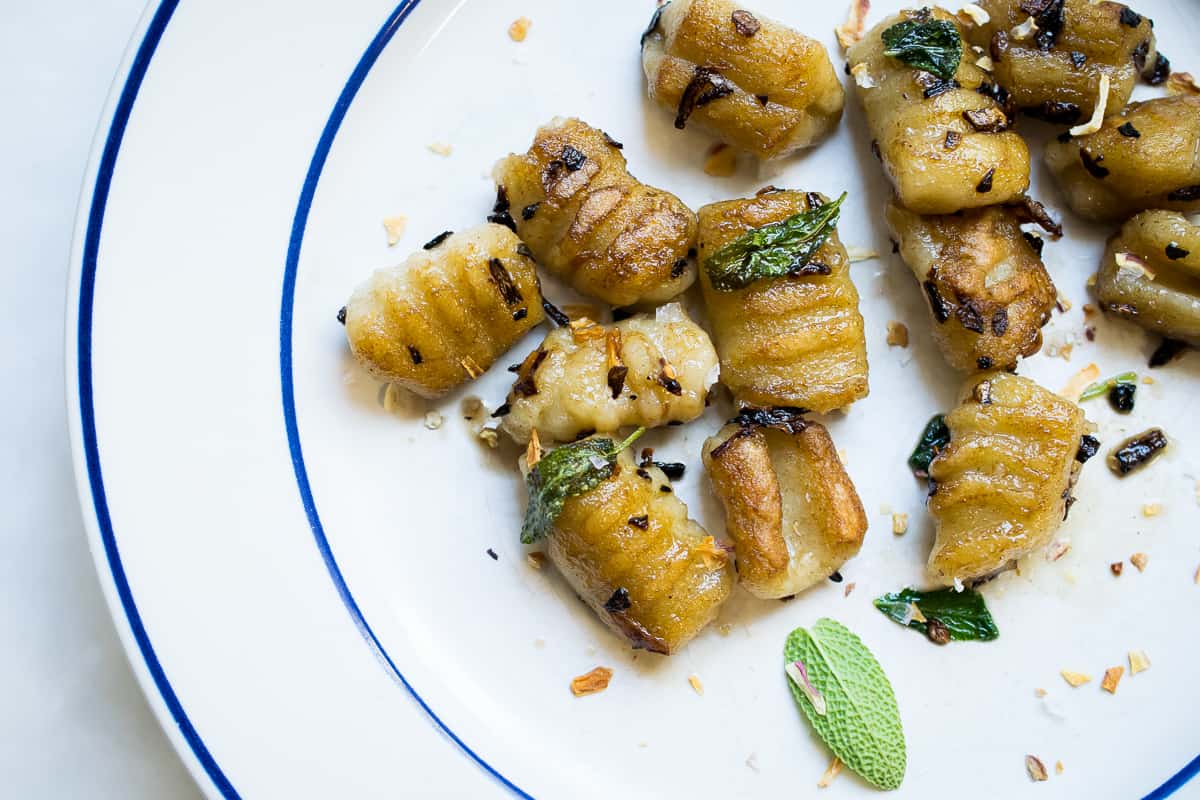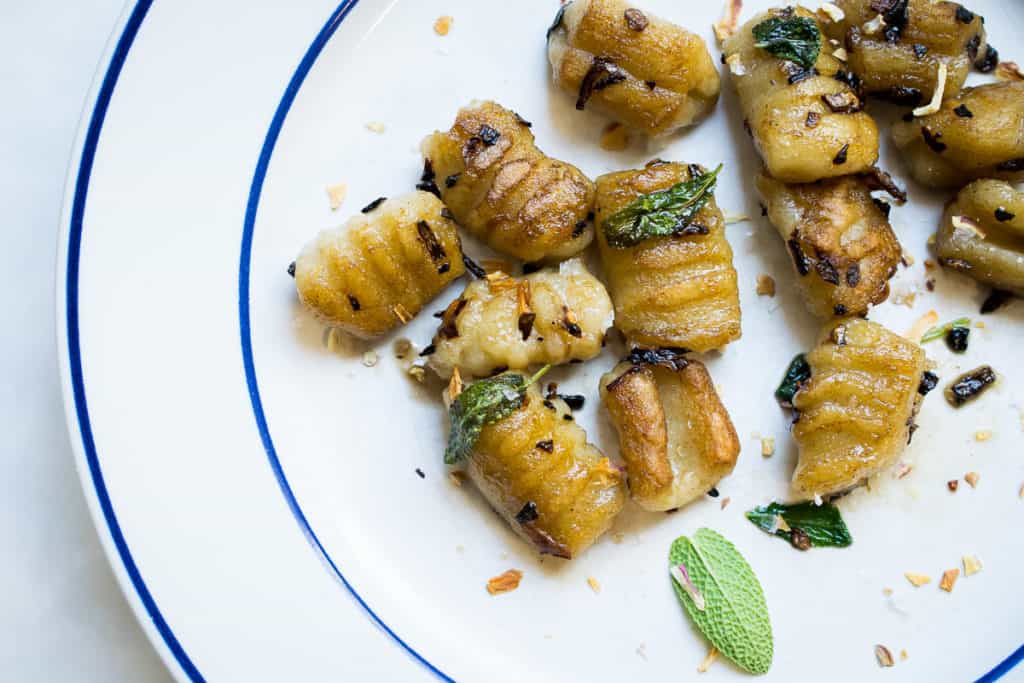 Step by Step Tutorial
It's important to have a visual on what the dough looks like in each stage. Use the images below to guide you as you work through the recipe!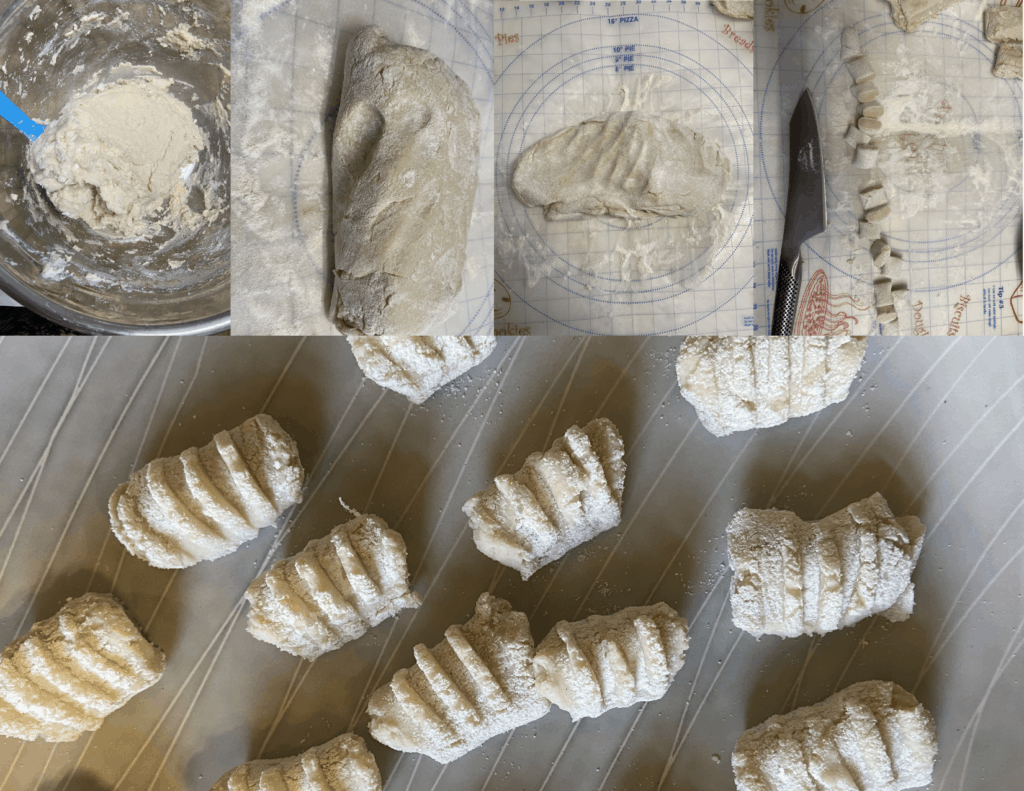 Mix the pureed cauliflower with egg and cassava flour.
Add more flour as needed.
Knead until it's no longer sticky.
Roll out long tubes.
Cut the tubes into half-inch pieces.
Roll the on the back of a fork.
For best results watch the full recipe video!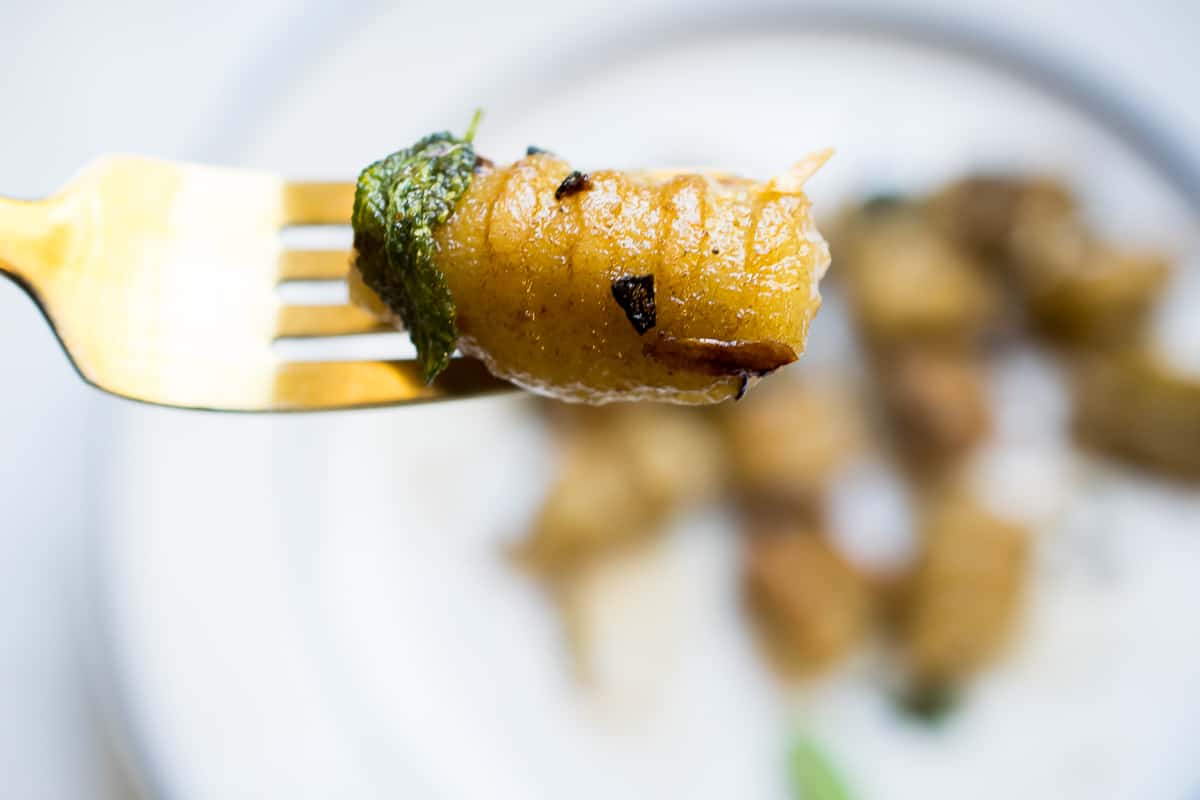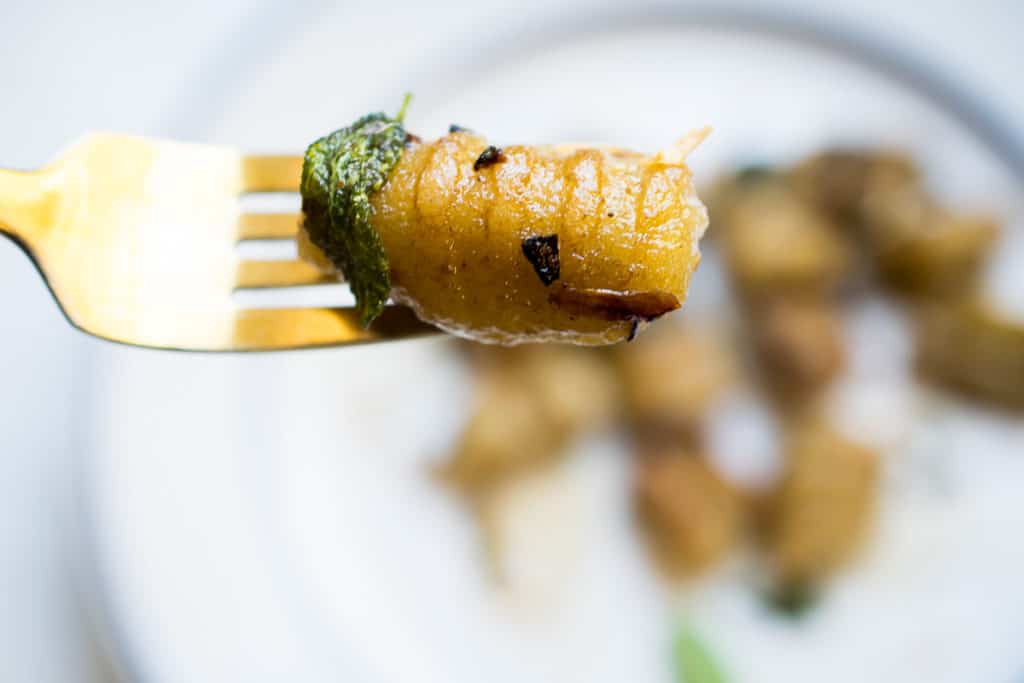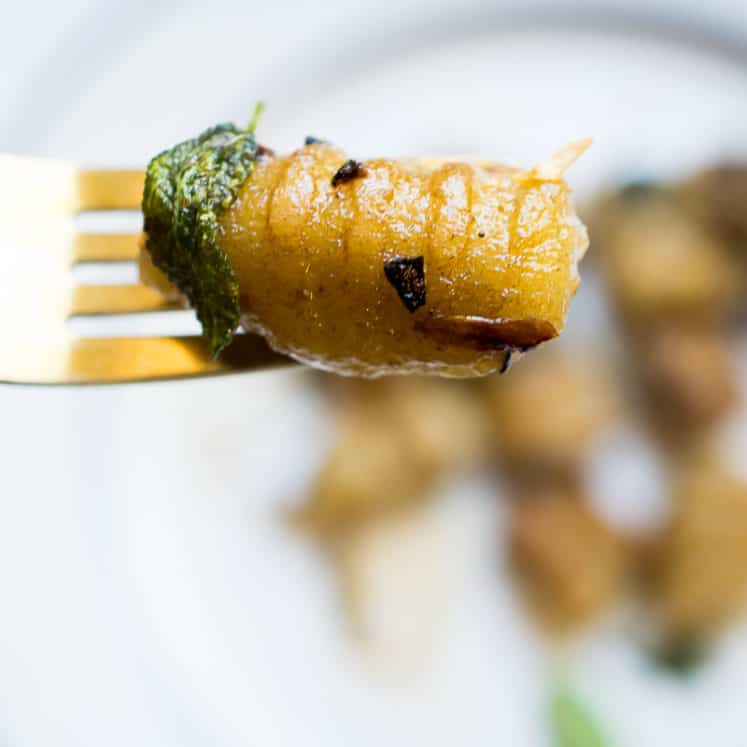 Paleo Cauliflower Gnocchi (no potato, nut free)
---
Author: Cristina Curp
Prep Time: 30 minutes
Cook Time: 5 minutes
Total Time: 35 minutes
Yield: 100 pieces 1x
Category: Dinner
Method: Pasta
Cuisine: Italian
Diet: Gluten Free
Description
Easy and delicious cauliflower pasta! This paleo gnocchi is allergen friendly and very authentic!
---
Scale
Ingredients
1 large head of cauliflower
1 tablespoon salt
1 large egg
1 1/4 cup cassava flour (more for dusting)
---
Instructions
Bring a 5 large pot of water to a boil. While it heats up cut your head of cauliflower into pieces.
Add the cauliflower and salt to the boiling water. Boil for 10-15 minutes, until fork tender.
Drain the water and place the tender cauliflower while still hot – very carefully – in a blender.
Add the egg to the blender and blend on high until smooth. It should be a very thick puree.
Use a spatula to transfer the puree into a large bowl. Let it cool down for a few minutes, stir occasionally to help this along.
Add in 1 cup cassava flour and mix in with a spatula until the mix begins to resemble dough. Slowly add in the remaining cassava flour until you've got a solid dough texture. If it's very sticky, add 1 tablespoon more flour at a time, until it's not.
Knead the dough and make ball, transfer it to a dusted work area.
Flatten the ball to make a rectangle shape. Cut the regtangle into 5 even pieces.
One at a time, roll each piece into a long tube, about 1/4 inch thick.
Slice the tubes with a knife to make square shapes pieces, about 20 per piece. Dust the pieces with flour then roll them on a fork to make the gnocchi. See the video below.
Repeat with all of the dough, to make aprx 100 pieces total.
To freeze: spread your fresh gnocchi on a sheet pan or tray and put in the freezer until hard. Transfer to a ziplock bag. Store in the freezer for up to 3 months. To cook: follow the same instructions as above.
To pan fry: heat a cast-iron skillet over medium heat until it comes to temperature. Add in 2 tablespoons of butter. Add as many pieces of gnocchi to the pot as will fit without them touching. Cook without disturbing for 2 minutes then turn over gently with a tong and cook another 2-3 minutes. Add in minced herbs and garlic or shallots and more butter if desired and saute to coat. Repeat with remaining gnocchi.
To boil: Bring 3 quarts of water to boil in a 5-quart pot. Salt generously. When the water is at a rolling boil, add the gnocchi to the water and boil until most of them float. Drain immediately and rinse with cool water. At this point, you can add sauce or pan-fry!
Nutrition
Serving Size: About 10 pieces
Calories: 112.1
Fat: 1.2g
Carbohydrates: 24.3g
Fiber: 3.8g
Protein: 2.9g
Keywords: cauliflower gnocchi