I grew up eating dishes rich in flavorful red seasoning and this Sazón Pork Loin with Butternut Puree is such a wonderful way to highlight flavors from my childhood with traditional American fall flavors. Bonus this is an Instant Pot recipe! Yes, all this goodness made super quick with the pressure cooker, or as my Abuela would say, la hoya de presion. Although her's was stovetop and not electric.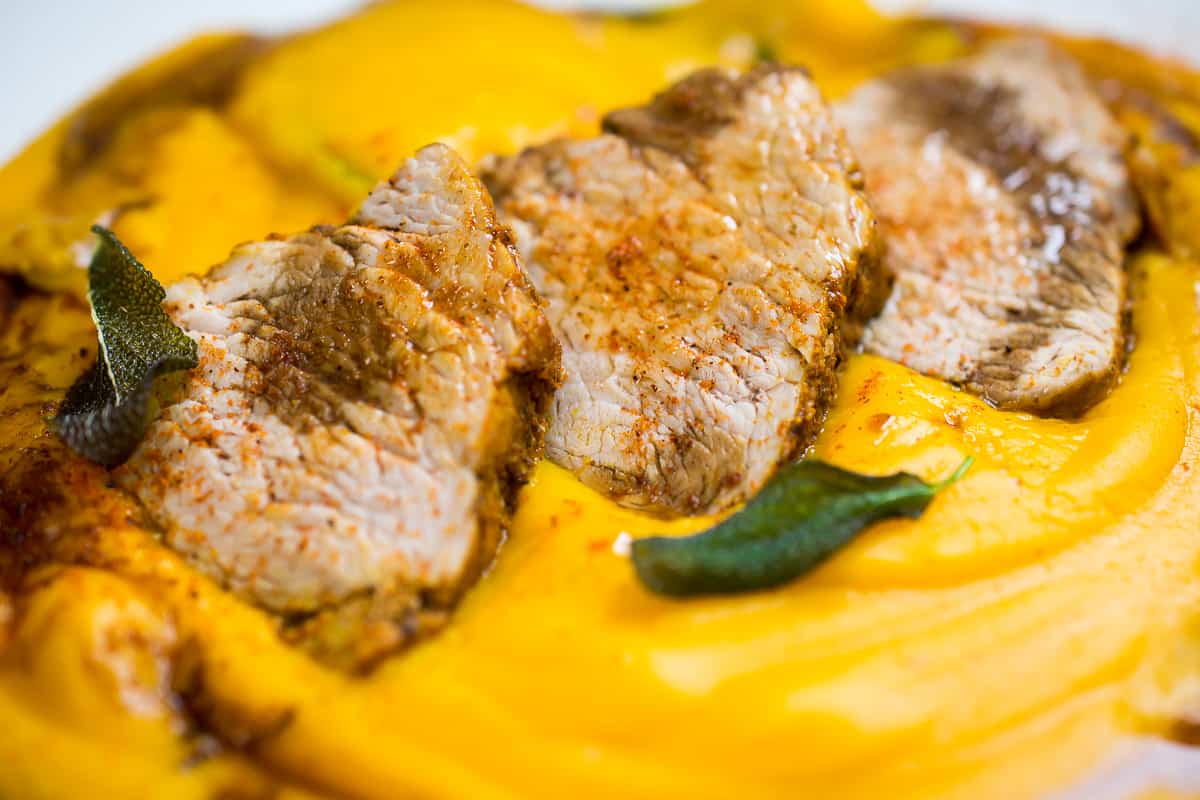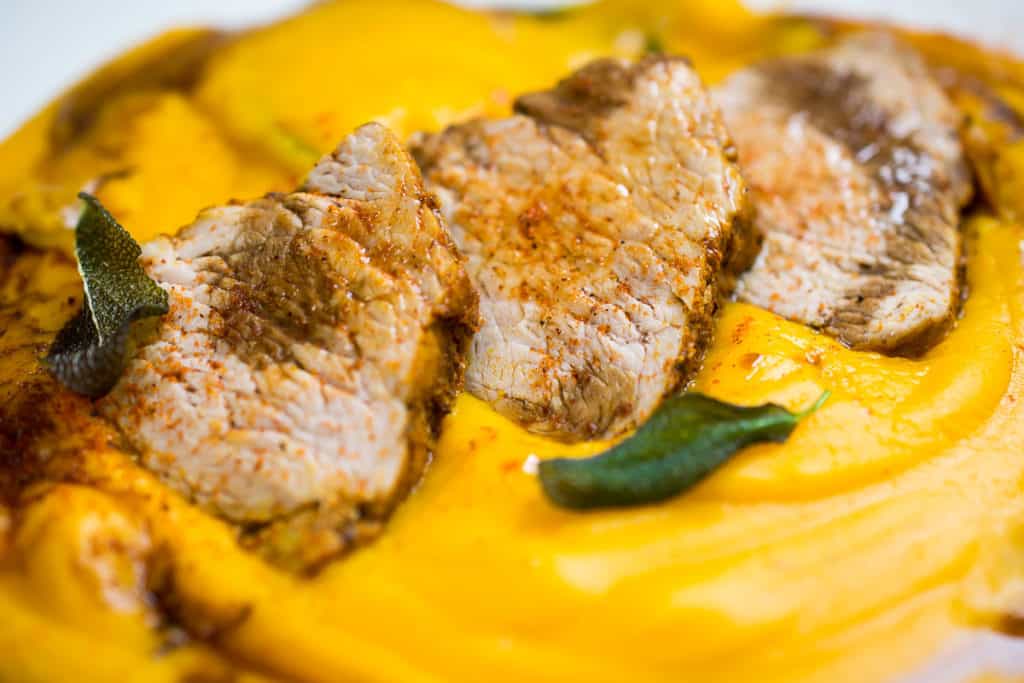 Table of Contents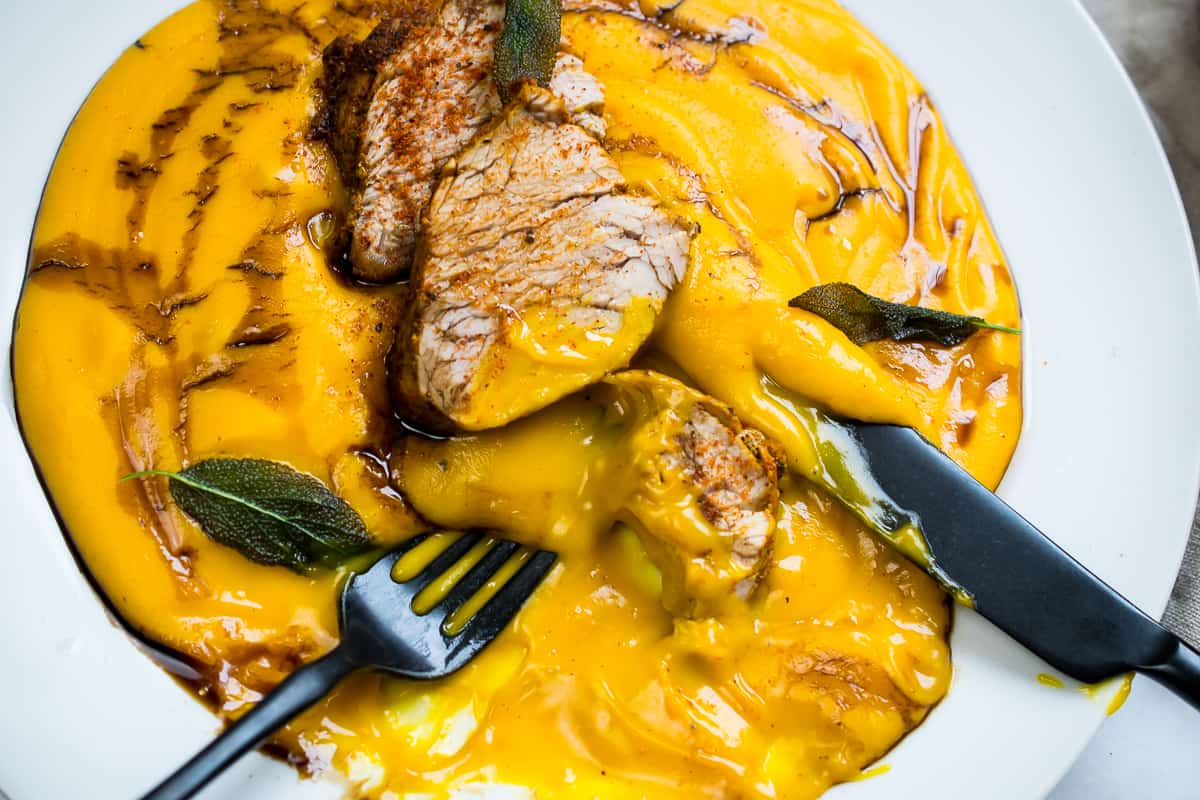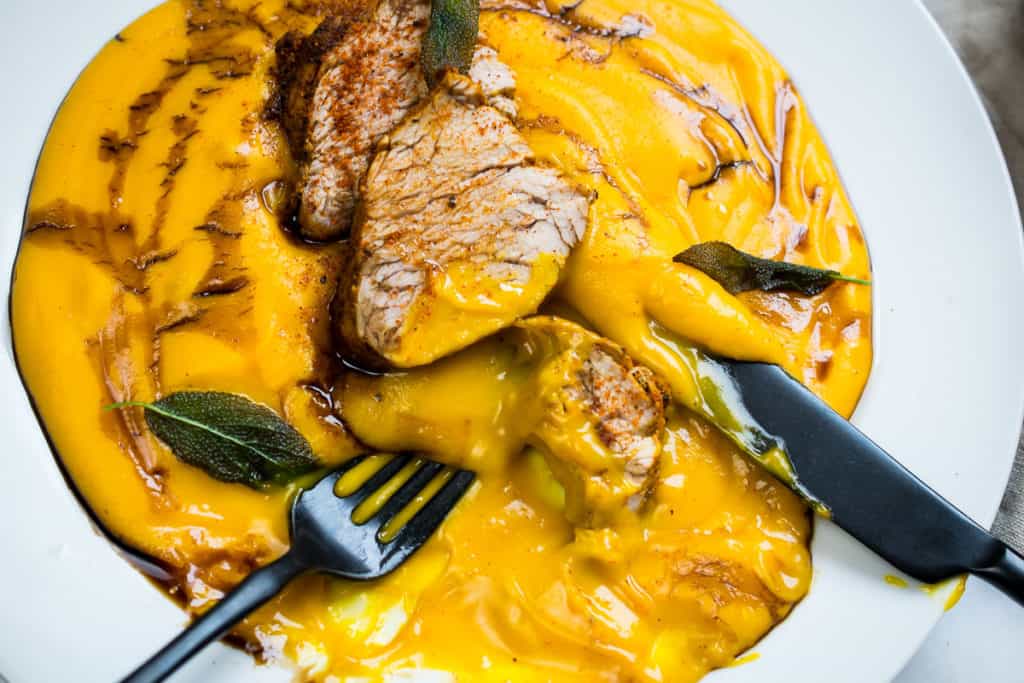 What's in Sazón?
I wasn't absolutely sure until recently. My Mami and Abuela always bought the little packets at the grocery store. When I looked at the label when I changed my diet there were several ingredients that we'rent up to snuff. Sorry Goya, but your ingredients are crap. So I just wrote off Sazón for the longest time. Traditional ingredients are Salt, Organic Achiote, Organic Cumin, Organic Coriander, Organic Garlic, Organic Oregano, Organic Black Pepper. Achiote (also known as annatto) is a spice that comes from a seed, it's red and peppery, but not a nightshade and not really spicy. However, a lot of brands just use paprika too, which is a no go for me. Luckily I found Loisa, which makes organic, amazing quality spices!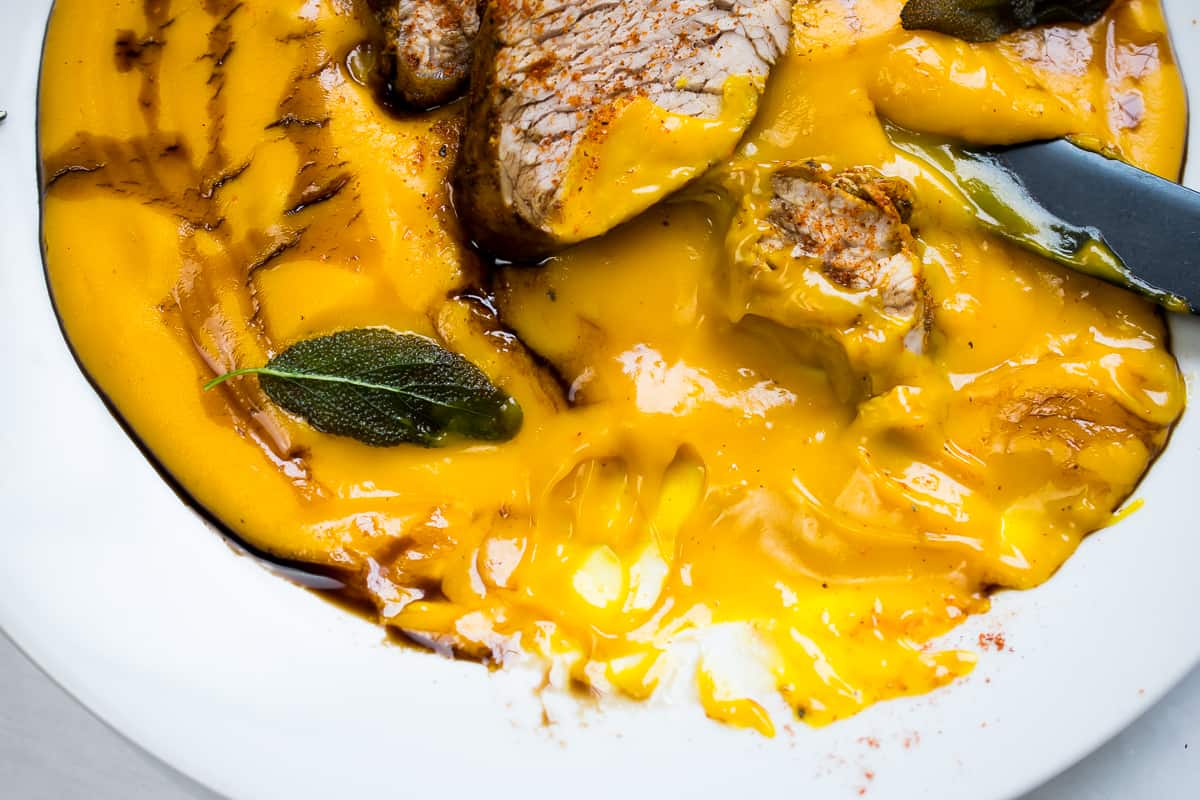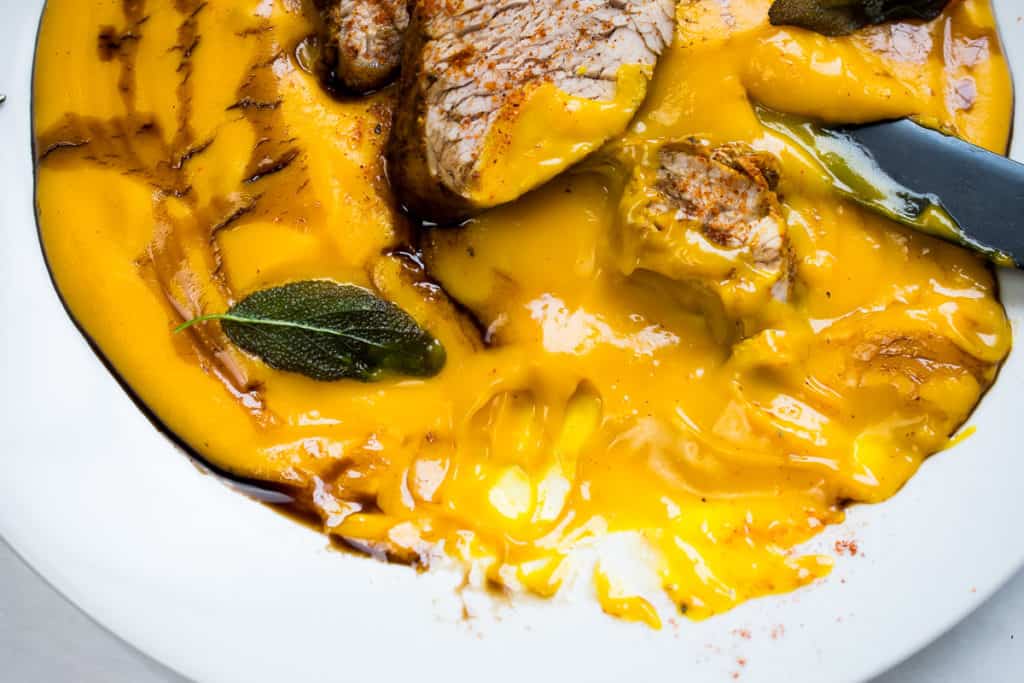 Instant Pot Pork and Puree!
This wonderful fall meal comes together really quickly in the Instant Pot. You start by cooking the diced up root veggies and butternut with broth and garlic in the pot (a quick 8 minutes). Blend those up and then sear the pork loin seasoned with sazón in olive oil, then pressure cook for 3 minutes to cook through! I love pork tenderloin, it's a lean cut that plates beautifully! I get mine through Butcher Box.
The puree is made oh so luscious, not with dairy or coconut cream, it's the yuca! This recipe combines butternut squash, white sweet potato, and yuca for a thick cream. Yuca is very viscous and a little goes a long way in bringing the creamy factor to 100!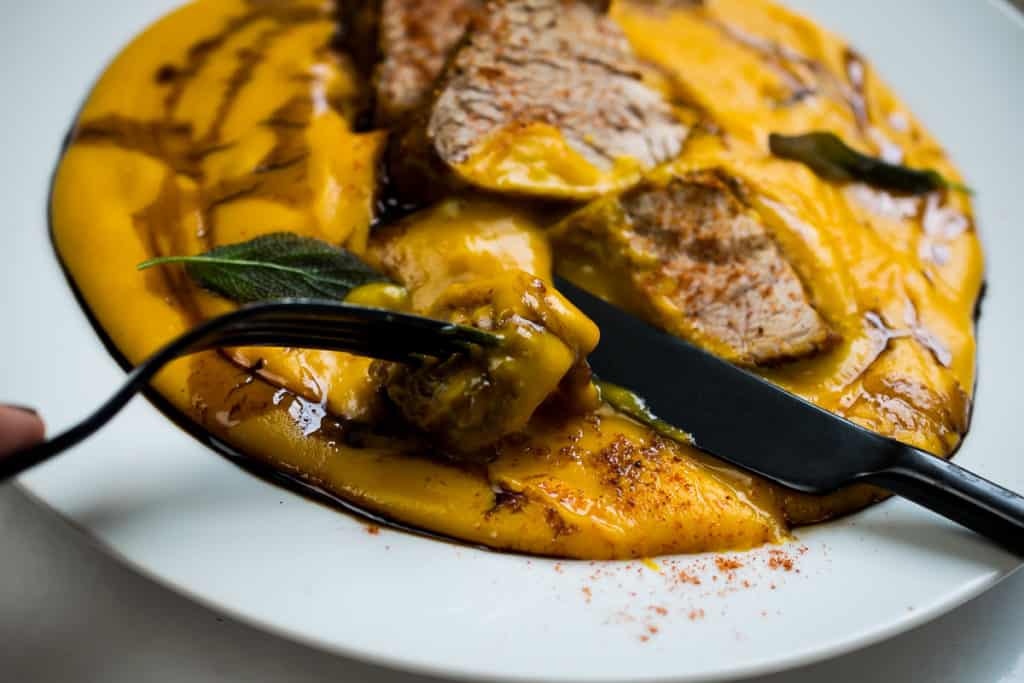 Could you Make this AIP?
Absolutely! While you can't use the Loisa Sazón, because although it's nightshade-free, seed-based spices like coriander and achiote are not elimination phase compliant. However, you could make your own mix. I recommend Sea Salt, Organic Garlic, Organic Oregano, Organic Parsley, Organic Cinnamon, Organic Turmeric. The rest of the recipe is already compliant. Happy Cooking!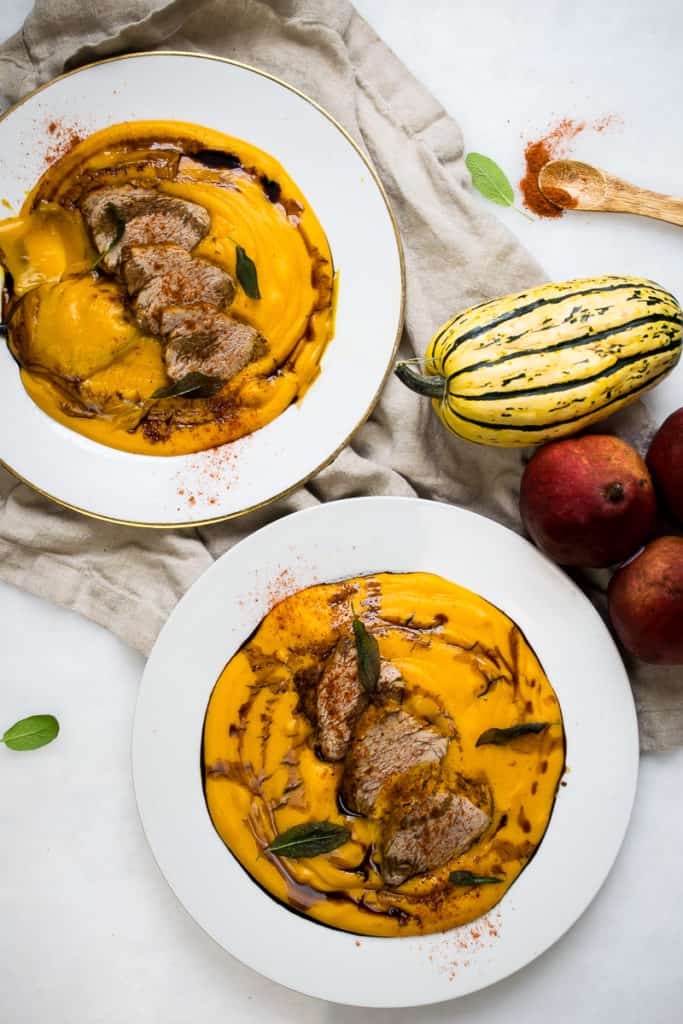 Could you Make this Low Carb?
Yup! Swap out the yuca and sweet potato for cauliflower. Before pureeing the veggies, strain out the liquid and only add it in as needed when blending. You can also add in an egg yolk to puree to thicken it up.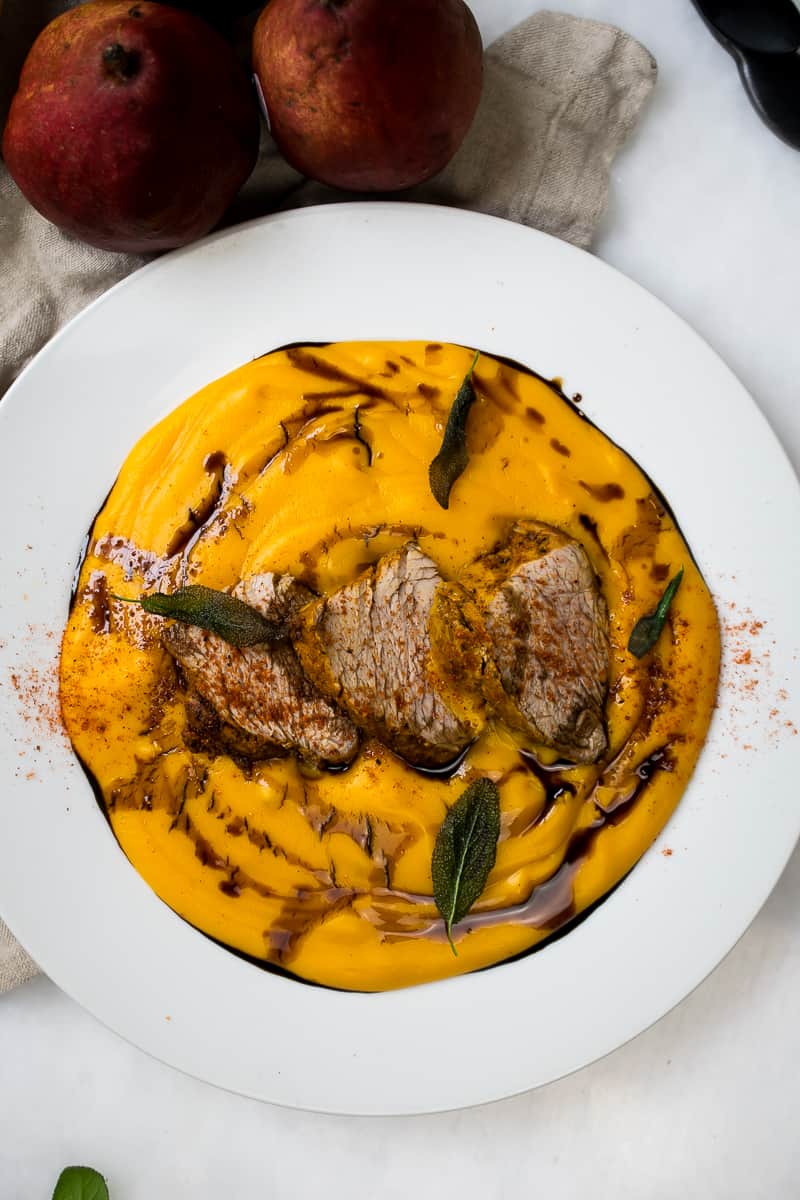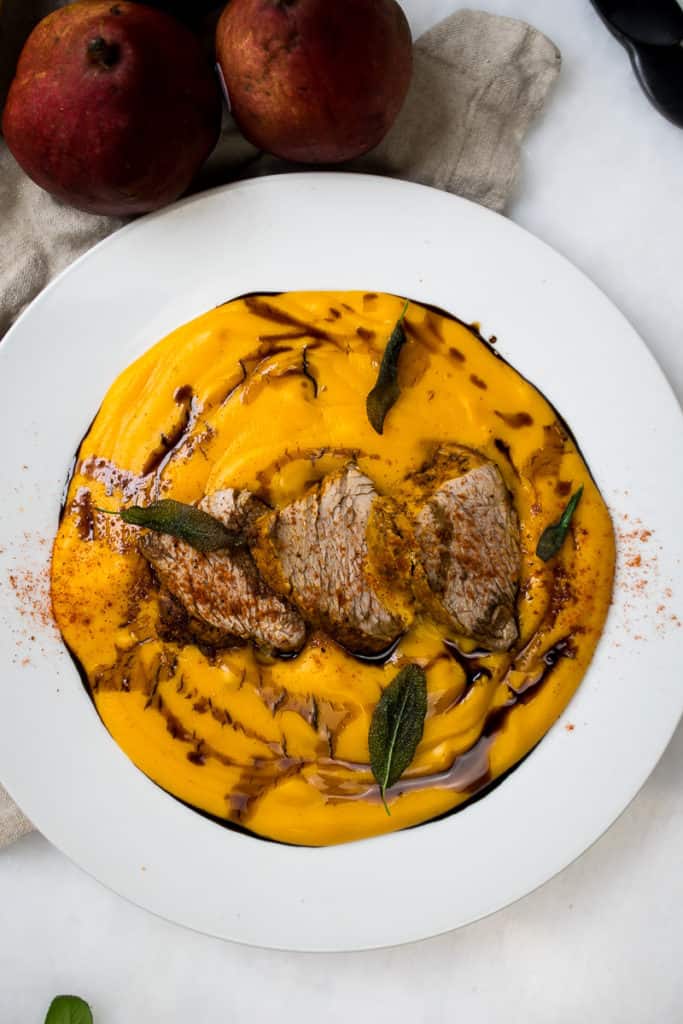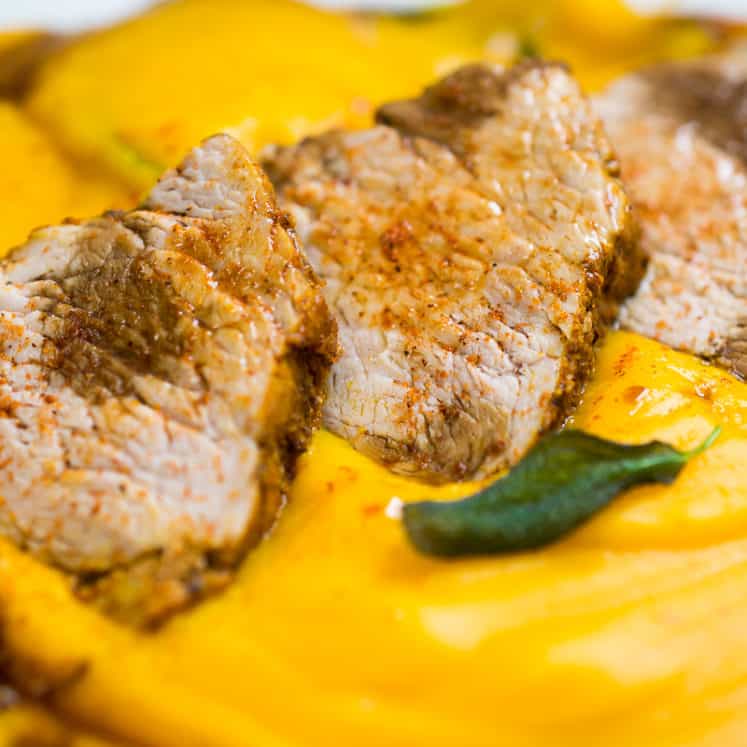 Sazón Pork Loin with Yuca Butternut Puree
---
Author: Cristina Curp
Prep Time: 15 minutes
Cook Time: 15 minutes
Total Time: 30 minutes
Yield: 2–3 servings 1x
Category: Dinner
Method: Instant Pot
Cuisine: Latin Fusion
Diet: Gluten Free
Description
Super simple and full of flavor recipe made in the pressure cooker. I love how this recipe marries Latin flavors with American Fall themes!
---
Scale
Ingredients
1 pound pork loin, trimmed
1 1/2 teaspoons fine salt, divided
3 teaspoons Sazón seaoning
1 tablespoon lard or coconut oil
1 cup diced boniato or Japanese sweet potato, peeled
1 cup diced yuca root, peeled
2 cups diced and peeled, butternut squash
1 teaspoon fine salt
pinch of nutmeg
3 garlic cloves, peeled, smashed
2 tablespoon extra virgin olive oil
2 cups bone broth, divided
---
Instructions
Rub the pork loin down with 1 teaspoon salt and 2 1/2 teaspoons Sazon and the lard or coconut oil. Make sure it's evenly coated in fat and seasoning and set it aside.
Open your pressure cooker and put the diced vegetables, the garlic, nutmeg, 1 teaspoon salt, 1 tablespoon extra virgin olive oil, and 1 cup bone broth. Close the lid. Cook on medium pressure for 8 minutes. Let the pressure release naturally.
Then carefully transfer everything to a blender. Blend on high until smooth and creamy. Taste, add salt if needed.
Cancel the pressure cooker function, and heat the pot on saute mode. When it comes to temperature, add in the remaining olive oil.
Sear the pork loin for 2 minutes on each side. Remove it from the pot. Add in the remaining bone broth and deglaze the pot, scraping up the bits. Put the pork loin back in the pot and close the lid and set to 3 minutes on high.
Release the pressure manually. Let it rest a few minutes before slicing into it. Cut it into 1/4 inch slices.
Serve 3-4 slices over a generous amount of puree! Garnish with fried sage leaves or fresh dill or even cilantro! Drizzle a little balsamic or olive oil over the dish! Enjoy!
Recipe Notes:
AIP and Low Carb modifications listed in the body of the blog post
Keywords: Sazon Pork Loin with Butternut Yuca Puree