Each year when Halloween rolls around, I cringe, just a little at all the candy Jack will inevitably eat. While I wish that he would stick strictly to our Homemade Halloween Candy, that's not our reality and that's okay. These Creepy Monster and Guts Chocolate Cups are so fun to make.
This year, trick or treating is on pause, and that's okay too. My health nut side is kind of happy that we'll be skipping all the sugary candy. My mom side is bummed that he's bummed. However, we had a lot of fun making this homemade Halloween candy together.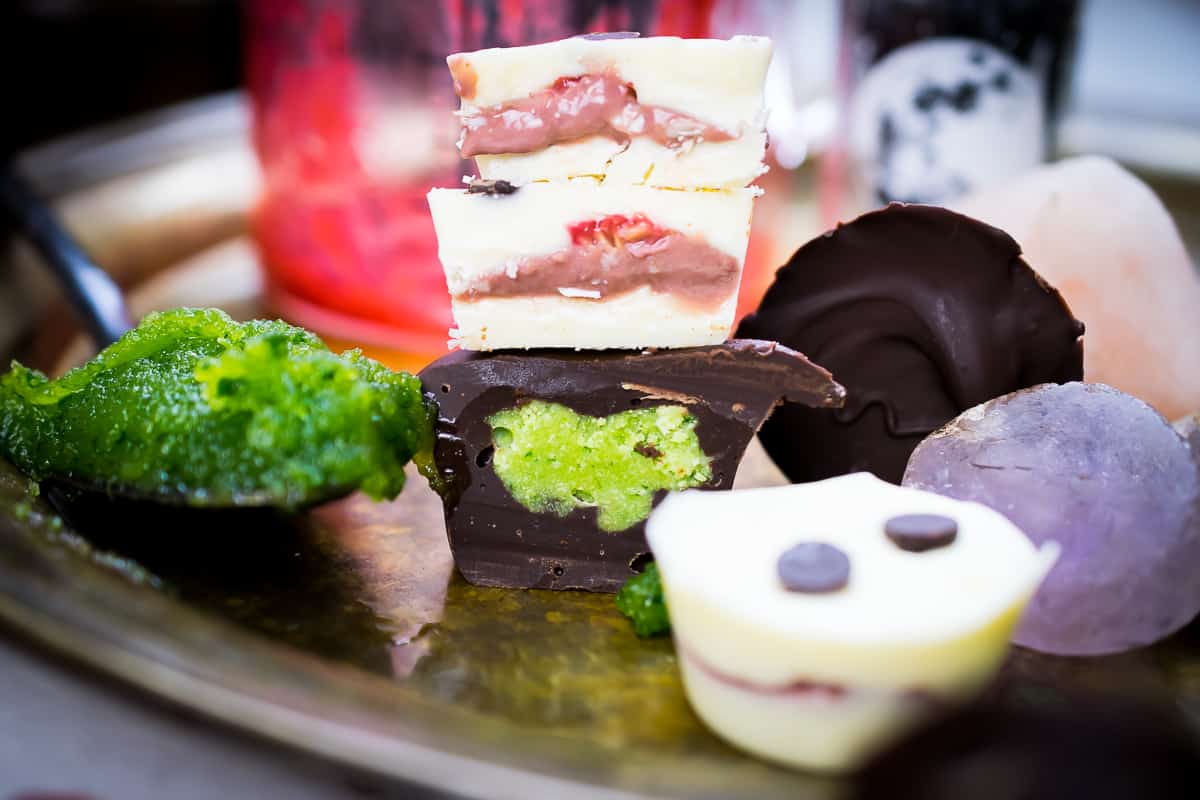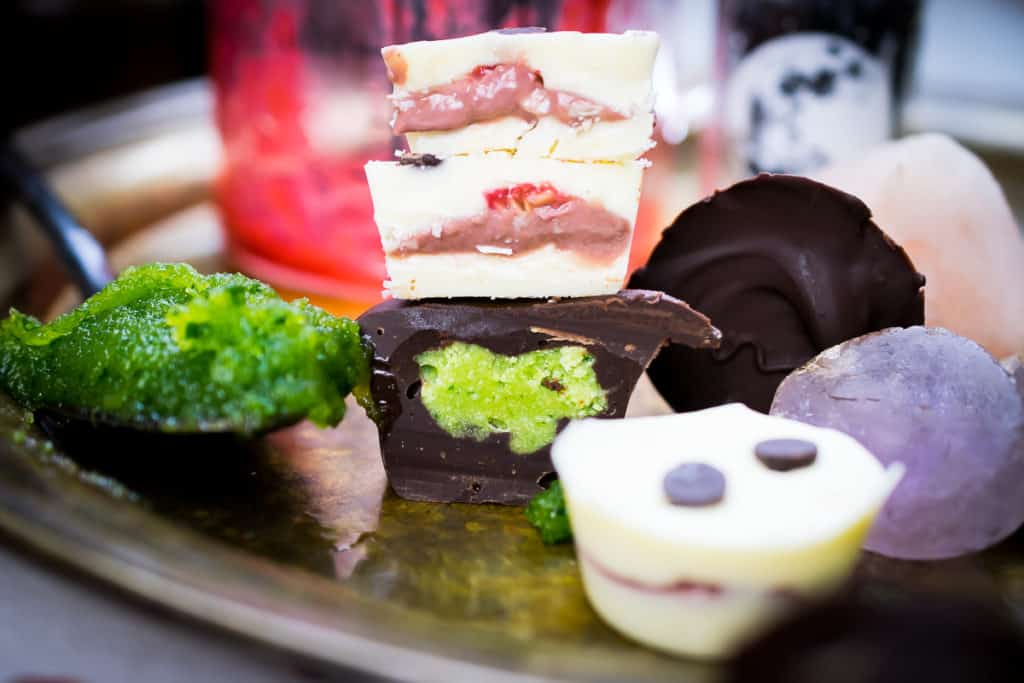 Homemade Halloween Candy?
Yeah! These spooky filled chocolate cups are Halloween themed and totally delicious while skipping on food coloring and sugar. That's a win in my book. It takes a little time and a little finesse. But these two recipes are not difficult.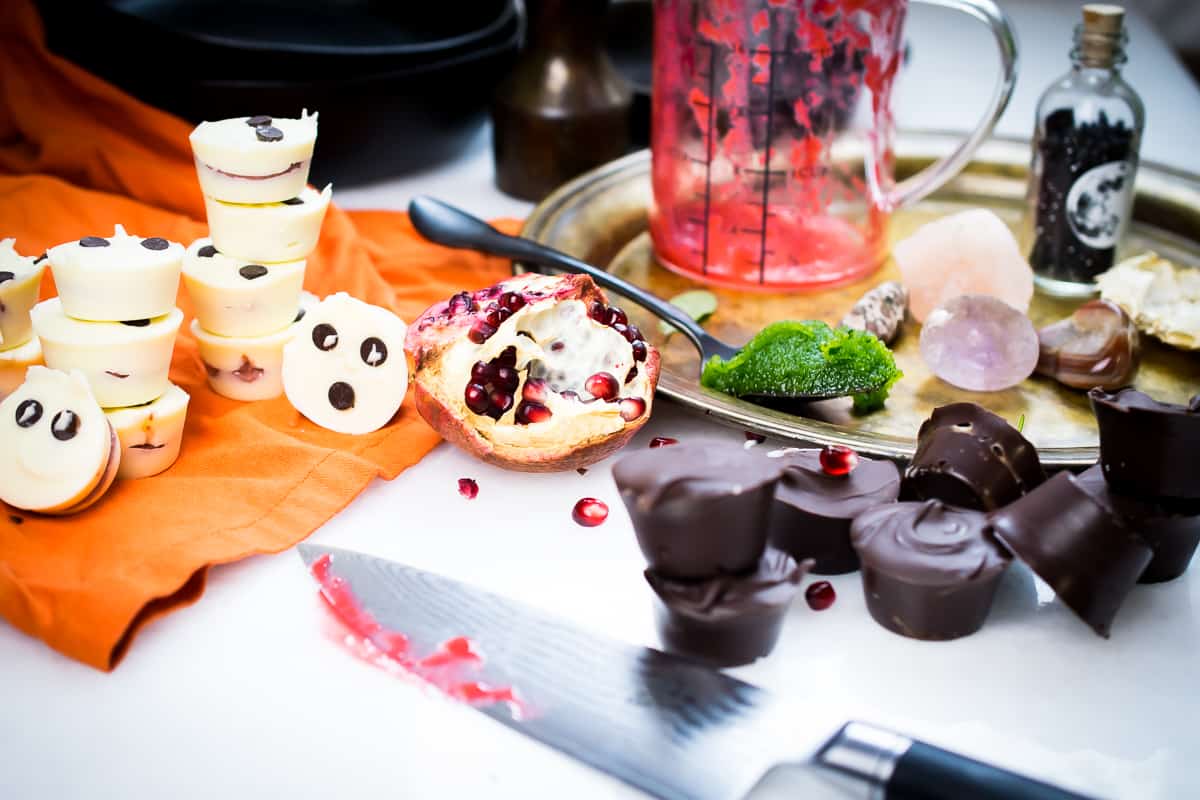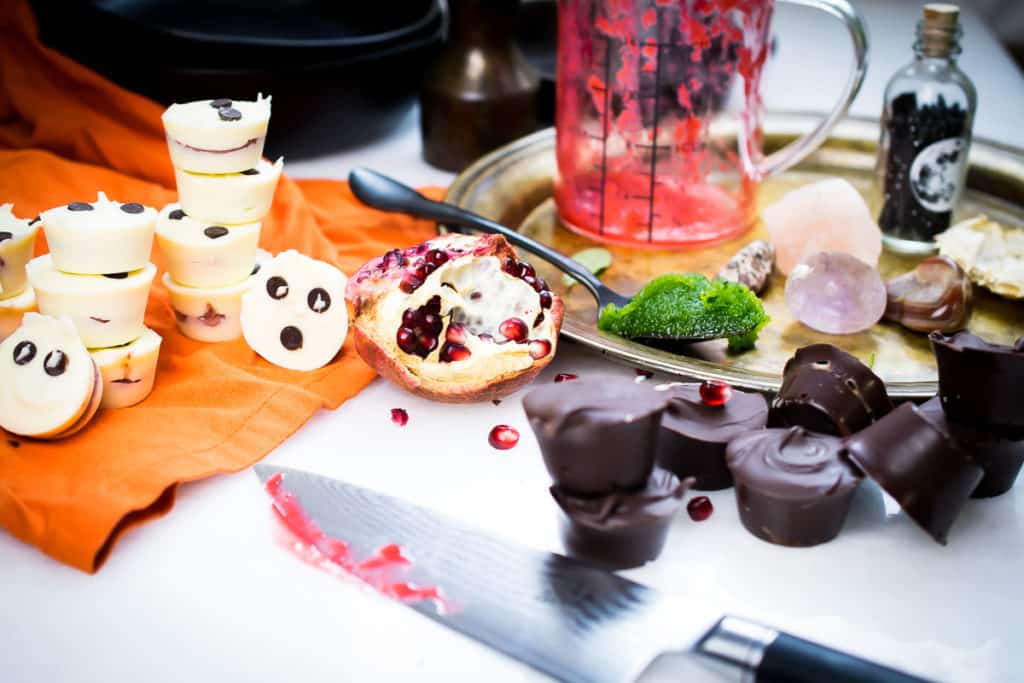 Monster Chocolate Cups
These are made with dark chocolate and a coconut butter filling that's colored with spinach (yuppp). But don't worry you can't taste the spinach. A little vanilla extract and a drop of stevia. It's super easy and really tasty. I used Lily's Chocolate Chips but you can also use Pascha's 85% dark chocolate chips if you prefer more bitter chocolate.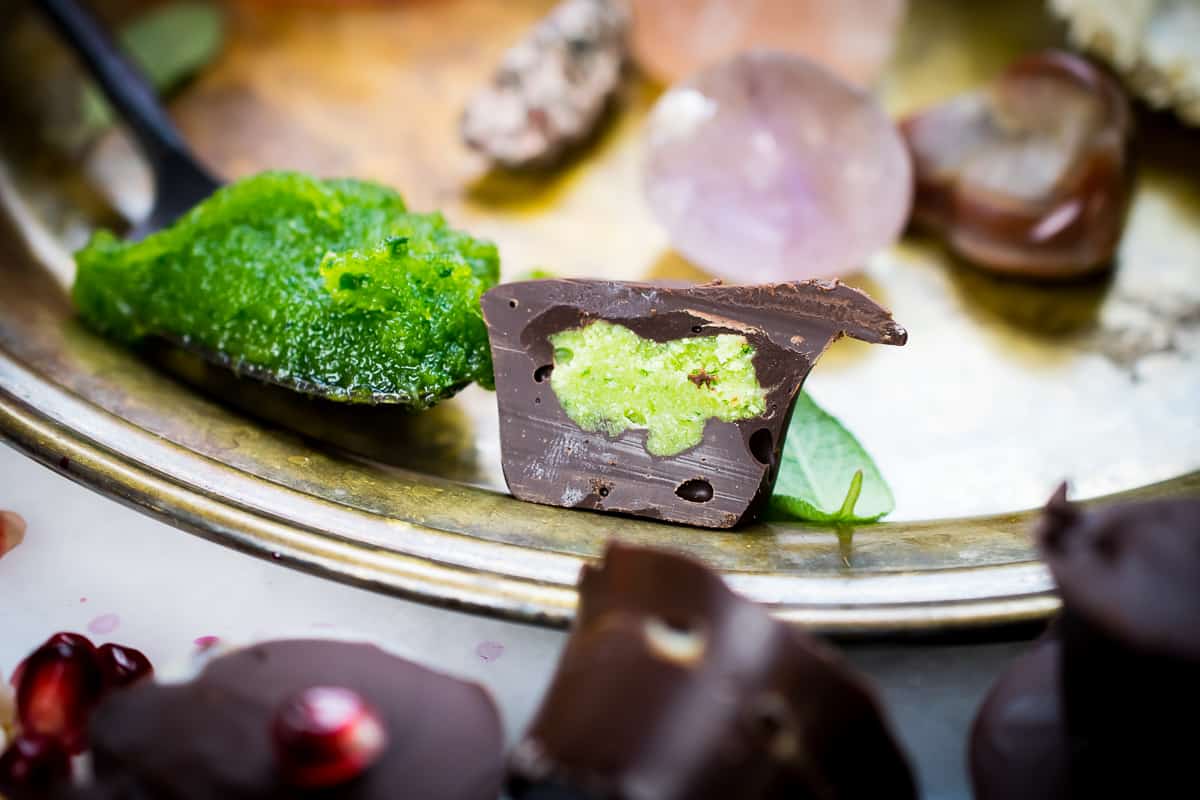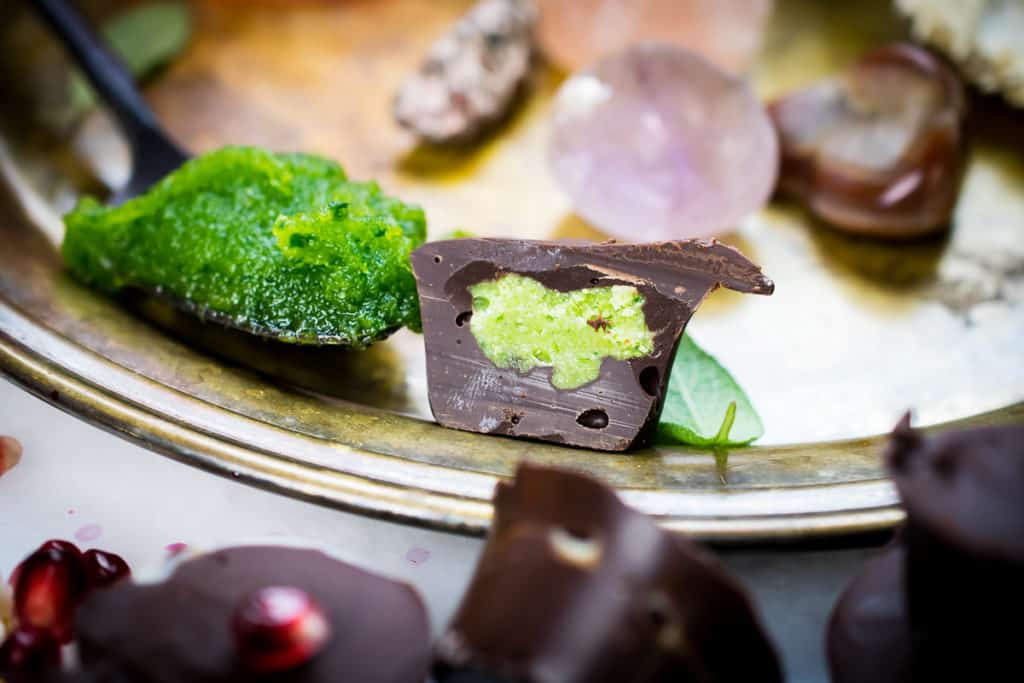 Gut Filled Cups
The white chocolate cups use dark chocolate chips to make little faces (creepy). The filling is made with cooked down and strained raspberries mixed with sunflower seed butter. You could keep it bloodier looking if you add gelatin or chia seeds. Lot's of options here. But the red, pink, brown color that it ends up with is what organ meat looks like and I think that's even spookier than bright red that could look like Valentine's day!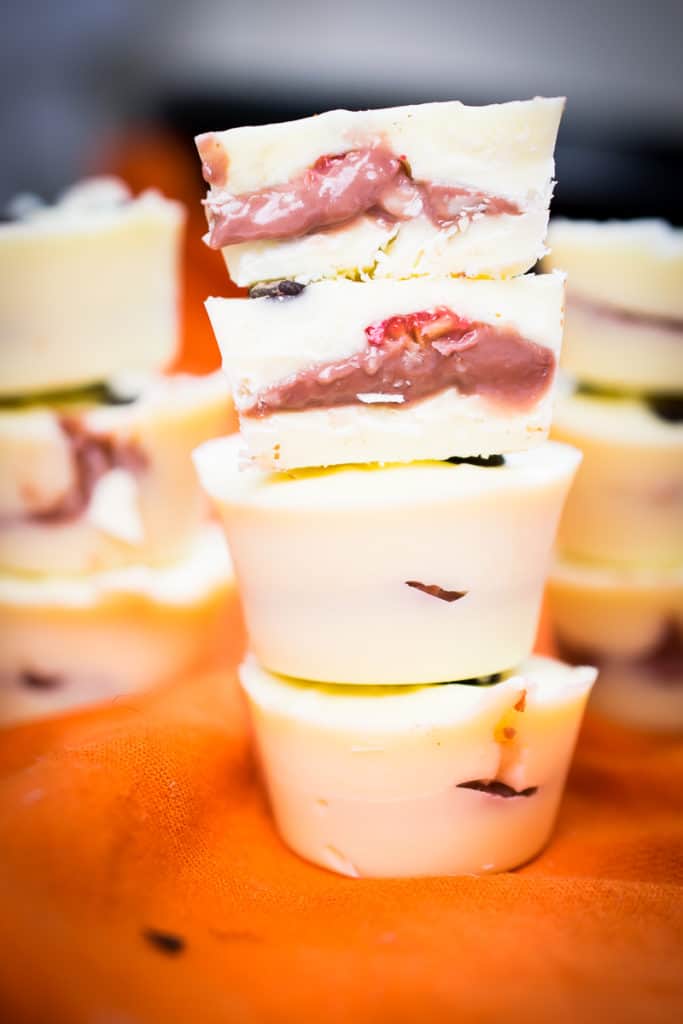 What You'll Need
1 bag of white chocolate chips (I used Lily's)
1 bag of dark chocolate chips (I used Lily's)
1 cup raspberries
2 tablespoons sunflower seed butter
Stevia or allulose (optional)
1 cup baby spinach
1/2 teaspoon vanilla extract
2 microwave-safe bowls
A small food processor or immersion blender
Mini muffin silicon mold or regular mini muffin pan with liners
Time 🙂
Alright my little ghouls and goblins, let's make some healthy (ish) homemade Halloween Candy!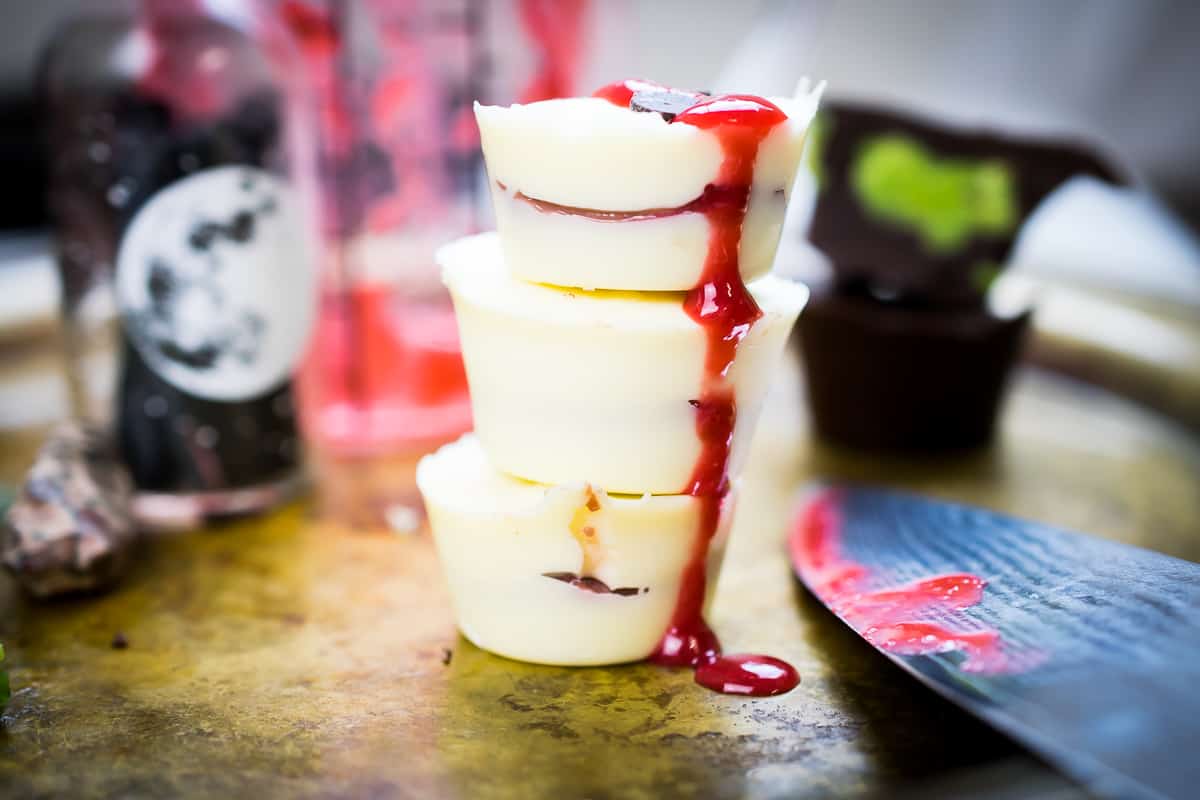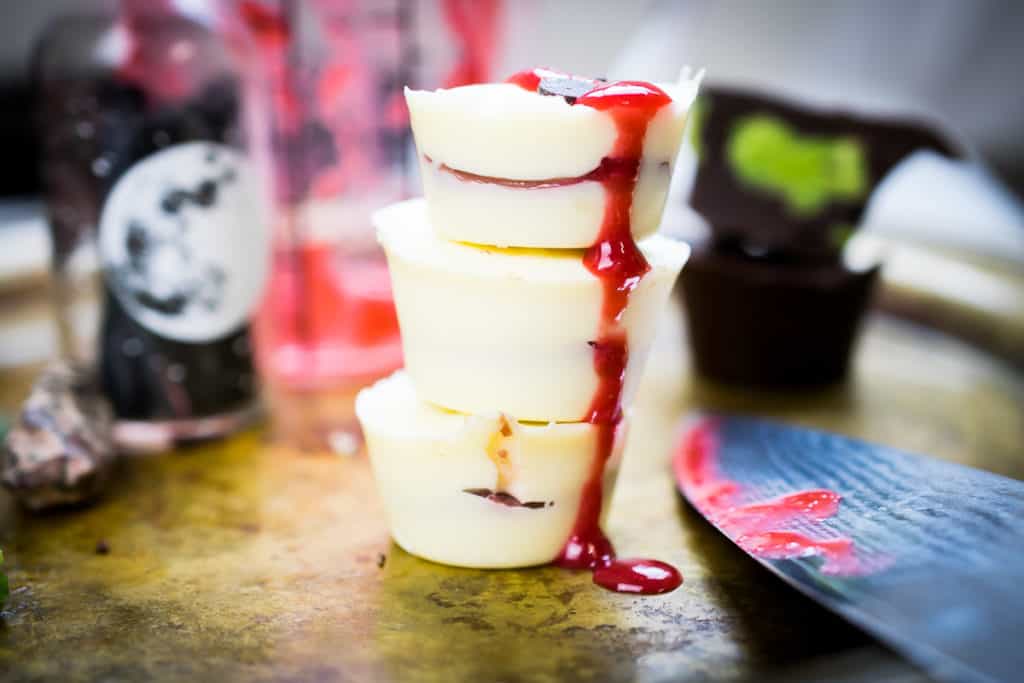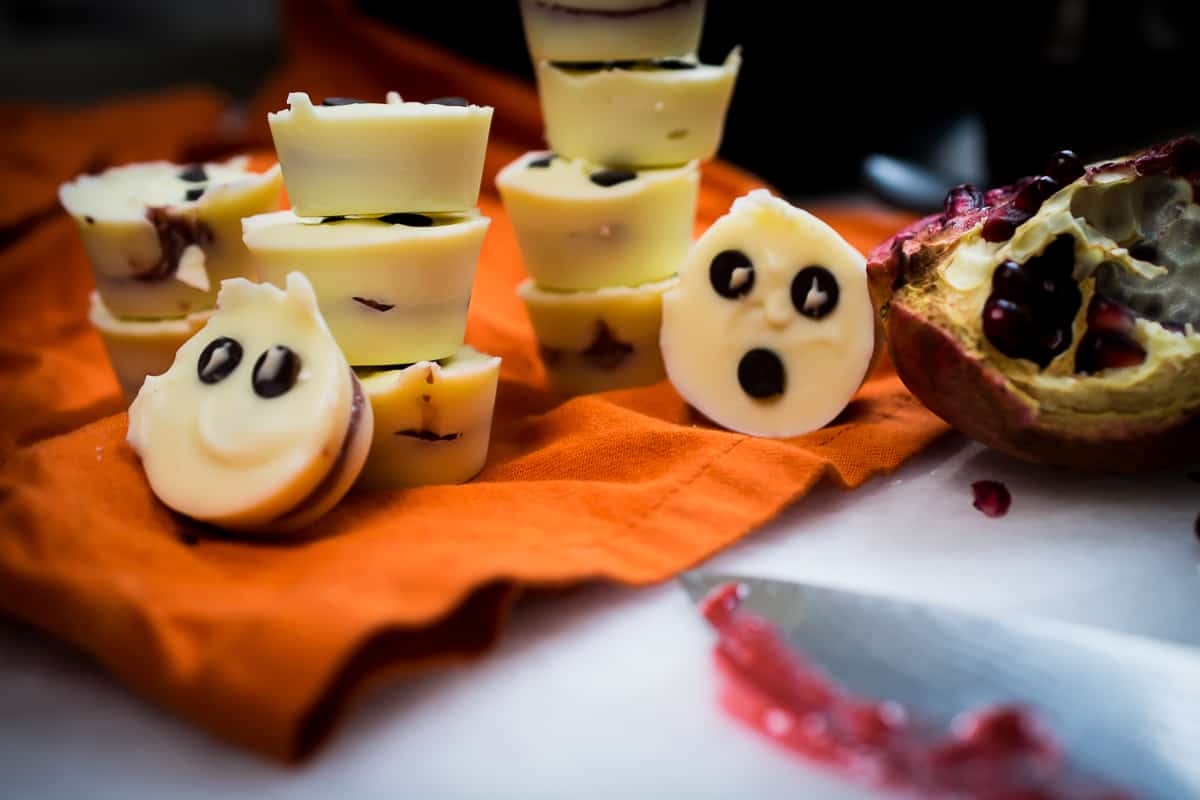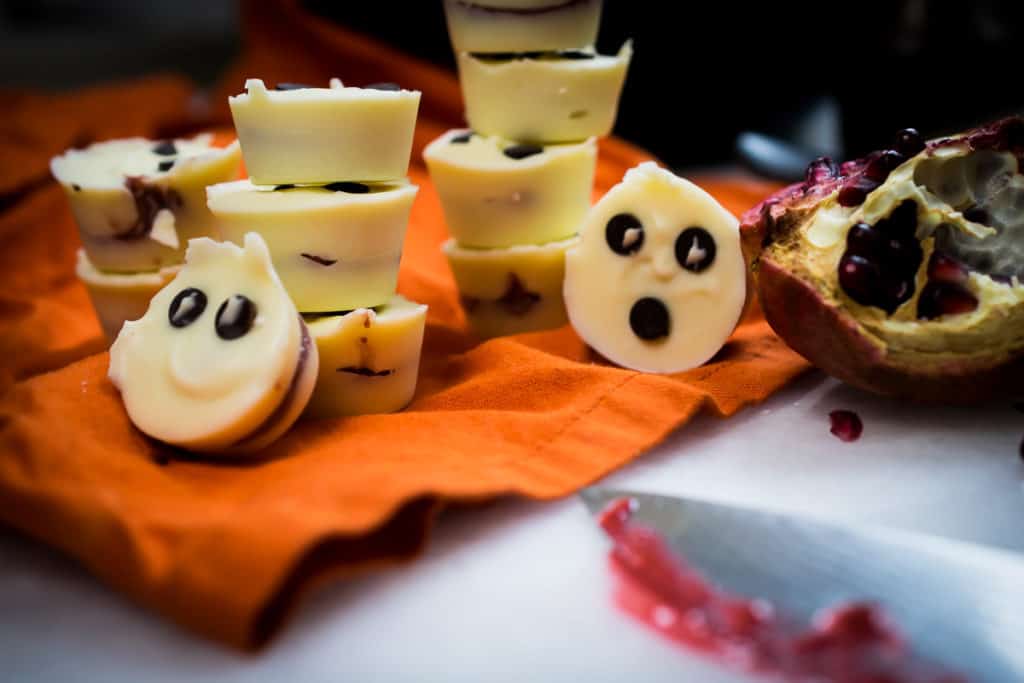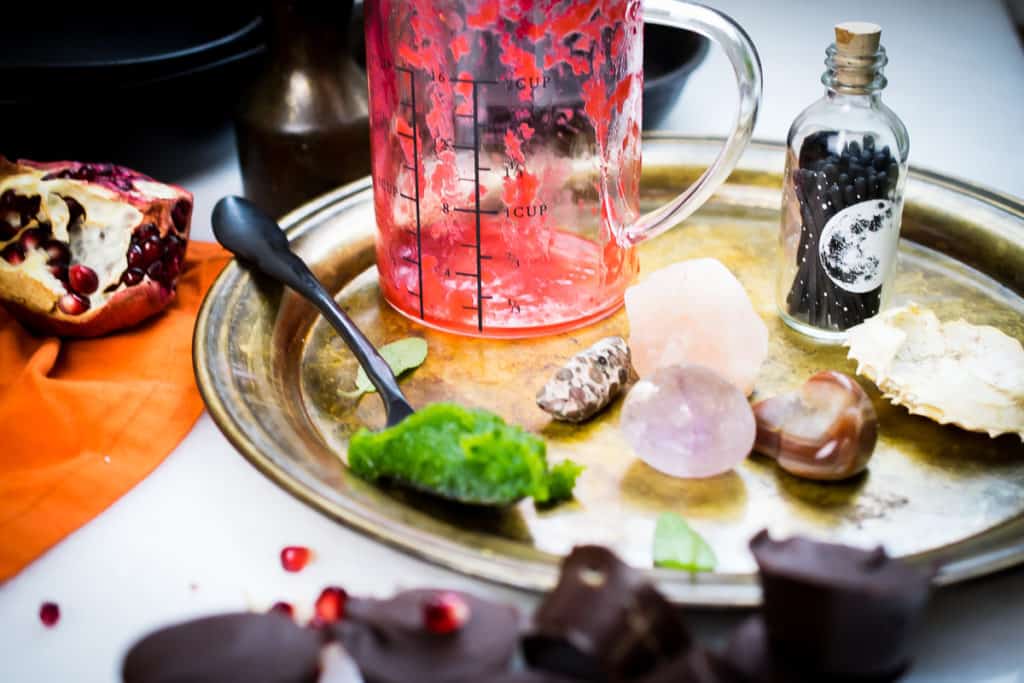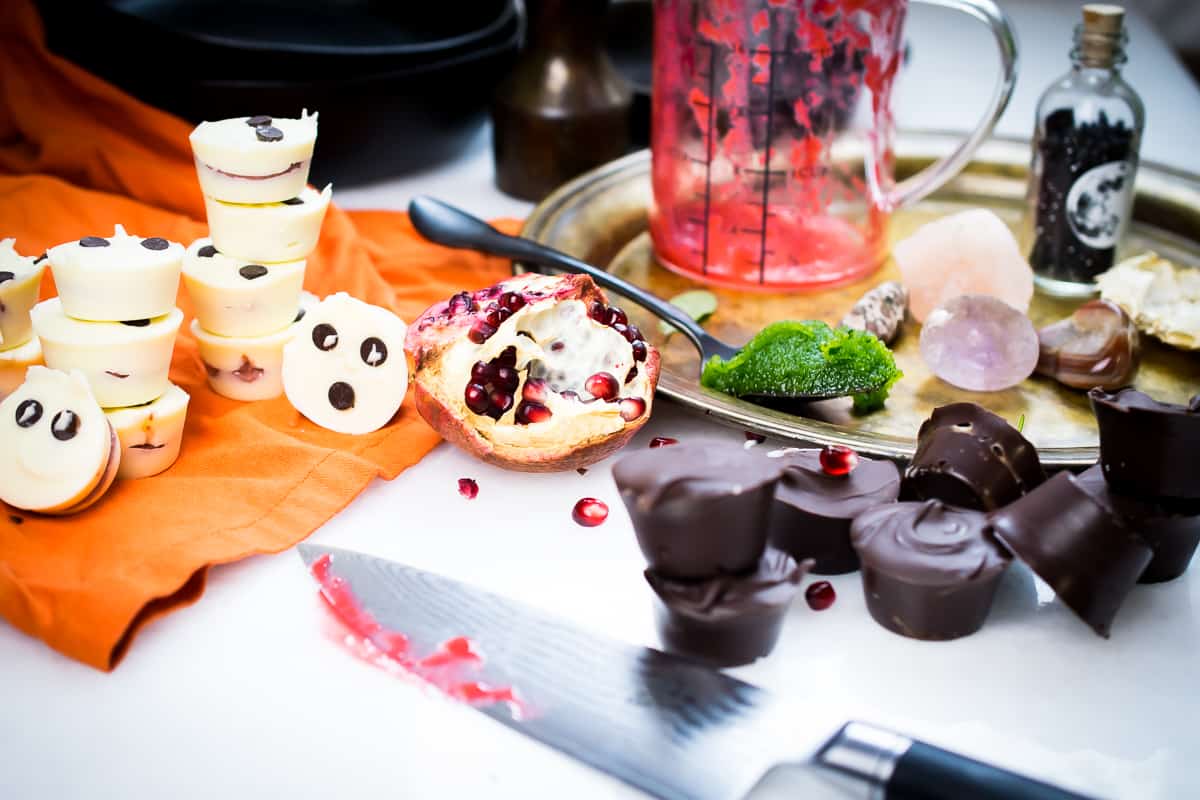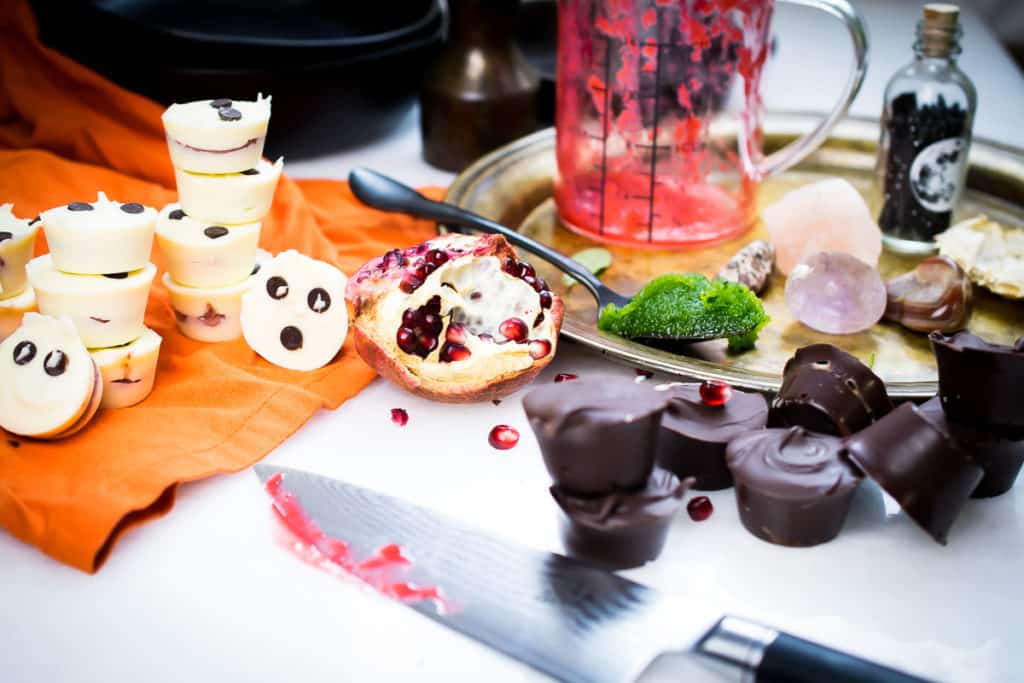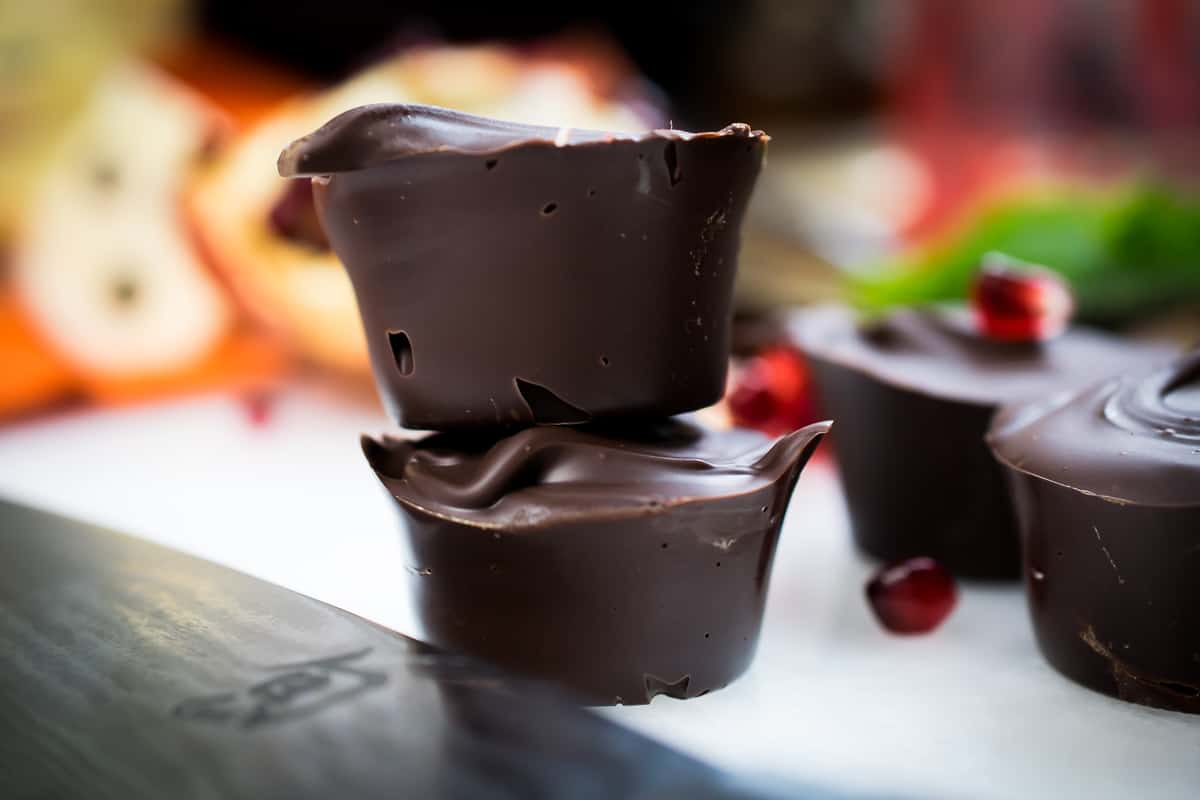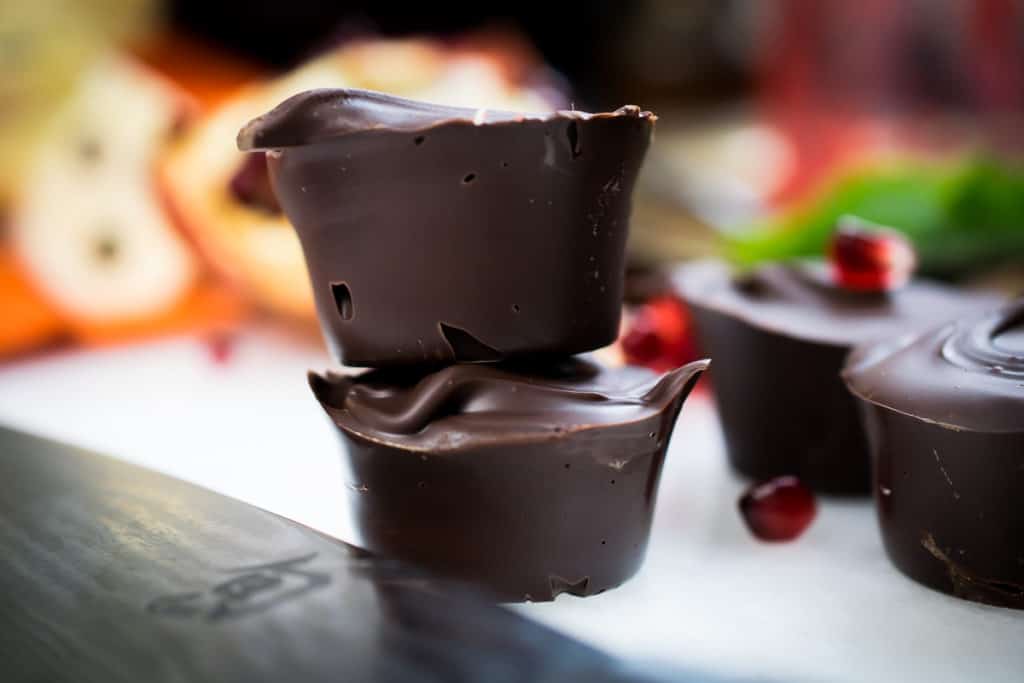 Homemade Halloween Candy (no food coloring, sugar free)
---
Author: Cristina Curp
Prep Time: 60
Total Time: 60
Yield: 24 candies 1x
Category: Candy
Method: No-Bake
Cuisine: Holiday
Diet: Diabetic
Description
Homemade Halloween Candy that's creepy and delicious! No sugar, no food coloring!
---
Scale
Ingredients
 White Chocolate with "Guts"
1 bag Lily's White Chocolate Chips
1 cups raspberries
2 tablespoons sunflower seed butter
1/2 tablespoon coconut oil, softened
1/2 teaspoon vanilla extract
5 drops stevia (optional)
dark chocolate chips (optional)
Dark Chocolate Monster Cups
1 bag Lily's Semi Sweet Baking Chips
1/4 cup coconut butter (manna) -softened
1/2 cup baby spinach
1/2 teaspoon vanilla extract
1 tablespoon allulose or maple syrup
---
Instructions
For The Guts Filling:
Cook down the raspberries in a small saucepot for about 5 minutes over medium heat. Break with a whisk mashing them up. Then strain the berries through a fine-mesh sieve.
Mix the strained berries with the sunflower seed butter, softened coconut oil, vanilla, and sweetener. Mix until smooth. Set aside. This will be soft, but should still set up, like a very thick batter or loose dough. If it's too liquid, set it in the fridge to harden a bit.
For Monster Filling: 
Combine the spinach and the softened coconut butter in a food processor with the vanilla extract and allulose. Blend until the spinach is totally blended smooth but thick, almost like a dough consistency. Set aside.
Assemble the Cups:
Put half of the white baking chips in a small microwave-safe bowl. Heat on medium power for 1 minute. Then stir until smooth, if the chips didn't' completely melt, heat on medium power in 15 minutes intervals until it stirs smooth.
Scoop 1 teaspoon of melted white chocolate into the mini muffin molds. Make sure to spread it smooth.
Repeat with the dark chocolate chips.
Place the tray in the fridge on a flat surface so the chocolate hardens for 10 minutes.
Remove from the fridge and use a tiny spoon, like 1/4 teaspoon to scoop the filling into the cups. This step is imperative. You need to make sure the filling stays in the middle of the cup, if not the chocolate won't seal around it. So start with 1/4 teaspoon and add a little bit at a time as long as it does not spread. You could even roll it into little balls.
Now melt the remaining chocolate, the dark and the white respectively, with the same instructions as above and spoon the chocolate into the mini muffin tins to cover the filling completely, swirl the tops for acute effect.
To make the faces on the white chocolate, but dark chocolate chips, upside down into the tops.
Set the tray in the fridge to hardening for 30 minutes before unmolding.
Recipe Notes:
You can any kind of chocolate you want, I used Lily's to keep it sugar-free. No, I'm not doing macros for these, it's candy! You're welcome to calculate it yourself with the ingredients you use.
Nutrition
Serving Size: 1 Candy
Calories: 104
Fat: 8g
Carbohydrates: 13g
Fiber: 6g
Protein: 2g
Keywords: homemade Halloween Candy