When you want BBQ but aren't eating sugar it can be hard… when you aren't eating nightshades… impossible. I get pretty creative, and these amazing Coffee Rubbed Ribs are the result! These are made in the oven with a delicious wet rub made of ripe peaches and coffee grounds!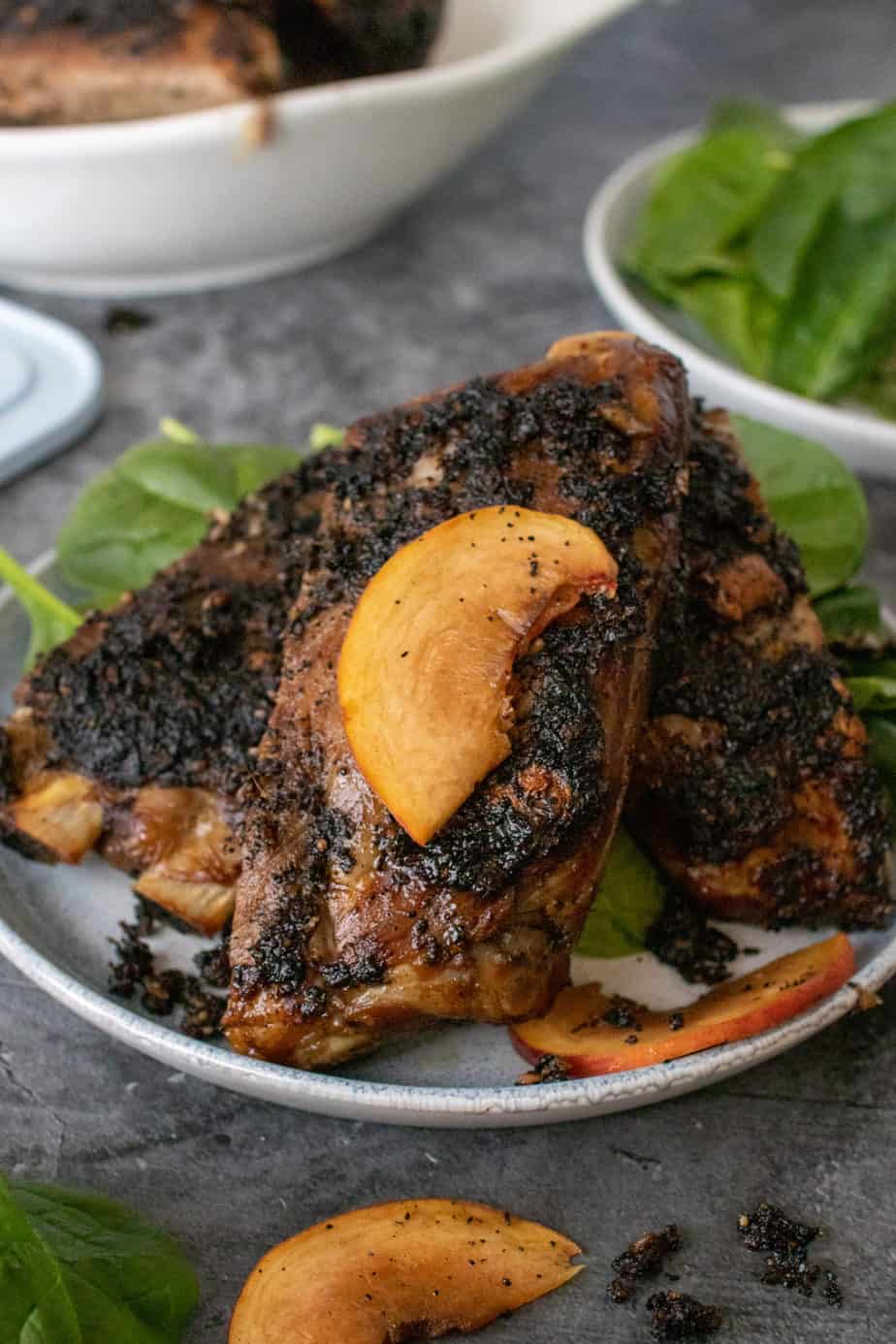 Table of Contents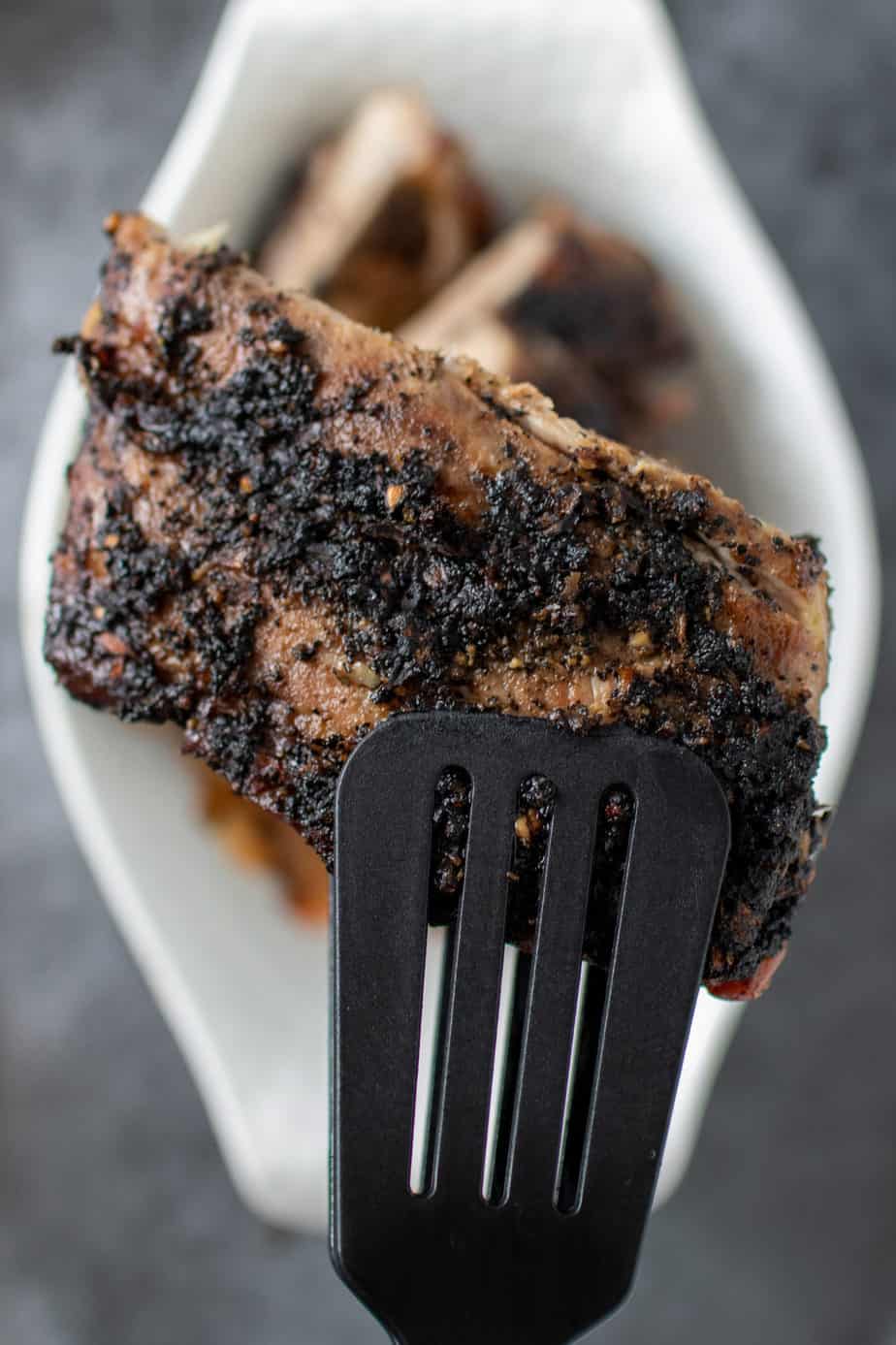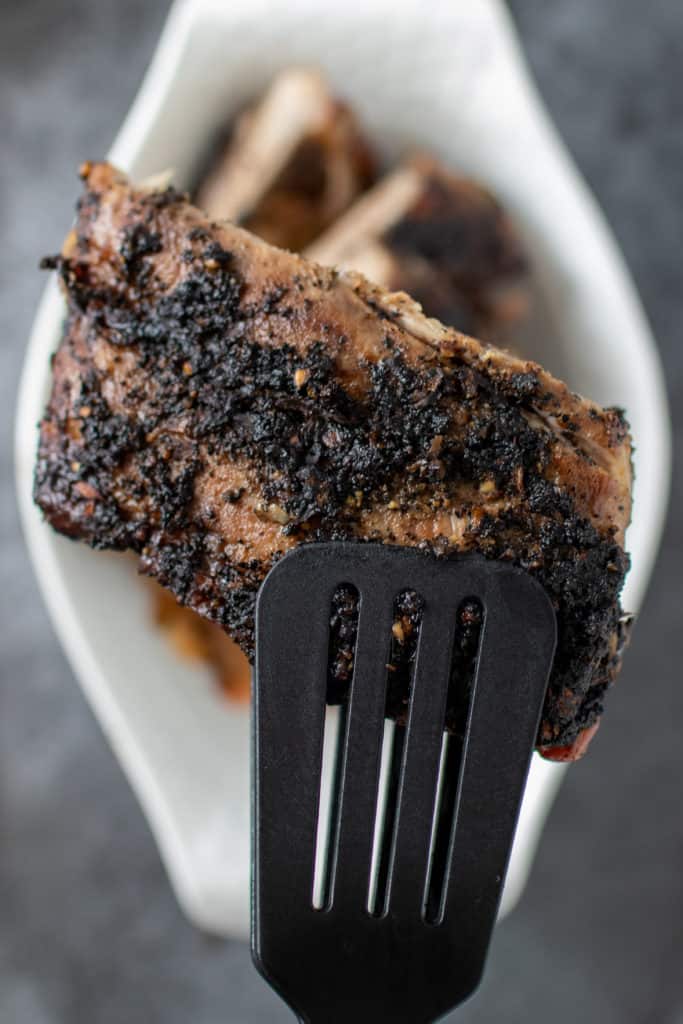 Sugar-Free Coffee Rub Ingredients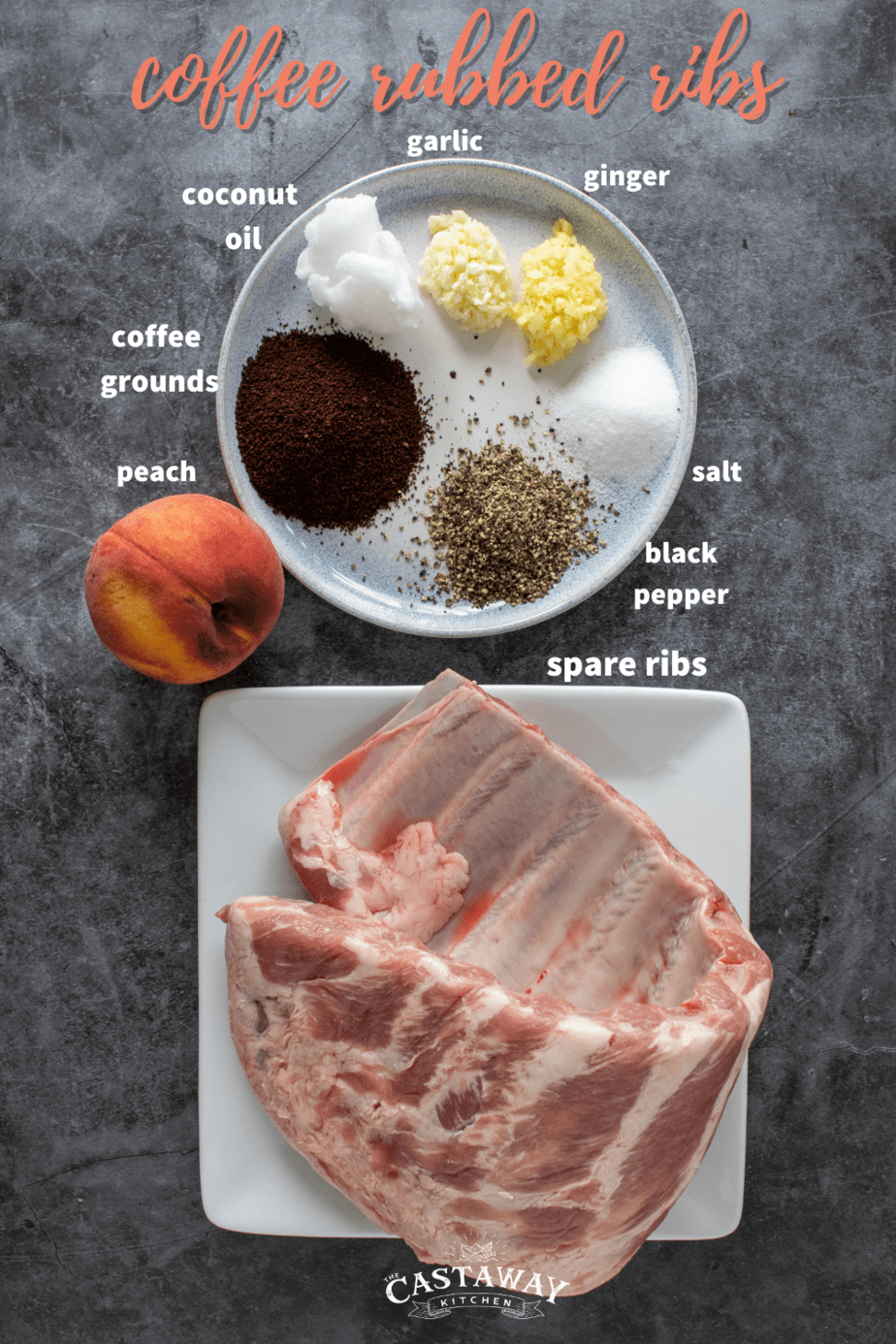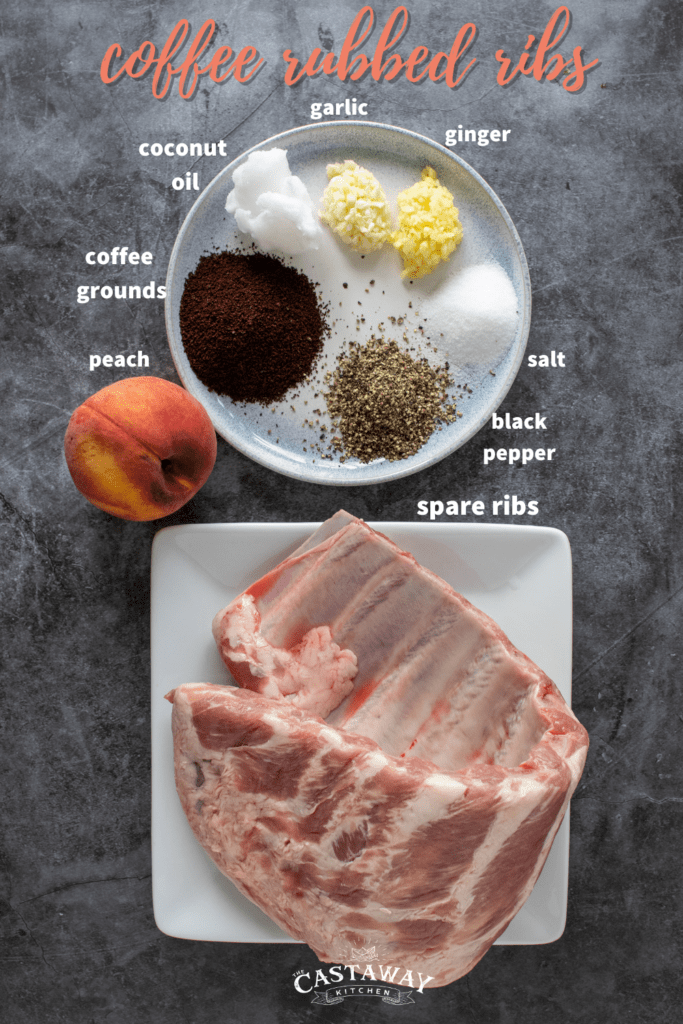 This rub is more of a paste! To skip the sugar we're using a very ripe peach (you can use canned peach or pineapple if they're not in season).
The ginger and garlic add tanginess and some heat, but the copious amounts of black pepper are what make these a little spicy.
Coffee grounds give rubs a great earthy flavor and create a wonderful dark brown color on the exterior of your ribs.
I usually get my pork ribs spare from Butcher Box.
These Oven Ribs are So Easy to Make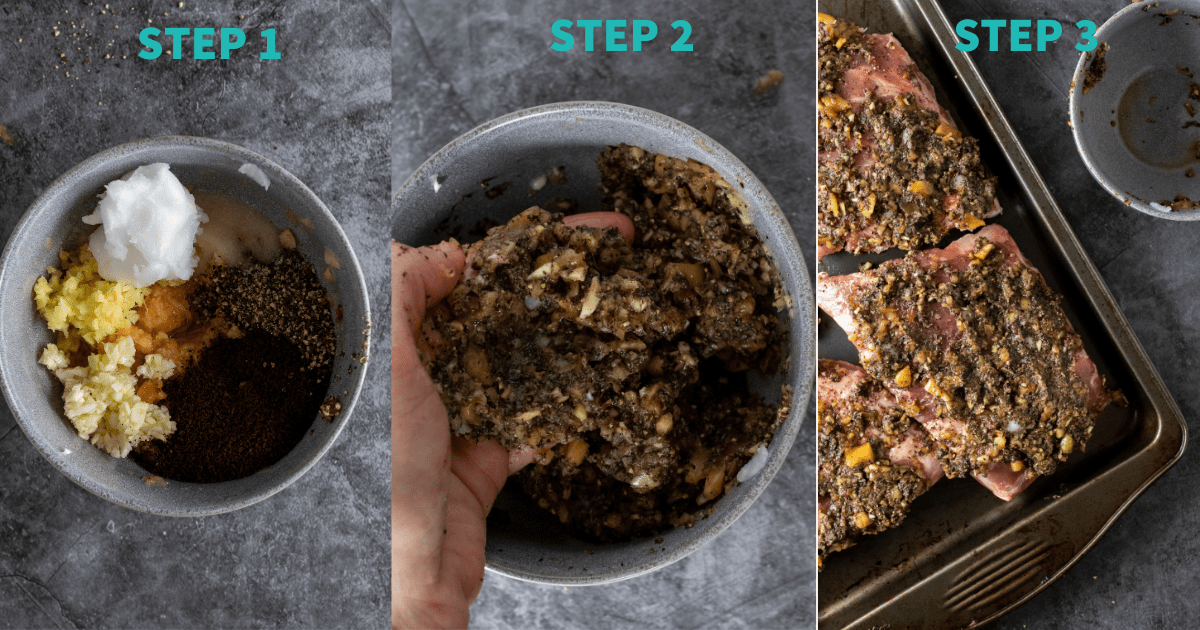 Start by making your rub. Mix and mash the peach, coffee, garlic, ginger, salt, black pepper and coconut oil in a bowl until well combined. Slather this all over your ribs on both sides.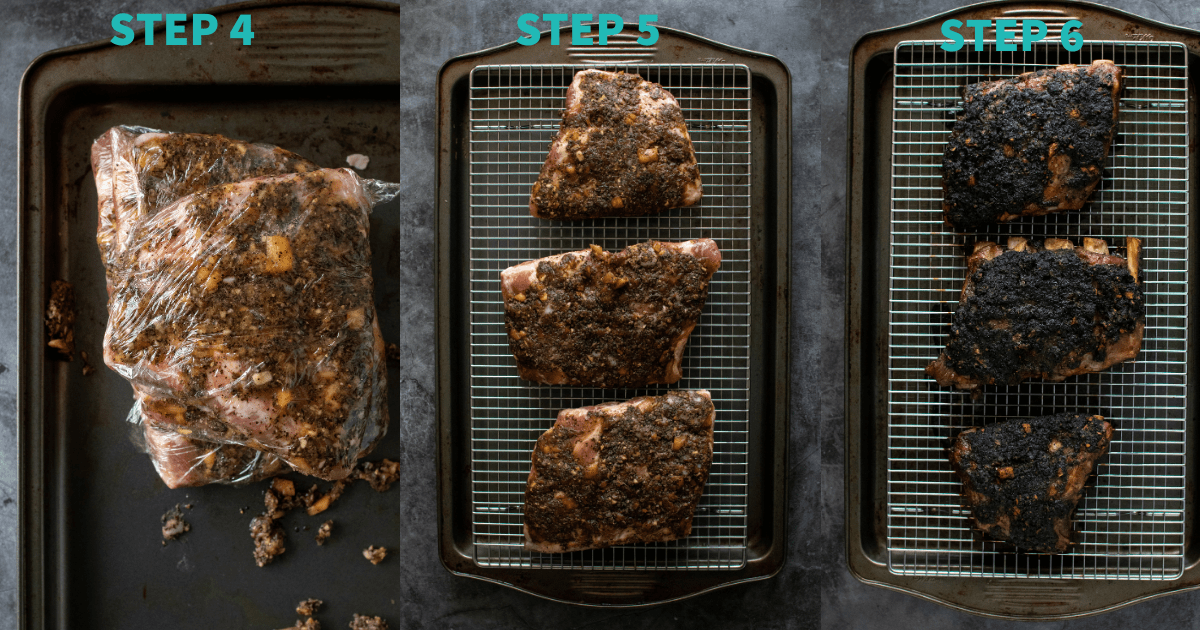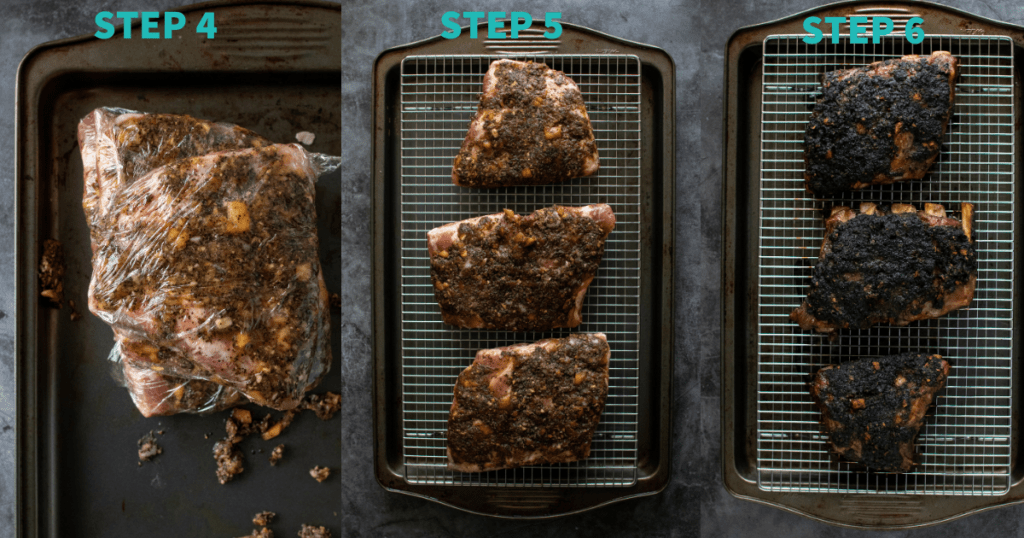 Wrap up your ribs tight and set in the fridge overnight! When ready to cook you're going to sear them under the broiler for 2-3 minutes a side. Then move them down to the middle rack and cook low and slow for 2 1/2 to 3 hours until tender.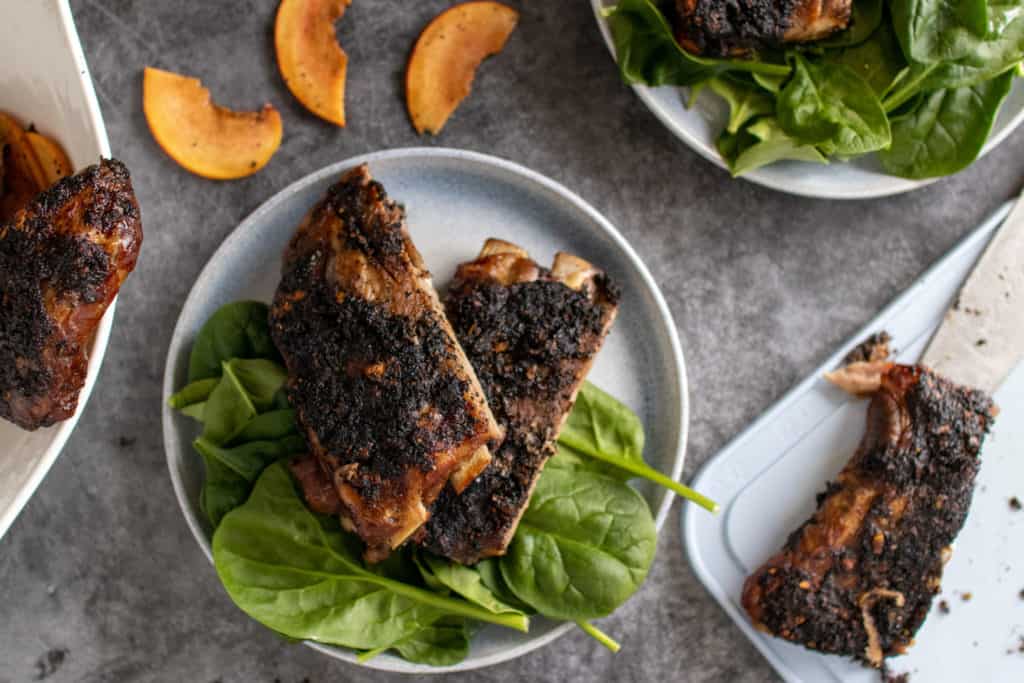 Frequently Asked Questions
If I can't find ripe peaches, what else can I use?
Ripe mango, pineapple or canned peaches will work. You need a ripe fruit that's sweet and juicy! This replaces the sugar in the recipe.
What type of coffee should I use for the rub?
I like medium roast coffee grounds. You can use espresso for a deeper flavor. If you're sensitive for caffeine you can also use decaf.
Can I make these in the Instant Pot?
Yes, I've included instructions in the recipe box notes section.
Are these fall off the bone tender?
They are very tender, but not fall off the bone. The proper way to cook ribs is to that if you pick up the the bone, the meat stays on. But the are very tender. If you wrap them up in foil while slow cooking they will turn out fall off the bone.
Can I make these on the grill?
Yes, you would sear on high then lower them temp and cook them on low for 2-3 hours. Grills are just outside ovens!
Can I add red pepper?
If you want too! You could add coriander, cumin, paprika… have fun with the rub. I love this combination because it's simple and delicious, but you can go crazy with it.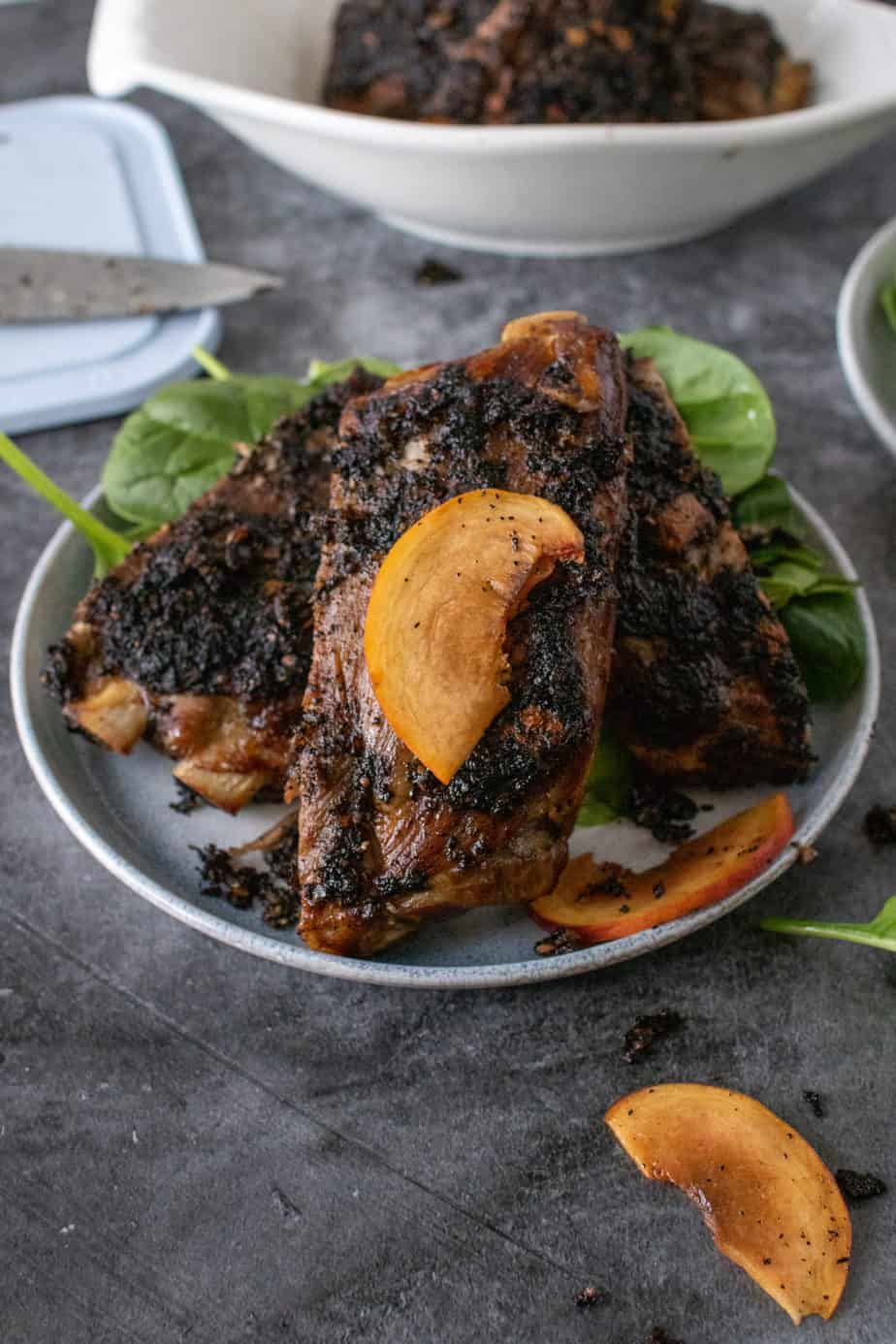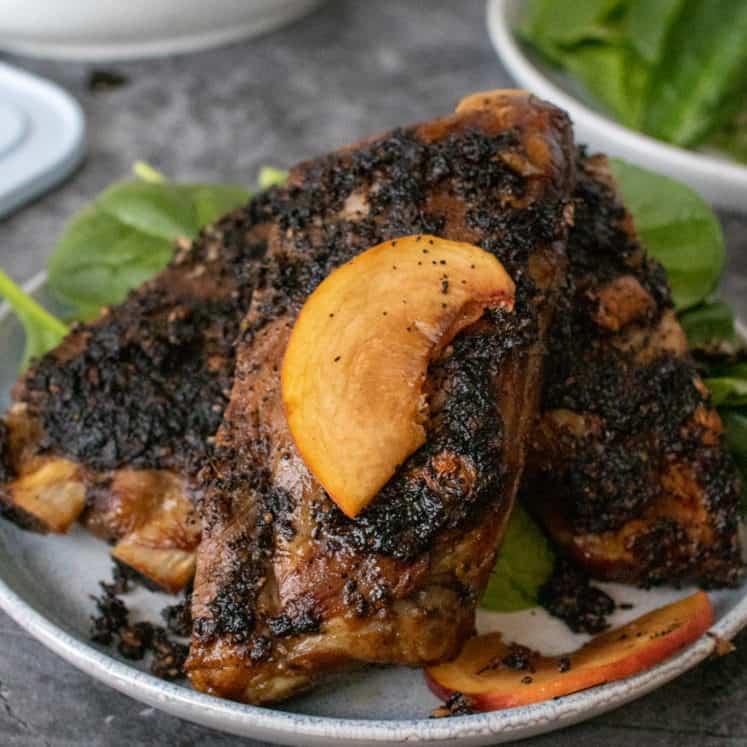 Coffee Rubbed Ribs (Whole30, Paleo, Keto)
---
Author: Cristina Curp, FNTP
Prep Time: 15 minutes
Cook Time: 3.5 hours
Total Time: 215
Yield: 4 1x
Category: Entree
Method: Oven
Cuisine: American
Diet: Gluten Free
Description
Delicious and tender coffee-rubbed ribs made in the oven with a healthy, sugar-free rub!
---
Scale
Ingredients
4lb spare rib rack
3 tablespoons medium roast coffee grounds
1 large peach, ripe, mashed
1 tablespoon minced garlic
1 tablespoon fresh minced ginger
1 tablespoon apple cider vinegar (optional)
1 tablespoon sea salt
2 tablespoons ground black pepper
2 tablespoons coconut oil or avocado oil
---
Instructions
Mix coffee, mashed peach, garlic, ginger, vinegar (if using it), salt, pepper, and oil in a small bowl, use your hands to mash and mix, getting the juice out of the peach.
Cut ribs into 6-inch racks. Place ribs on a large sheet pan or parchment paper.
Slather peach mix onto ribs and spread and pat down. Do this on both sides, use all of the rub, then wrap up the ribs with plastic wrap or foil and refrigerate overnight.
When ready to cook, heat the broiler to 500F.
Use a roasting rack or cooling rack over the sheet pan to cook ribs on so the air circulates all around them. Sear ribs under the broiler for  3 minutes on each side.
Lower the heat to 300F and place ribs on the middle rack. Cook for 3 to 3 1/2 hours.
Remove from oven, place on large cutting board, and use large chef's knife or cleaver to cut ribs apart.
INSTANT POT INSTRUCTIONS IN NOTES BELOW.
Recipe Notes:
** Instant Pot Cooking Instructions**
After you marinate the ribs, remove them from the marinade, saving any sauce, dripping and chunks of peach. Cut your ribs rack into 2-3 pieces.
Add 1 cup broth with a splash of vinegar to your IP. Place the rack inside. Arrange your ribs in a tent on the rack. Cook on high for 30 min.
Place on a rack over a sheet pan. Brush the remaining marinade and peaches on them. Place in the oven, right under the broiler, and broil for 3-4 minutes on each side.
Nutrition
Serving Size: 1/8 recipe
Calories: 440
Fat: 32g
Carbohydrates: 5g
Fiber: 1g
Protein: 38g
Keywords: coffee rubbed ribs