Creamy, silky, and easy! This homemade Dairy-Free Coffee Creamer makes your cup of joe smooth and even frothy without a blender, you're going to be hooked and you won't miss your half and half at all.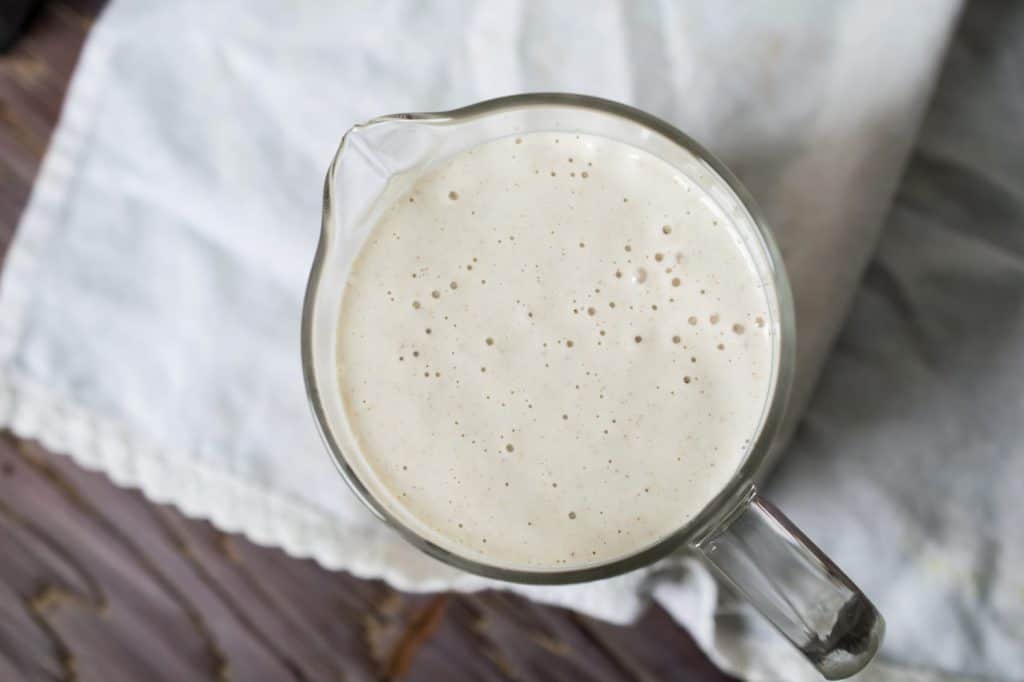 The best Whole 30 Compliant Creamer
Ever since my first Whole30, three years ago I have been on the hunt for the best Dairy Free Coffee Creamer. I have done cashew creamer (HERE), I have done bulletproof coffee, ghee, coconut milk and coconut cream. While all delicious, viable, dairy free coffee options, they all included my blender.
I'm sure you've tried to plainly mix in coconut milk into your coffee… how about some collagen too? With a spoon? Plain, chunky, fail. Gross. Then there are some store-bought options, like Nutpods. I personally at not a fan. They fall flat, too thin, not creamy enough.
This Dairy Free Coffee Creamer is the real deal. Creamy, dreamy, easy, and SO affordable. For about $20 in ingredients, you get 40 ounces of coffee creamer, that's about .50 an ounce. Cheaper than buying coffee every day!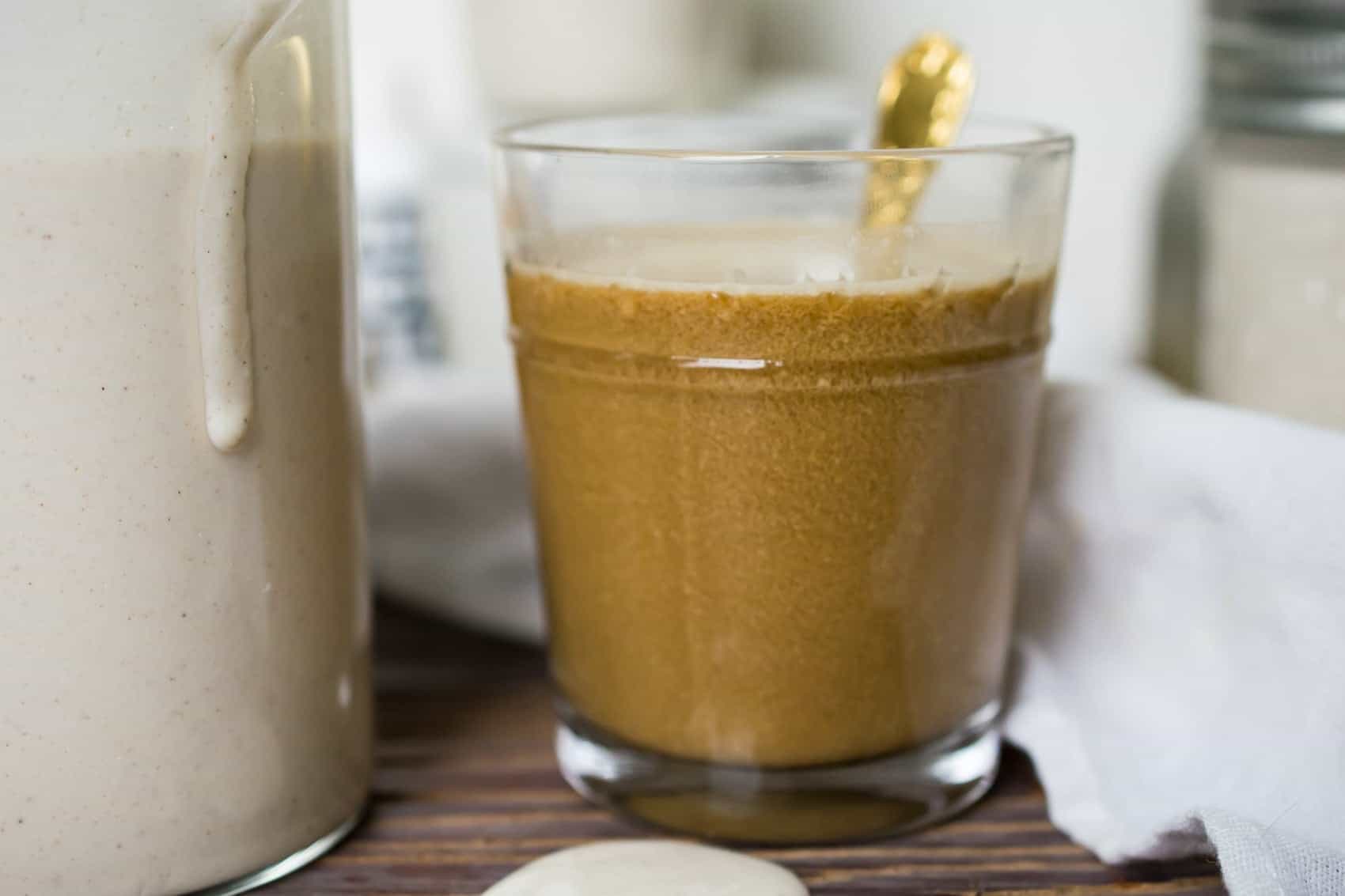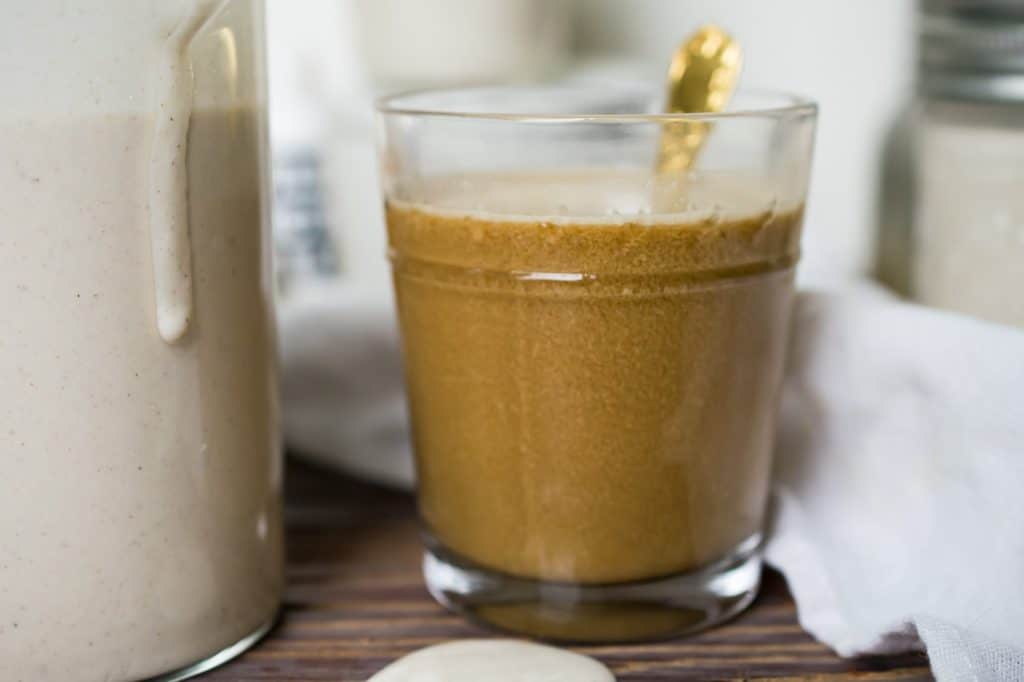 Homemade Dairy-Free Coffee Creamer Is Always Better
When you're on the road to health and wellness making things at home becomes second nature. While there are many convenience foods on the market, none of them will ever be better for you or as cost-effective as making it your damn self. Especially in the dairy-free coffee creamer category. Weird fillers, starches, and food-like products always make their way in to make the product thick, or cheaper, or shelf-stable. No thanks.
With homemade dairy-free coffee creamer, you get all the MCT goodness and cashew creaminess with ZERO shenanigans. This creamer stirs in perfectly for a silky, creamy coffee that even looks a little froth. I like to use my fork to stir it up and bingo! No blender to wash. Creamy, filling, delicious coffee with zero crap, zero sugar. Bonus, unlike other keto coffee creamers you won't get pools of fat floating above your coffee! Now let's take a look inside this amazing Whole30 coffee creamer!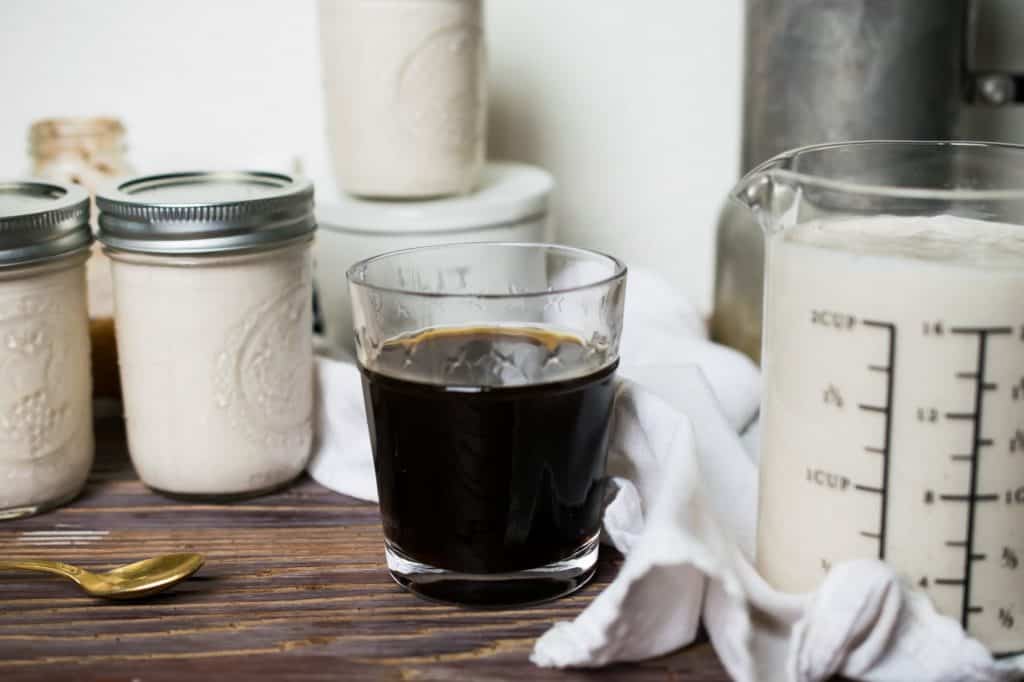 Dreamiest Creamer Ingredients
Raw Cashews
Raw cashews, soaked (activated) to minimize the phytic acid (an anti-nutrient that can impair nutrient absorption and irritate the gut). To activate nuts soak them in filtered water with 1/2 a teaspoon salt for four hours. Drain and rinse well before use. You can purchase these at the bulk section of your Whole Foods or HERE.
MTC Oil
Medium Chain Triglycerides! MCT's are fatty acids derived from coconut oil, the short chain fatty acid goes straight to the liver to be converted into ketones. MCT's aren't stored in your body or liver, they are pure fuel! Adding MCT oil to your coffee is a great way to boost the energy and get your body into ketosis! I like THIS ONE.
Note on the MCT: Someone commented below that the MCT didn't sit well with their tummy. I have heard of that before- so if you have never tried it before you kind of need to wean yourself onto it. Use almond or coconut milk instead. Try adding in 1/4 cup MCT at a time, until you work your way up to the full dose.
Collagen Peptides
Collagen peptides or collagen hydrosoalte is gelatin's water soluble brother. Made from pastured animal bone, skin and/or joints this flavorless, odorless, white powder dissolved completely in liquid and does not gel at all. It's perfect for this make-ahead creamer. Adds amazing gut healing, hair, skin and nail health benefits to your morning cup of joe, plus a little quality protein! I like THIS ONE.
FLAVOR!
A little pure vanilla extract, Ceylon cinnamon, and pink Himalayan salt for flavor and you've got yourself one top-notch dairy-free coffee creamer.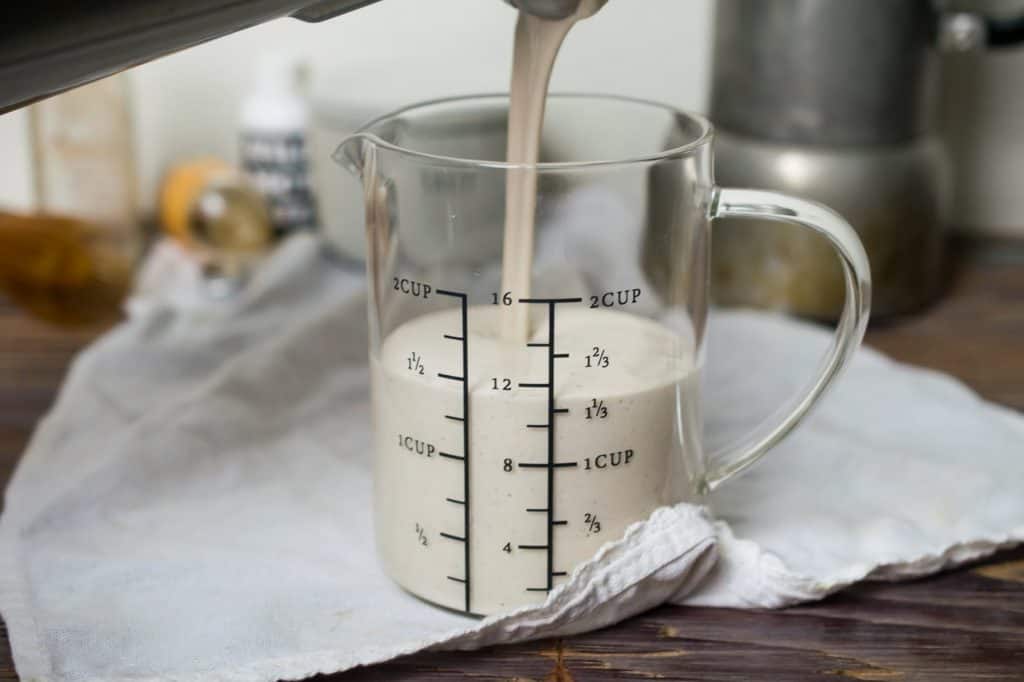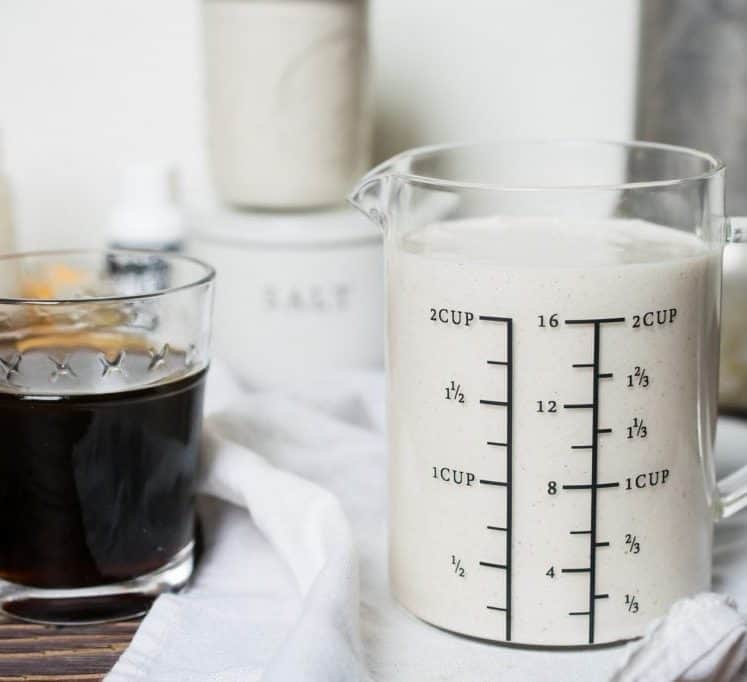 Dairy-Free Coffee Creamer
---
Author: Cristina Curp
Prep Time: 10 minutes
Total Time: 10 minutes
Yield: 5–6 cups 1x
Category: Coffee
Method: Blend
Cuisine: American
Diet: Gluten Free
Description
delicious, healthy coffee creamer that stirs in perfectly!
---
Scale
Ingredients
1 1/2 cups soaked, raw cashews (use hemp hearts or pumpkin seeds for nut free)
1 1/2 cup MCT oil (or full-fat coconut milk)
1 1/2 cups filtered water
1/2 teaspoon pink Himalayan salt
1 teaspoon pure vanilla extract (vanilla bean powder for Whole30)
1 teaspoon Ceylon cinnamon
1/2 cup collagen peptides (optional)
---
Instructions
Make sure you soak the cashews (or seeds) per the instructions above. Rinse and drain them.
Place them in the blender.
Add in the rest of the ingredients (water, mct, salt, vanilla, cinnamon, and collagen) to the blender and blend until smooth, about 30-40 seconds in my Vitamix.
May take a little extra juice in a regular blender, you want the mix smooth and frothy… almost fluffy! IF you still have a grainy texture, like if you have a Ninja strain your creamer with a fine mesh sieve.
Makes about 5 cups, I like to store it in 5, 8-ounce mason jars in the fridge for up to 8 days.
You can also freeze the jars and then thaw in the fridge when you want to use.
Add 2-4 tablespoons to your coffee and stir well to combine. Works great for hot and iced coffee.
Nutrition
Serving Size: 2 tbsp
Calories: 104.5
Fat: 10.4g
Carbohydrates: 1.8g
Fiber: 0.5g
Protein: 2.2g
Keywords: Dairy Free Coffee Creamer