I've been working on new cream sauces, mostly for my Breakfast Pot Pie recipe, but ultimately they can be used on ANY dish!
I've come up with two variations, an AIP cauliflower cream & an activated cashew cream (which is safe for AIP reintros) as well as a cauliflower creamer (which is less cheeselike and unseasoned) perfect for baking, pancakes, coffee and cooking too!
UPDATED TO INCLUDE CASHEW CREAMER! A SWEET TO SAVORY CREAMY MILK.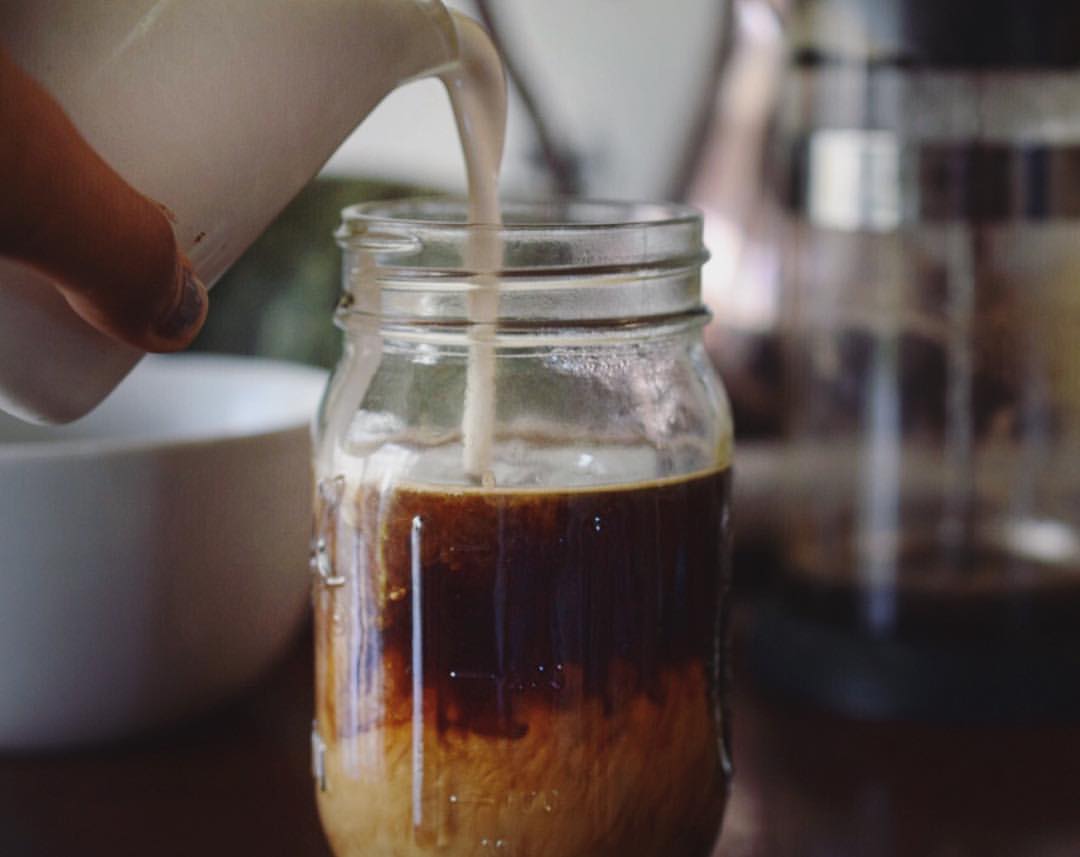 Cashew Creamer!
While I love coconut milk and it was my go-to for baking, cooking and coffee for almost a year… In the last two months I've made a switch! I'd like to add that I can't do store-bought creamers or milks because I react to xantham gum, used to thicken almost all brands.
I made my own cashew milk… Well more like a cream!
I've played with water to cashew ratios and found one that I think is perfect! I don't sweeten or flavor it. Mostly because I will often cook or bake with it and want a blank slate!
But you can always add a few dates to soak along with the cashews. You can also add cinnamon or vanilla extract when you blend it all up.
What I do… Soak 10z (about 2 cups) whole cashews in water with a pinch of salt overnight or at least two hours. Drain and rinse the cashews.. This process, other than making them soft for blending helps remove inflammatory anti-nutrients!
Place your two cups of plumped rinsed cashews in the blender with 2.5 cups of filtered water. Blend until smooth. You may add up to 3 cups water for a thinner cream or up to 4 cups water for cashew milk.
My favorite thing about cashew milk is that it's so easy to make. No straining necessary! It's silky and mild in flavor. Bonus, it's relatively lower in calories than coconut milk.
Half a cup is about 40 calories, fat 3, carbs 2, protein 1.5.
I blend my morning coffee with cashew milk, Great Lakes beef gelatin and cinnamon.
Dairy Free Cream — 3 Ways!
---
Author: Cristina Curp
Prep Time: 10
Cook Time: varies
Total Time: 2 minute
Yield: 2 cups 1x
Category: sauces
Method: soak blend
Cuisine: dairy free
Diet: Gluten Free
Description
three ways to make dairy free cooking creams!
---
Scale
Ingredients
Cashew cream:
2 cups raw whole cashews + water to soak + 2 tsp salt
1/2 cup filtered water
2 tbsp lemon juice
1 tsp garlic powder
1 tsp black pepper
Cauli Cream:
1/2 head cauliflower (about 2 cups diced)
1 small onion
2 garlic cloves
1/4 inch nub of fresh ginger
1/2 cup coconut milk, full fat, creamy part
1/2 cup broth
2 tbso lemon juice
pinch salt
1 tbsp coconut oil
Coffee Cream (recipe in post)
---
Instructions
Cashew Cream:
Place cashews in container & cover with water, mix in salt.
Soak 3-4 hours. Drain & rinse, drain again.
Then mix with remaining ingredient list in vitamix, blend until smooth.
Use prod to keep it moving.
Don't stop when it's almost smooth and you still see little grains, you want it silky!
Store in air tight container in fridge, up to a week.
Makes about 2 cups.
Cauli Cream:
Dice the onion, mince the garlic, ginger, dice the cauliflower.
Do not mix, set aside.
In a medium sauce pot heat coconut oil.
Add in onion, ginger & garlic.
Sauté for 6 minutes.
Add in cauliflower.
Stir occasionally for 6 minutes.
Add in 1/2 cup broth, 1/2 cup coconut cream, 2 tbsp lemon juice, pinch salt.
Stir. Lower heat. Cover.
Simmer until cauli is fork tender.
Transfer to blender, blend until smooth.
Makes 1/2 quart.
Store in fridge.
Put it on all the things!
Nutrition
Serving Size: 1/4 cup
Calories: 172
Fat: 13g
Carbohydrates: 9g
Fiber: 1g
Protein: 5g
Keywords: dairy free sauces