What are we to use to soothe our need for cream, coconut? Yes, it hits the spot with the sweets, but a cheesy like, savory sauce… enter cauliflower! What a versatile veg! Once the least favorite on the crudite plate, cauliflower has become the knight and shining vegetable of the paleo movement. From rice to pizza to .. you know, alfredo sauce, this crunchy, white cruciferous vegetable does it all!
I made a cauliflower cream sauce that is the bee's knees if you ask me, great for pies, stir-fries and taco salads alike… but it wasn't hitting the alfredo note. What makes an alfredo sauce different from a cream…. well traditional alfredo has Parmesan cheese! A little light bulb just went off… Parmigiano Reggiano, the most popular or all Italian cheeses, the savory, salty addition to pasta bowls worldwide is indeed UMAMI!
The large white crystals in the cheese are the glutamate, an amino acid that breaks down protein. Glutamate is what we taste when we taste umami. You know what else is umami, and we (AIP, Whole30, Paleo) can eat… FISH SAUCE! Cue the trumpets!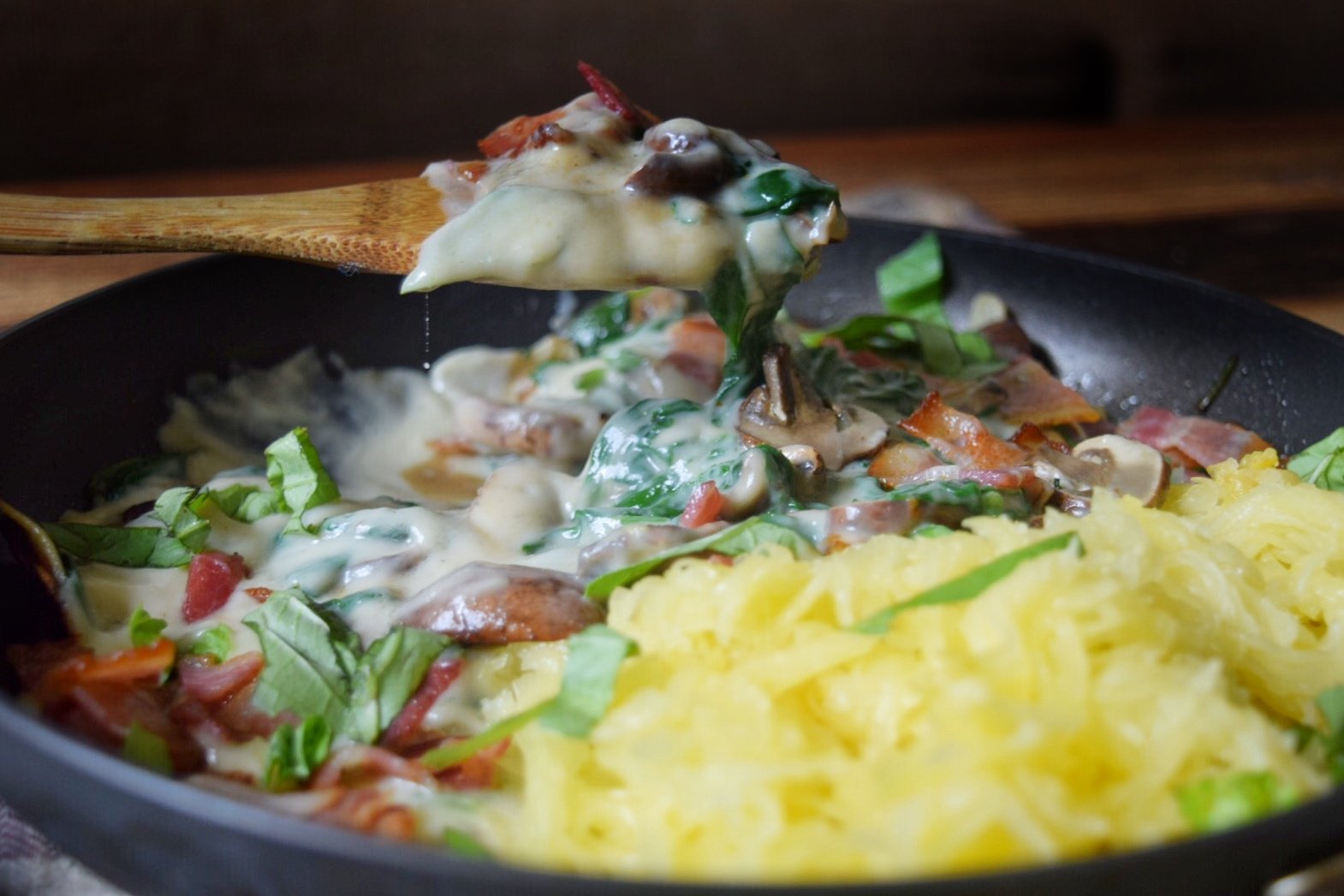 So this delicious meal came together because I had some dairy-free cauliflower alfredo, a spaghetti squash batch cooked, and a new pack of Pederson's bacon in the fridge. It pretty much came together by itself!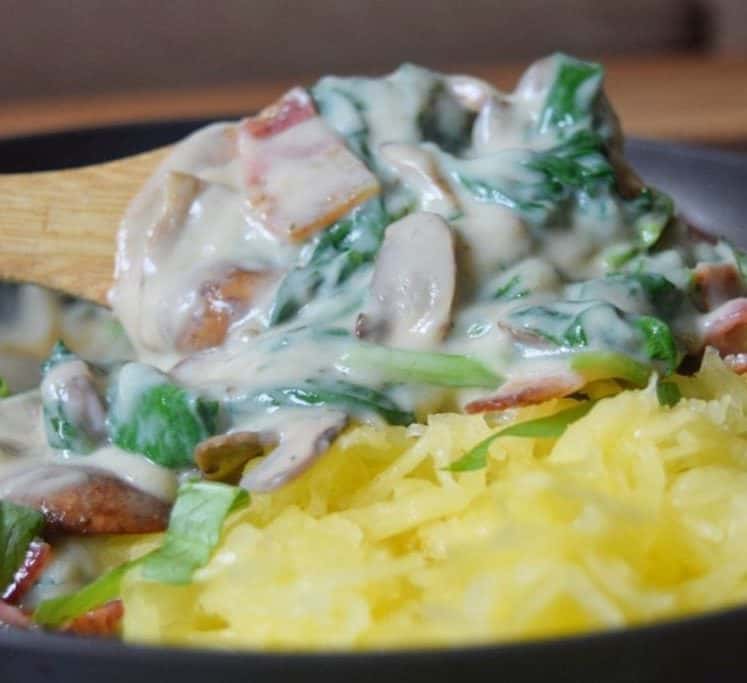 Spinach & Mushroom Alfredo with Bacon!
---
Author: Cristina Curp
Prep Time: 20
Cook Time: 20
Total Time: 75
Yield: 4 servings 1x
Category: Entree
Method: Stove Top
Cuisine: Italian
Diet: Gluten Free
Description
Dairy Free Cauliflower Alfredo
---
Scale
Ingredients
Noodles
1/2 spaghetti squash, roasted (I halve and roast at 400F for 35 minutes)
shirataki noodles, or zoodles for lower carb
The Fixings
4 slices sugar free, nightshade free bacon
4 cups raw spinach
2 cup sliced, cremini or baby bella mushrooms
4 garlic cloves
1 sprig fresh basil
The Sauce
1 head cauliflower, about 3 cups diced
2 small onions, 1 cup diced
2 garlic cloves
1/2 cup coconut milk
1/2 cup bone broth
2 tablespoons Red Boat No.49 fish sauce
1 tablespoon red win vinegar
1 tsp oregano
1 tsp salt
1 tbsp olive oil
---
Instructions
If you haven't done so already, roast your spaghetti squash, halve, place meat side down on a sheet pan and roast until hard shell can be pierced by a fork. About 35 minutes at 400F.
Next prepare Alfredo sauce: dice cauliflower, onion, garlic. Heat olive oil in a large pot, add in garlic,  & onion. Saute on high for 6 minutes, stirring often until tender.
Then add in cauliflower, stir well. Add in salt, oregano, broth & coconut milk.
Stir well. Lower heat to medium-low.
Cover with a tight-fitting lid.
Let it cook simmering until the cauliflower is very tender, about 15 minutes.
Transfer all of it to a blender, carefully!
Add in the fish sauce and vinegar. Blend until smooth.
Taste, adjust salt as needed.
*** you can also prepare cauliflower in a pressure cooker, start with saute mode, then close and set to vegetable (about 7.5 psi for 8 minutes). ***
It will make about 4 cups!
To prepare the dish: cook the bacon first. I like to do it in the oven.
Lay bacon flat on a cooling rack over sheet pan, and put the pan in a cold oven, then set oven to 350F After it reaches 350F check on bacon, set timer to 8 minutes, check again, cook until crispy.
Heat olive oil in a large skillet.
Slice garlic cloves & mushrooms.
Once skillet is hot add in mushrooms & garlic.
Saute in the skillet on high until tender. Sprinkle with a pinch of salt.
Add in spinach.
Stir and saute until wilted.
Add in 1 cup of Alfredo sauce.
Stir well & remove from heat.
Using a fork, pull out all the meat of one half the spaghetti squash.
Add it to the skillet.
Chop up crispy bacon & add it to the skillet as well.
Garnish with fresh basil.
Mix it all up and serve 2 moderate portions, or serve in a generous bowl & chow down!
Recipe Notes:
Make the cauliflower Alfredo & spaghetti squash ahead for a super quick weekday meal!
Nutrition
Serving Size: 1
Calories: 169
Fat: 7g
Carbohydrates: 15g
Fiber: 5g
Protein: 9g
Keywords: dairy free alfredo