LECHON ASADO, Cuban Pulled Pork…
Obviously, lechon asado holds a special place in my heart. The tangy flavor comes from the mojo, made of bitter orange, onion, garlic, peppers & cumin. Not AIP. So I set out to recreate the flavors of my childhood in a compliant pork roast, that fits in my oven! Also Whole30 compliant!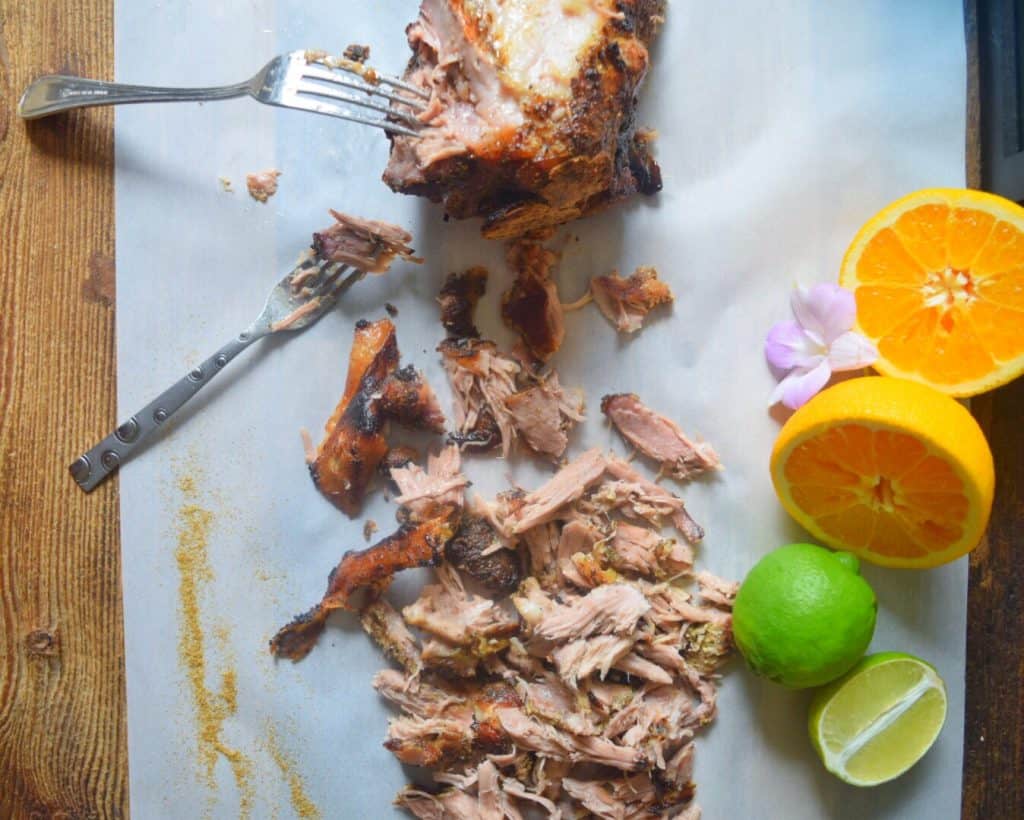 I prepared this one with lots of love & intent, I hope you enjoy it.
Cubans take pork seriously.
As a child, I remember sleeping over at my grandmother's house every 23rd of December. My sister and I would wake up early on Christmas Eve to witness the factory like efficiency of my grandmother & her sister's preparing for the impending celebration.
A whole pig, split open laying on the kitchen counter. We would sneak up to it and in half amazement, half disgust, we would marvel at the little hairs, the hoofs, the snout! It was the entire animal! Butterflied open, smothered in onion & mojo. Then Tia Coralia would come with a cleaver and hack off the feet & she mumbled something about soup. Bone broth, no doubt. My father's family were farmers in Cuba, guajiros.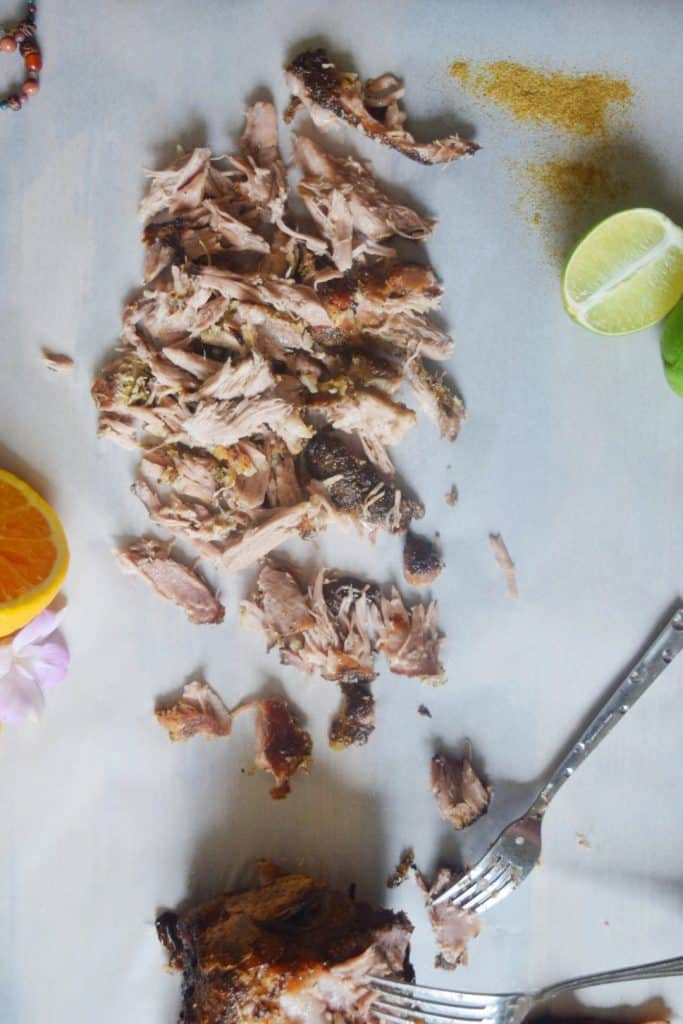 This pig would soon be transferred to a caja china, a sort of ditch- bbq set up with large flats of fence & sheet metal to hold the animal flat, then topped with hot coals. A giant oven, in the ground, where the pig would slow roast all day. Dinner would not be served until after 10PM! This was Noche Buena. 
Once the pig was in the hot box, it was the men's responsibility to watch it, as they drank beer, smoked tobacco's & played domino's on a near by table. The aunts, still hard at work would prepare exuberant amounts of side dishes, yuca (yes like what cassava flour is made of) con mojo, rice & beans, salad, chicken fricasse!
Not to mention the sweets, bunuelos which were prepared by the hundreds in an assembly line, flan & natilla.
Christmas Eve is a big night.
A party that would go on in to the night, the house would fill with cousins, aunts, more cousins & friends of the family. Dancing, laughter, lots of very loud conversation. Finally, when the pig was ready, my grandmother would be called out to give the final ok. It would take four grown men to move the steaming hot roast to a large table… EVERYONE would swarm it, all trying to get a piece of the crispy skin- but not before my grandfather got his piece. It was tradition. Once we all had a taste, my grandmother would shoo us away & the aunts would go to work, pulling the meat to shreds. Within thirty minutes, dinner was served. Trays & trays of succulent pork meat alongside the parade of side dishes.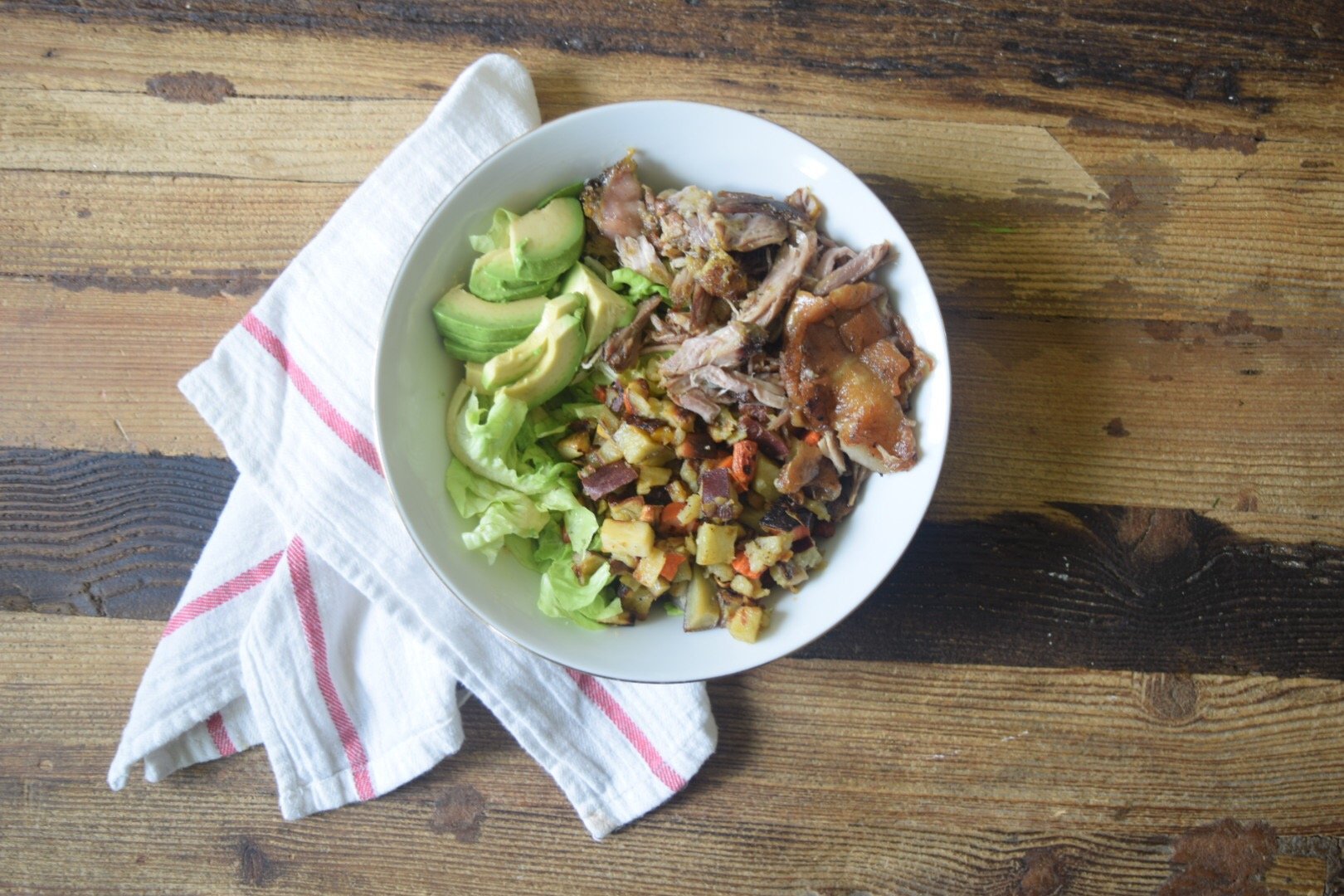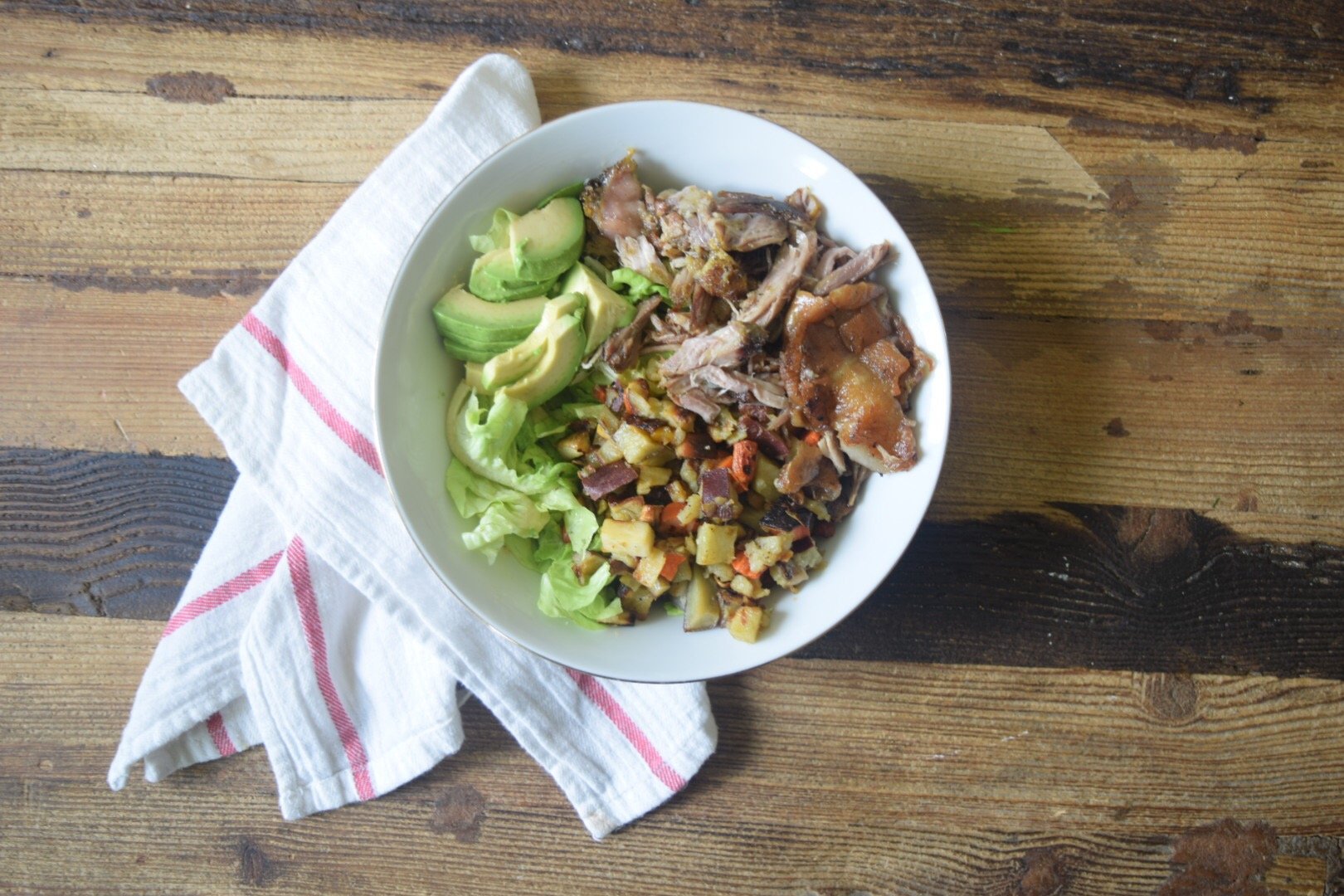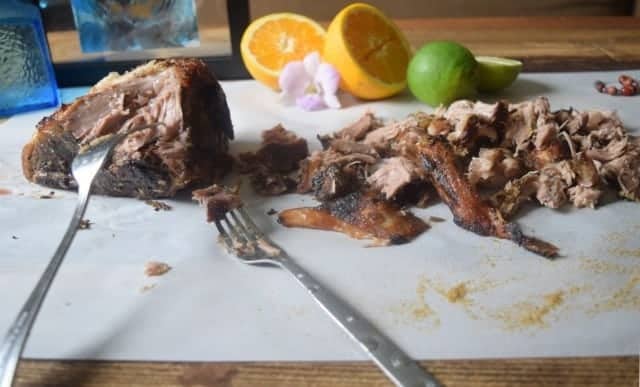 Lechon Asado
---
Author: Cristina Curp
Prep Time: 20 minutes
Cook Time: 6 hours
Total Time: 6 hours 20 minutes
Yield: 6 servings 1x
Category: Entree
Method: Oven
Cuisine: Cuban
Description
Cuban Mojo Marinated Pork (AIP, Whole30, Paleo)
---
Scale
Ingredients
5lb bone in pork shoulder (boston butt)
1 grapefruit
1 orange
2 limes
1 lemon
4 garlic cloves
2 tbsp salt
1 tbsp oregano
1 tsp turmeric
1 tbsp minced parsnip
1/3 cup diced cilantro, fresh
---
Instructions
The pork needs to marinate at least four hours, preferably overnight.
Place pork in a large bowl. In a large mortar with pestle (or food processor, although I rather like the ritual of grinding the mix by hand), mix & mash the garlic cloves, salt, oregano, turmeric, parsnip & cilantro with lemon & lime juice.
Once it's almost pureed mix in the orange & grapefruit juice, this is your mojo!
Pour your mojo all over the pork & massage it well. It will be aromatic, juicy & soft. Cover with plastic wrap & place in the fridge at least 8 hours, overnight or up to 24 hours. Turn it over twice. I made my marinade in the afternoon. Turned my pork once before I went to bed, then once in the morning. I began cooking it mid-morning for dinner.
At least an hour before you're ready to roast, set the pork out uncovered.
Pat the skin dry. Place the pork shoulder on aluminum lined sheet pan, add the mojo to the sheet pan. Cover with a loose aluminum tent. Roast at 250F for at least 6 hours, up to 8 hours, until internal temperature reads 220F or fork tender.
Remove from oven. Bring oven to 450F.
Remove the aluminum tent & place uncovered roast in the oven for 15-20 minutes, until skin is golden & crispy. Let is rest a few minutes before serving, but you can steal a piece of crispy skin, its tradition.
To serve
Remove the crispy skin & set aside.
Using two forks, in a crisscross motion, pull the pork meat apart. Pour any pan drippings on top.
Cut up the skin & sprinkle over. Serve with cauli-rice, mashed yuca & salad!
*I made mine ahead as part of a batch cook, so you can also store & re-heat it.
Nutrition
Serving Size: 1/6 recipe
Calories: 1058
Fat: 72g
Carbohydrates: 11g
Fiber: 2g
Protein: 88g
Keywords: Cuban Mojo Marinated Pork