I love coconut shrimp but most restaurants add flour to the mix so it's not gluten-free. Making it at home is simple and fast – like under 30 minutes fast– AND I have a little hack that I'm going to show you. Let's make super easy and Gluten-Free Coconut Shrimp with just 5 ingredients and zero junk.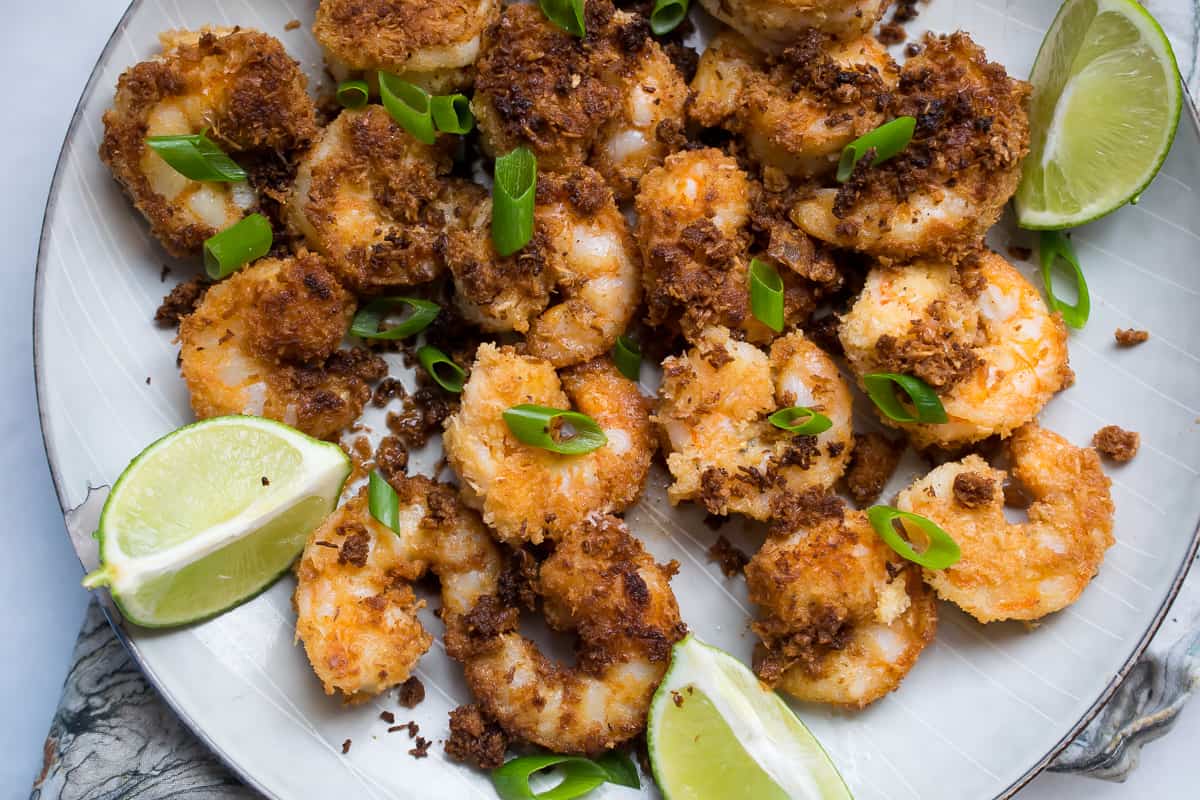 Why This Easier-Than-You'd-Think Recipe Works
What makes this recipe super easy is that it's actually a sort of lazy approach. Instead of breading each shrimp individually, we're just mixing them all up together! For binding the shrimp and coconut I like coconut flour because you're already using coconut but you can also use cassava flour, green banana flour, or tiger nut flour. This is they key to gluten-free coconut shrimp with as few ingredients as possible. Yup. That's it. The flavor is still amazing and these bad boys make a great entrée, taco filling, or appetizer.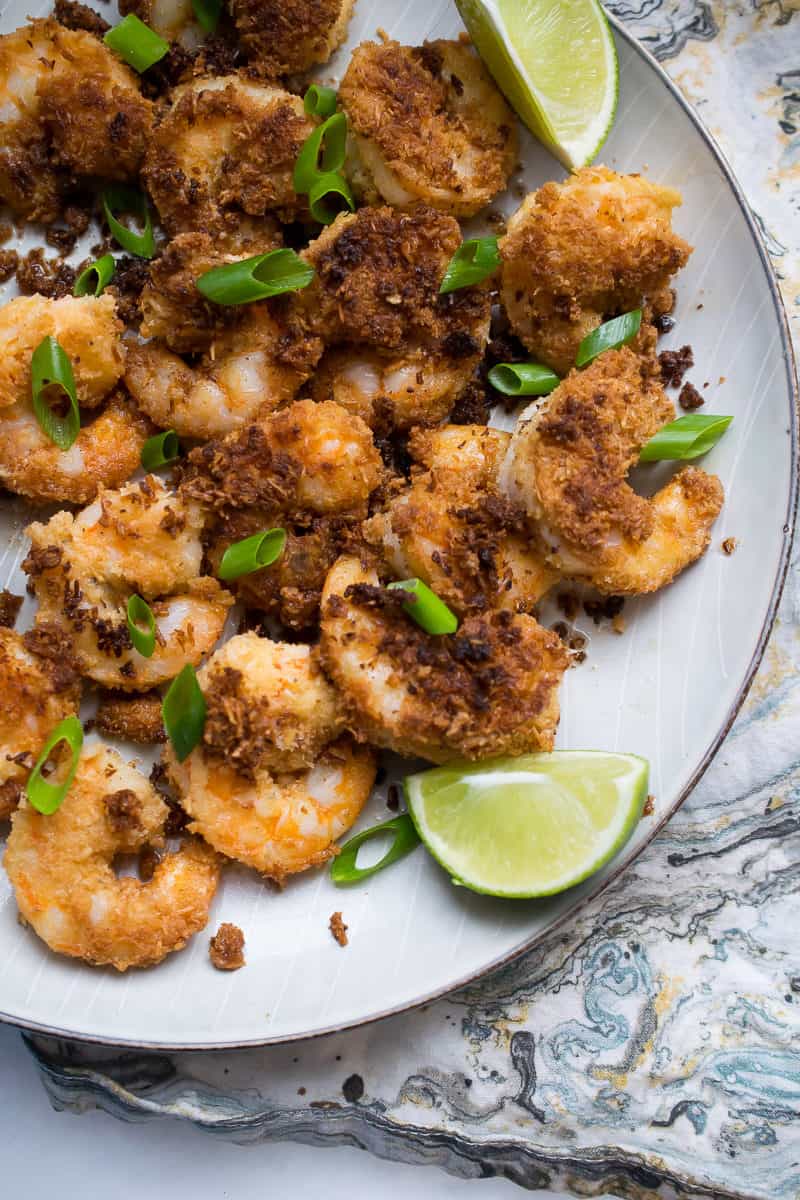 Coconut Shrimp Ingredients
Shrimp: I like using wild-caught Gulf shrimp, but as a Miami girl, that's my preference. As long as you're using big shrimp, jumbo shrimp you're good. You can buy them frozen and thaw them out, or get them fresh. I prefer to get them fresh and peel and devein my self, but again, it's you're preference.
Coconut Shreds: You need shredded coconut, also called desiccated coconut, not coconut flakes, those are too big.
Vinegar: A little vinegar to thin out the egg, I prefer red wine for this, but any vinegar will work.
Coconut oil: This what I like for frying, but you can use any healthy fat you like for frying.
Step by Step Gluten-Free Coconut Shrimp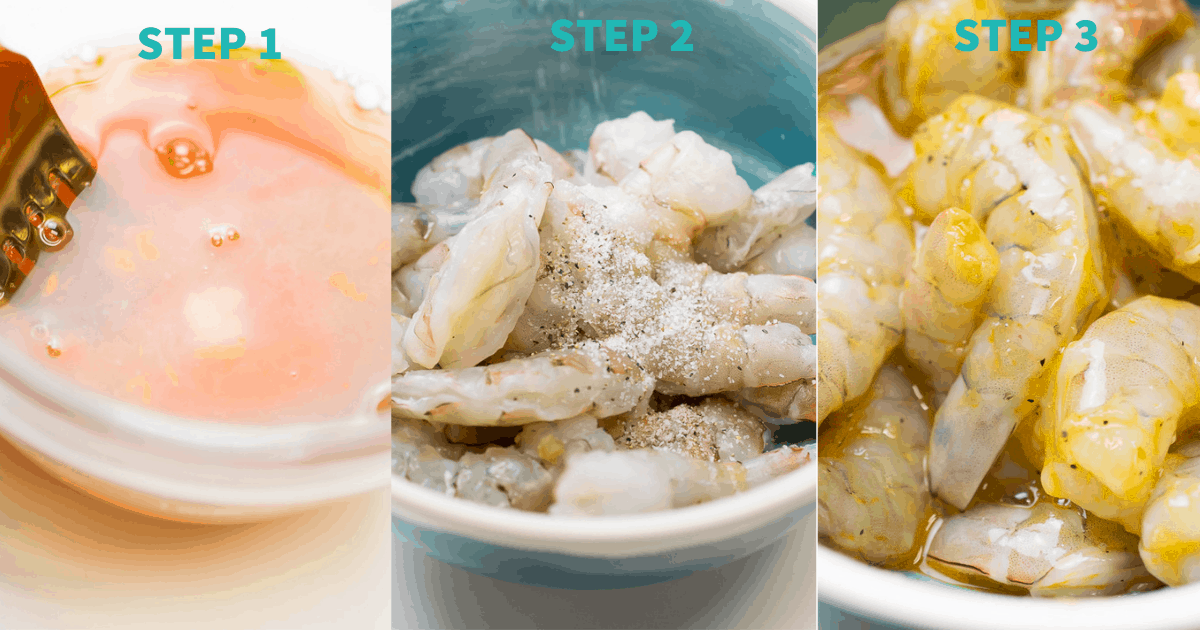 Once your shrimp is ready to be worked with, start by whisking your egg with a little bit of vinegar. This thins the egg out so the breading sticks to it more evenly and not in clumps.
Then season your shrimp and then add the egg wash to the shrimp. Let it marinate a few minutes.
At this point heat a frying skillet over medium heat, with 1/2 cup to 1 cup of coconut oil there. Let it heat up.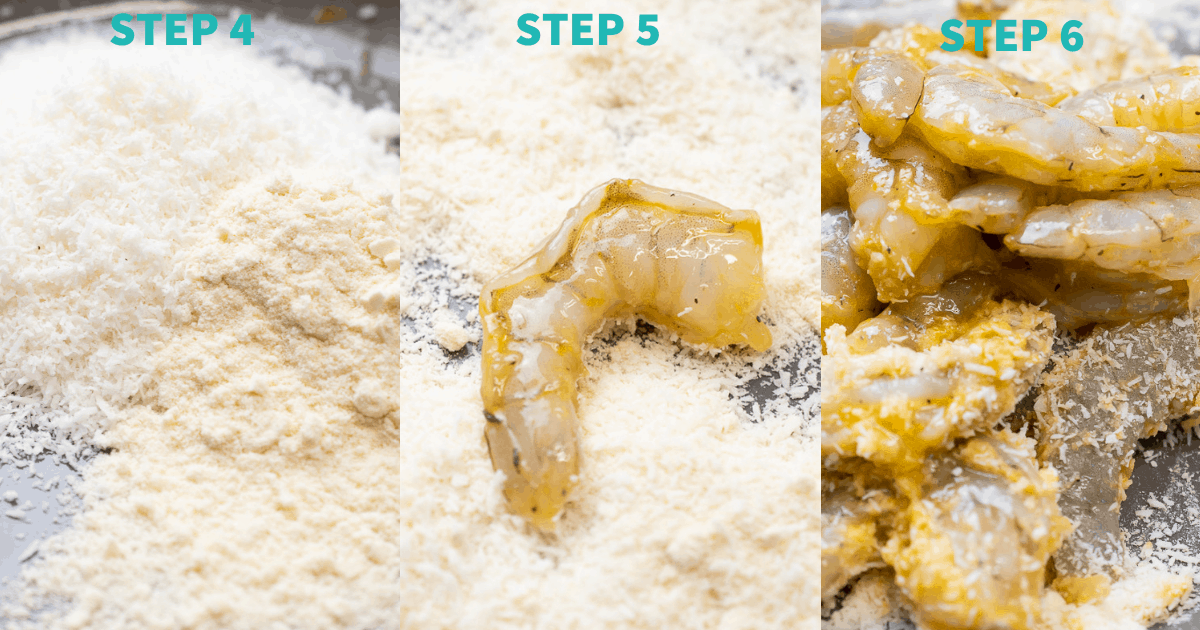 In a shallow bowl combine the coconut flour and shredded coconut, whisk it.
Then add the shrimp to the bowl and toss it until they're all evenly coated.
Make sure your oil is ready for frying by sticking a wooden spoon into it. When it sizzles it's ready.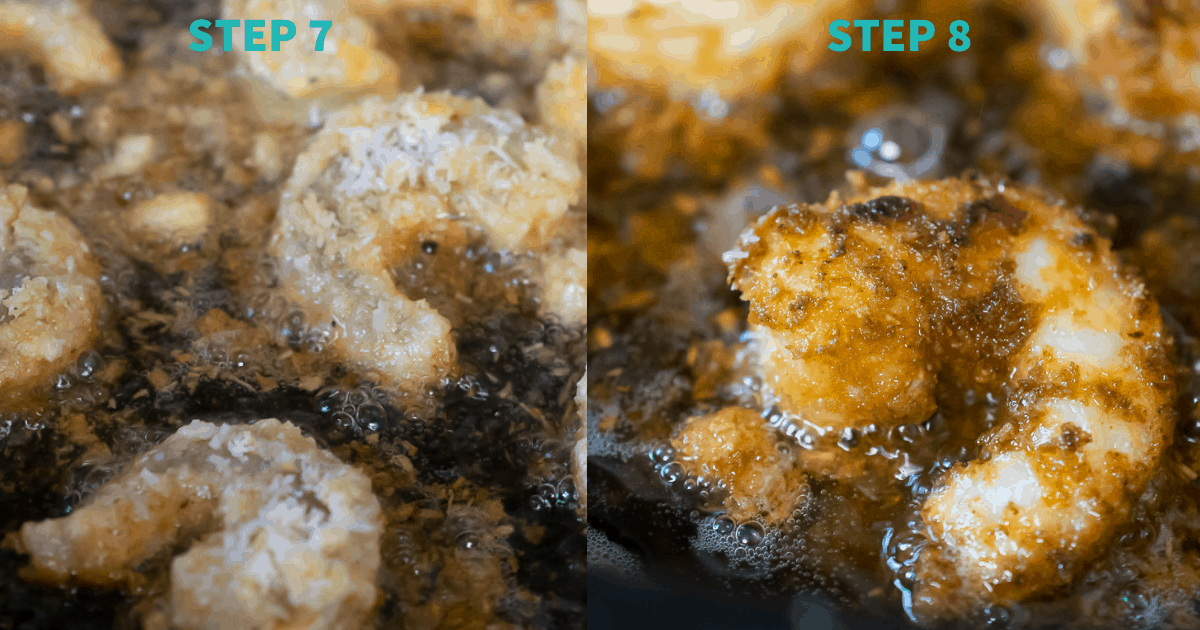 Add one batch of shrimp to the oil in a shallow pan fry. You don't want to over crowd the skillet.
Fry 3 minutes per side, flip once and use a slotted spoon to remove from the oil.
Then fry the rest of the shrimp in the same way and you are done!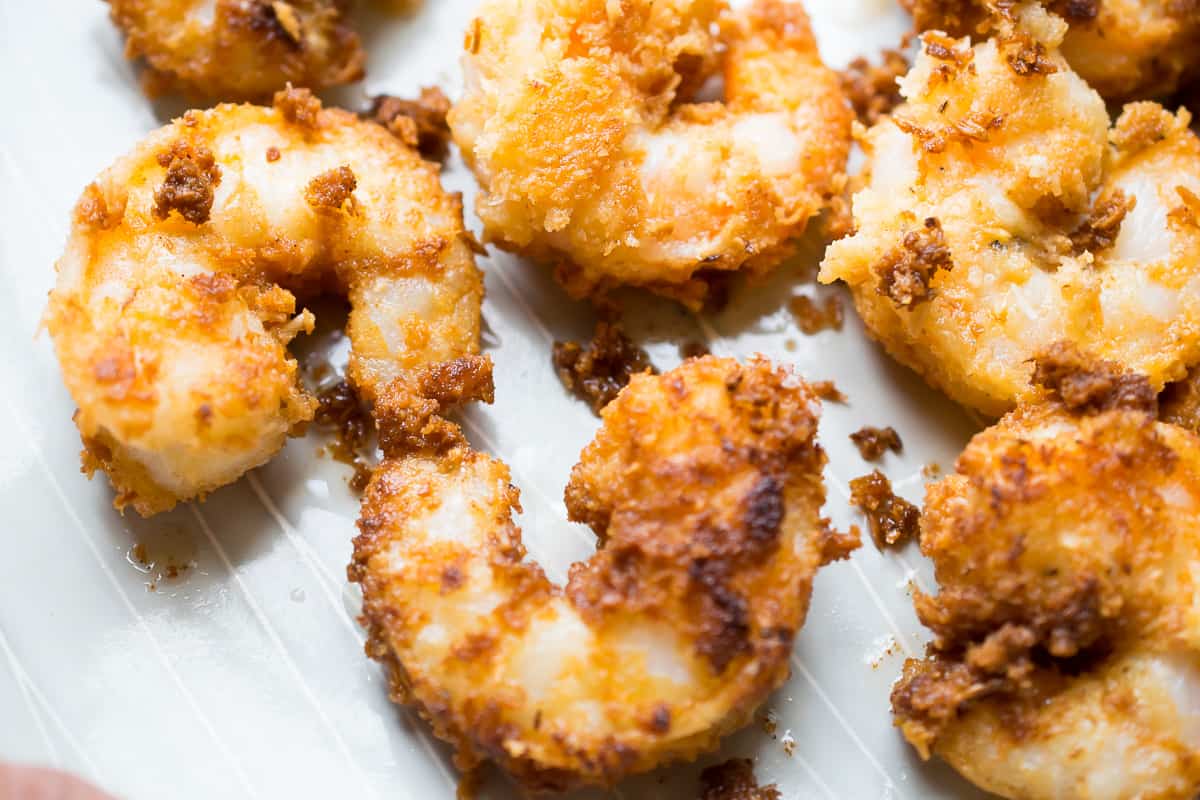 Tips and Tricks for Successful Coconut Shrimp
Don't over crowed the skillet, fry them in batches.
Make sure your oil is hot and ready before putting the shrimp in the oil.
When breading the shrimp, even with our lazy method, you want to try and get them as evenly coated as possible.
Only flip them once, be patient, wait until nicely browned and golden and then flip.
Don't man handle these, be gentle and try not to handle them more than necessary.
Frequently Asked Questions
What do you serve these with?
These are such a great summer dish! I love them with a side of fresh or THIS pineapple salsa, a big salad, and cold sparkling water. You can make a yummy dipping sauce. The Everything Sauce from Made Simple would be great or this CILANTRO AIOLI!
Can I make these without eggs?
No, you need the egg to bind the coconut coating. This blogger has a recipe on her site that looks interesting.
Are these good leftover?
Like most fried food, no, they're definitely better enjoyed in the moment.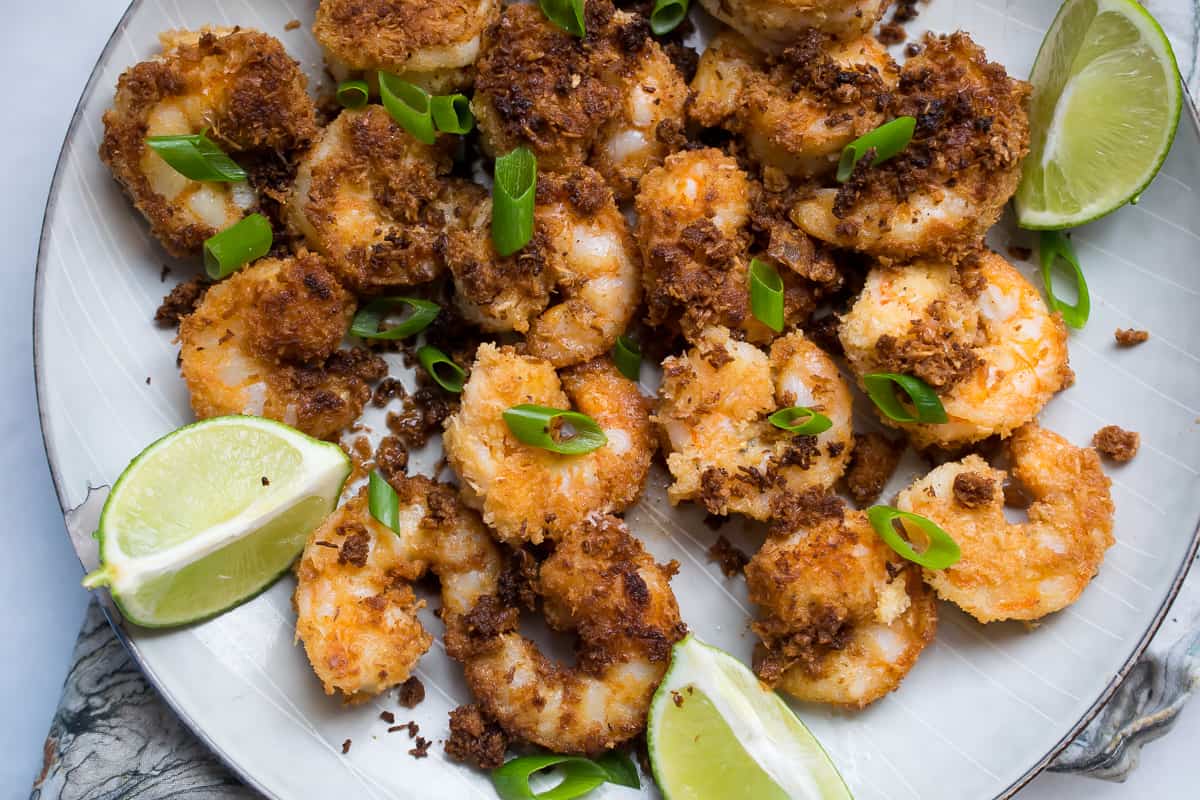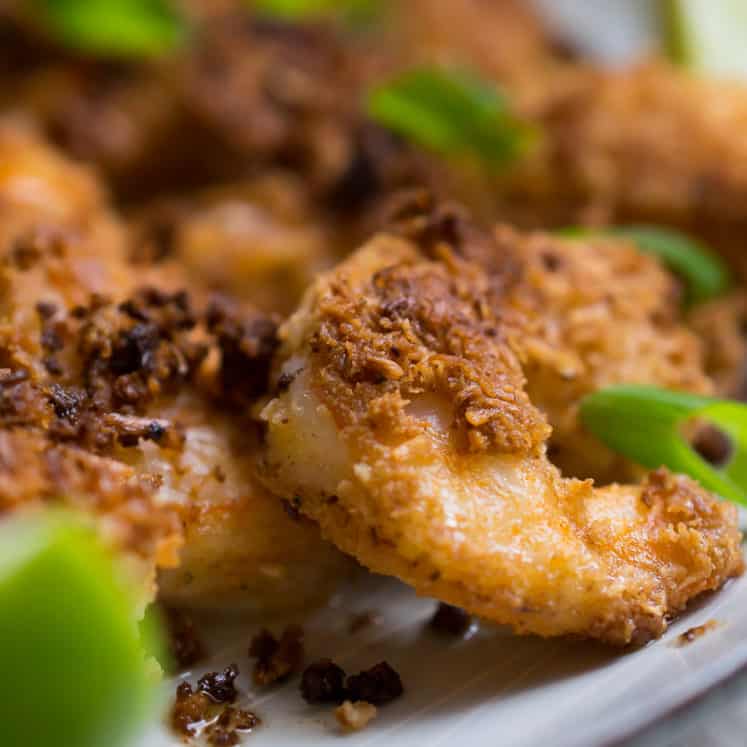 Gluten Free Coconut Shrimp
---
Author: Cristina Curp, FNTP
Prep Time: 10 minutes
Cook Time: 12 minutes
Total Time: 22 minutes
Yield: 4 servings 1x
Category: Seafood
Method: Fry
Cuisine: Caribbean
Diet: Gluten Free
Description
A super easy, almost lazy, but delicious coconut shrimp recipe that's gluten-free, paleo, whole30, and keto!
---
Scale
Ingredients
1 large egg
2 teaspoons red wine vinegar (or vinegar of choice)
1 teaspoon fine salt
1/2 teaspoon black pepper
1 cup shredded coconut
1/2 cup coconut flour
1 pound jumbo shrimp, peeled and deveined
1 cup coconut oil for frying
lime wedges and green onion for serving (optional)
---
Instructions
Whisk the egg and vinegar together. Season the shrimp and then add the egg to it.
In a shallow, medium-sized bowl, whisk together the coconut flour and shredded coconut.
Add the shrimp to the coconut mix and toss until well coated.
Heat the oil in a medium to a large skillet, so you have about 1/2 inch depth of frying oil.
Once it's hot, add the shrimp to the oil, one at a time, separating them and laying them flat. Fry them in batches so you don't over crowd the skillet.
Fry for 3 minutes per side or until a deep golden brown and crispy. Only turn over once. Use a slotted spoon to remove from the oil. Fry the remaining shrimp in the same way.
Serve with lime wedges, your favorite sauce or a killer salad! Enjoy!
Recipe Notes:
When breading the shrimp, even with our lazy method, you want to try and get them as evenly coated as possible.
Make sure your oil is hot and ready before putting the shrimp in the oil. And, don't over crowed the skillet, fry them in batches. Only flip them once, be patient, wait until nicely browned and golden and then flip
Don't man handle these, be gentle and try not to handle them more than necessary.
For low histamine use apple cider vinegar or a little water
Nutrition
Serving Size: 1/4
Calories: 375.6
Fat: 25g
Carbohydrates: 13.4g
Fiber: 8.3g
Protein: 13.3g
Keywords: gluten free coconut shrimp