Nothing says spring like a crisp Asparagus Salad! Spring produce is my favorite. This beautiful salad showcases my favorites: asparagus, spring onion, and garlic. A simple melody of flavors with outstanding results and ready in 15 minutes, you're going to love this Asparagus Salad with Fried Garlic!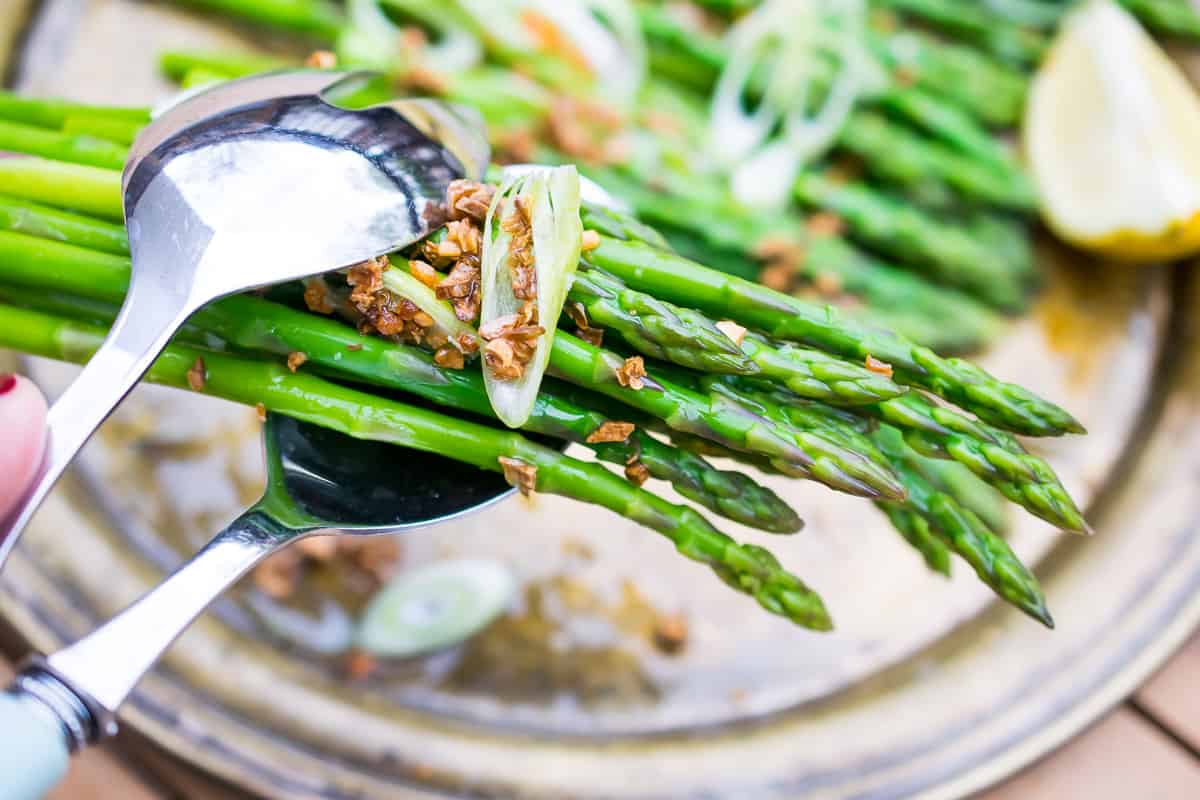 Why This AIP Asparagus Salad Works
Bright and simple, this Asparagus Salad is a celebration of Spring. Really letting the flavors of the vegetables shine, this recipe is a fantastic appetizer, snack, or side dish! It is also a great recipe to get under your belt because of how quick it is to make and how widely applicable it is- whatever veggies spring offers, you can whip them up with this classically juicy and tangy flavor profile. This bright Asparagus Salad goes especially well with flavorful protein flavors. I recommend my Coconut Shrimp, Creamy Crack Chicken, Broiled Salmon or these Greek Chicken Meatballs!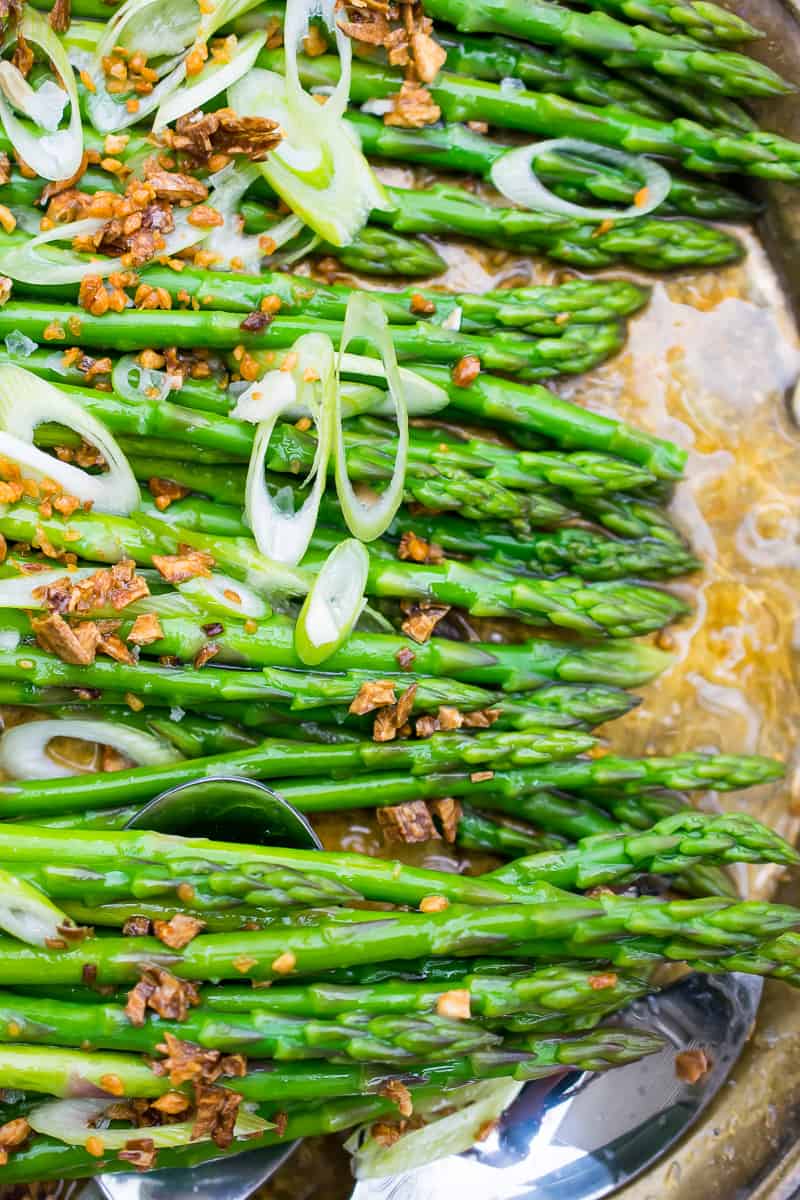 Ingredients for the Perfect Spring Salad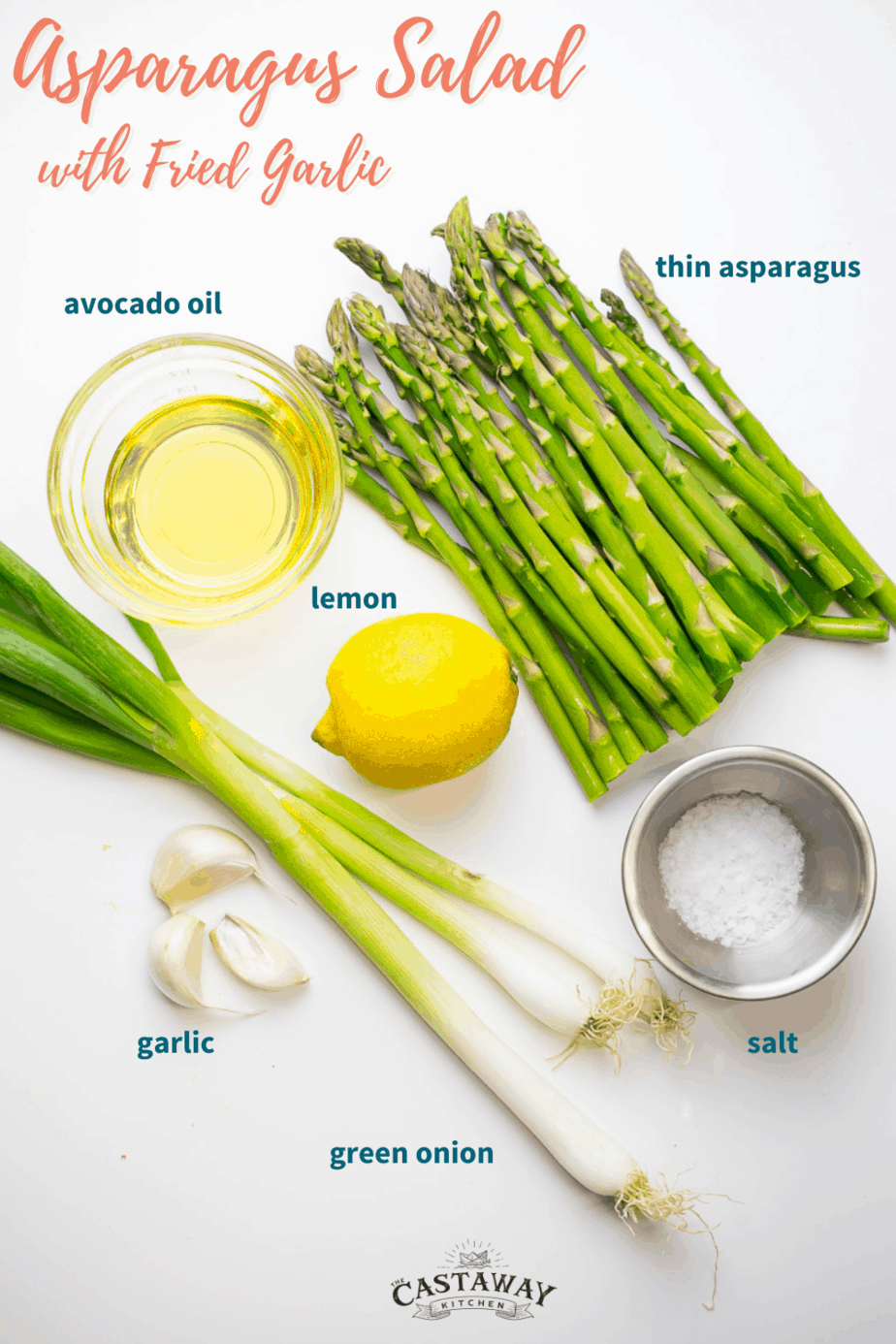 Asparagus: I like the thin ones for this recipe since we're not cutting them up. If you can only get the thick ones you might want to shave them using a vegetable peeler.
Lemon or lime: you're going to juice this bad boy. If you can't do citrus, a little red wine vinegar will work too.
Garlic cloves: the bigger the better. We're going to fry it. If you want an easy version you can buy the fried garlic, Golden Nuggets, I get it on Thrive Market and it's amazing.
Step by Step Asparagus Salad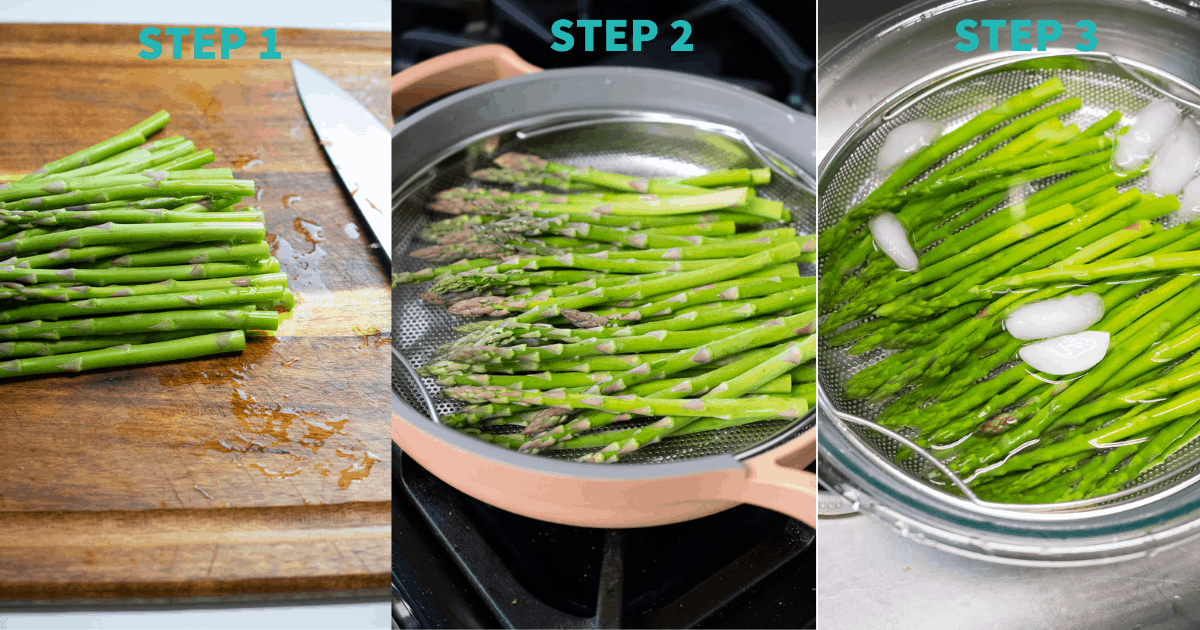 Start by trimming the asparagus and then steaming them. I use the steamer basket in the My Home Skillet.
Steam until the asparagus turn bright green and are a little tender while still being crispy and upright. This will happen rather fast.
Have a bowl of ice water ready to blanch the asparagus. You have to cool them so they don't keep cooking and get mushy.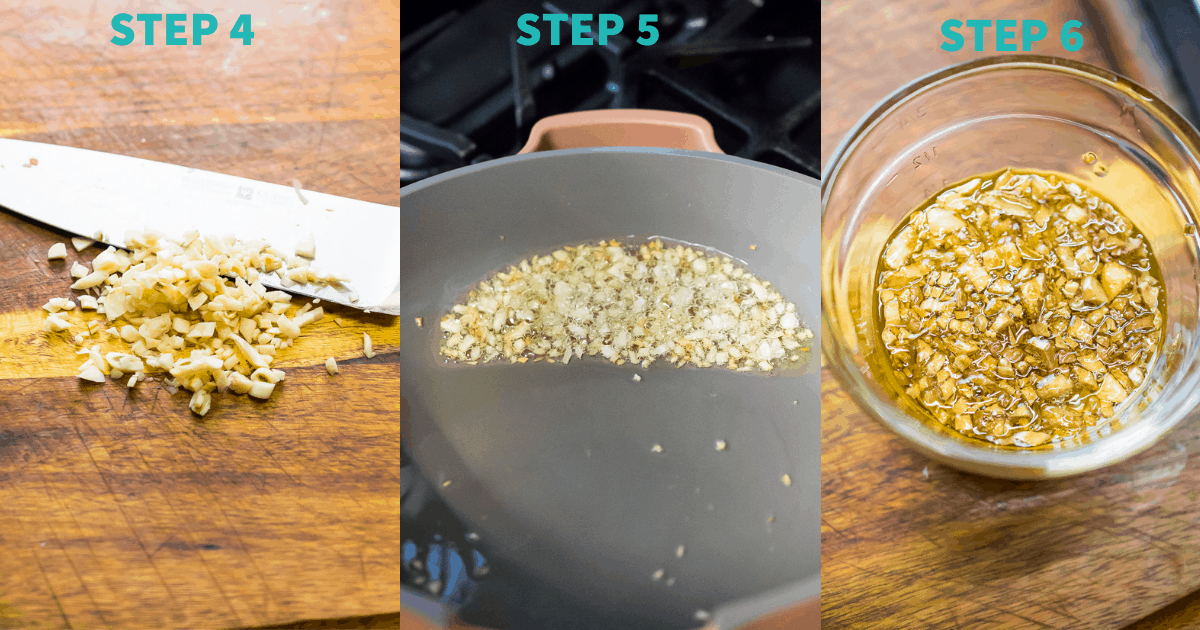 While the asparagus chills, mince your garlic. Heat the avocado oil in a pot or in a skillet.
Add in the garlic, tilt the skillet or pot to pool the hot oil so the garlic deep-fries.
Fry until it's golden brown then remove from the skillet and quickly transfer to a ramekin, stir to cool.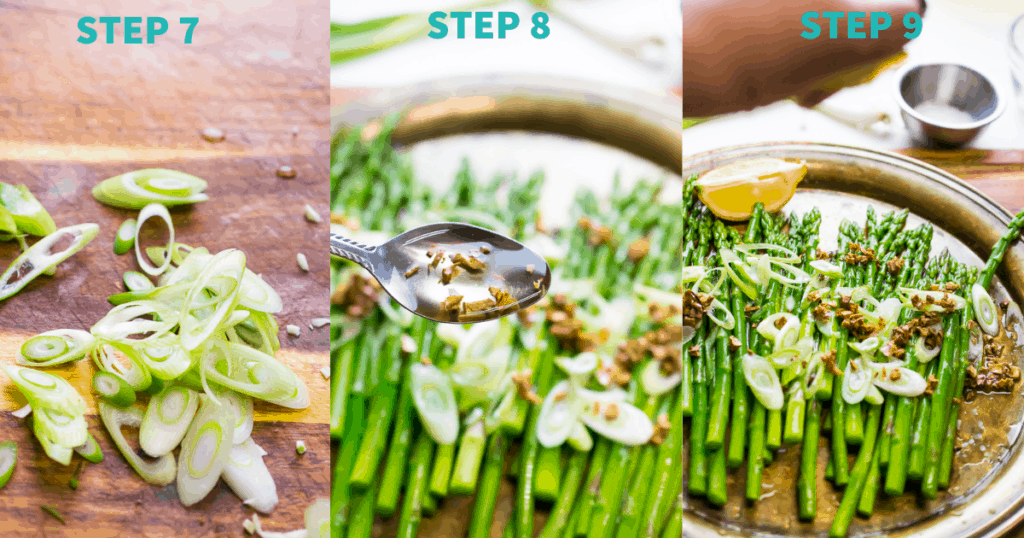 Slice your green onion on the bias. Then spread your asparagus on a plate.
Top with green onion, the spoon the garlic with some oil all over it. Juice the lemon over it. Then salt liberally. If using flake or coarse salt you can use 1/2 teaspoon or more to taste. If using fine salt start with 1/4 teaspoon and add more to taste.
Enjoy!
Frequently Asked Questions
Can I use fried onion instead of garlic?
Yes, you can heat the oil and pour it over minced green onion in a small ramekin. Then pour it over the asparagus.
Can I use another vegetable?
Yes, this classic flavor profile works with any vegetable, especially summer and spring produce. Blanching time will vary per veg, but once it's bright and tender it's ready.
What's your favorite avocado oil? Can I use olive oil instead?
I like Primal Kitchen Avocado Oil. Yes, you can use olive oil as well.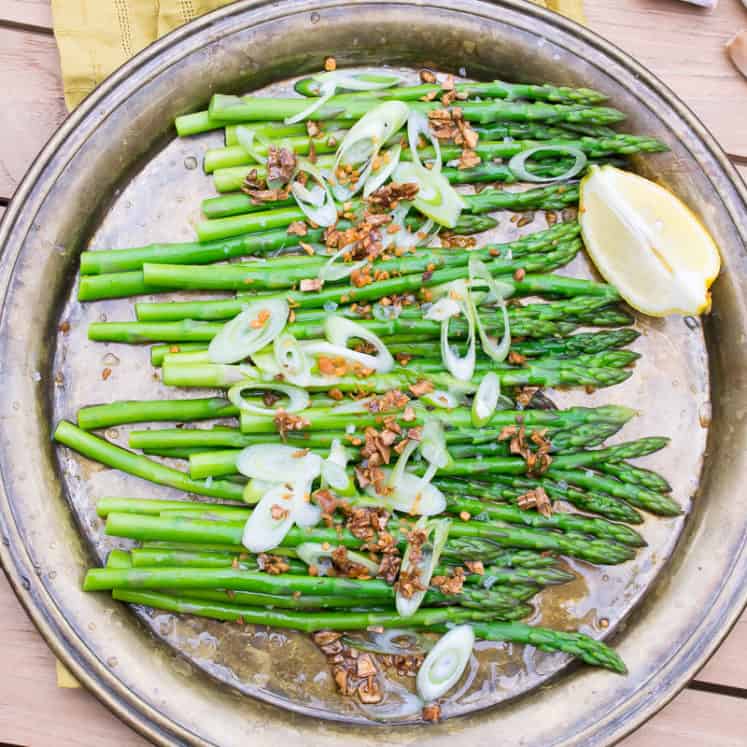 Asparagus Salad with Fried Garlic (AIP, Whole30, Keto)
---
Author: Cristina Curp, FNTP
Prep Time: 5 minutes
Cook Time: 10 minutes
Total Time: 15 minutes
Yield: 4 servings 1x
Category: Salads
Method: Blanched
Cuisine: Seasonal
Diet: Gluten Free
Description
A lovely celebration of spring! A light and delicious asparagus salad.
---
Scale
Ingredients
1 bunch asparagus, trimmed
Bowl of ice water
1/4 cup avocado oil
3 cloves garlic, peeled and minced
1 spring onion or green onion, sliced on the bias
juice of one lemon
1/2 teaspoon flake salt
---
Instructions
Heat water in a skillet or pot with a steamer basket. Steam your asparagus for 5-8 minutes or until bright greens and slightly tender while still being crispy. If you hold it up, it should stand upright.
Put the asparagus in the ice water to shock and stop from cooking.
Drain the water from the pot, dry it. Add in the avocado oil. Once hot, add in the garlic, tilt the pot so the oil pools to one side, and the garlic deep-fries. (See images above). Once golden brown, remove from the heat.
Drain your asparagus and plate it. Top with sliced green onion, fried garlic (with oil), lemon juice, and flake salt. Enjoy right away or left over. Salad is good warm or cold.
Nutrition
Serving Size: 5 spears
Calories: 80
Fat: 5.9g
Carbohydrates: 4.4g
Fiber: 1.6g
Protein: 1.7g
Keywords: Asparagus Salad