This Creamy Crack Chicken is an easy one-pot meal that's ready to plate in 30 minutes! Juicy, tender chicken with a creamy Middle Eastern flair, YUM! Bonus this addictive chicken recipe is dairy-free and really good for you.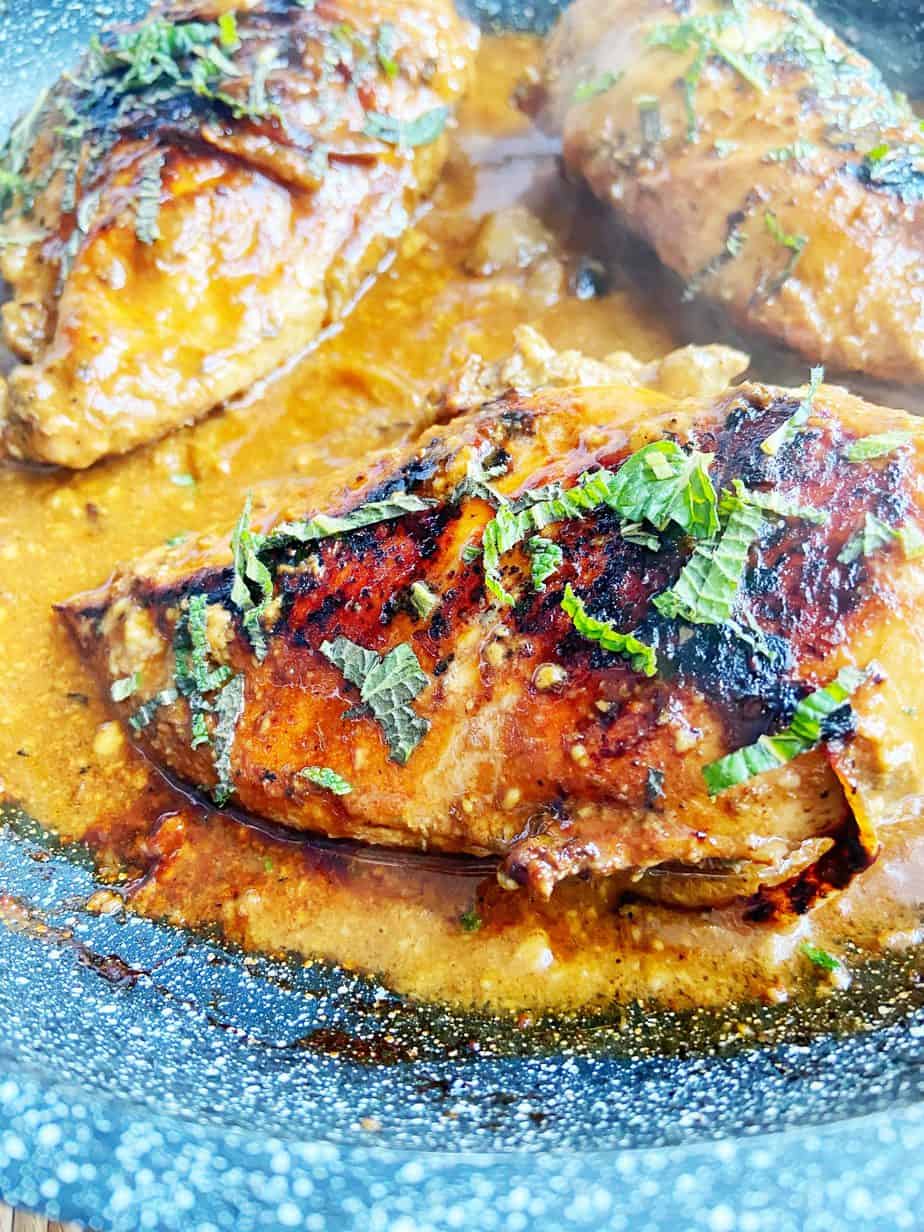 Table of Contents
The best crack chicken recipe you'll ever try
You may have seen a recipe or two for crack chicken blowing up on Pinterest. It's a combination of chicken, ranch dressing, cheese and bacon, usually made in a crockpot. Listen: don't get me wrong, those flavors are delicious, especially layered together. But if we're talking a truly addictive, absolutely salivating, crave-it-more-than-once-a-week recipe, it's got to BRING THE FLAVOR. Like, that knock your socks off, holy crap, damn that's good FLAVOR. This recipe is it. With warm, sweet, tangy, and creamy components, this elegant dish will tantalize your senses.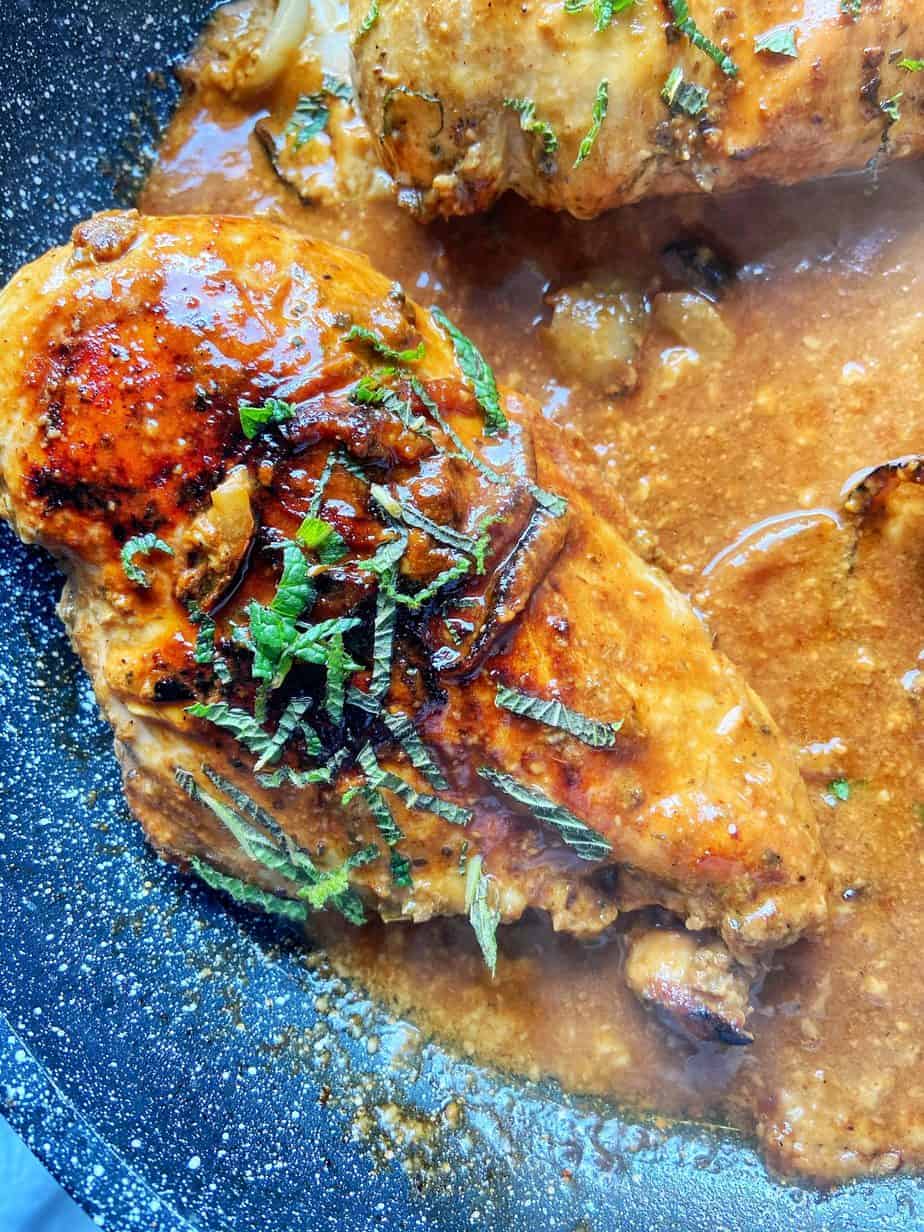 Where to buy ingredients for this one-skillet chicken recipe
That's what this Creamy Crack Chicken is: perfectly cooked and properly juicy chicken breasts seasoned with an explosion of flavors, harmonizing together in an addictively creamy sauce. You'll love it, your kids will love it, it's a win-win. Best of all? This is a one-pot recipe that comes together in 30 minutes. Win-win-win-win.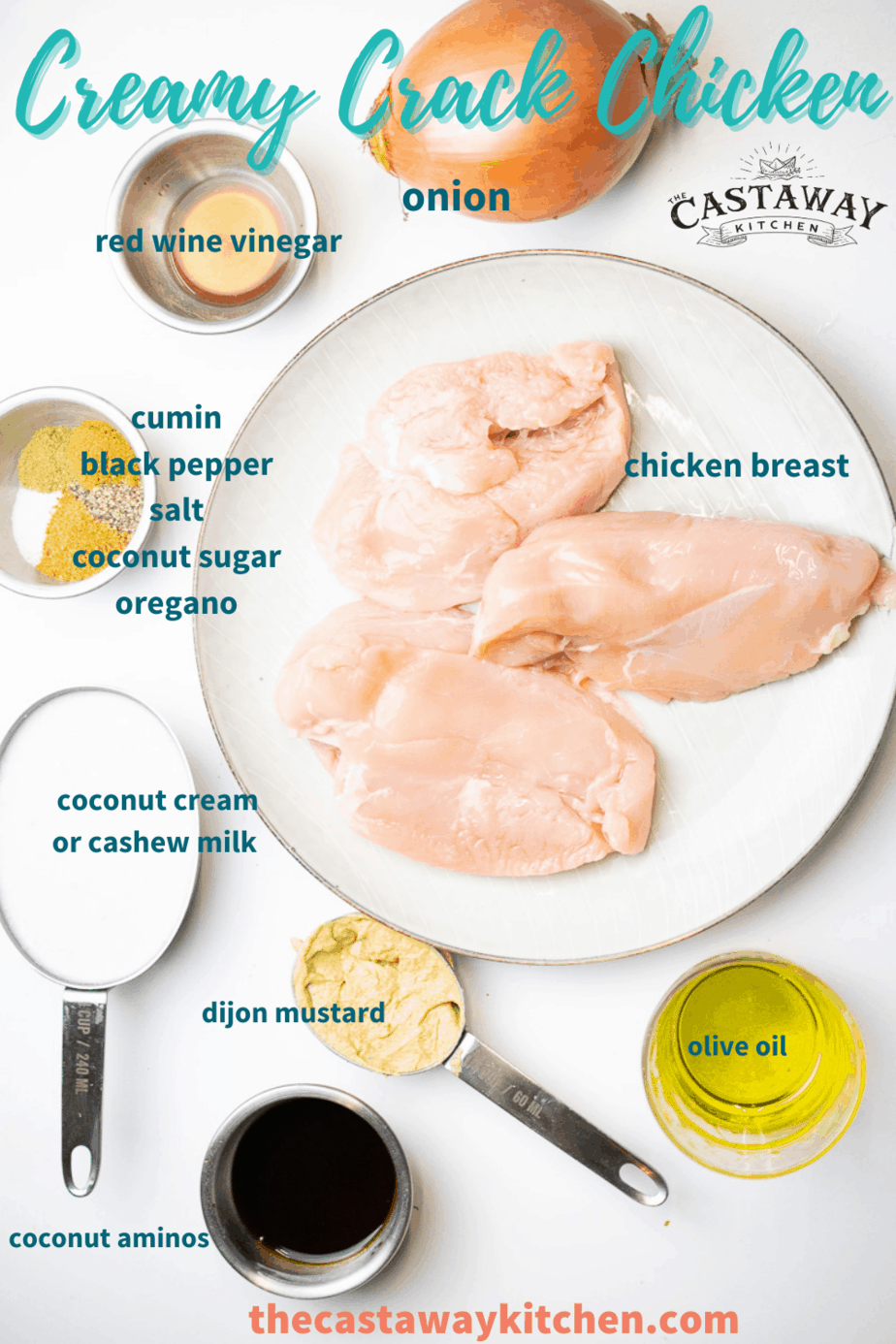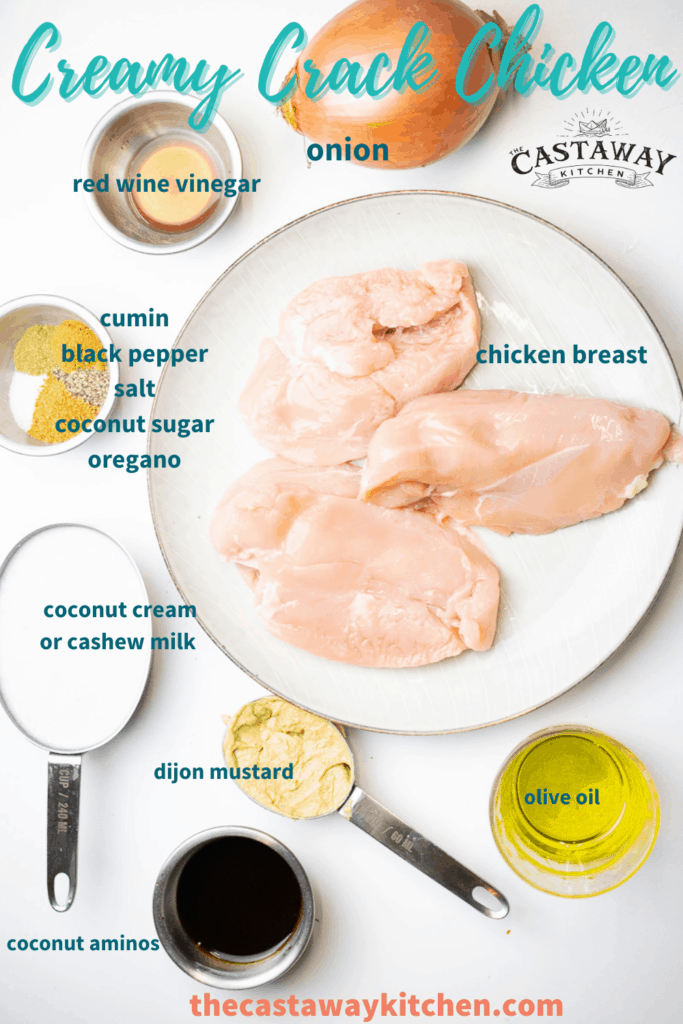 Going forward, I plan on using links to companies that are supporting their communities, unlike some of the larger online organizations that refuse to use their funds and influence to support those in need. One of my favorite companies to shop with is Thrive Market. With the pandemic going on, Thrive has really stepped up to help: the CEO is donating the rest of his 2020 salary to help families impacted by COVID-19.
Thrive also gives customers the option to help contribute to the Thrive Market COVID-19 Relief Fund, and they are committed to not engage in surge pricing. They have always gone above and beyond to provide healthy options to everyone, and to support the environment by becoming a zero-waste company. It feels good to support companies who choose to do the right thing, even when it's not the most profitable choice, and I encourage you to do the same if you are able! They're offering a 25% off discount to new Thrive customers here.
Step by Step Creamy Crack Chicken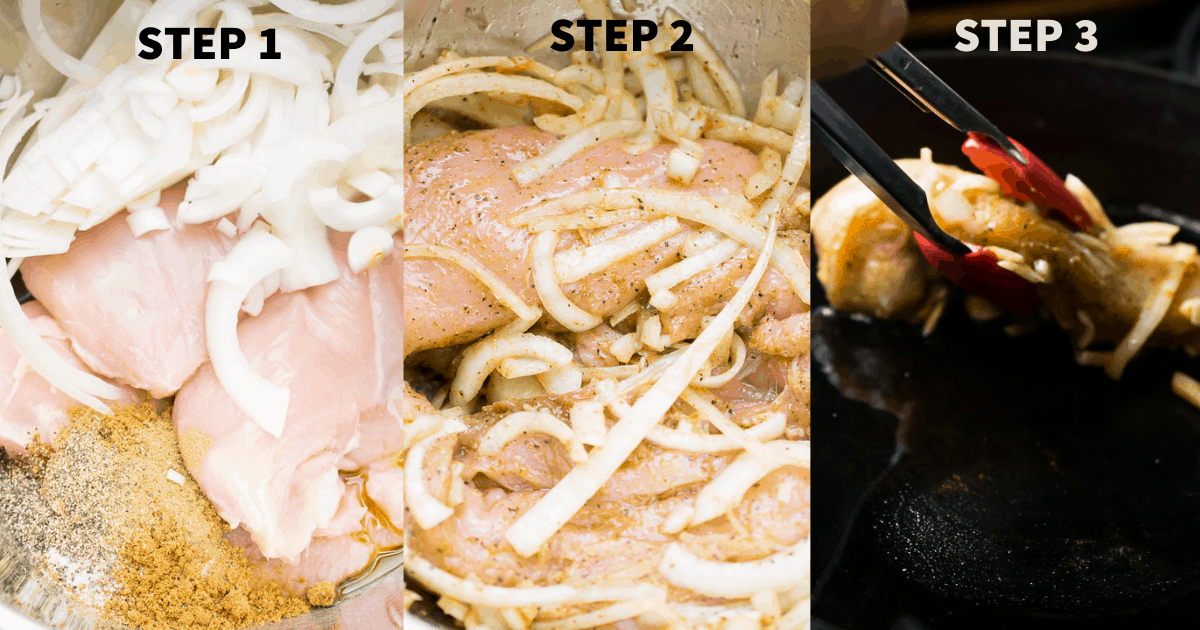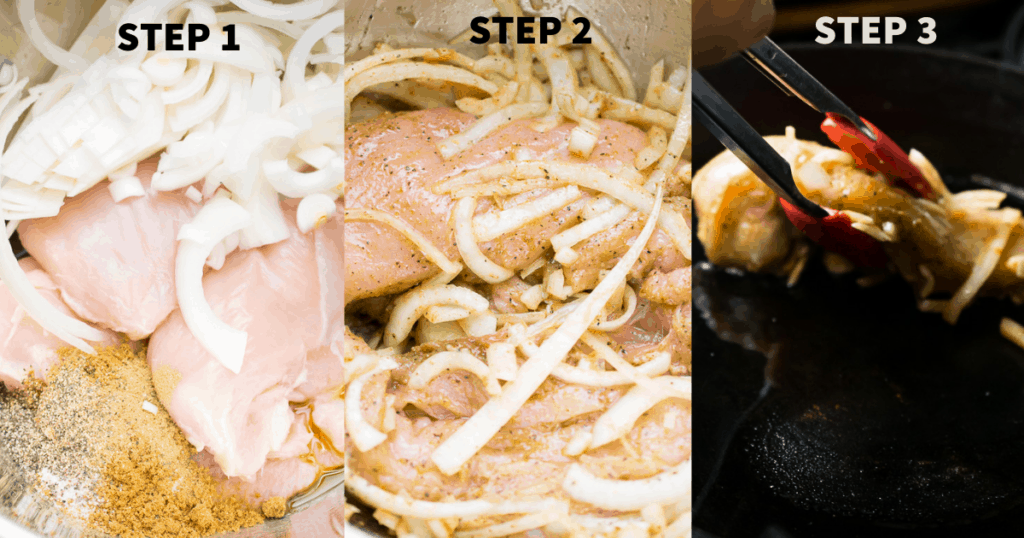 Start by combining all of the seasonings, onion, chicken etc in a large bowl. Toss everything together and marinate, at least 20 minutes. Then heat a large skillet with plenty of fat.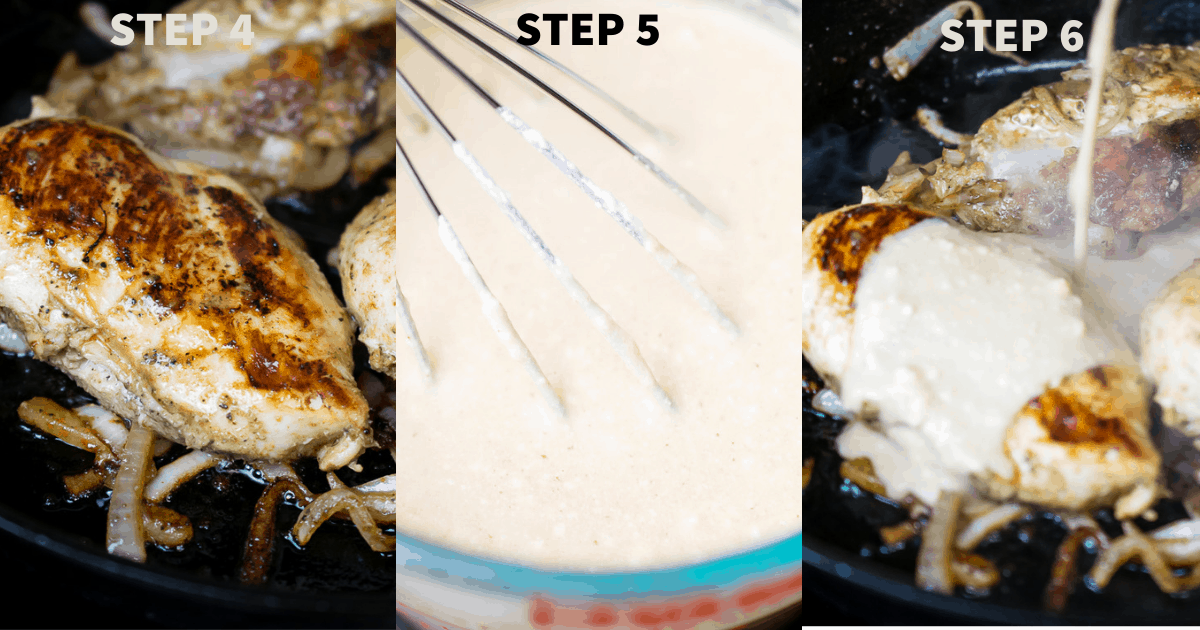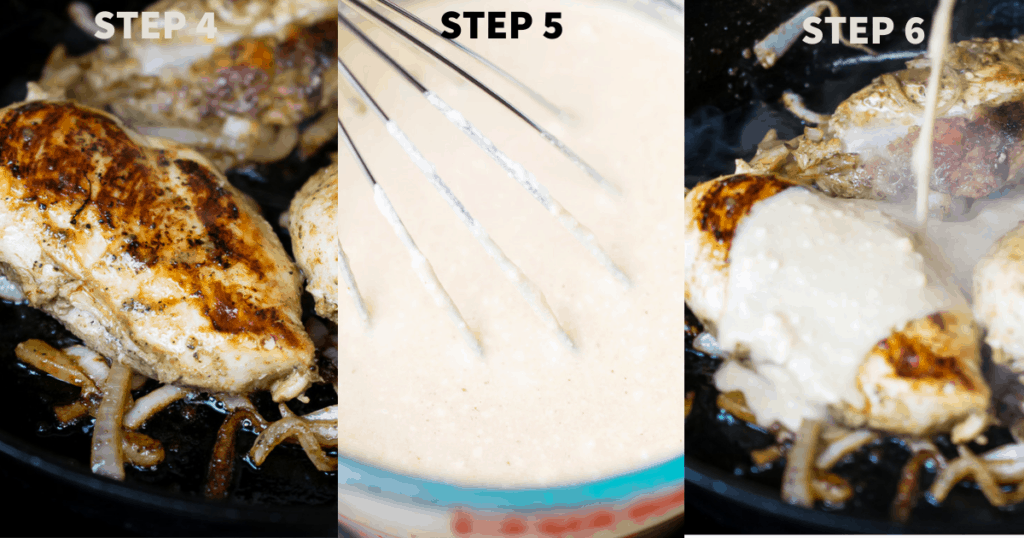 Cook the chicken breast 5 minutes per side. While it cooks whisk together the sauce. Add it to the skillet, pouring it all over the seared chicken breast and onions.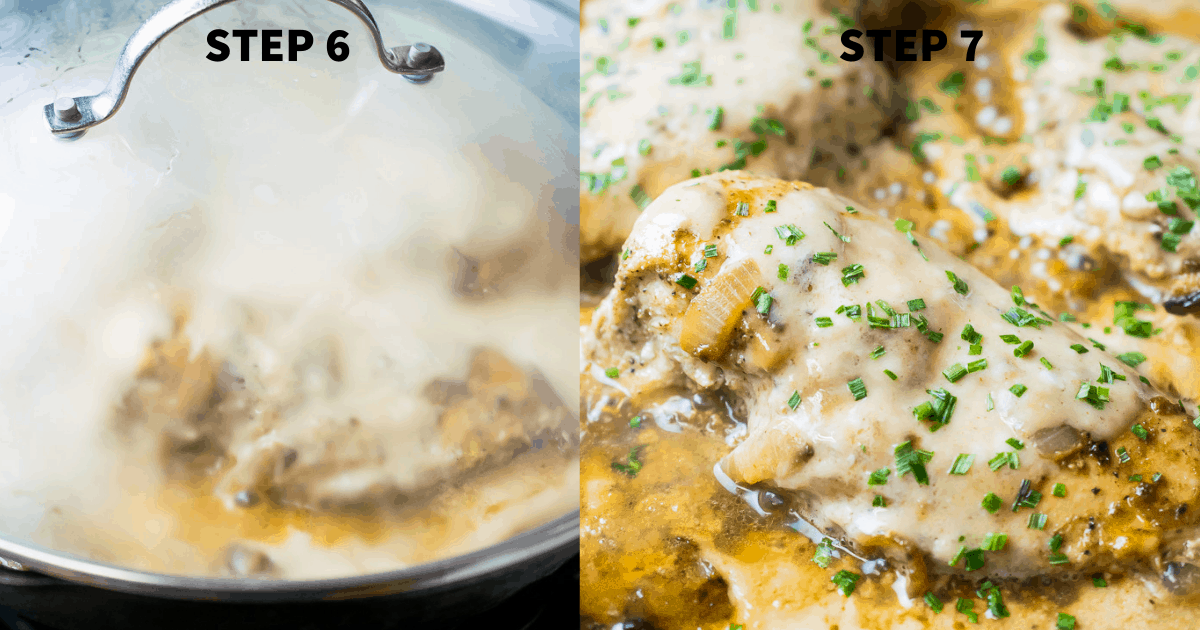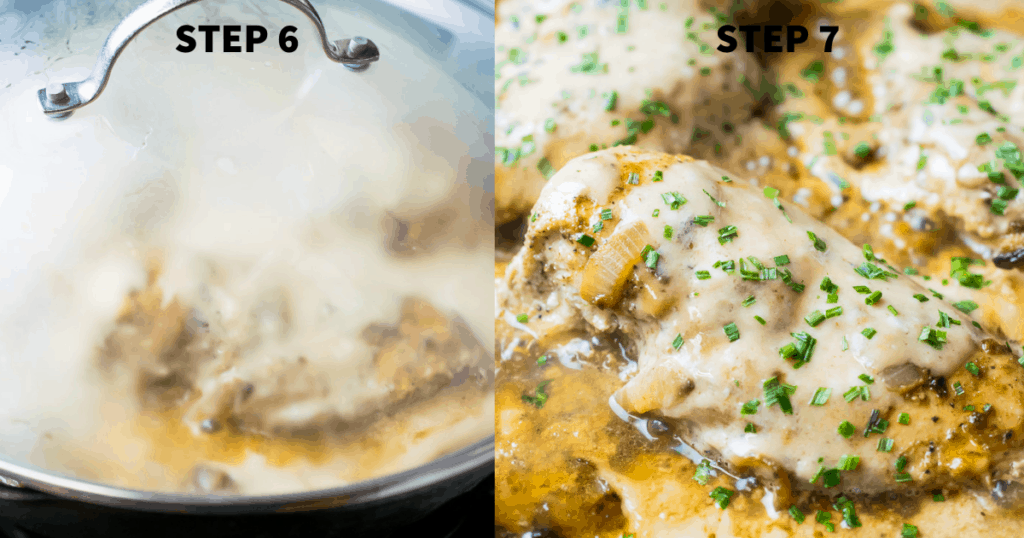 Cover the skillet with a tight-fitting lid and lower heat. Simmer here until chicken is cooked through. Then garnish with herbs and serve.
Dairy-Free Creamy Crack Chicken
Warm and sweet with a slight Middle Eastern flair. Creamy, juicy, and absolutely addictive. This flavor combo is named creamy crack chicken for a reason!
Yes, this one-skillet chicken recipe is dairy-free. The secret is using full-fat canned coconut milk or homemade cashew milk for the sauce — this will guarantee the creamiest result with no dairy.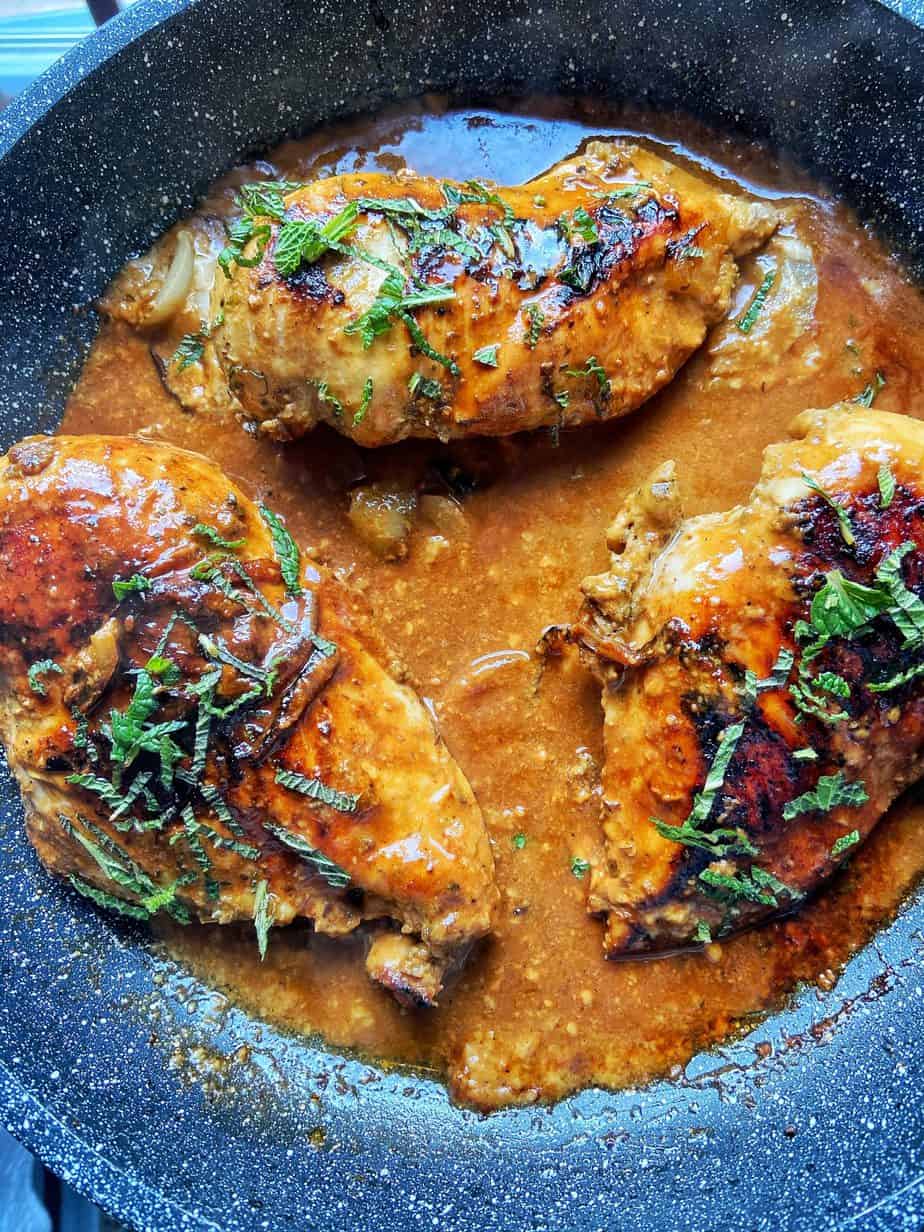 In addition to the creaminess and Middle Eastern spice influence, this recipe is slightly sweetened with coconut sugar. Written as is, the macros are still keto-friendly, but if you want, you could swap coconut sugar for a golden monk fruit sweetener, I like Lakanto. Either way, it's only 1/3 teaspoon of sweetener per serving, so you can make it work for any dietary preferences.
You can use any kind of vinegar you have on hand and any kind of mustard, too — this recipe is super flexible and pairs well with any side dish. Keto crack chicken? Yep. Dairy-free crack chicken? You got it. Creamy Crack Chicken for all!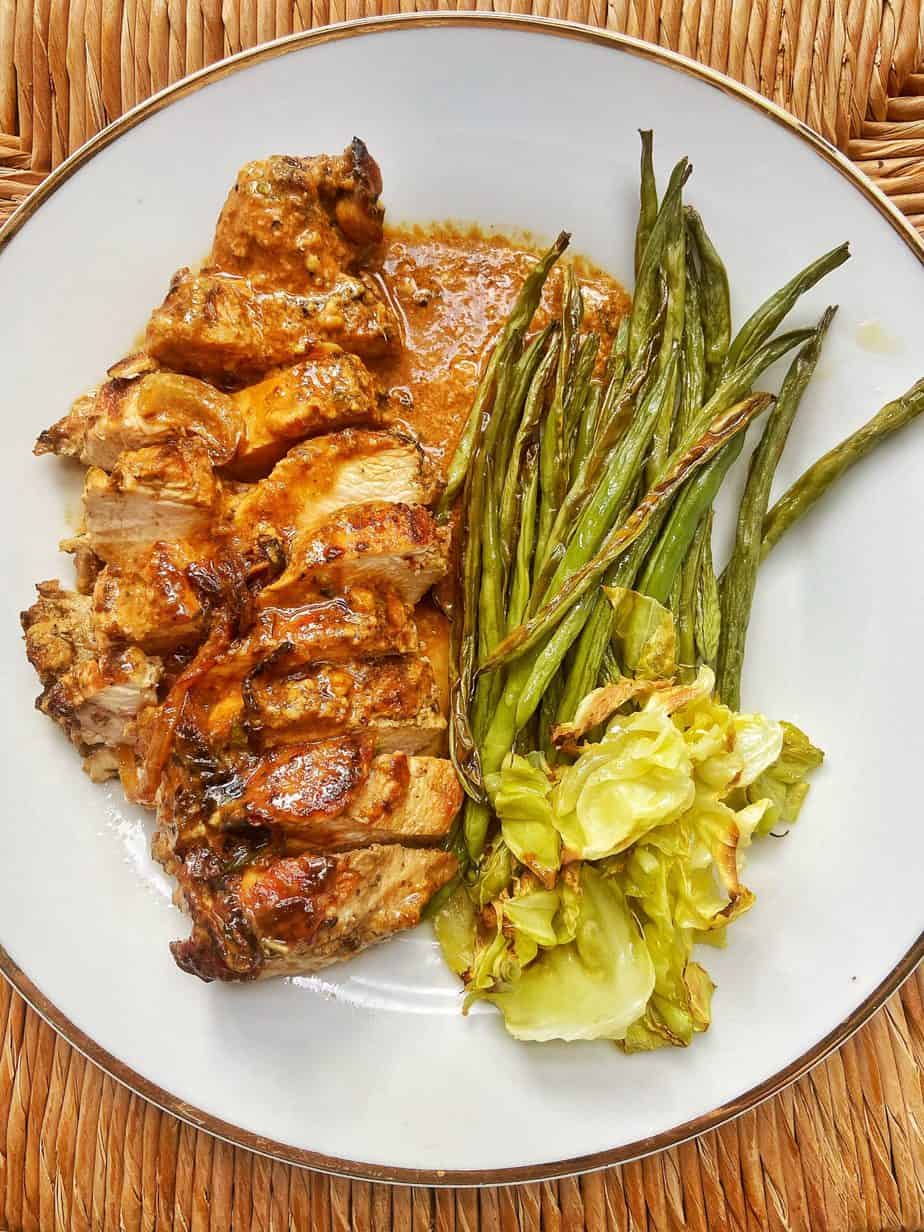 Frequently Asked Questions
Can I use chicken thighs?
Yes, you can use boneless skinless chicken thighs.
Can I make this AIP?
You can omit the cumin and black pepper. Use 1 teaspoon cinnamon and 1/2 teaspoon ginger instead. For the sauce swap the mustard with 1 teaspoon ground horseradish or prepared horseradish, 1 tablespoon vinegar and extra coconut aminos.
What type of skillet is that?
When I made this at my mom's house, I was using a stoneware skillet that I found at Ross. It lasted about 8 months before it was no longer non-stick. Not sure I would recommend it.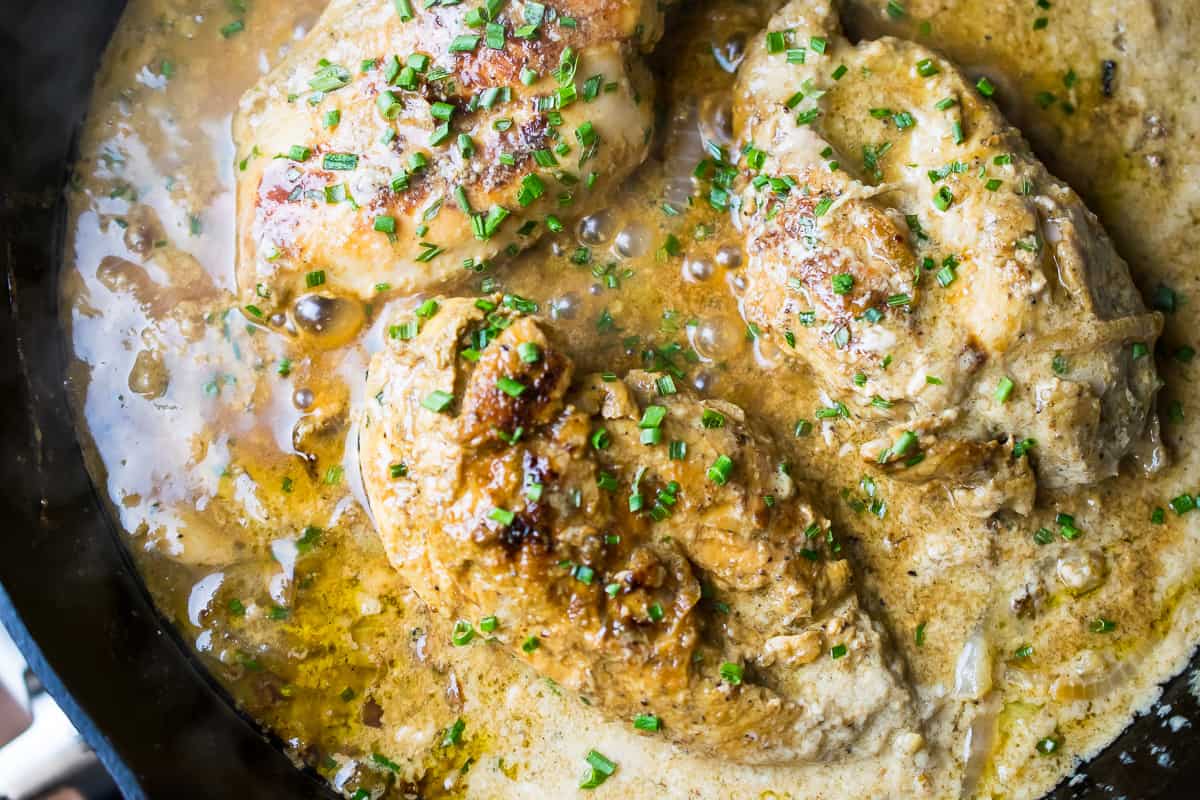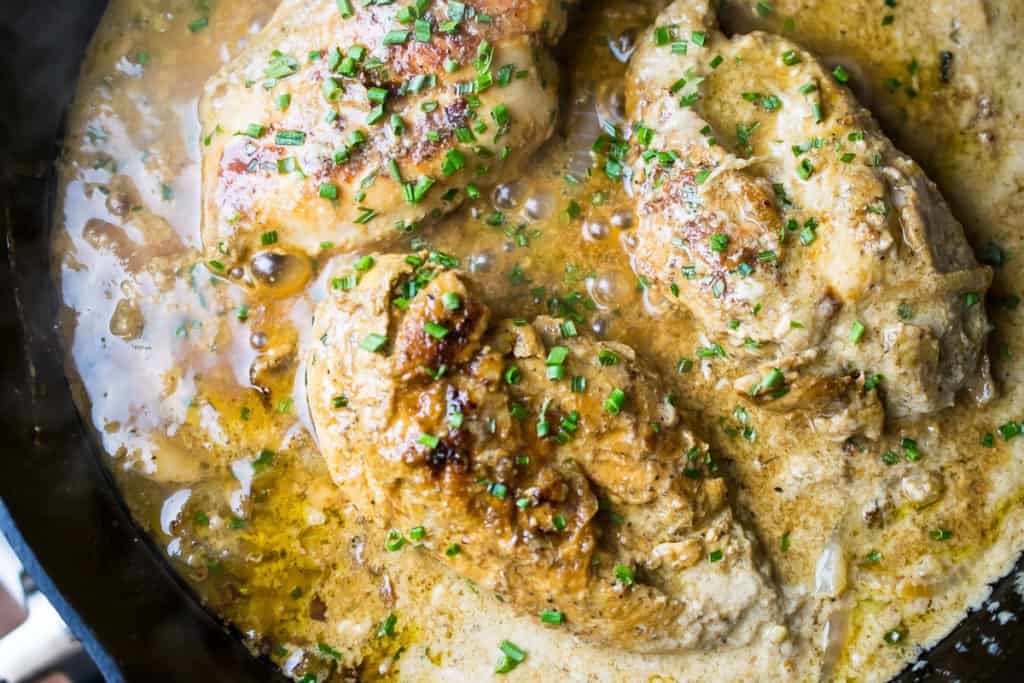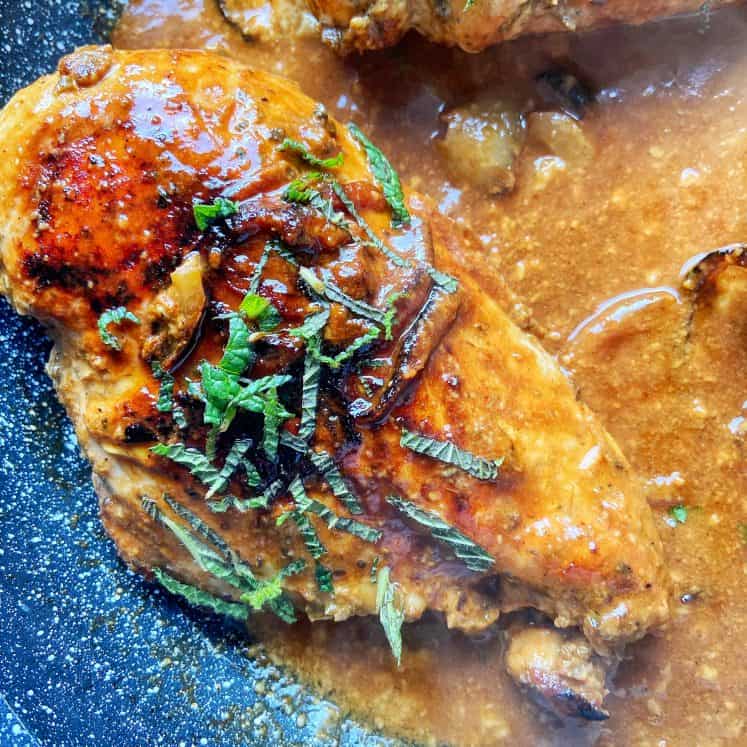 Creamy Crack Chicken (Dairy Free, One Pot Meal, Keto, 30 Minute Meal)
---
Author: Cristina Curp
Prep Time: 15 minutes
Cook Time: 15 minutes
Total Time: 30 minutes
Yield: 3 servings 1x
Category: Entree
Method: Skillet
Cuisine: Chicken
Diet: Gluten Free
Description
Creamy, dreamy, flavorful and addictive chicken breast
---
Scale
Ingredients
For the Chicken:
3 boneless skinless chicken breasts (about 1 pound)
1 teaspoon fine salt
1 teaspoon ground cumin
1 teaspoon brown granulated sweetener (coconut sugar or Lakanto golden – get yours from Thrive Market)
1/2 teaspoon ground black pepper
1/2 teaspoon dried oregano
1 tablespoon red wine vinegar
2 tablespoons extra virgin olive oil
Half small onion sliced
For the Sauce:
1 cup coconut cream
1/4 cup Dijon or spicy mustard
2 tablespoons coconut aminos
For the Garnish:
---
Instructions
Combine the chicken, seasonings, coconut sugar, vinegar, oil and onion in a large bowl. Toss to combine. Let sit and marinate for 10-20 minutes (if you can).
Heat a large skillet over medium heat. When it comes to temperature, drizzle in a little olive oil. Put the chicken breasts with onion in the skillet so they're not touching. Cook uncovered for 5 minutes. Flip and cook another 5 minutes uncovered.
While the chicken cooks, combine the sauce ingredients in a small bowl and whisk until smooth.
Pour the sauce into the skillet. Lower the heat and cover. Simmer here for 5 minutes. Uncover and turn the chicken over in the sauce.
Serve with minced fresh mint if you have it! Goes great with roasted veggies!
Recipe Notes:
net carbs per serving: 5.5g
Nutrition
Serving Size: 1 serving
Calories: 439
Fat: 29.9g
Carbohydrates: 6.8g
Fiber: 1.3g
Protein: 36.6g
Keywords: Creamy Crack Chicken, One skillet chicken recipe, keto crack chicken, 30 minute meal, one pot meal, easy keto chicken recipe