Made with CBD and coconut cream, my no-churn Strawberry Nice Cream with Magic Shell is the perfect treat any time of day, but especially when you need to chill.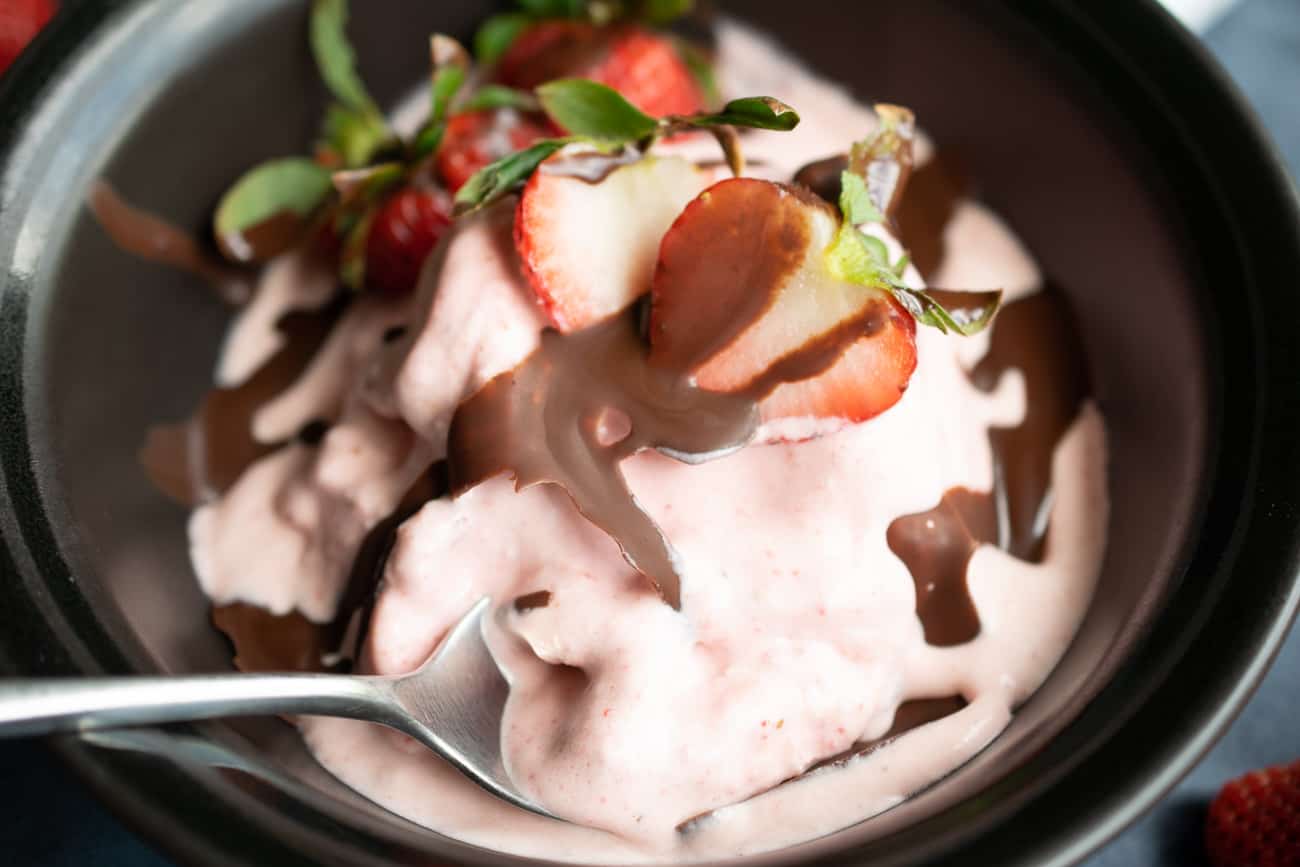 Table of Contents
Take keto ice cream to the next level with a Magic Shell
This recipe is really easy, it's like a super-duper thick and rich smoothie, but served up in scoops and then topped with a dark chocolate magic shell. If you love chocolate covered strawberries, this paleo ice cream recipe is going to be your jam. A guilt-free ice cream experience! Bonus: the ingredients are all quarantine cooking friendly!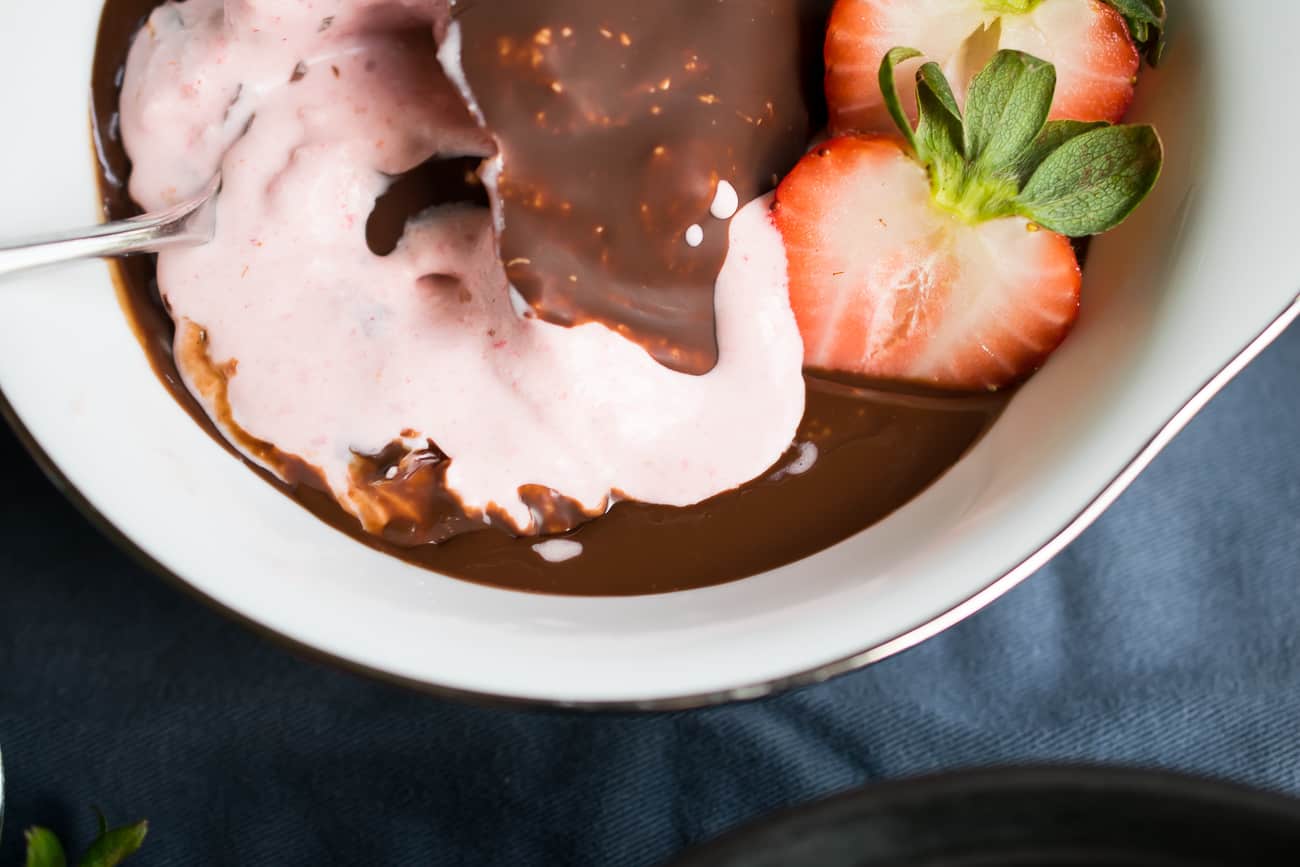 Strawberry Nice Cream in minutes
We all need to chill right now, might as well make that chill extra delicious with a creamy, slightly sweet, super satisfying, and totally healthy strawberry ice cream. Made in the blender or food processor, this no-churn ice cream recipe topped with an easy 2 ingredient magic shell is a no brainer.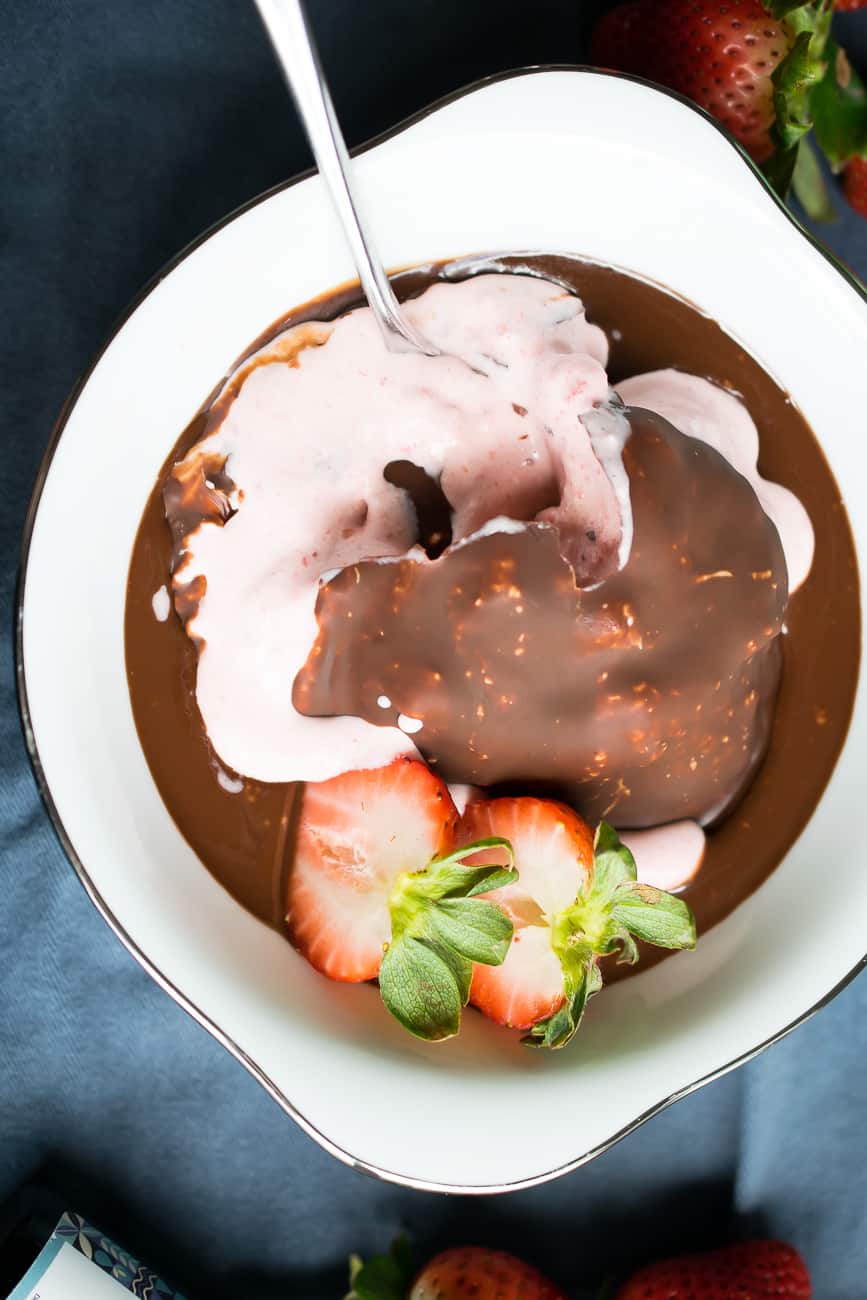 5 Minutes and 10 Ingredients
LOTS of frozen strawberries (use frozen cherries for low histamine)
Full fat canned coconut cream (or full-fat coconut milk, let the cream separate in the fridge)
Granulated sweetener of choice
Vanilla extract (optional)
Chopped up dark chocolate
Coconut oil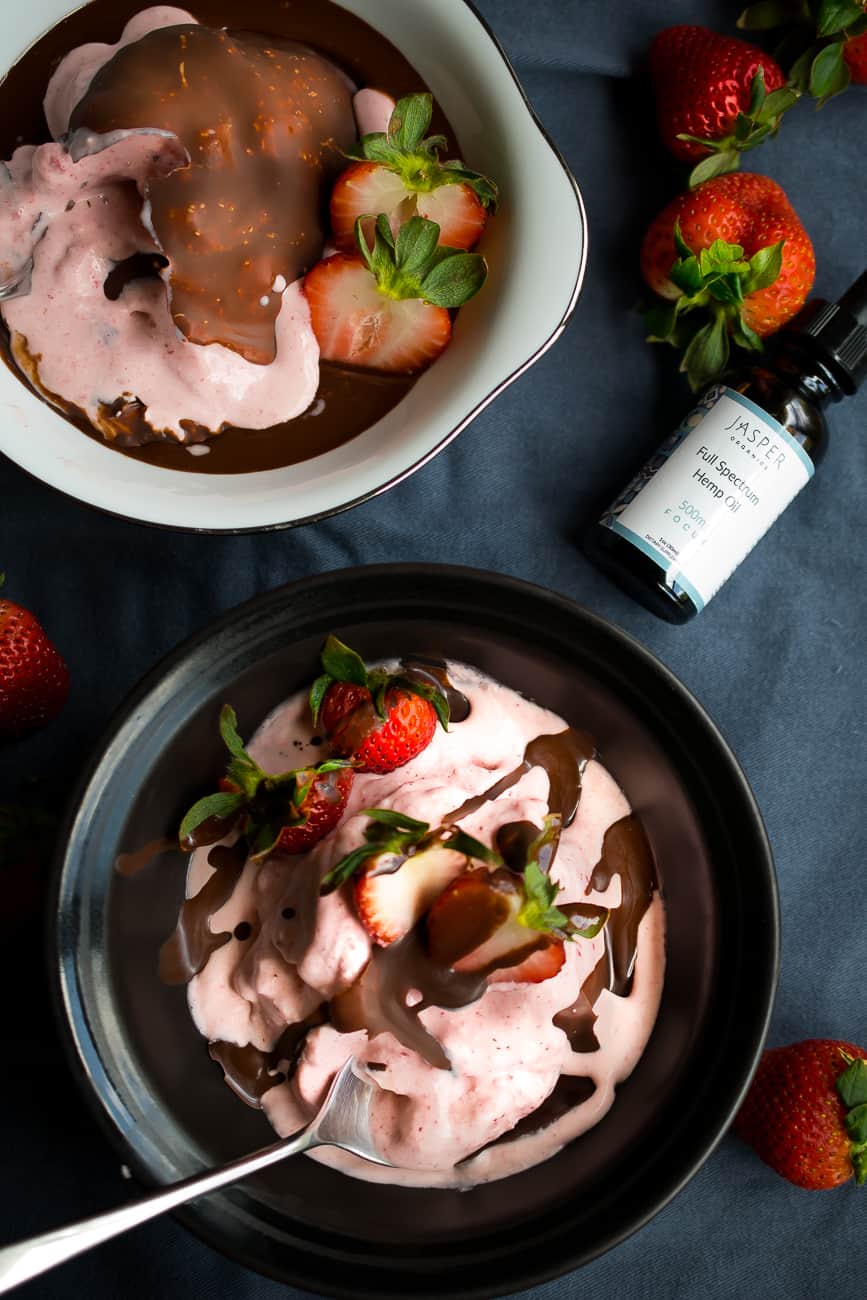 Need to chill? Add full spectrum CBD to your Strawberry Nice Cream
Staying home all the time has me a little antsy. Even with eating right and getting sun every day, I find bedtime to be a struggle. Incorporating full spectrum CBD oil has helped me relax, and it blends rights into this tasty treat!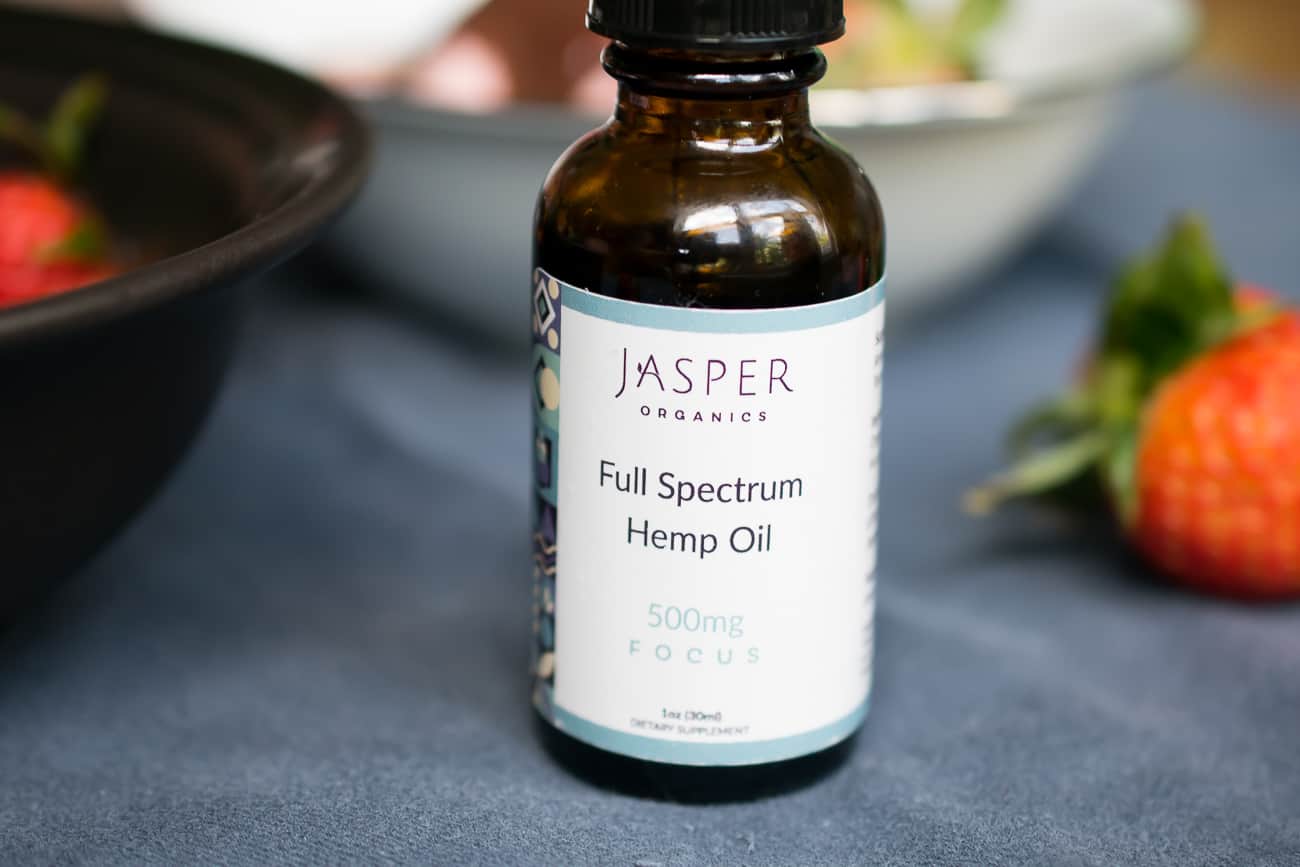 When it comes to CBD oil, it's really important to make sure you're sourcing a quality product. I like Jasper Organics because they only source full spectrum CBD oil. This means you're getting all of the parts of the hemp plant with all of the benefits, versus other brands that use a CBD isolate, (you can read more about this here). Another reason I like Jasper Organics is that their dropper hemp oil blends easily into recipes If you need to order some CBD oil, you can use code KITCHEN for 15% off your Jasper Organics purchase.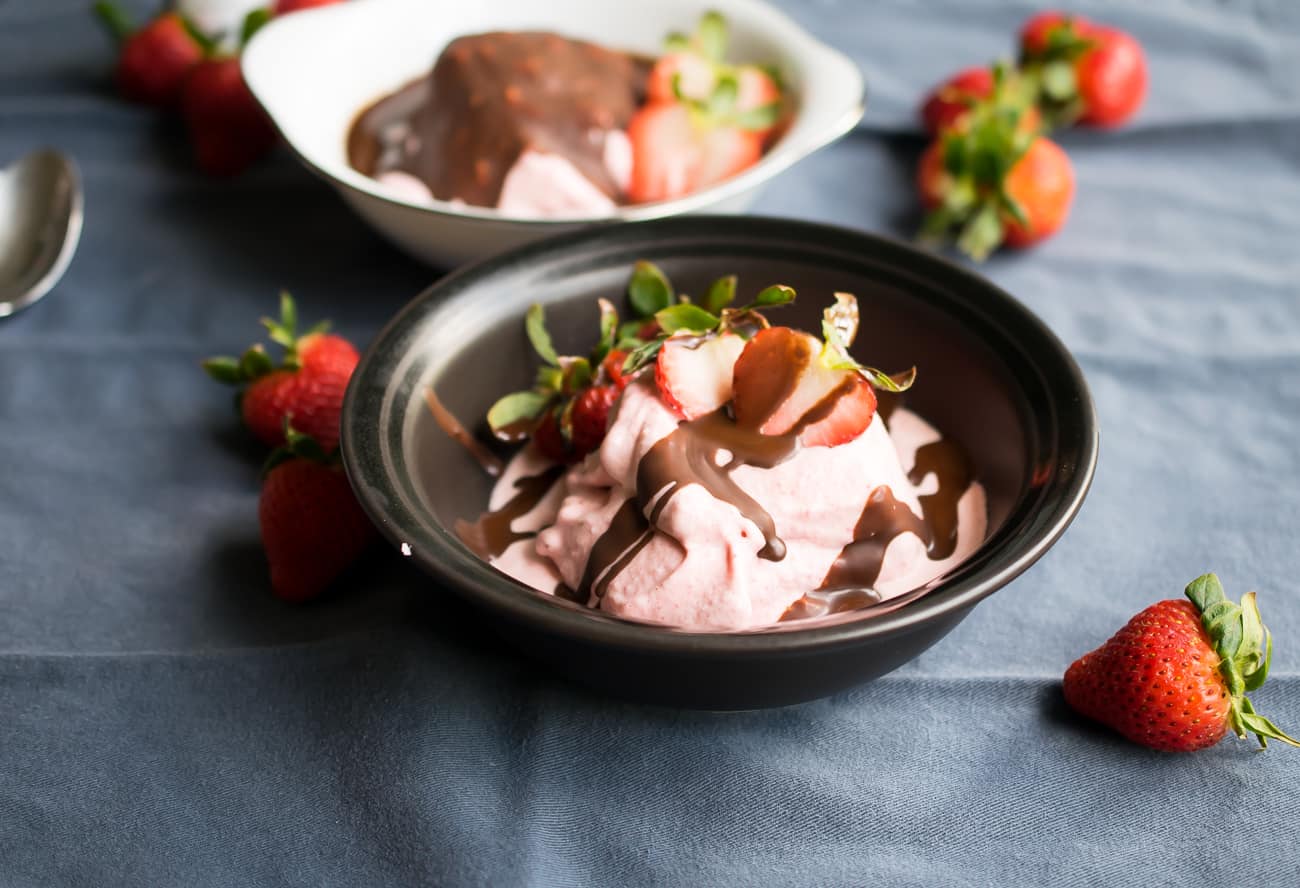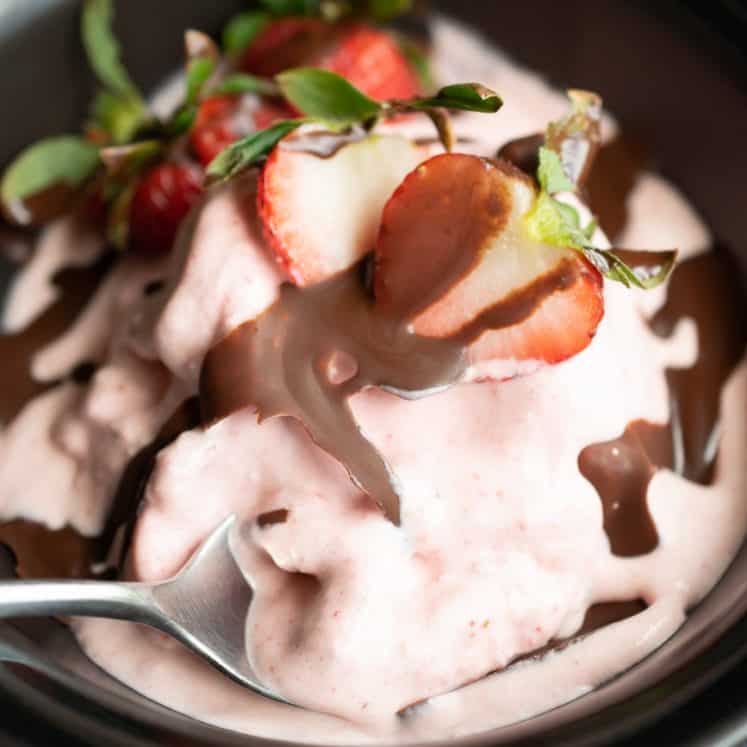 Strawberry Nice Cream with Magic Shell (Paleo, Low Carb, Dairy-Free)
---
Author: Cristina Curp
Prep Time: 10 minutes
Total Time: 10 minutes
Yield: 2 servings 1x
Category: Dessert
Method: Blend
Cuisine: Ice Cream
Description
Dreamy Nice Cream with Chocolate Magic Shell
---
Scale
Ingredients
Strawberry Nice Cream
12 ounces frozen strawberries (whole)
1 tablespoon of granulated sweetener (optional)
1 teaspoon vanilla extract (optional)
2 droppers of Jasper Organics full-spectrum hemp oil (use code KITCHEN for 15% off)
pinch of salt (optional)
2 Ingredient Magic Shell
---
Instructions
Combine the frozen strawberries and coconut milk in the blender or food processor. Blend until pureed, or mostly smooth. Stop.
Use a spatula to scrape down the sides and move any pieces of strawberry stuck under the blade. Add the remaining ingredients and blend until thick and smooth. It should not be liquid, it should be the consistency of a mousse or frozen yogurt. If it's not, put it in the freezer to harden up.
Make the magic shell. In a microwave-safe small bowl melt the chocolate for 20 seconds on high. Mix in the coconut oil and mix until it's smooth and liquid.
Scoop your ice cream into 2 small bowls, top with the magic shell and watch it harden over the ice cream! Whoa!
Dig in!
Recipe Notes:
net carbs per serving: 13.7g
If you have full fat canned coconut cream, put it in the fridge and the the fat separate, use that!
Nutrition
Serving Size: 1 serving
Calories: 393
Fat: 33.7g
Carbohydrates: 21.4g
Fiber: 7.7g
Protein: 3.1g
Keywords: strawberry ice cream, no-churn strawberry ice cream, paleo ice cream recipe, keto ice cream, CBD recipes