These low carb flourless pancakes can't be any easier. Blender batter pancakes are as easy as it gets!
With only 5 ingredients that are whole food and squeaky clean, these cashew and egg pancakes come in at only 6 grams of carbs per serving.  If you love my Dairy Free Coffee Creamer you are going to love these low carb pancakes!
Low glycemic index and perfect for your mornings, brunch or breakfast for dinner. The recipe makes 4 short stacks (3 per serving) and is topped with a low carb syrup of my own! Yes. The perfect topping for your low carb flourless pancakes and no funny business or after taste.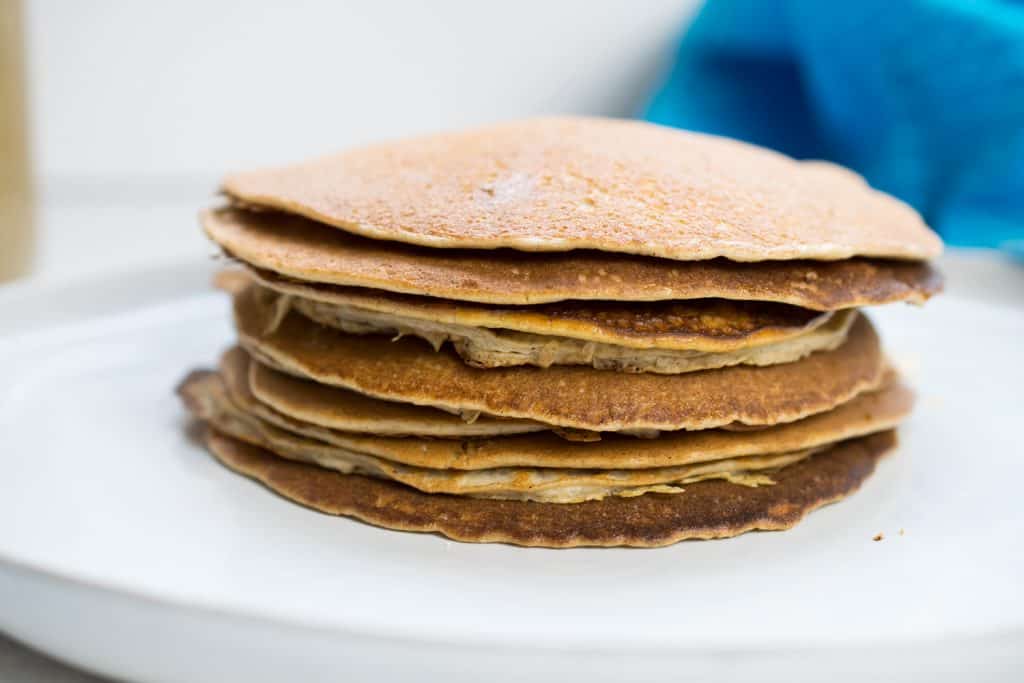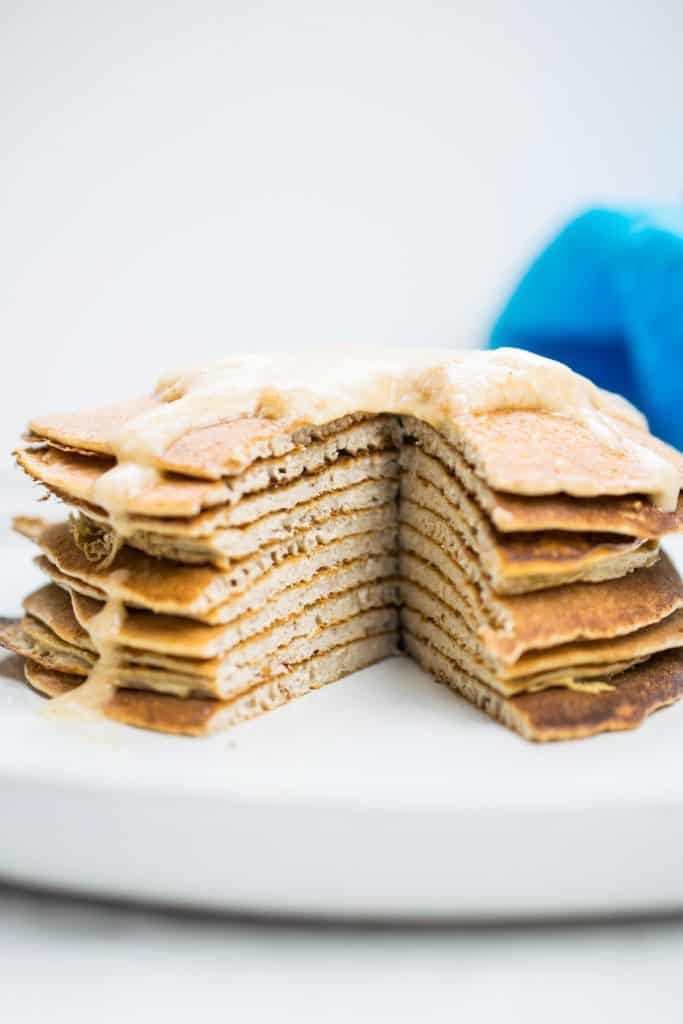 Low Carb Date Syrup, but why?
Okay, so you all know I've gone back and forth on the low carb sweetener thing. On one hand, I know I don't do so hot with honey or maple syrup. While being a whole food, natural sweeteners I don't do well with the insulin spike. So I traded for the low carb sweeteners.
While these sweeteners are natural, as they come from nature, they are non-caloric and still processed.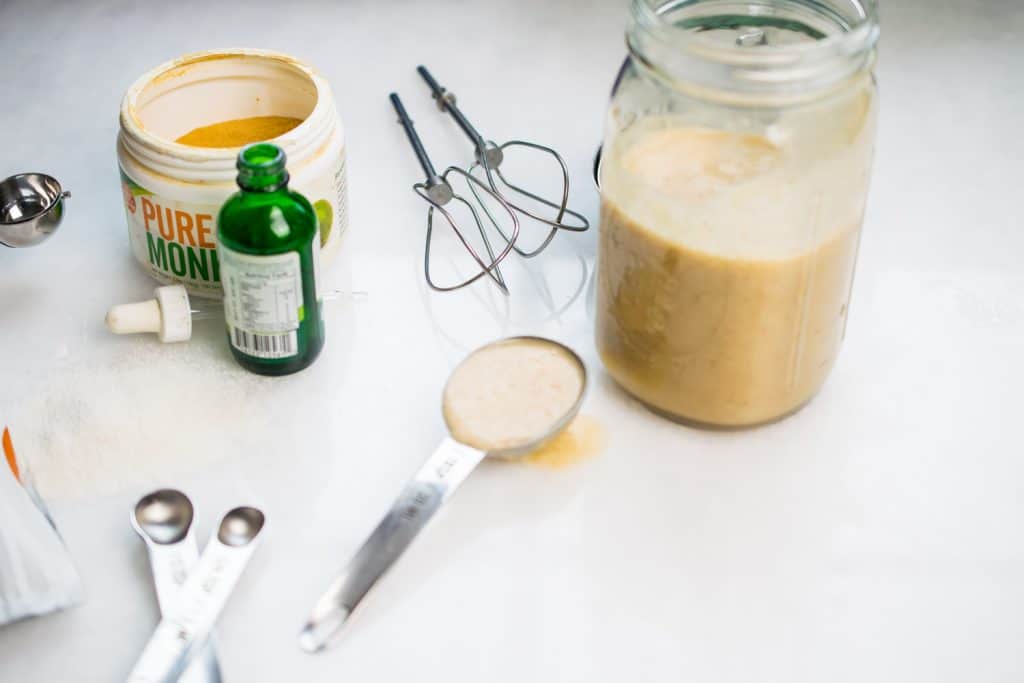 Erythritol is made from fermenting corn, the sugar alcohols are extracted. While sugar alcohols are not technically non-caloric or even carb free, the theory is that we can't absorb them, so we pee them out and they don't impact blood glucose. However, we can absorb them, it's just reallly reallllly hard. Not impossible. Other reasons to not go crazy with erythritol is that many people report digestive distress from it.
Monk fruit and Stevia have been around a long time, and not as processed, yet come with the con of pretty strong aftertastes and again, a lot of reports of digestive distress.
Lastly, the hyperpalatable nature of these strong sweeteners lights up our food-reward system. Yes, we are indeed wired to eat. Our primal brain tastes sweet and needs more and more and more because hey, winter is coming and we need to fatten up, we don't know when we will eat next. Except for the lack of calories in these sweeteners doesn't communicate with our brain that we have actually eaten enough, we just keep wanting more. Again, a lot of anecdotal reports of sugar/sweet addiction aka sugar dragon, with the use of non-caloric sweeteners.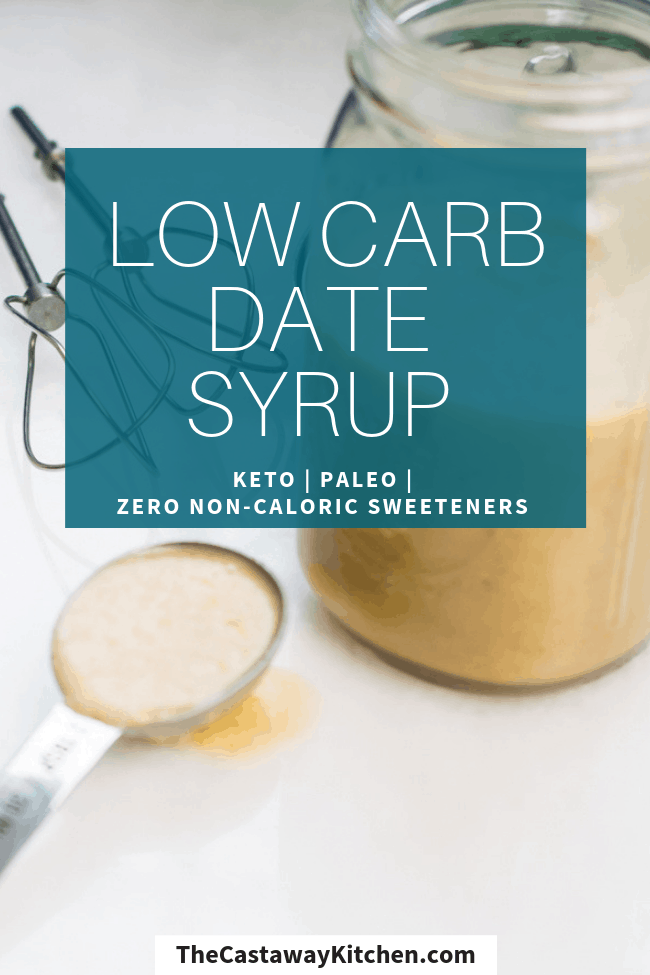 Enter my low carb date syrup which is perfect for your low carb flourless pancakes…
This sweetener is only 1 carb per tablespoon, and a 2 tablespoon serving is plenty. Mixed with water and coconut oil and emulsified into a thick, luscious topping, it's perfect for pancakes or other low carb sweetener needs. This syrup doesn't trick your brain and it's lightly sweetened, packing fiber and fat, it is slowly absorbed in the body and won't spike your blood sugar. However, if you're diabetic, please make sure to test it carefully and check your blood sugar to make sure it's safe for you.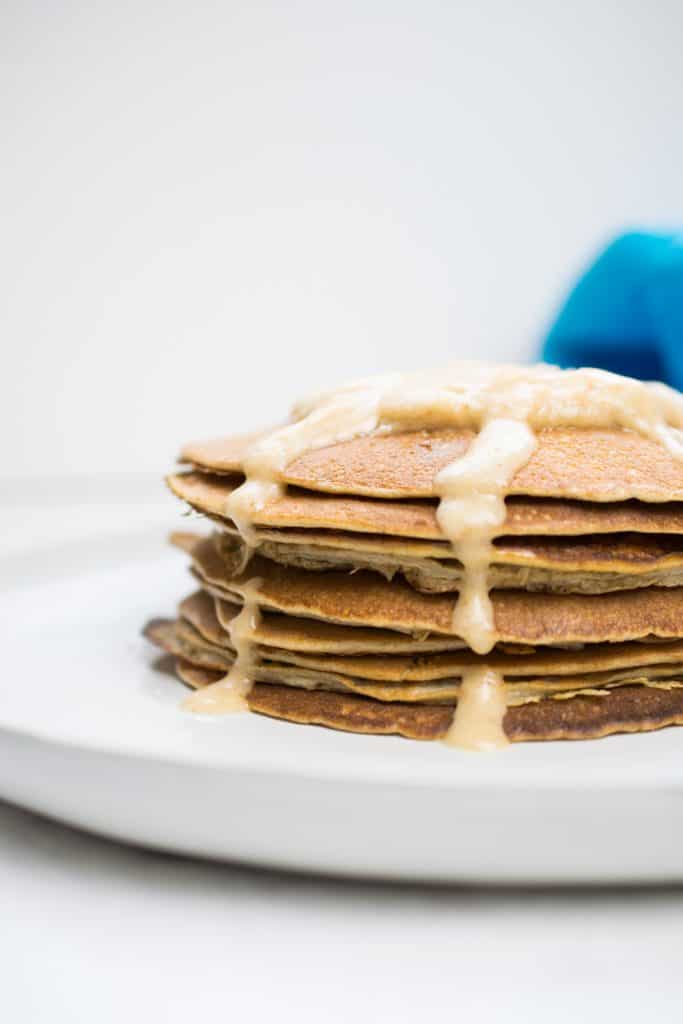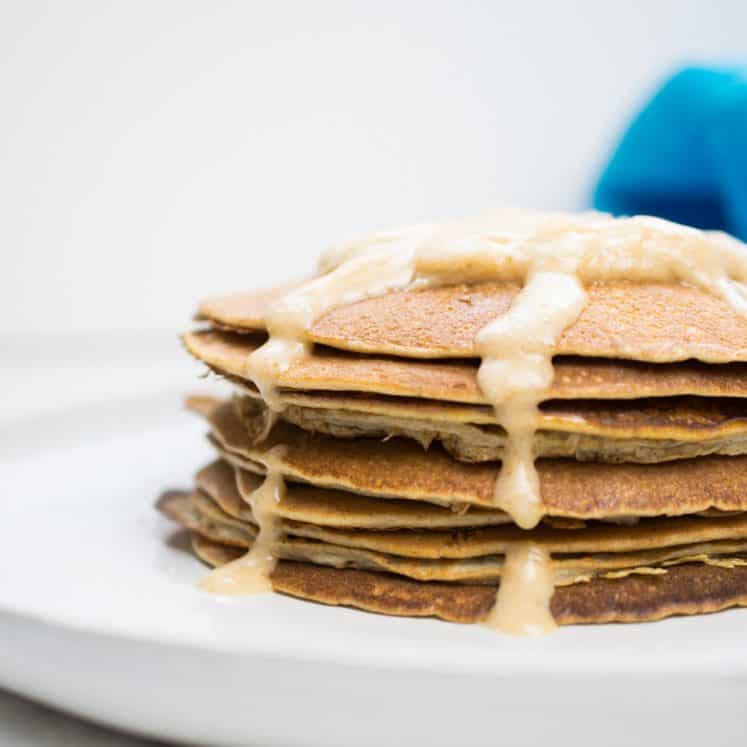 Low Carb Flourless Pancakes (Paleo, Dairy Free, Keto)
---
Author: Cristina Curp
Prep Time: 10
Cook Time: 30
Total Time: 40 minutes
Yield: 12 pancakes 1x
Category: breakfast
Method: skillet
Cuisine: keto
Description
Easy low carb, blender batter pancakes made with cashews and eggs. Topped with a homemade, low carb, high fat date syrup!
---
Scale
Ingredients
For the Pancakes
3/4 cup whole, unsalted cashews, packed in the measuring cup
5 large eggs
1 teaspoon ground cinnamon
1/2 teaspoon baking soda
2 teaspoons vanilla extract
1/4 teaspoons fine salt
1/2 cup filtered water (more as needed)
For the Low Carb Date Syrup
6 large, pitted dates
1 1/2 cup filtred water
10 tablespoon liquid coconut oil
2 teaspoons vanilla extract
---
Instructions
Soak your cashews in water (not the one in the ingredient list) for at least 30 minutes. Drain the water and place the cashews in your blender.
Add in the eggs, water, vanilla, baking soda, cinnamon, and salt. Blend until smooth, about 45 seconds on high.
Heat a non-stick or seasoned cast iron skillet over medium heat. When it comes to temperature (it's hot), begin making the pancakes. Very important that your skillet is pre-heated!!!!! The batter on a cold skillet will result in crepes.
3 tablespoons of batter per pancake. Cook until the top is filled with bubbles, then use a thin spatula to flip over and cook another minute or two.
Repeat until all the batter is used up. Should make 12 large but thin pancakes. You can always make 24 smaller ones if you find them easier to flip.
To make the Low Carb Date Syrup
Soak the pitted (seeds removed) dates in the 1 1/2 cup of water overnight.
Pour the date and water mix into your blender,  add the liquid coconut and add in the vanilla. Blend on high until completely smooth.
Store in a glass jar in the fridge. It will become solid in the fridge, just sit at room temp to soften or gently heat to liquify again.
Macros for Date Syrup, per 2 tablespoons: Calories 69.4, Fat 6.7g, Carbs 2.1g, Fiber .2g, Protein 0.1g
Nutrition
Serving Size: 3 pancakes
Calories: 225.6
Fat: 16.8
Carbohydrates: 6.1g
Fiber: 2.3g
Protein: 11.3g
Keywords: flourless low carb pancakes