A hot, mouthful with lots of texture and warm spices, I promise you this low carb meatless chili will deliver that. Beyond that promise, I use the term chili loosely!
I mean, come one, no beans, no meat, no tomatoes… however, it delivers a good dose of protein, Vitamin D and Vitamin A, plus some Omega Fatty Acids so if you're down for a meatless meal, this low carb chili is it!
Not vegetarian, because bone broth, but if you want to make it a vegan chili, by all means, use vegetable broth.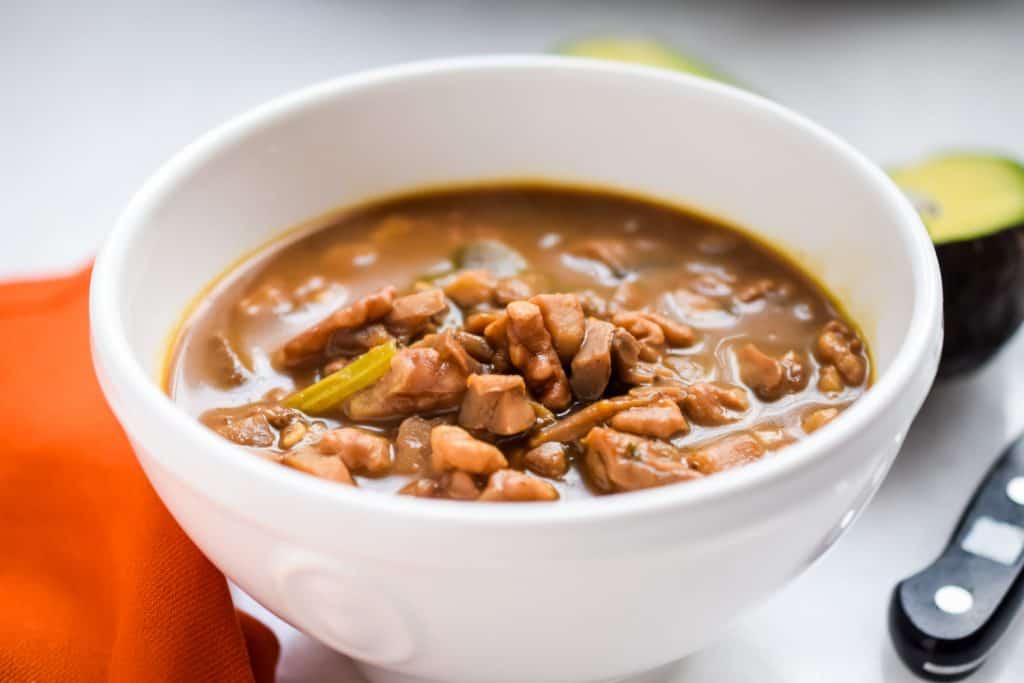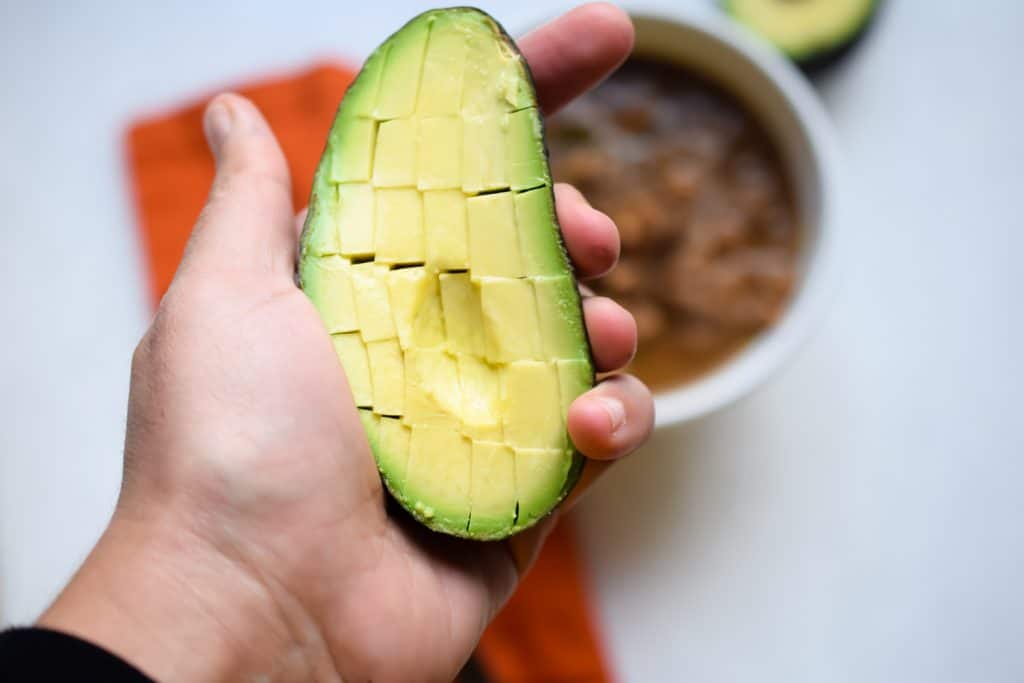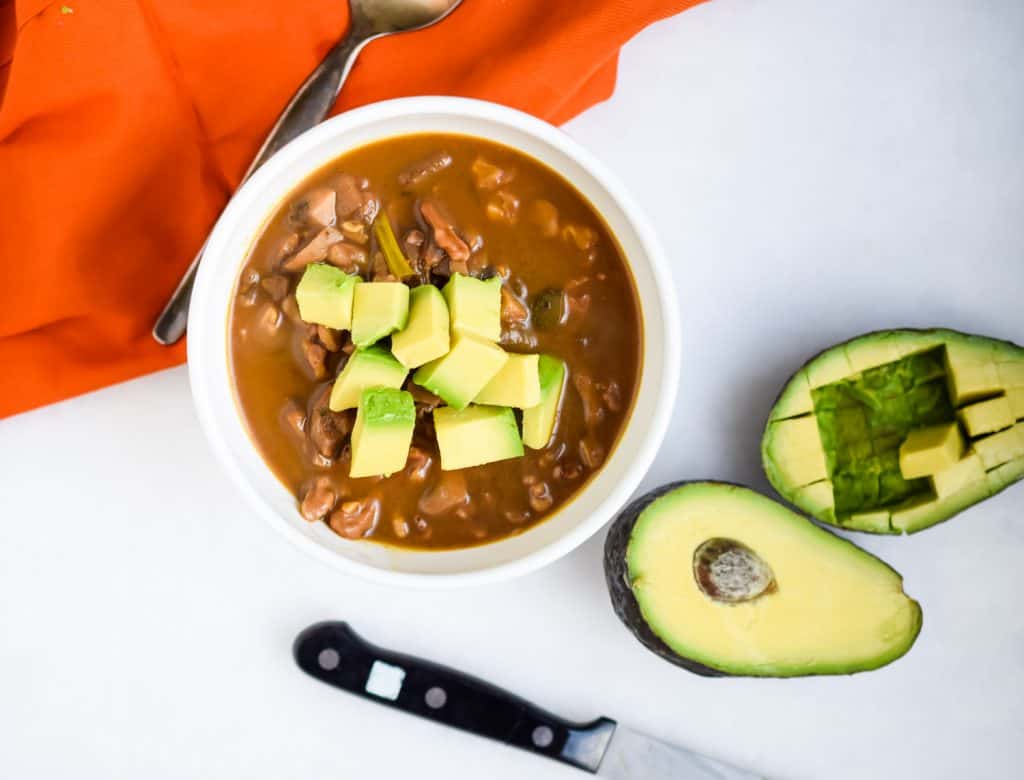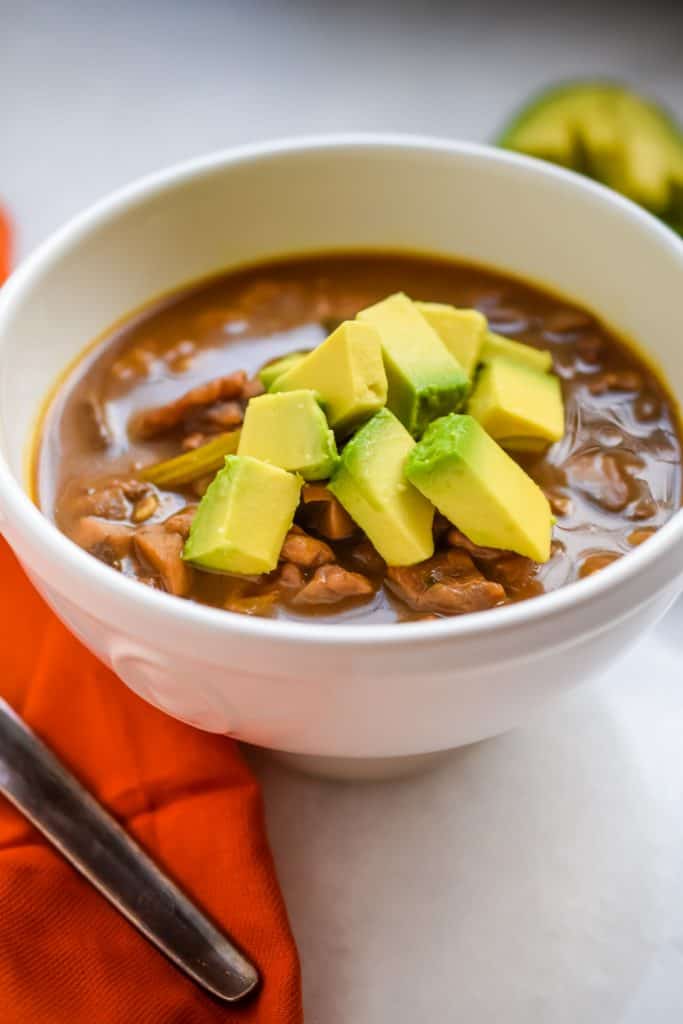 Modifications and Substitutions for this Low Carb Meatless Chili
If you can't eat walnuts, use hemp hearts or just omit them and use more mushrooms.
If you want to use canned tomato sauce instead of pumpkin puree, go for it.
To make it in the slow cooker, follow all the stovetop steps until the simmer, then transfer to your slow cooker and cook on high for 4 hours.
To make this in your pressure cooker, do all the stovetop steps on saute mode, then close the lid and cook on high for 10 minutes.
If you want to add some animal protein shredded chicken would be awesome!
Okay! Let's make this Low Carb Meatless Chili!!!!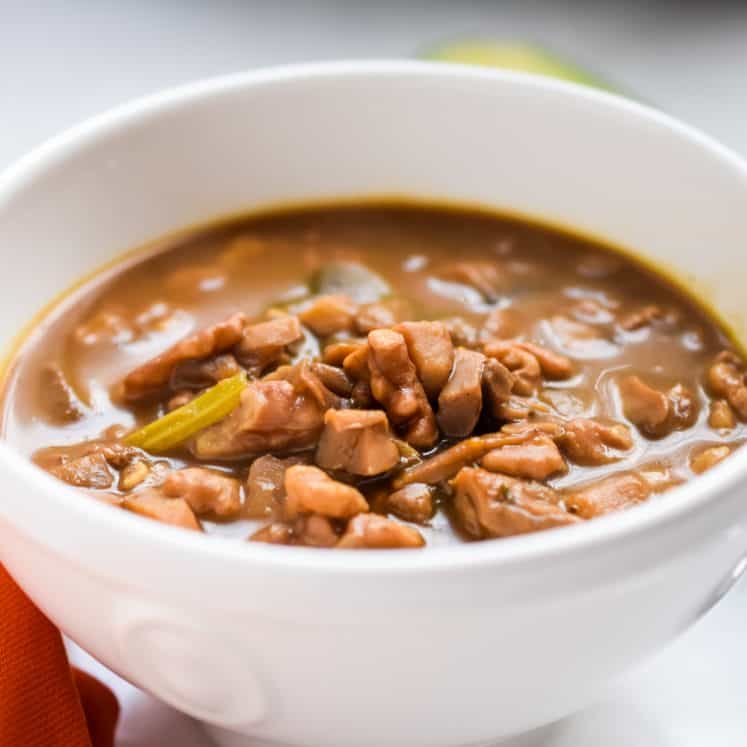 Low Carb Meatless Chili (Paleo, Whole30, Nightshade Free)
---
Author: Cristina Curp
Prep Time: 10
Cook Time: 60
Total Time: 1 hour 10 minutes
Yield: 4 servings 1x
Category: entree
Method: stove top
Cuisine: soup
Description
A delicious pot of hot, fulling and textured chili without beef, beans or nightshades!
---
Scale
Ingredients
3 tablespoons extra virgin olive oil
1/2 a large onion, diced
3 celery leaf stalks, diced
4 cloves garlic, minced
1 bay leaf
2 sprigs thyme
1 1/2 teapoons fine salt
4 ounces of sliced baby bella mushrooms
1 pound of sliced white cremini mushrooms
1 teaspoon ground cumin
1/4 teaspoon 5 spice
2 teaspoons garlic powder
1 teaspoon ground white pepper
1 cup chopped walnuts (hemp hearts for nut free)
1/2 cup pumpkin puree
1 1/2 tablespoons coconut aminos
1 1/2 tablespoons apple cider vinegar
2 teaspoons fish sauce
2 tablespoons nutritional yeast
3 cups bone broth (or vegetable broth for vegan)
Optional: diced avocado
---
Instructions
Heat a 6-quart pot, or dutch oven on the stove, on medium heat.
When it comes to temperature pour the olive oil in.
Add the onions, celery, garlic and bay leaves. Add the thyme leaves and salt. Saute until tender. Add in the mushrooms and stir frequently until they begin to soften. Add in the seasonings and the walnuts.
Once the mushrooms are soft, mix in the pumpkin puree, coconut aminos, apple cider vinegar, fish sauce, and nutritional yeast. Stir well, then pour in the broth and bring to a simmer.
Stir well, reduce the heat to low and cover with a tight-fitting lid and cook here for 40 minutes.
Open the lid, stir well and remove from the heat. Use a ladle to serve and top with avocado if desired.
Recipe Notes:
See recipe post for substitutions, slow cooker and pressure cooker versions.
Nutrition
Serving Size: 1/4 of recipe
Calories: 380.2
Fat: 28.3
Carbohydrates: 16.8g
Fiber: 5.5g
Protein: 18.4g
Keywords: low carb meatless chili