A hearty beef stew is essential to the winter months. This low-carb beef stew has all the goodness of simmering veggies with succulent grass-fed beef chunks and bone broth but swapping out starchy potatoes for parsnips.
Yes, parsnips aren't the lowest carb option, but they are high in vitamin C to boost your immune system during the cold season. They are also lower in carbs and starch than potatoes, nightshade-free and have a wonderful sweetness to them, and compliments the warm spices of this recipe.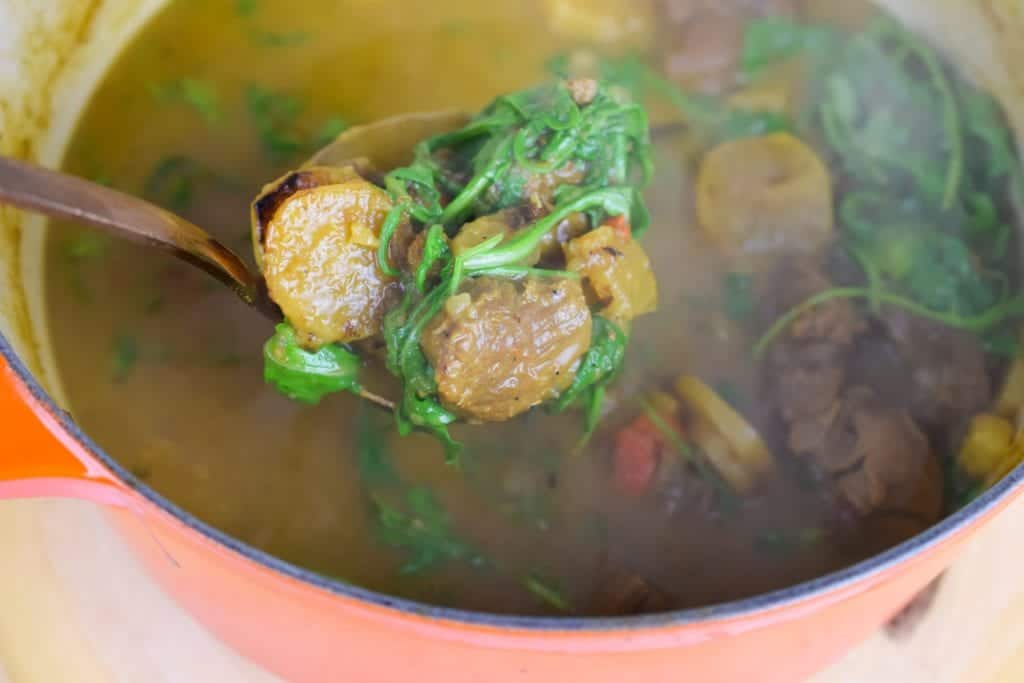 All together this low-carb beef stew is truly a nutritional powerhouse and a healing recipe if I ever wrote one. Anti-inflammatory spices, gut-healing bone broth, vitamin-packed veggies, and fatty coconut milk to bring it all together!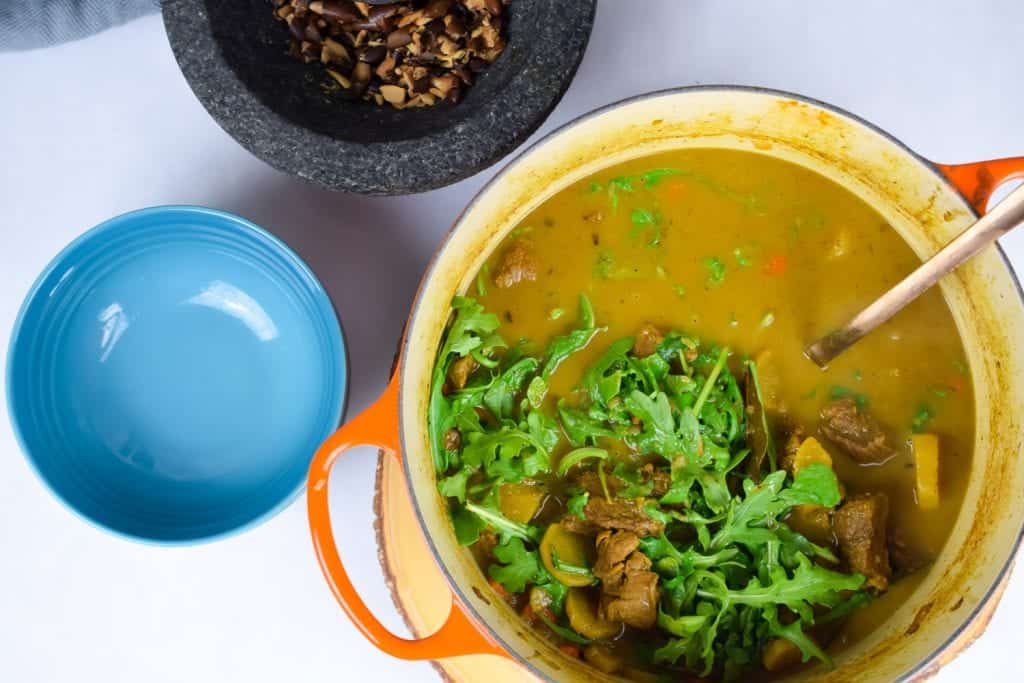 Can I Make This Spiced Beef Stew In The Instant Pot?
Yes, to cook this in the pressure cooker you will follow all the sauteing and browning instructions as written in your pot on saute mode.
Then when it comes to simmering for an hour, you just cancel the saute function, close the lid of your pressure cooker and set it to cook on high for 20 minutes. Open the lid, stir well, add the arugula, and presto.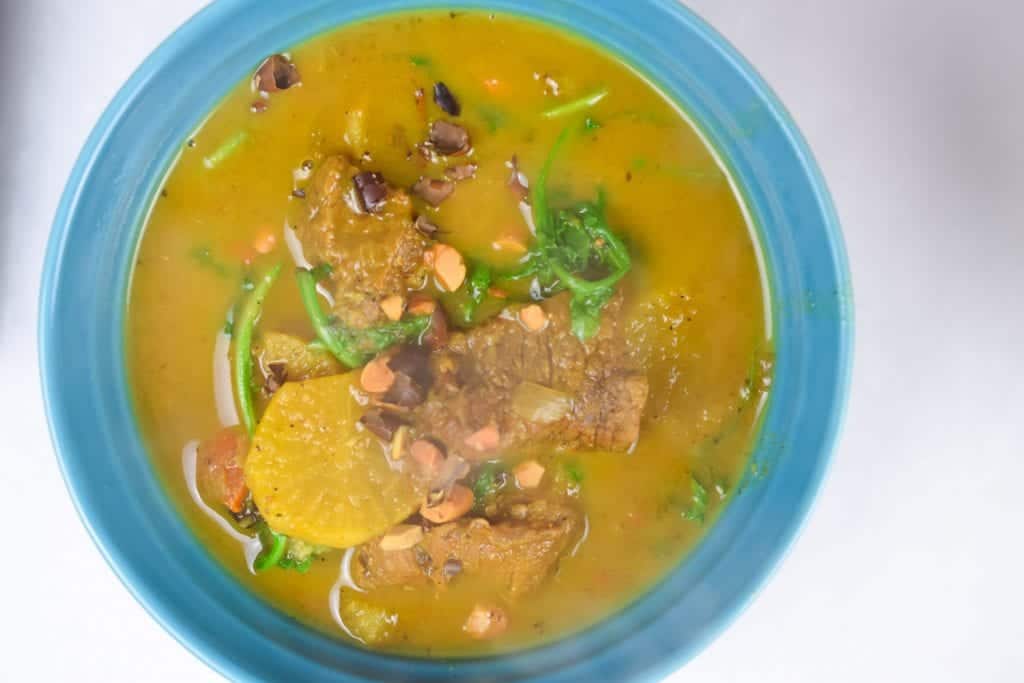 Can I Make This Spiced Beef Stew In The Slow Cooker?
Yes, similar to the pressure cooker instructions, you will do the sauteeing and browning stovetop. Transfer everything to your slow cooker. Cook on low for 6 hours. nOpen the slow cooker, add the arugula and serve.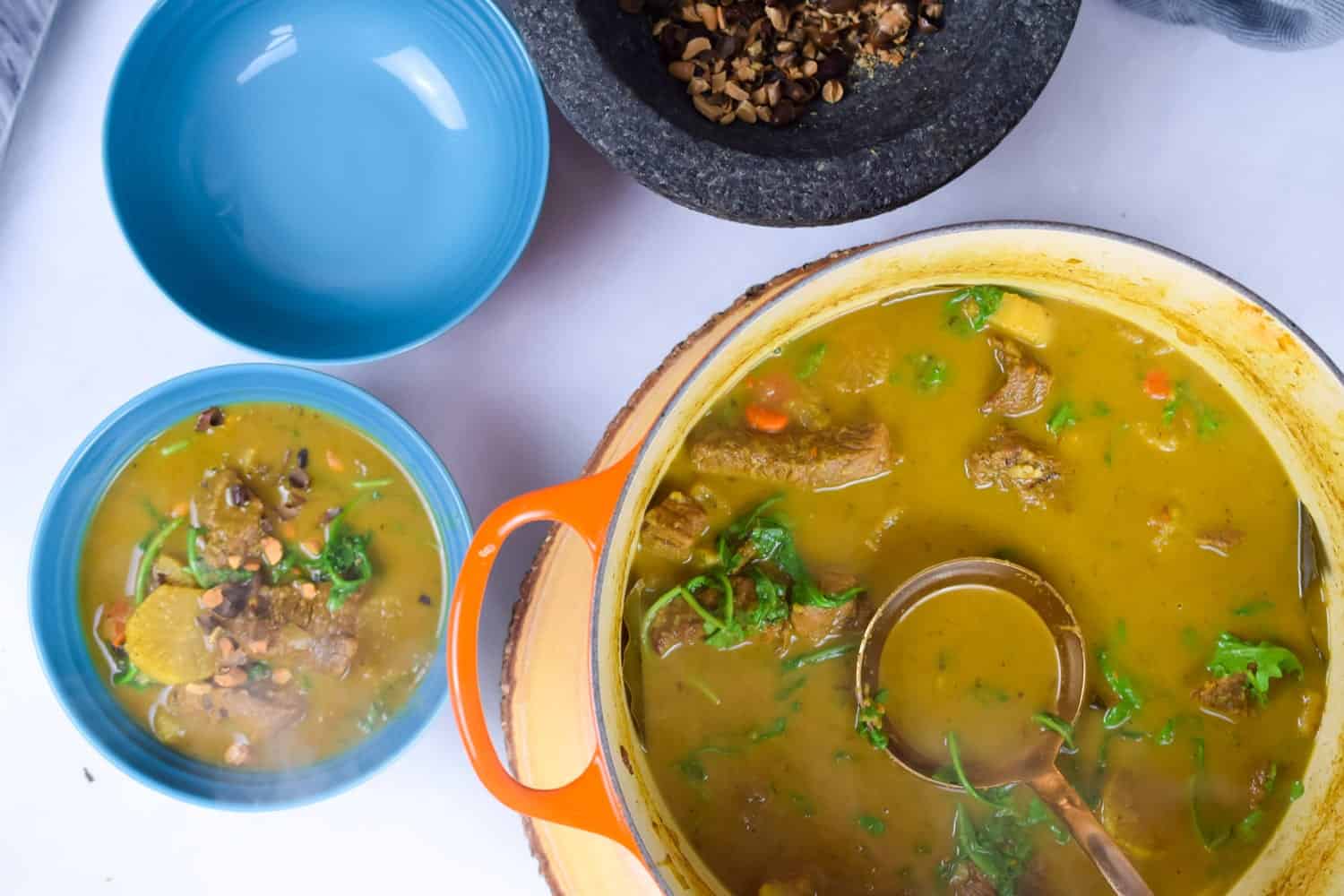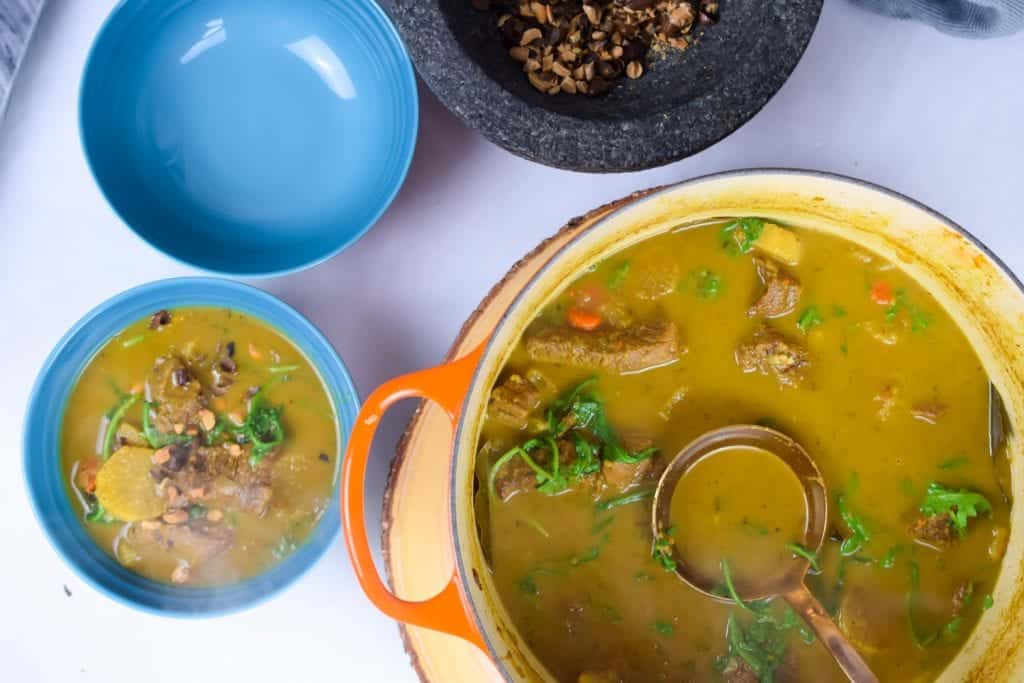 For Stove Top Instructions, see the recipe box below!
I made it in a Le Creuset Dutch Oven! Stay tuned because next week I'll be giving away a whole Le Creuset dinnerware set and Dutch oven on my Instagram!
Low Carb Beef Stew
---
Author: Cristina Curp
Prep Time: 10
Cook Time: 90 minutes
Total Time: 1 hour 40 minutes
Yield: 5 servings 1x
Category: beef
Method: slow cook
Cuisine: Winter
Diet: Gluten Free
Description
A delicious and low carb spiced beef stew without potatoes!
---
Scale
Ingredients
3 tablespoons lard, tallow or coconut oil
1 large onion, small diced
2 parsnips, medium, 1/8 inch slices (about 1 cup sliced)
2 small carrots, 1/8 inch slices (about 1/2 cup sliced)
3 cloves garlic, minced
3 bay leaves
2 pounds grass-fed beef stew meat ( I use this one)
2 teaspoons sea salt
1 teaspoon black pepper
1 teaspoon ground turmeric
1 teaspoon ground cumin
1/2 teaspoons Chinese 5-spice (I use this one)
2 sticks cinnamon
Juice of 1 lemon or 2 tablespoons vinegar
4 cups bone broth
1/4 cup coconut cream (I use this one) or Thrive Brand
2 cups fresh arugula or baby spinach
Crushed Baruka nuts, almonds to garnish (optional)
---
Instructions
Heat your dutch oven over medium heat.
Add in the cooking fat followed by the onions, carrots, parsnips, garlic and bay leaves. Saute for 8-10 minutes or until tender.
Separate 1 ladle -full of sauteed veggie, and set aside.
Add in the beef, salt, ground seasonings and cinnamon sticks. Stir well and saute until the beef is browned about 5 minutes.
Add in the lemon juice or vinegar and stir to deglaze the pot, stirring to unstick all the seasonings browned at the bottom.
Add in the bone broth and bring to a simmer. In your blender combine the separated veggies, the coconut cream and 2 ladle-fulls of simmering broth from the pot. Blend until smooth. Then add this creamy mixture to the soup.
Stir well and reduce the heat to medium-low. Cover the pot and cook here, stirring occasionally for an hour.
This can really sit here, warm on low heat for as long as you need it too, Dutch ovens are like slow cookers. Even if you turn off the heat, if you keep the lid on the soup will remain warm for a long time.
When you're ready to serve, open the lid, remove the cinnamon sticks and bay leaves;  stir in the fresh greens and dig in!
Nutrition
Serving Size: 1 bowl/ serving
Calories: 419
Fat: 20g
Carbohydrates: 11g
Fiber: 2g
Protein: 45g
Keywords: low carb beef stew