Antioxidant-rich paleo blueberry compote: a perfect addition to dairy-free yogurt, a great topping for paleo pancakes, or a sweet complement to savory dishes.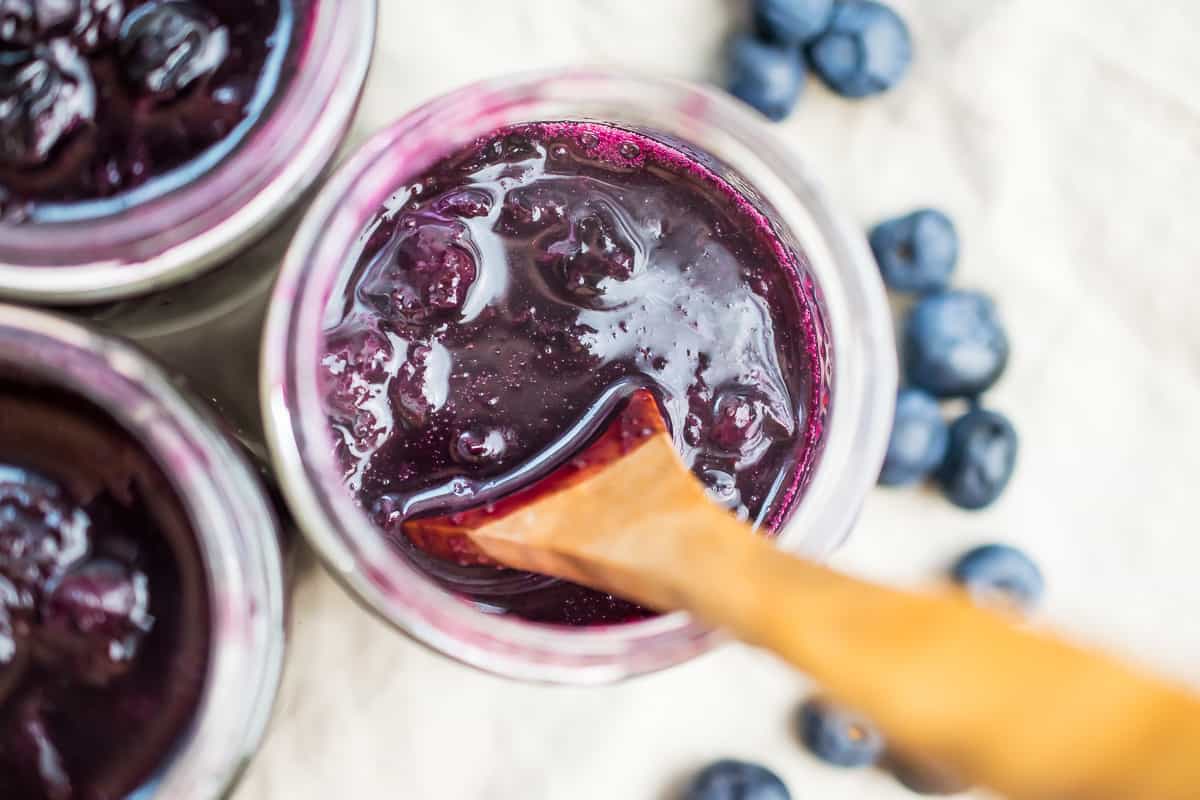 Table of Contents
Paleo Blueberry Compote: one easy sauce, used many different ways
I'm on a roll with easy sauces, first my Toasted Coconut Butter, now this easy blueberry compote. What I love about sauces like this is that they add a burst of flavor to every meal. This low carb blueberry compote is a great way to preserve your blueberries — buy in bulk and make a big batch!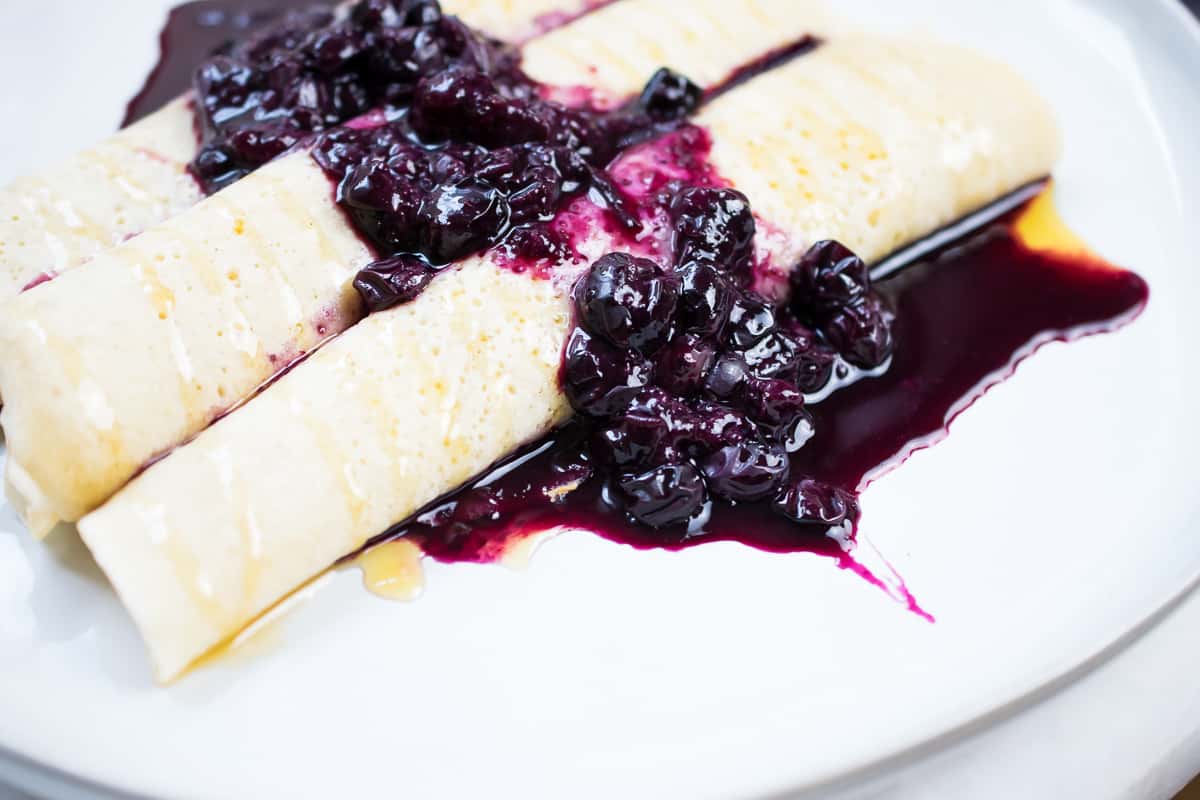 A couple of ways you can enjoy this 2-ingredient blueberry compote:
With pork roast or with chicken! Yes, blueberry compote is great on savory dishes!
Mix into dairy free yogurt and add nuts for a parfait experience!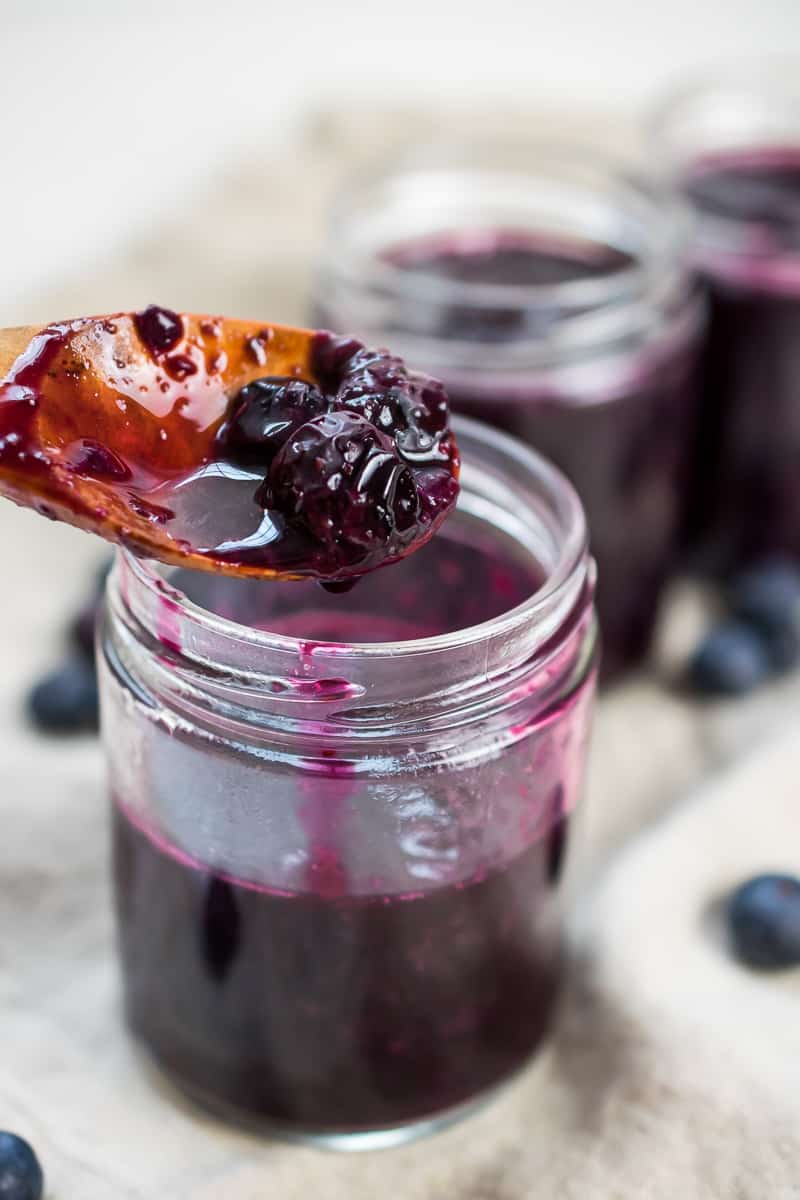 Craving more blueberry goodness? Check out the Slow Cooker Blueberry BBQ Sauce recipe on page 100 of Made Simple.
How to customize this paleo blueberry compote
You can keep this compote paleo and leave the sweetener out if you want, if the berries are really sweet you don't really need it. Otherwise, I've added some optional add ins that will take this sweetness to the next level and really develop the flavors.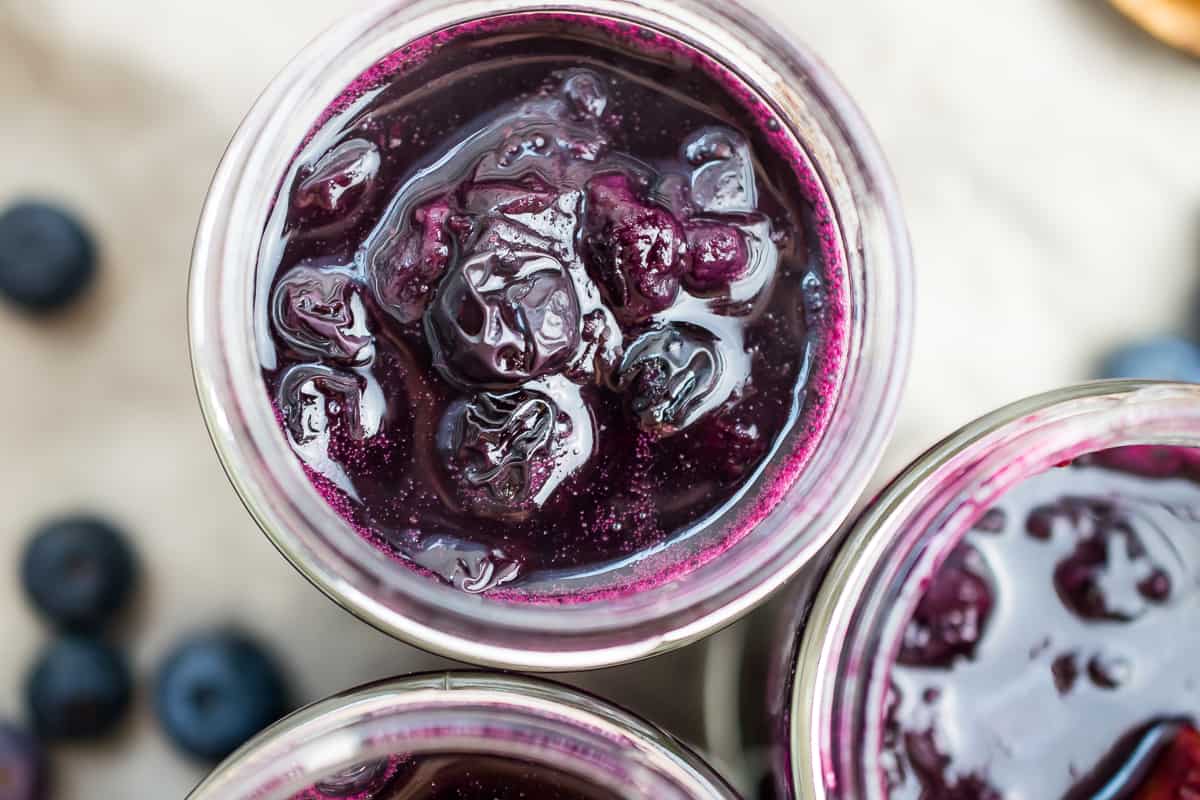 Adding a little bit of vanilla and some orange zest really complements the natural brightness of blueberries. You can customize the sweetness by adding keto-friendly stevia, and achieve your desired thickness by adding gelatin. Check out the notes in the recipe box for measurements.
Blueberries = antioxidants
Antioxidants protect your body from free radicals, unstable molecules that can damage your cells and contribute to disease like cancer. (source)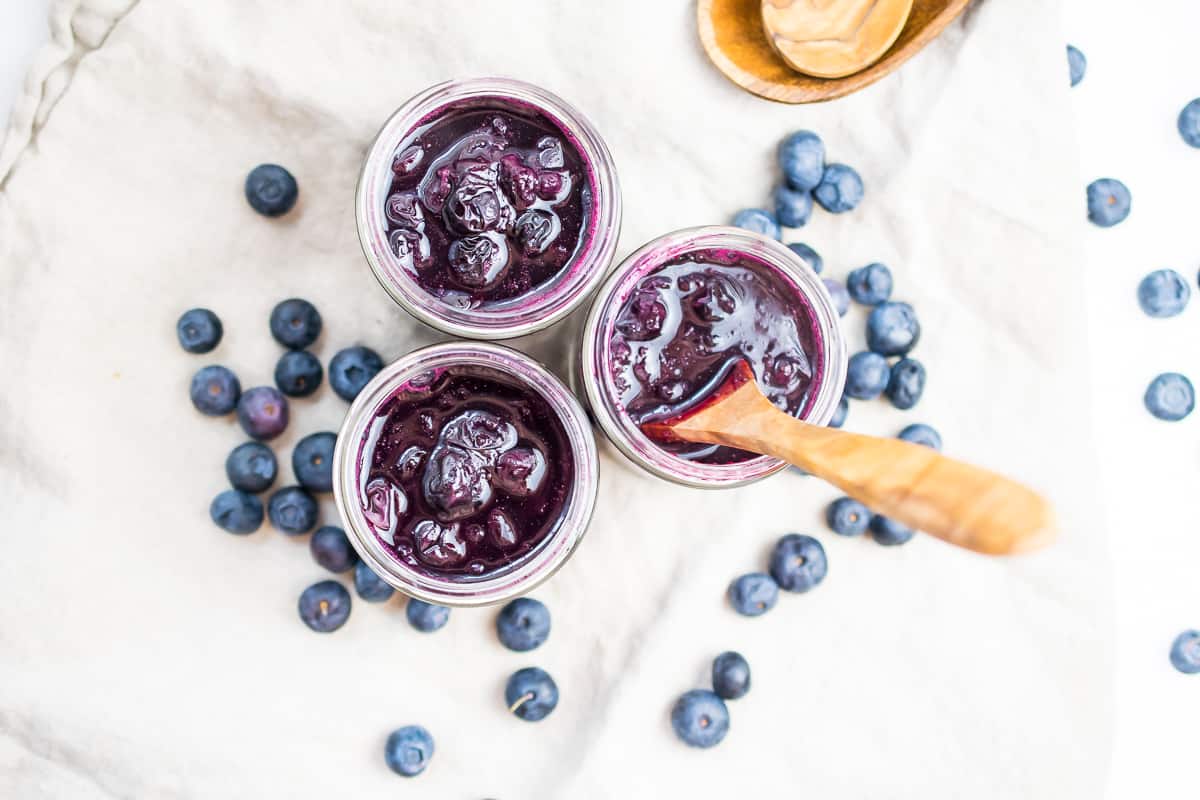 Blueberries are believed to have one of the highest antioxidant levels of common fruits! (source) For more information on the health benefits of blueberries go here.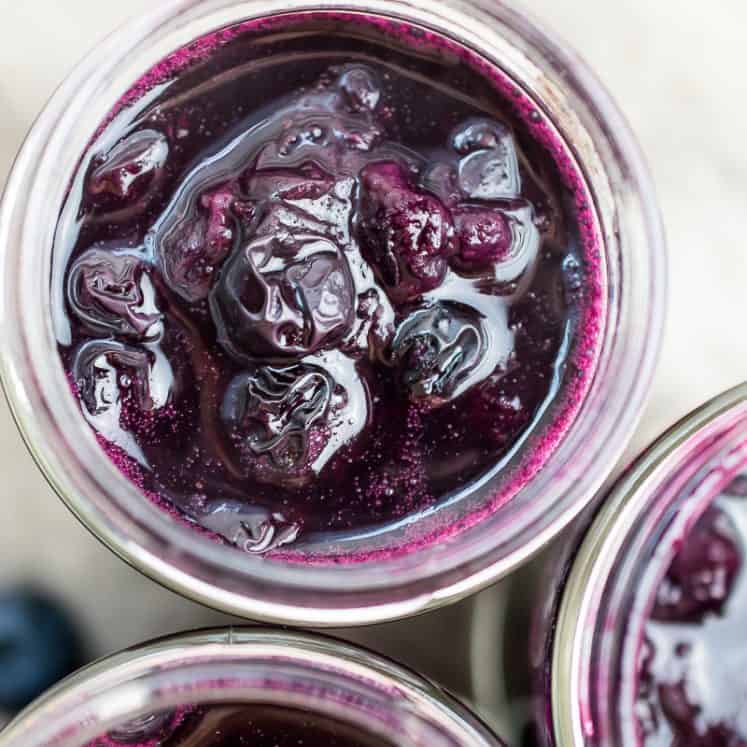 Paleo Blueberry Compote (Refined Sugar Free, Low Carb, Antioxidant Rich)
---
Author: Cristina
Prep Time: 5 minutes
Cook Time: 10 minutes
Total Time: 15 minutes
Yield: 1 1/2 cups 1x
Category: Sauce
Method: Simmer
Cuisine: Compote
Scale
Ingredients
2 cups fresh blueberries (or frozen)
1/4 cup water
Optional:
1 teaspoon vanilla extract
1 teaspoon orange zest
A bit of stevia
1 teaspoon gelatin
---
Instructions
In a small sauce pot combine the blueberries and the water. 
Heat over medium heat for 10 minutes bringing to a simmer. Use a whisk to mix and mash the berries until they have released enough liquid to make it look soupy. Simmer this for 10 minutes or until thickened to desired consistency, stir occasionally.
You can stir in any or all of the optional ingredients about 5 minutes in. The gelatin will make it thicker once it cools. The vanilla and orange give it a wonderful aromatic flavor and the stevia can up the sweetness if your berries aren't sweet enough. 
Store in a glass jar in the fridge for up to a month.
Recipe Notes:
net carbs per 2 tablespoons: 2.9g
Nutrition
Serving Size: 2 tablespoons
Calories: 14
Fat: 0.1g
Carbohydrates: 3.5g
Fiber: 0.6g
Protein: 0.2g
Keywords: paleo blueberry compote, sugar free blueberry sauce, low carb blueberry compote, easy blueberry sauce recipe, 2 ingredient blueberry compote, sugar-free blueberry compote, easy blueberry compote