Oh, dairy-free yogurt how I have searched for thee.
Real talk there are NO suitable store-bought yogurt alternatives. ALL of the brands I have come across contain a bunch of weird ingredients that have no place in yogurt. It's one of those things that once you add tapioca starch and xantham gum, locust gum, gella gum… blah blah blah… to my yogurt… I'm just like.. Nah, I'll pass. Coconut milk yogurt is decent. I make it in the SAME EXACT WAY. But I never found it SHAREWORTHY. I might also have crazy expectations from my yogurt. So when I DID eat dairy I always went for FULL FAT, unsweetened Greek Yogurt. The stuff that's thick as sour cream and tart. So delicious. When I made homemade coconut milk yogurt, it just didn't hit the mark.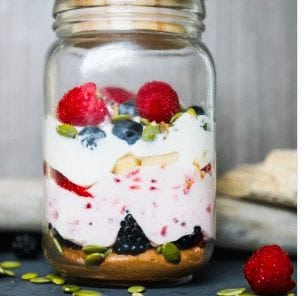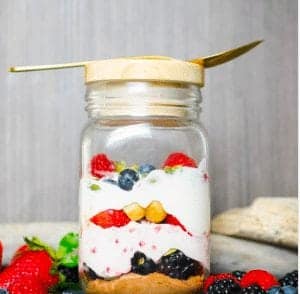 Inspiration Hit
This recipe was actually inspired by a conversation I had at Mark Sisson's house. I know, that makes me sound so cool. I wish I regularly hung out there, but really I was just there for the Expo West Kick Off party (which yeah, still cool). Well, I met A LOT of awesome folks there. Kelly of Spunky Coconut, Cassie of Fed & Fit, Mary the Paleo Chef… and yes Mr. Sisson himself… yup… it a was paleo fangirl heaven!
I also met a lot of folks from cool brands like KitchFix. Who apparently has killer granola! Talking granola has us talking paleo yogurt. It reminded me of my theory that cashew cream would make an excellent yogurt because the slow heat of the fermenting process would THICKEN it too. I finally got to test that theory and I was CORRECT. YAHTZEE!
The cashew cream not only gets really nice an thick, but it also gets that perfect, tart, kefir/yogurt flavor. Love at first bite. You can even add some gelatin to this bad boy for EXTRA nutrient density and protein but it's totally optional.
Napoleon… Neapolitan Parfait
Want to hear something embarrassing… I totally had this posted on Instagram as Napoleon Parfait… sometimes Mom Brain is real folks. It's Spring break and my munchkin is wreaking havoc on my sanity. Anywho… parfaits are kind of silly to post an actual recipe for because literally just stacked fruit and yogurt in a jar. BUT since I flavored it all nice I will tell you how I did it so….
PAY ATTENTION
VANILLA YOGURT: 1/2 cup cashew milk yogurt + 1 tsp vanilla extract + 1 tsp sweetener. Mix with the fork until smooth.
PINK BERRY YOGURT: 1/2 cup cashew milk yogurt + 4 ripe raspberries. Mix and mash with the fork until smooth as possible and pink.
CHOCOLATE YOGURT: 1/2 cup cashew milk yogurt + 1 tbsp cocoa powder (or reishi mushroom cocoa mix) + 1 tsp sweetener. Mix with the fork until smooth.
MODIFICATIONS: You can mix some coconut cream into your yogurt for extra fat. You can use Swerve as I did or honey.
TOPPINGS: Pepitas, Macadamia nuts. A variety of berries. Hemp seeds. Sliced almonds. Cacao Nibs.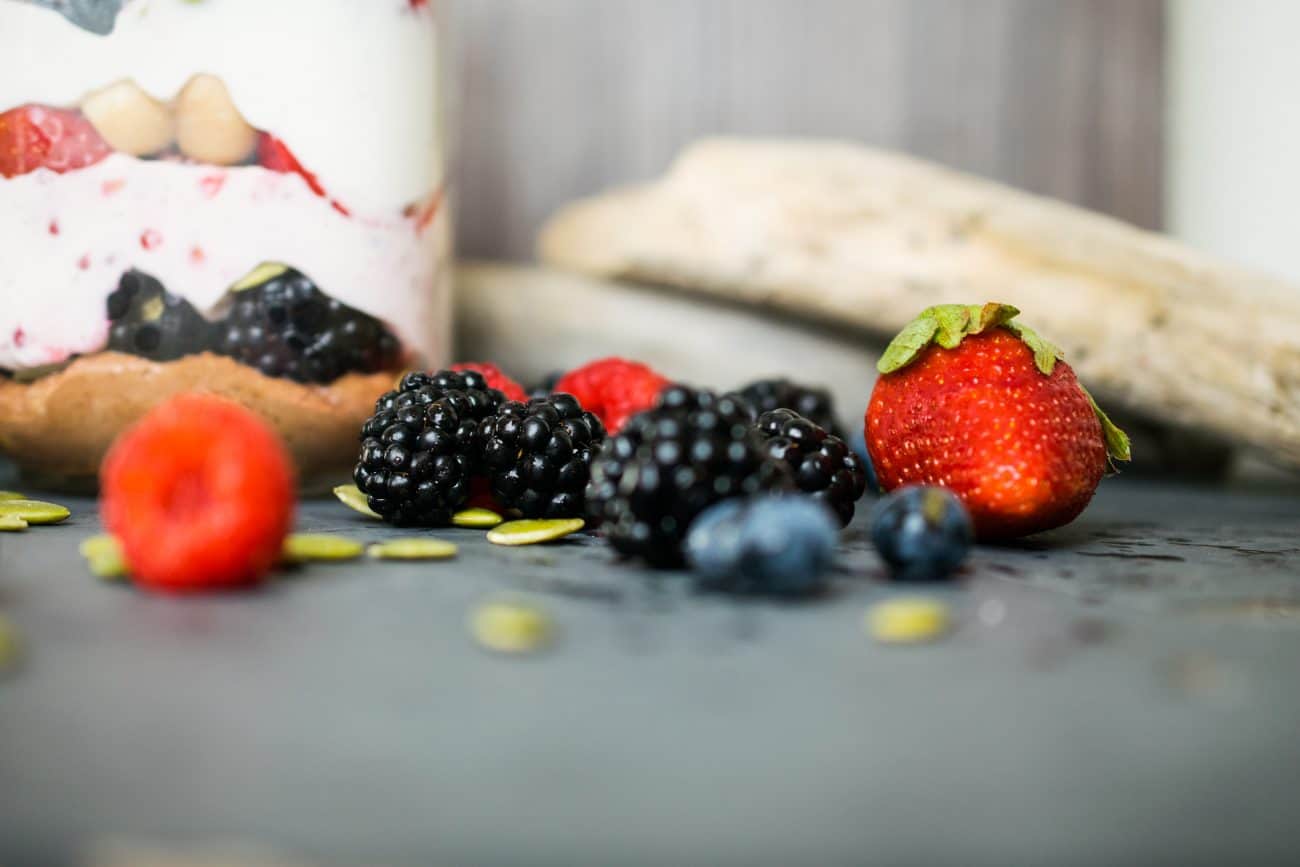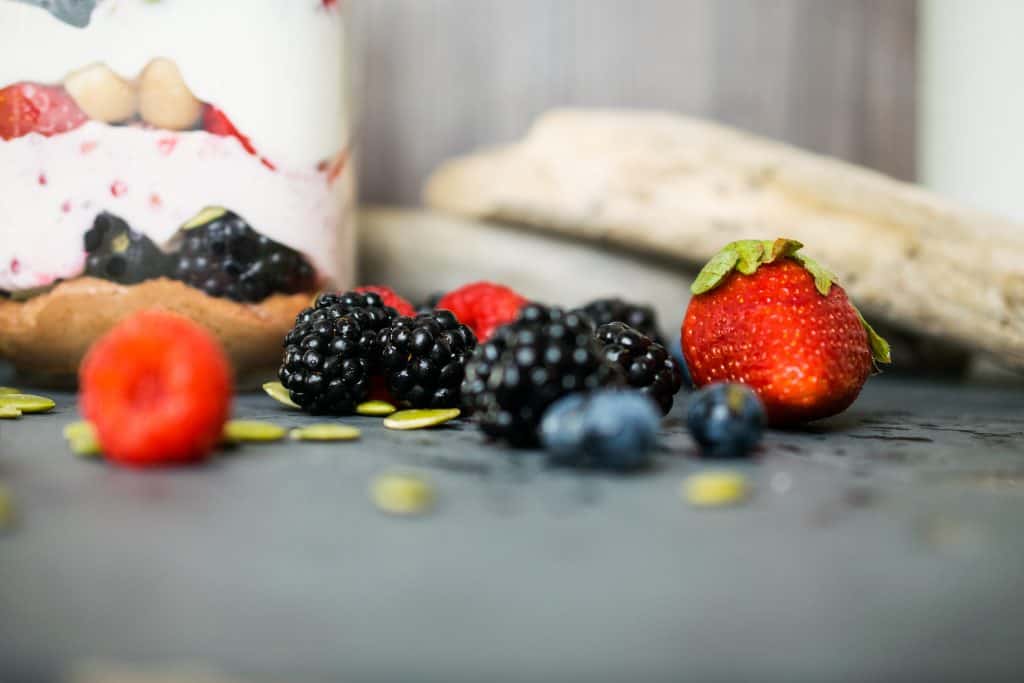 Answers To Common Questions & Troubleshooting
I use Renew Life Ultimate Flora Extra Care Probiotic 50 Billion. You can use any kind of dairy-free probiotic you like.
If you can't find RAW cashews, roasted unsalted will work. Other tree nuts will not work. Cashew butter and water will work to make the cream. Maybe a 2:1 ratio.
Yes, you can make this with coconut milk, but I can't guarantee it will be as thick.
Yes, you can omit the gelatin, but it will not be as thick.
Yes, you can use your Instant Pot if you prefer.
It will keep in the fridge for 7-10 days.
It will taste and smell sour like dairy yogurt. If it has a foul smell or is grey or pink then it went bad, probably from un-sterilized materials.
It will be separated when it comes out of the oven and might separate again in the fridge, just mix thoroughly.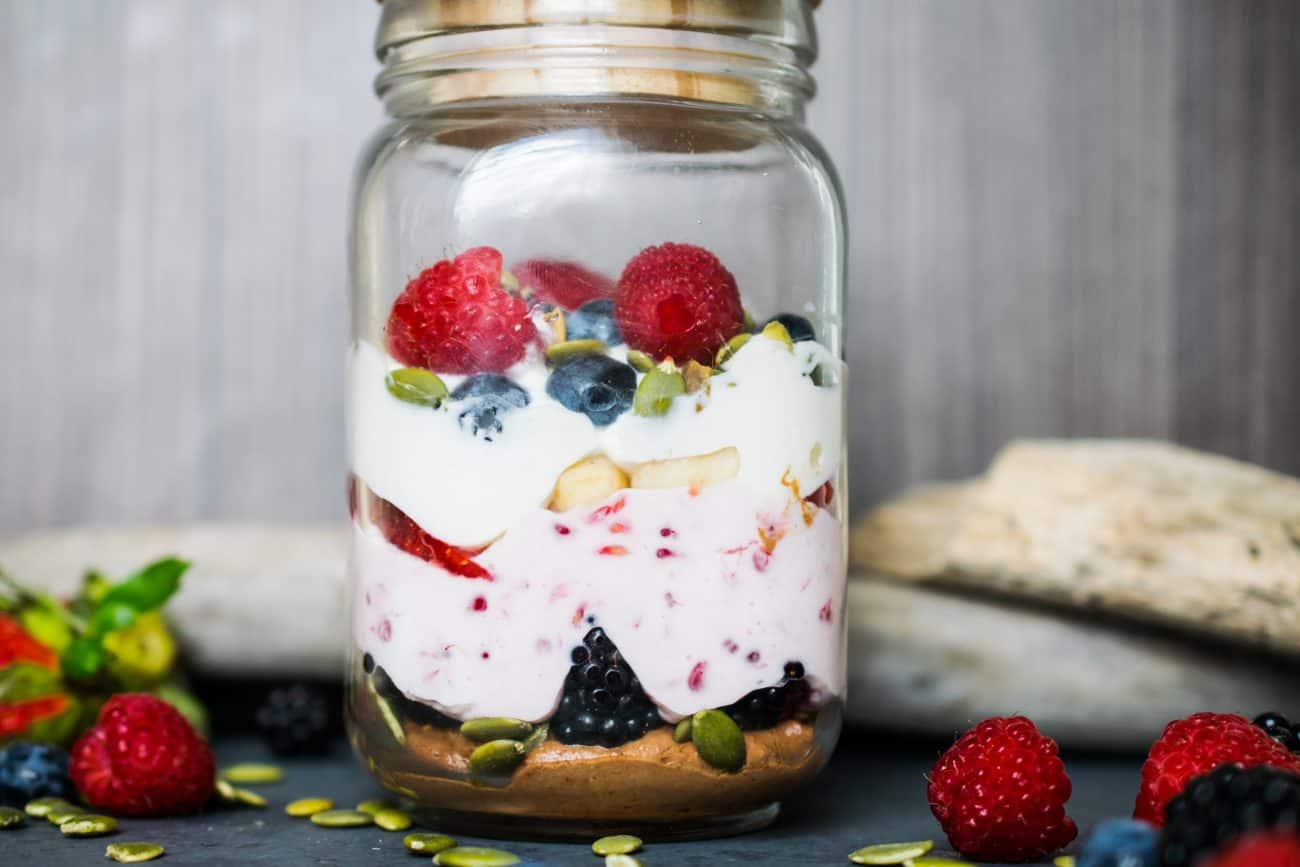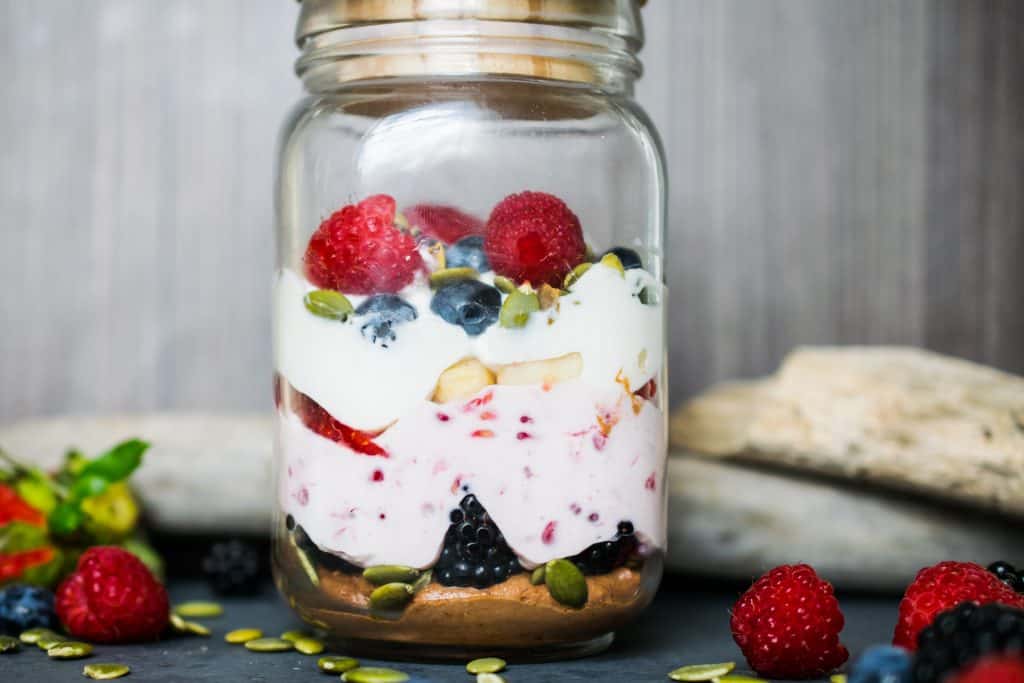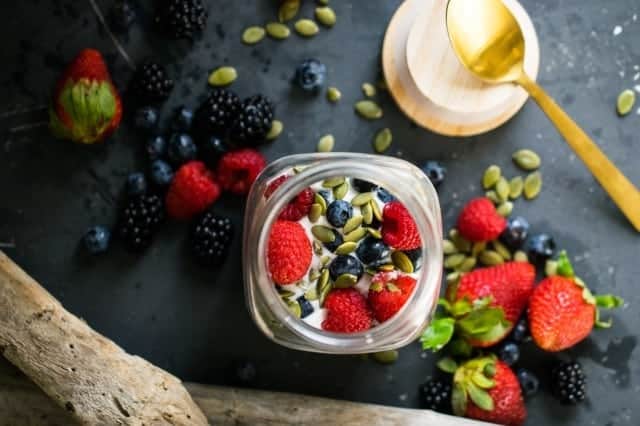 Probiotic Cashew Yogurt (Greek Style Paleo Yogurt)
---
Author: Cristina Curp
Prep Time: 10
Cook Time: 24
Total Time: 34 minutes
Yield: 3 cups 1x
Category: Sauces Sides
Method: Ferment
Cuisine: Yogurt
Description
Thick and tart dairy-free yogurt!
---
Scale
Ingredients
1 1/2 cups raw cashews
1/4 tsp salt
1 3/4 cup filtered water (more for soaking)
2 probiotic capsules
1 tbsp grass fed beef gelatin (you can use  psyllium husk to make it vegan, see notes)
---
Instructions
Submerge cashews in water add salt and soak for at least 4 hours.
Heat your oven to 100F. If you can't set it to 100, pre-heat to lowest temp and turn off when it reaches 100F. Do not open.
Drain and rinse cashews. Place the cashews in the bowl of your blender.
Add in filtered water. Blend until smooth.
Open the two probiotic capsules into the blender, add in the gelatin. Blend again until smooth.
Transfer the mix to a sterilized quart-sized mason jar.
You can sterilize your jar by boiling it in water. Make sure to let it cool before adding in the yogurt.
Place jar, without the lid in the oven. Turn on the oven light.
DO NOT OPEN OVEN FOR 24 HOURS.
You may culture it as little as 12 hours, but I like the full 24 hours for a nice tart yogurt.
The sealed oven with the light will stay about 105F, perfect temperature to ferment the mix
After (12 to) 24 hours, remove the yogurt from the oven, stir well.
Cover it and let it chill in the fridge until completely chilled, at least 4 hours, best if left overnight.
Now it's ready to enjoy.
It will be nice and thick. If you find it too thick or clumpy, use a spatula and dump it out into your blender and give it a whirl, it will smooth right out. If it separates a bit, stir to combine.
At this point, you can mix in some coconut cream if you want to add more fat to your yogurt.
Otherwise, put it back in the jar and store in the fridge.
Perfect for smoothies, granola, parfaits, healthy baking etc!
Recipe Notes:
When using psyllium husk blend 1/2 tsp psyllium husk powder with the cashews in the blender until smooth, then add in the probiotic before fermenting.
Nutrition
Serving Size: 1/2 cup
Calories: 166
Fat: 12g
Carbohydrates: 8g
Fiber: 1g
Protein: 7g
Keywords: Dairy Free Fermented Yogurt