These pistachio-crusted burgers are actually inspired by a recipe I developed for PRE Brands, African Suya. These awesome peanut-crusted sirloin kebabs. Since peanuts aren't technically paleo I had purchased the bag of shelled pistachios to make myself a paleo-fied version of them…. alas… we used up all the sirloin and it didn't happen. But the idea of pistachio-crusted SOMETHING was going down. I was determined. Juicy beef patty that's perfectly seasoned and crusted with pistachios for healthy fats and amazing crunch!!!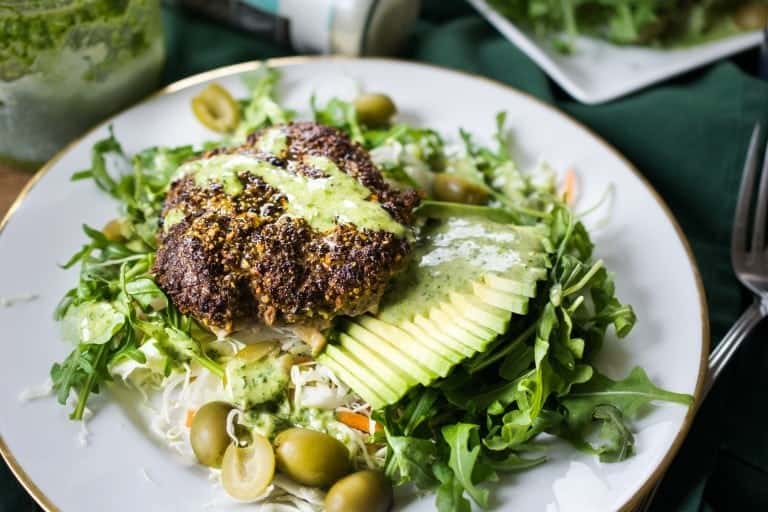 I love how this turned out and I hope you do too! The burgers are super easy to make head of time for meal prep, you can even double the recipe! Super beautiful dish also featuring Primal Kitchen Dressing, save 10% with code CASTAWAY. GREAT store-bought dressings are one way I simplify dinner time. Although I'm not opposed to making my own, see recipes here.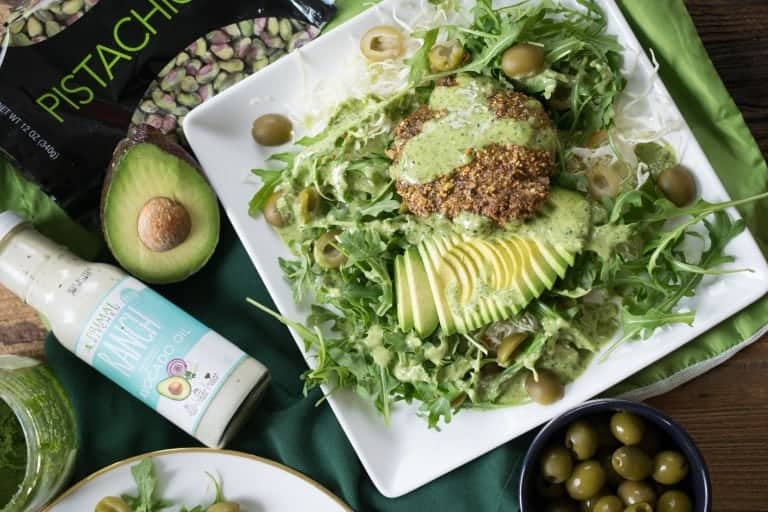 Pistachio Crusted Burger + Green Salad (Paleo, Whole30, Keto)
---
Author: Cristina Curp
Prep Time: 10
Cook Time: 15
Total Time: 25
Yield: 4 1x
Category: Entree
Method: Roast
Cuisine: Burgers
Diet: Gluten Free
Description
Crunchy, savory and tangy! A party in your mouth burger salad!
---
Scale
Ingredients
1lb 92% lean ground beef
1/2 cup shelled, roasted salted pistachios
1/2 lemon
1 tsp salt
1 tsp black pepper
1 egg
1 can pitted green olives
2 avocado
4 cups shredded cabbage
8 cups arugula (or other greens)
1/4 cup Primal Kitchen Ranch
1/4 cup pesto or chimichurri or minced herbs in olive oil
---
Instructions
In a blender or food processor, pulse pistachios until pulverized into gravel and crumb sized pieces. Scoop out on to a flat plate.
In a bowl mix together the ground beef, lemon, salt, pepper and egg.
Shape 4 patties. Gently press the patties into the pistachio mix all over, set aside.
Preheat your oven to 350F.
Heat a large skillet stove top.
Add in a little oil. When hot place the crusted patties on the hot skillet.
Sear for two minutes a side then transfer to a baking sheet and pop in the oven for 8 minutes.
In the meantime, assemble your salad bowls with greens, arugula, olives and sliced avocado.
Mix together your ranch-herb dressing mix.
Serve a patty over each salad and drizzle with sauce. Done!
Nutrition
Serving Size: 1 burger salad
Calories: 585
Fat: 41g
Carbohydrates: 19g
Fiber: 9g
Protein: 31g
Keywords: pistachio burger