The Inspiration
Octopus is one of those sea creatures that just looks otherworldly, so mysterious and alien-like. It's also in the "I only eat it when I go out" categories… or rather it was. The thing this octopus is that if not prepared correctly it can be very, VERY CHEWY. Even at many restaurants, it is poorly made, after a horrible octopus experience I avoided it for a long time. Until I went to lunch with my father at a really nice Greek restaurant in Miami.
These days when I go out my choices are far more limited and I usually order what I won't react to, not what I'll enjoy most…. it's not as sad as it sounds. I promise! Getting to eat out is great! And a well-made meal I didn't make, woohoo! So anyway, we're at Milo's and my Dad insists I get the octopus, that it's plainly served and spectacular. So I ordered the appetizer portion, which was a mistake because it was exquisite and I could have eaten 5 more plates like it. Simply grilled with olive oil and citrus, tender on the inside and crispy on the outside. Served with red onion and a cilantro paste of sorts. Oh my!
I did end up reacting to something I had at that lunch…. but my guess it was the two bottles of pinot gris we drank. Ooops. But hey… I don't often get to fine dine with my Dad on a perfect Miami afternoon. Carpe Diem!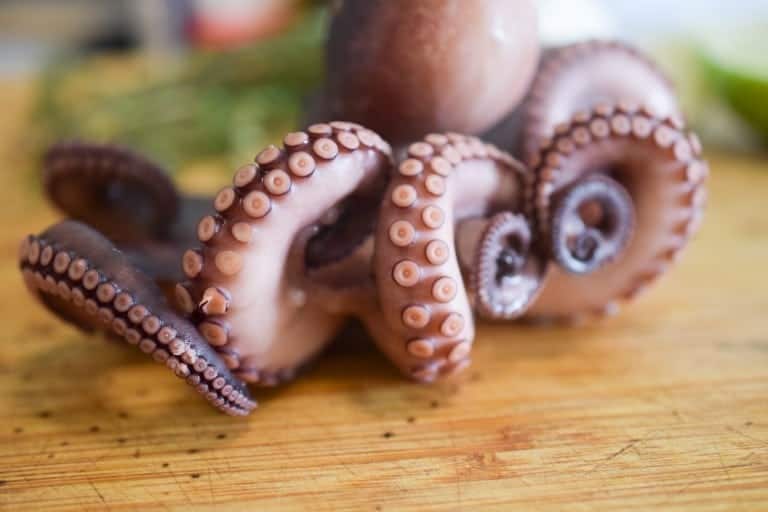 Octopus Dreams
For weeks after that meal, when I was back in Hawaii, many thousands of miles away from that lovely lunch… I still thought about it. That perfect octopus. I needed to make it. I thought getting local octopus in Hawaii would be easy, but alas, Tako (octopus in Hawaiian) is overfished here, luckily Whole Foods has some they sourced from Spain. I know, I know, not super green. Well… I have only made it twice since being here for exactly that reason. Wait until I can get a more sustainable source… Tako would be on the menu every week.
So I did a lot of research. Read a lot. Watched a lot of YouTube Videos… listened to Mario Bertolli. And then, fingers crossed… prepared my first octopus. Which … NAILED IT! Delicious, tender and crispy. The second time, I went with the same method I used the first time and yup. It's perfection. So I'm sharing it with all of you.
I have to admit when I shared the pictures of my crispy tentacles on Instagram I thought folks would be creeped out more, but nope… you all were all about it and it made my foodie heart so damn happy and proud.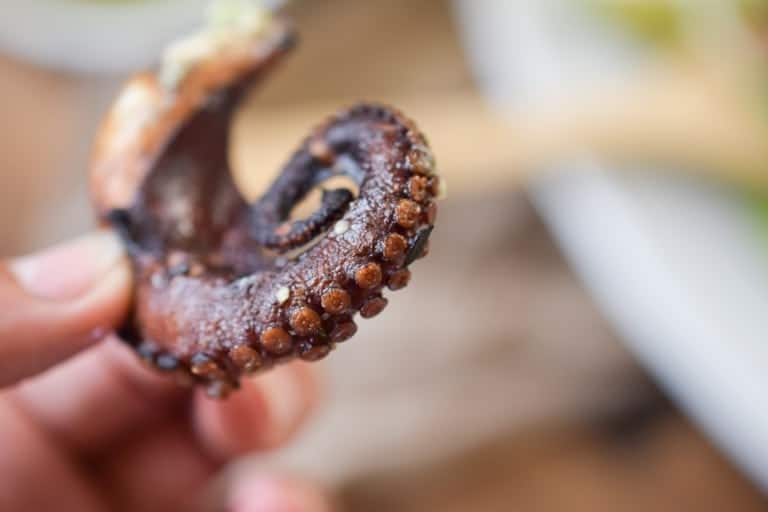 The Method
Essentially this is a three-part recipe, but don't get scared, it's quite simple.
First, you poach, which is a fancy word for boil. I like to add a bunch of goodies to the water like peppercorns, lemon rind, bay leaves, and wine corks. Now the wine cork thing is an old Italian thing which I read about, but I've used them twice and twice I have had great results. Remember, use real corks, not synthetic ones. Now your grey looking octopi will go from looking like dead seafood to some cartoon crazy thing when poached. Brace yo self. It will also be a lot smaller.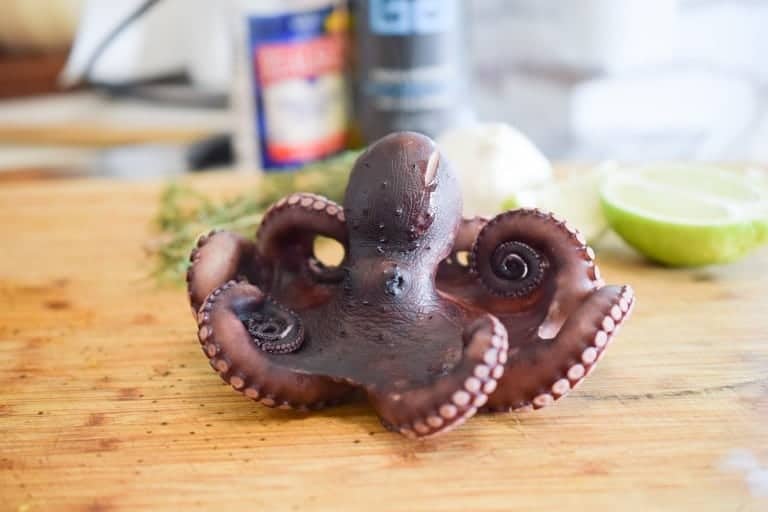 Second, slice (removing the beak) and marinate the octopus. This includes copious amounts of olive oil, herbs, lemon and onion.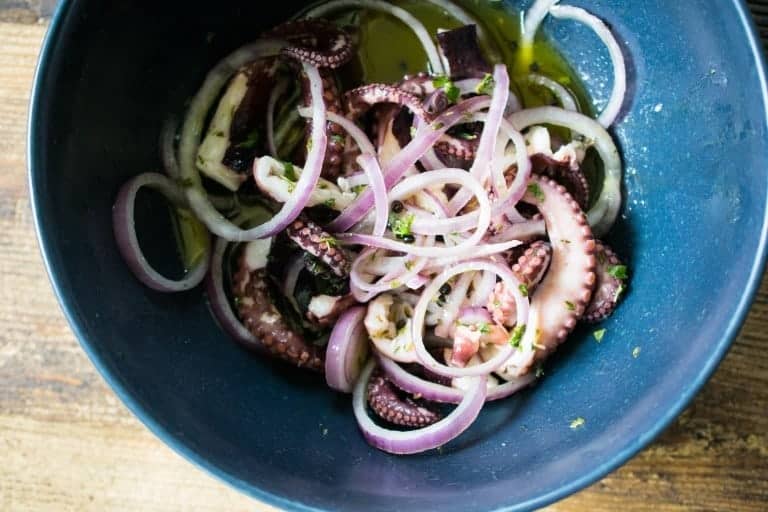 Lastly, you grill, only for a short time. High heat. Lot's of flaming going on. The tentacles get a quick crisp on them and you're set!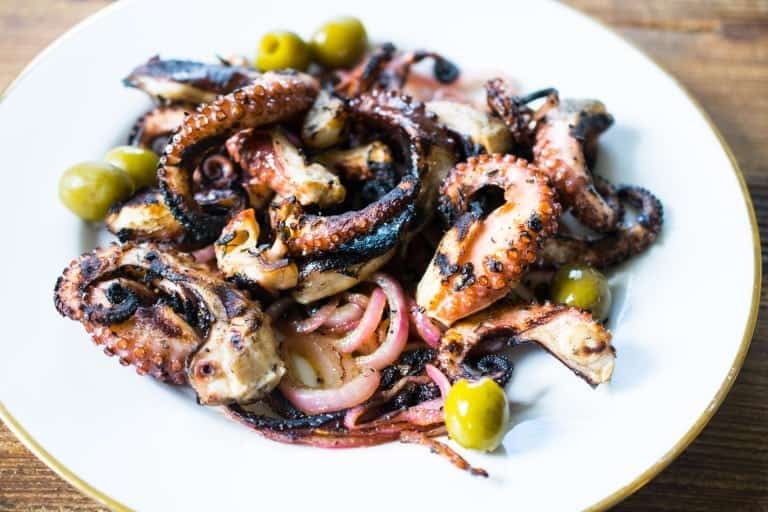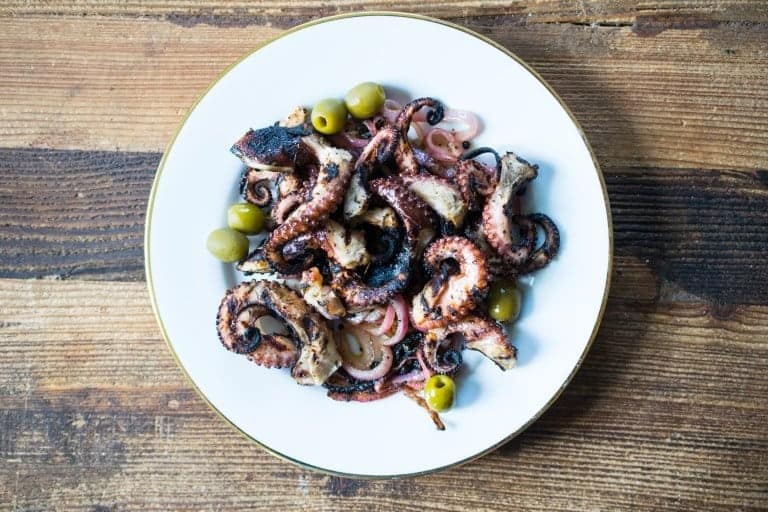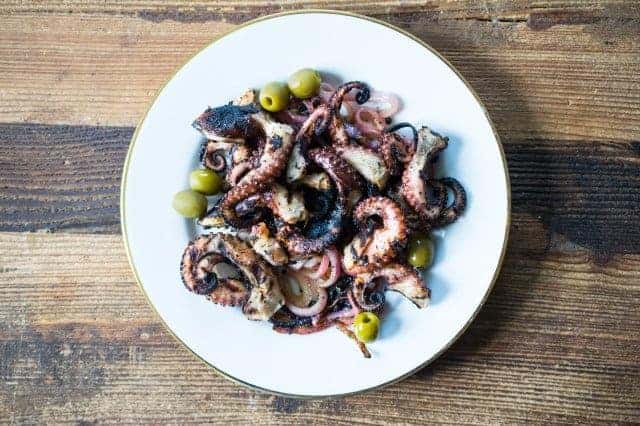 Grilled Octopus
---
Author: Cristina Curp
Prep Time: 20
Cook Time: 45
Total Time: 1 hour 5 minutes
Yield: 4 servings 1x
Category: Seafood
Method: Boil and Grill
Cuisine: Mediterranean
Description
Crispy Grilled Octopus
---
Scale
Ingredients
2 octopus (mine were about a foot long heat to tentacle and maybe 1lb each)
2 bay leaves
splash of apple cider vinegar
1 tbsp peppercorns (divided)
2 wine corks
1 red onion
3 sprigs thyme
3 sprigs oregano
1 tsp salt (more to taste)
4 tbsp olive oil (divided)
1 lemon
---
Instructions
When you get your octopus at the store, ask your fishmonger to make sure they are all cleaned out. They don't have to remove the beak, that's easy enough, but the rest, yes!
Bring a large pot of water to boil, remember these floppy guys will firm up and set up when cooking so you want something big enough for them to "grow" in.
Add one tbsp olive oil, bay leaves, wine corks, 1/2 tbsp peppercorns, the large piece of lemon rind, a pinch of salt and a splash of apple cider vinegar to the poaching solution.
Once it's boiling, add in the octopus. Let them boil for 40-45 minutes.
Remove them from the water and place on a cutting board.
Slice from the head down in half, and remove the beak, little black thing in the middle.
Then keep slicing from the head down between the tentacles.
Add all your slices/tentacles to a large bowl.
Slice your red onion, mince your herbs and juice your lemon. Add it all to the bowl with the octopus. Add in the remaining peppercorns. Toss well.
Let it marinate for 20-30 minutes.
This is a great time to prepare the rest of your meal because once these bad boys are on the grill it moves quickly.
Bring a cast iron skillet with you to the grill (for the red onions).
Heat your grill on high.
Place your skillet on one side to heat.
Once it's hot, use tongs to arrange your tentacles/slices in the hottest spot on the grill. The olive oil on them will cause a lot of flare-ups, that's good. You want to get a good char on then.
Add all of the remaining red onion marinade mix to the cast iron skillet and let it quickly saute while the octopus cooks.
Run inside and grab a clean bowl.
After about three minutes, turn over your octopus pieces, cook another 2-3 minutes.
Stir those onions, you don't want them to burn.
Take the octopus off the grill and into your clean bowl.
Add the sauteed onion mix to the octopus and toss.
Serve hot! Perfect appetizer or over salad!
Nutrition
Serving Size: 1/4 recipe
Calories: 509
Fat: 19
Carbohydrates: 13
Protein: 68
Keywords: Grilled Octopus