It's not secret that I love a good sheet pan dinner, and that I love combining bratwurst and brussel sprouts. Throw some bacon in there too. This easy peasy recipe is ready in no time and feeds a four with one sheet pan to clean.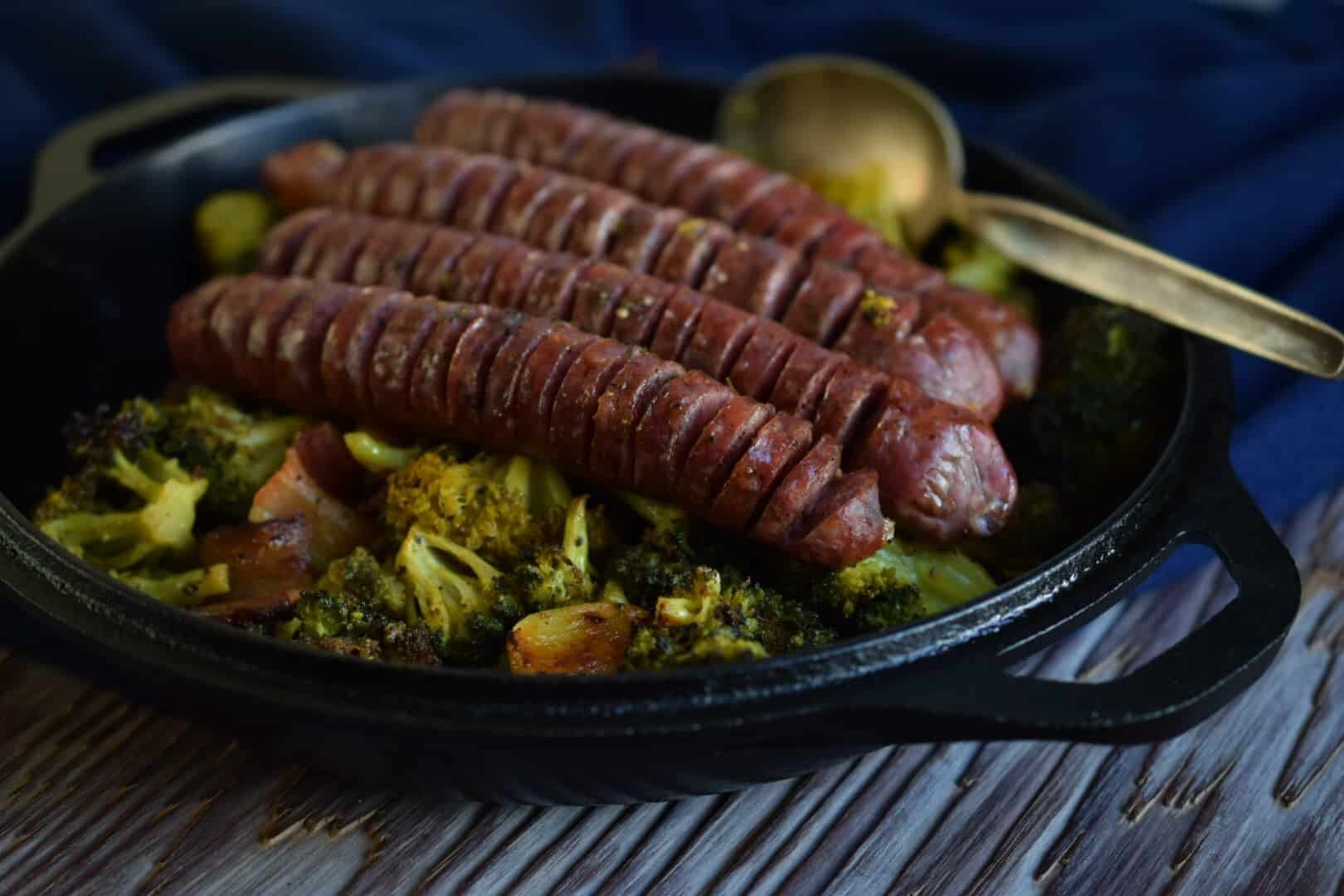 Table of Contents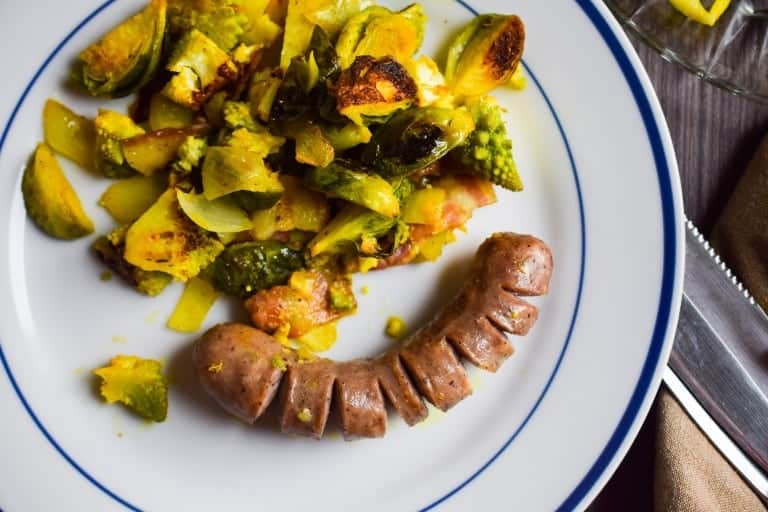 Why This Recipe Rocks
Sheet pan dinners are all the rage this year, and with good reason! They're easy and delicious with virtually no clean-up. Whoot Whoot! This recipe is one that I make this bratwurst and brussel sprout sheet pan recipe a lot….it just took me a while to photograph it for you all. Mostly because the nights we go-to sheet pan dinner, well, we're really busy! What I LOVE about this recipe is that it tastes like comfort food while being super clean. I add some turmeric and black pepper, plus a combination of ghee, coconut oil, and bacon to the veggies. The result is spiced and salty, buttery vegetables that are packing lots of anti-inflammatory goodness! Did you know that black pepper activates the curcumin in turmeric AND that it's fat-soluble…. so eating it up with plenty of fat makes sure your body absorbs all that goodness!
How to Make This Recipe
I like to chop up all my veggies when I have the time, in the morning, the day ahead, whenever, to make this sheet pan dinner even faster! With an oven time of 25 minutes, you can have this meal ready in under thirty minutes with a little prep or some really impressive knife skills?  I also chop up my bacon and "hassle back my bratwurst ahead too.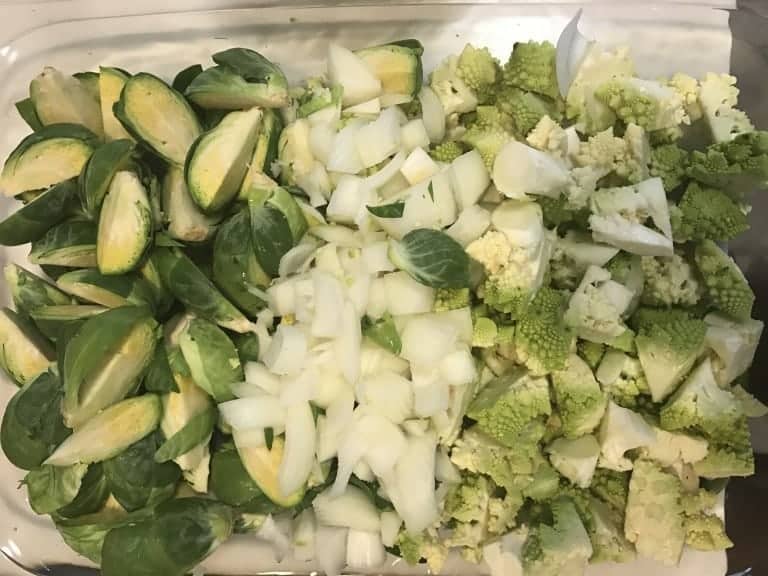 You can use many combinations of vegetables, but I highly suggest that brussel sprouts are involved. I like onion-rainbow carrot- brussel sprouts or onion-cauliflower-brussel sprouts!
The trick is to chop everything small, the brussels in quarters, the carrots or cauliflower in 1/4 inch pieces. Same reason behind cutting into the sausages… you want all of this to get nice and crisp and juicy in a short amount of time!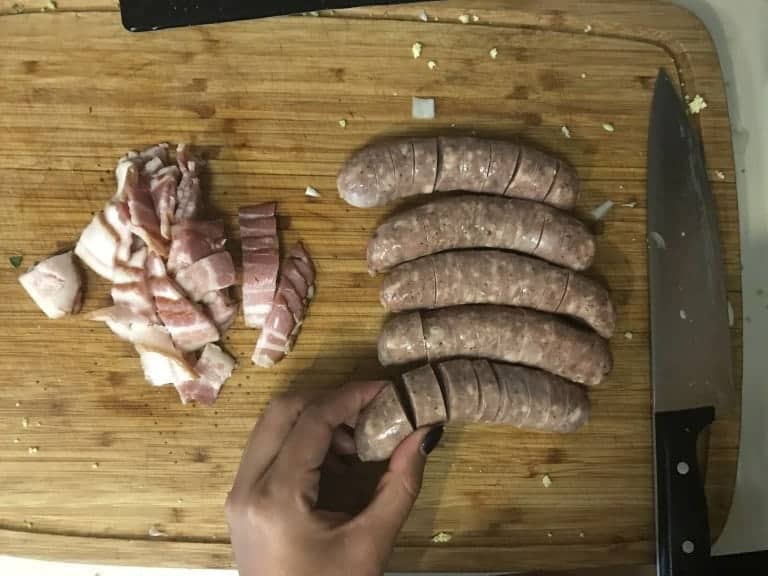 Once your veggies are diced, cut up your bacon and hassel back the bratwurst
Toss the brussel sprouts with seasonings and a little oil. Top with bacon and add bratwurst to the pan
Roast to toasty perfection.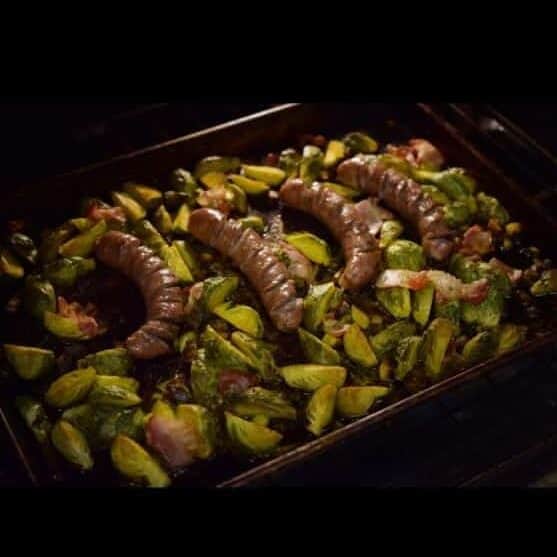 Frequently Asked Questions
Which is your favorite bratwurst?
I like Niman Ranch bratwurst, they're good quality and nightshade free.
Can I buy pre-chopped brussel sprouts or other vegetables?
YES! Whatever makes it easier.
Does it look like you make this in a cast-iron skillet?
I just photographed it there because it looks pretty.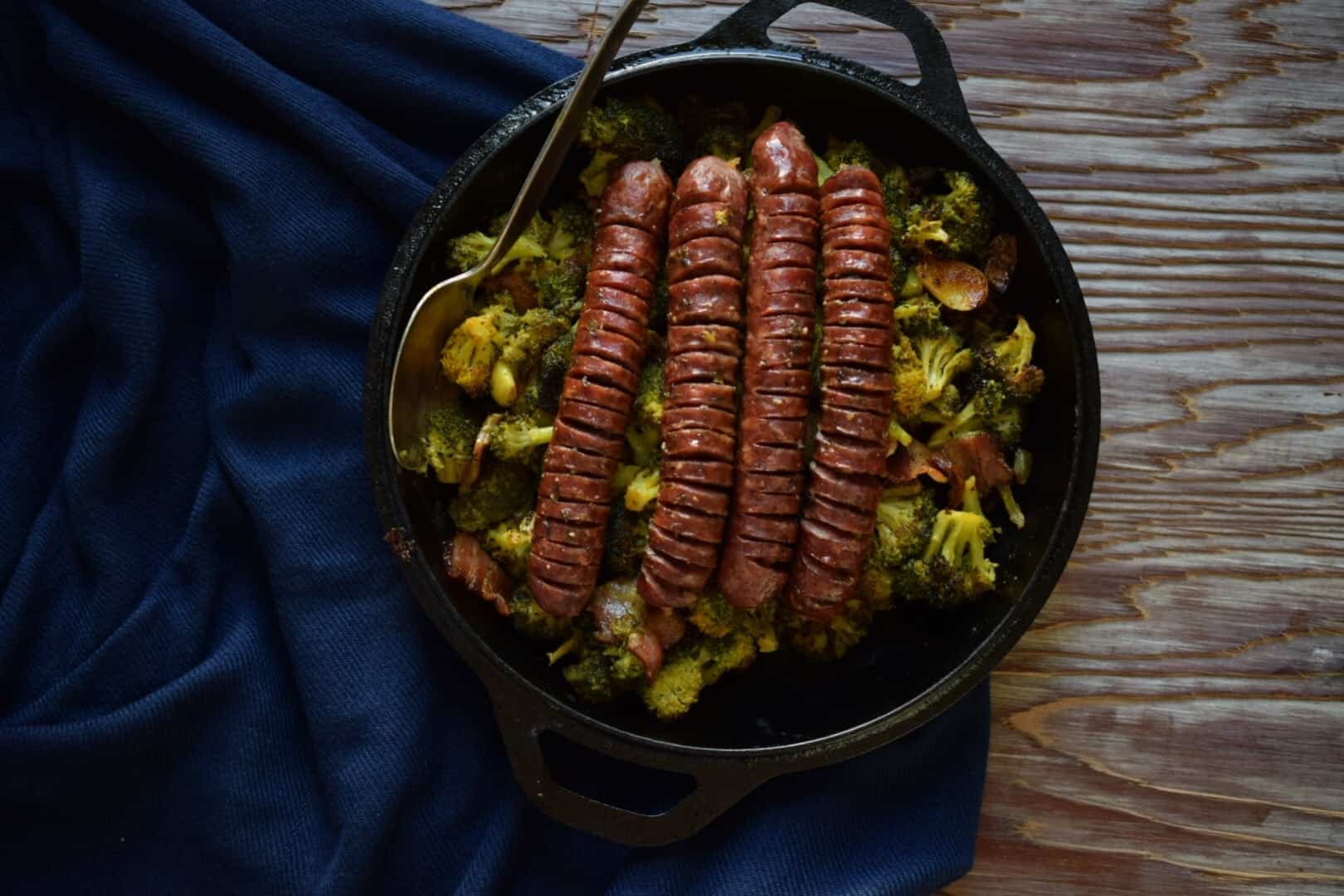 Bratwurst & Brussel Sprout Sheet Pan Dinner
---
Author: Cristina Curp
Prep Time: 5
Cook Time: 25
Total Time: 30
Yield: 5 1x
Category: Entree
Method: Oven
Cuisine: American
Description
A delicious and simple sheet pan dinner
---
Scale
Ingredients
5–6 pork bratwurts
5–6 slices of bacon
1 onion
1 head of cauliflower
2lbs of Brussel sprouts
1 tsp salt
1 tsp turmeric
1 tsp black pepper
1 tsp ghee
1 tbsp coconut oil
5–6 tbsp Cesar dressing (or preferred sauce: mayo, pesto, salsa etc)
---
Instructions
Pre-heat oven to 400F.
Dice onion, brussels and cauliflower into small pieces.
Toss with coconut oil, ghee, salt, turmeric and black pepper. Spread out over one larrge or two sheet pans, you don't want to over crowd the sheet pan.
Slice into your sausages 1/2 to 3/4 of the way down repeatedly until you create an accordion affect. Arrange your sausages among your vegetables.
Chop up your bacon and distribute the pieces evenly all over the vegetables.
If you're using two sheet pans, make sure the racks are one in the center an the other second to last on the bottom.
Roast for 30 minutes. Open the oven, drizzle the Cesar dressing over your sausages. Close the oven.
Set to broil for 5 minutes.
Done!
Nutrition
Serving Size: 1 sausage
Calories: 508
Fat: 40g
Carbohydrates: 19g
Fiber: 12g
Protein: 24g
Keywords: bratwurst and brussel sprouts