This isn't your run of the mill book promotion post. Yes, this recipe is from Craveable Keto by Kyndra Holley, and yes, it was absolutely bomb. Who doesn't love a sheet pan dinner? But I know Kyndra! That's right people, we met IRL! In Maui of all beautiful places.
We had been following each other and chatting on IG for a few months and we really got along. Kyndra even went so far as to put herself out there are granted me one of the most amazing opportunities of my life… more on that coming soon! But seriously, what a kindred spirit. When she told me she would be in Maui, I booked the flight! Meeting her was like meeting my long lost sister. I seriously love this woman. Kind and generous and genuine. Not to mention a total boss babe. So now, let me tell you about her new, amazing cookbook!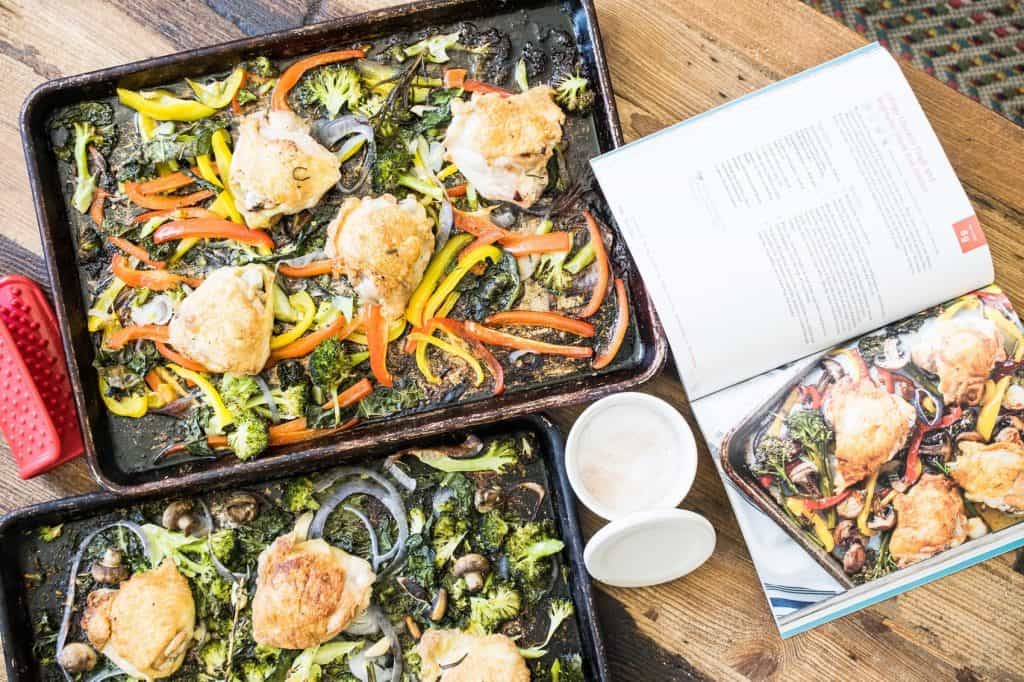 Craveable Keto
Your Low- Carb, High Fat Roadmap to Weight Loss and Wellness! This book has over 150 beautiful, gluten free, grain free, real food recipes. Pictures for all of the recipes. Macro information too. The front matter of the book reads like you're talking to a friend over coffee. Kyndra shares the details of her journey with you. She gets it. She is you, she is me. All of us who have ever struggled with weight, she gets it!
Then she lays down some amazing culinary know-how with terms, substitutions, tools, and techniques. This book is a complete resource! Including several meal plans which include Nut Free, Dairy Free, and One Pot!
This Recipe
Is a quintessential weeknight meal. The sheet pan dinner. Saviour to the home chef. It comes together easily with a variety of colorful veggies. I easily modified for my nightshade allergy by making one sheet pan with everything but peppers, and another sheet pan with everything but mushrooms. The perfect compromise for my mushroom hating hubby.
The chicken cooked up perfectly and tasted AMAZING. The vegetables were tender and perfect cooked in the drippings. You just can't go wrong with a meal like this.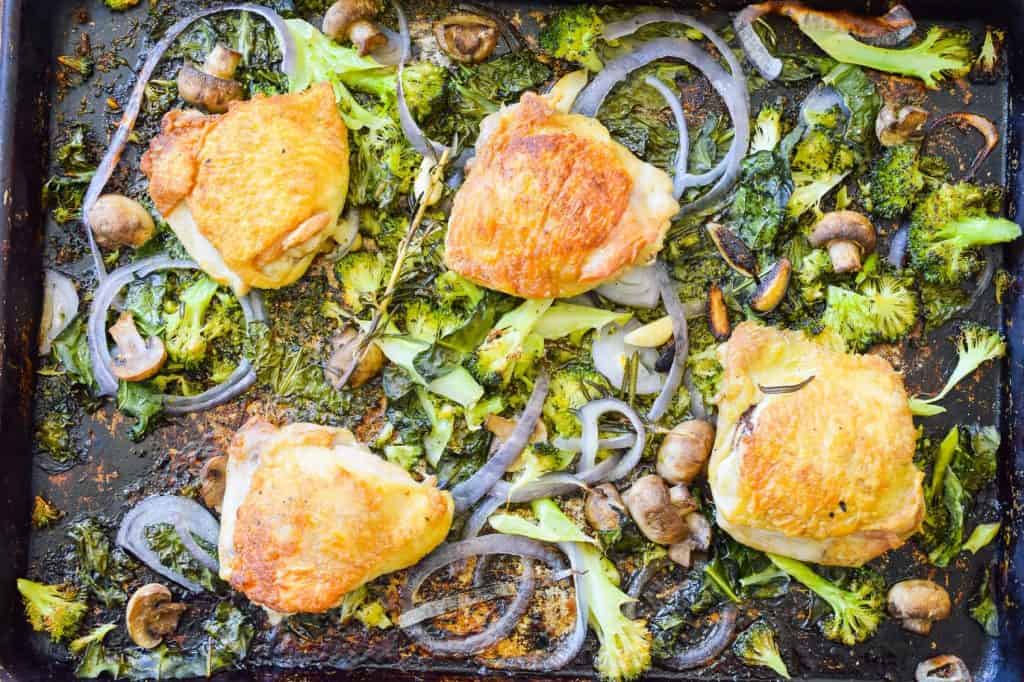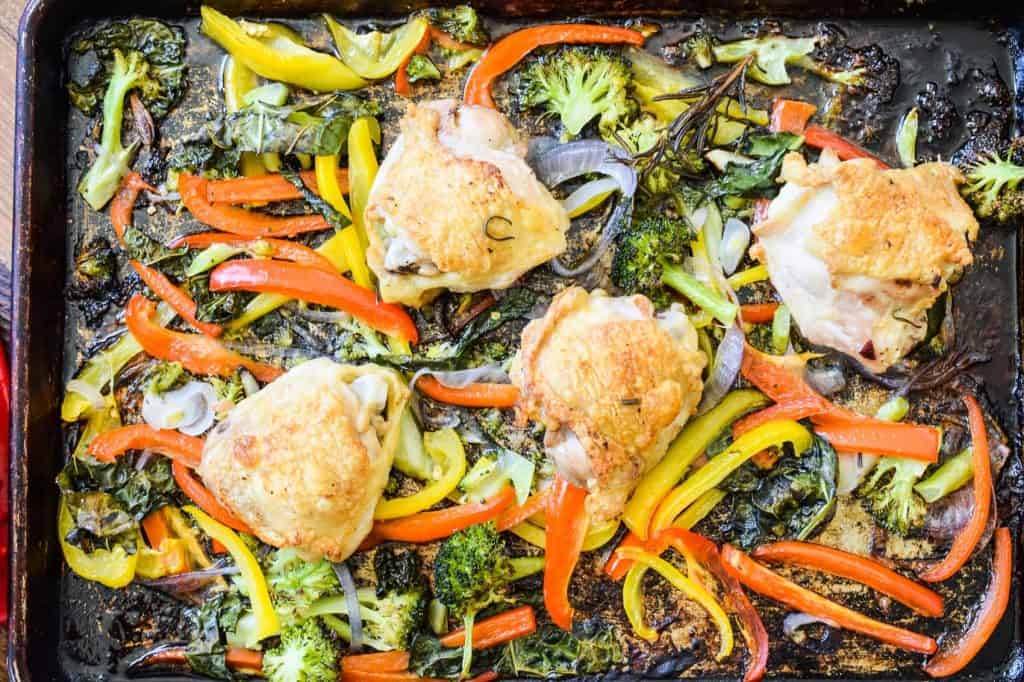 Try Your Luck To Win One on my Instagram  (giveaway running 2/11/2018 – 2/18/2018)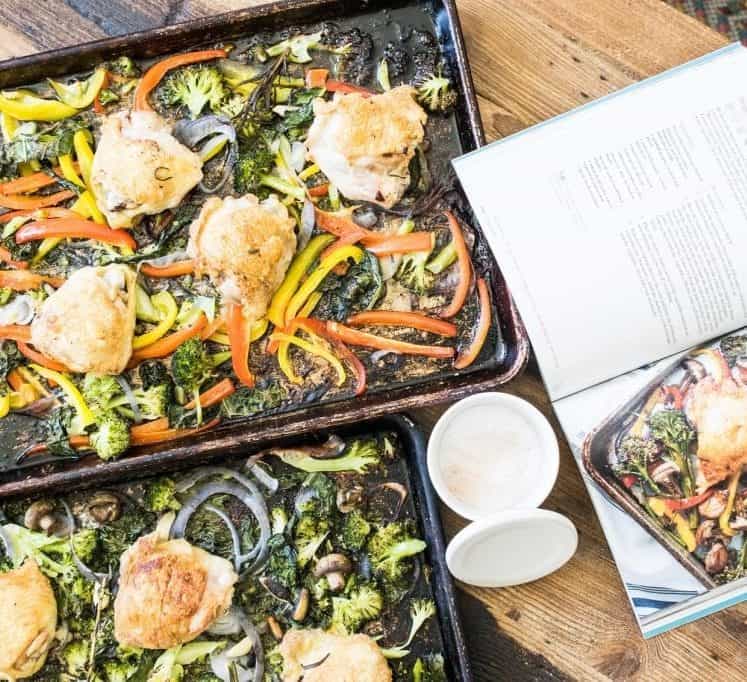 Crispy Chicken Thighs and Roasted Vegetable Sheet Pan Dinner
---
Author: Kyndra Holley
Prep Time: 20
Cook Time: 20
Total Time: 40
Yield: 4 servings 1x
Category: dinner
Method: sheet pan
Cuisine: keto
Description
A recipe from the cookbook Craveable Keto by Kyndra Holley
---
Scale
Ingredients
20 cremini mushrooms, halved
1 large head broccolini, trimmed and divided (I used broccoli florets)
1 red bell pepper, seeded and sliced
1 yellow bell pepper, seeded and sliced
1 small red onion, sliced
2 tablespoons olive oil
2 tablespoons butter or ghee
8 bone in, skin on chicken thighs
Sea salt
1 whole head garlic, cloves separated and peeled
2 sprigs fresh rosemary
---
Instructions
Preheat the oven to 400F.
Arrange the mushrooms, broccolini, bell peppers, and onion on a rimmed baking sheet and drizzle with the olive oil.
Heat the butter in a large cast iron skillet over medium-heat. Season the chicken thighs on both sides with a little salt and pepper. Add the chicken thighs, garlic cloves and rosemary sprigs to the pan. Sear the chicken on both sides until the skin is crispy and golden brown. (The chicken will not be fully cooked at this stage.) As the garlic starts to brown, remove it from the pan and place it on baking sheet with the vegetables. Do the sam with the rosemary sprigs.
Place the chicken thighs on top of the vegetables and pour any pan drippings over the top of everything.
Transfer the baking sheet to the oven and bake the chicken and vegetables for 20 minutes, until the chicken is cooked through and the vegetables are tender but not mushy.
Recipe Notes:
I used coconut oil and omitted the black pepper, as well as only ate from the sheet pan I prepare without peppers to make my serving AIP compliant!
Nutrition
Serving Size: 1/4 recipe
Calories: 616
Fat: 44g
Carbohydrates: 10.3g
Fiber: 2.3g
Protein: 53g
Keywords: keto sheet pan chicken