Super excited about bringing you all yet another amazing veggie-packed meal in partnership with Mann's Veggies Made Easy! Who loves one skillet meals? Who loves broccolini? Yeah.. I bet you said yes, because duh!
This one skillet shrimp and broccolini is the perfect weeknight meal. Easy to make, nutritious and family friendly. Broccolini is a cross between chinese kale and broccoli. It is edible and tasty from flower to stem! There is no waste with broccolini and it's perfect for all types of international cuisine!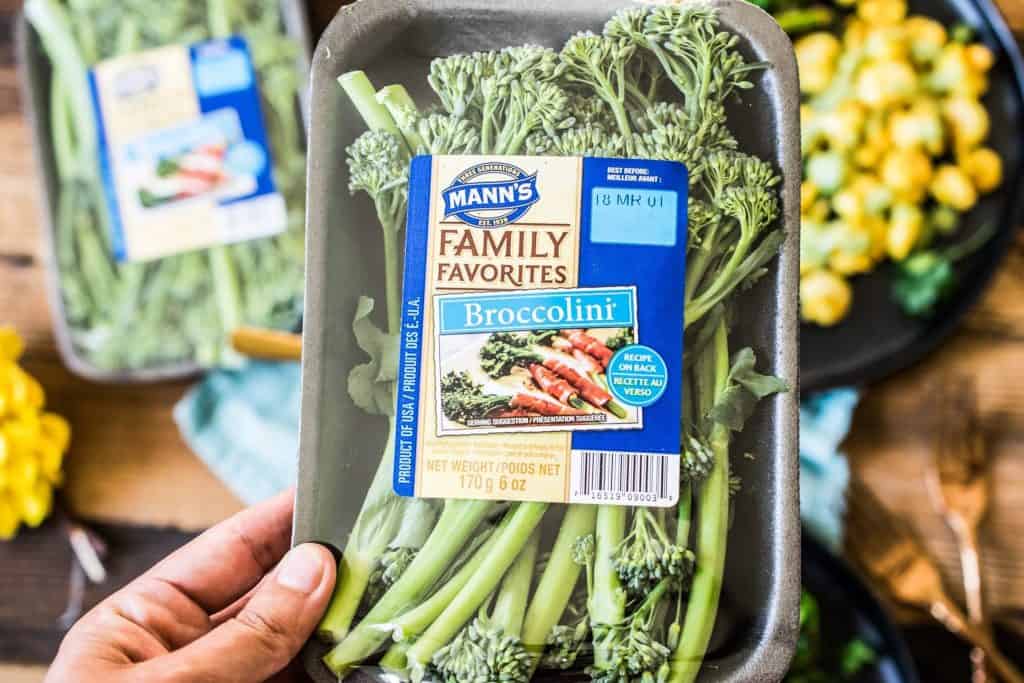 Broccolini Facts
Did you know Broccolini turns 20 this year! That's 20 years of enjoying the delicious vegetable creation. Note, hybrid plants, are not genetically modified! Cross-pollination and cross-breeding has been used for centuries in farming, this is not the same as genetically modified produce. This kale and broccoli hybrid is mild and sweeter than your average broccoli, yet still packing lots of nutrients. A great source of fiber and potassium!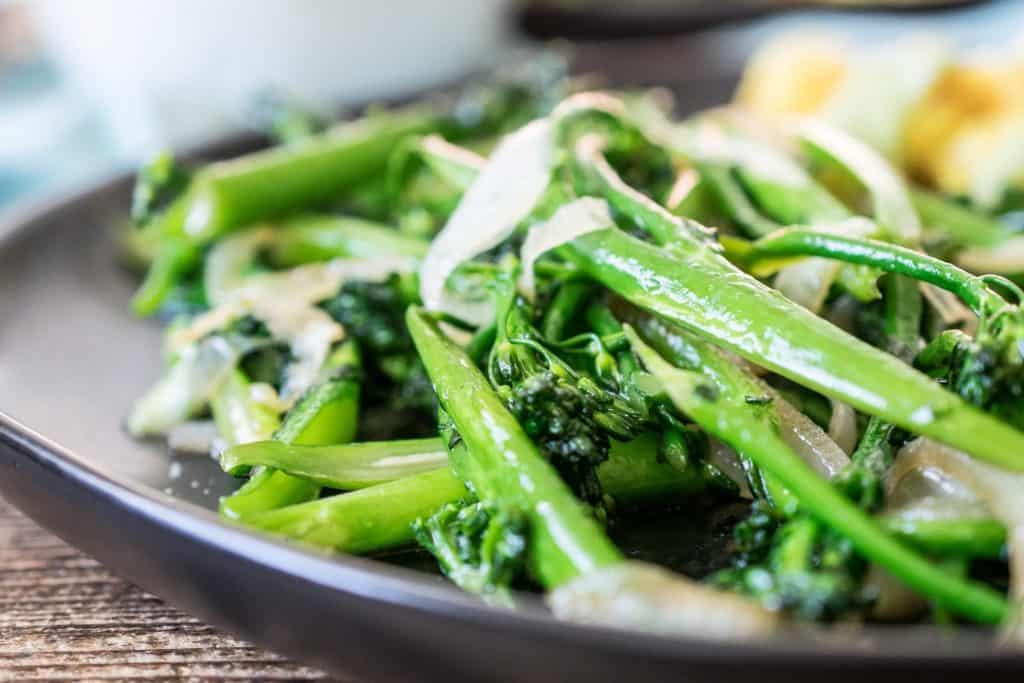 One Skillet Two Flavors
One skillet meals don't have to be monotone. The thinly sliced broccolini is sauteed with garlic, coconut oil and salt then mixed in with a coconut aminos and gelatin blend for a silky sauce that lightly coats the veggies. While the seasoned shrimp are quickly sauteed in bacon fat and served up with a creamy chimichurri style sauce. You get lightly sweet and tangy all in one meal. Because both parts of this meal cook up so quickly it's a cinch to saute them in succession in one big, hot, skillet! There's nothing boring about this one skillet shrimp and broccolini!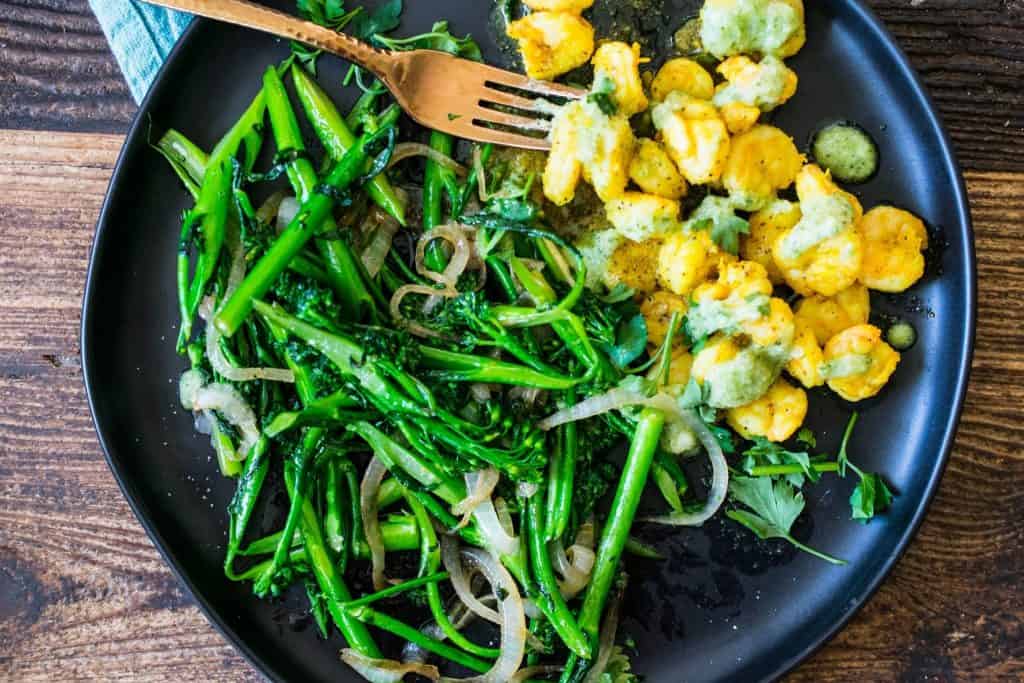 Using Gelatin To Thicken Sauces
I've long been a fan of using THIS pastured gelatin to thicken pan sauces and create a glaze mouthfeel without the use of sugar or starch. Check out my recipe for "Cheesy" Chicken and Zoodles, when the sauce cools down it thickens! Since creating that one I have experimented more this. I've found that blooming the gelatin in a cool liquid then adding it to the skillet creates the ideal texture!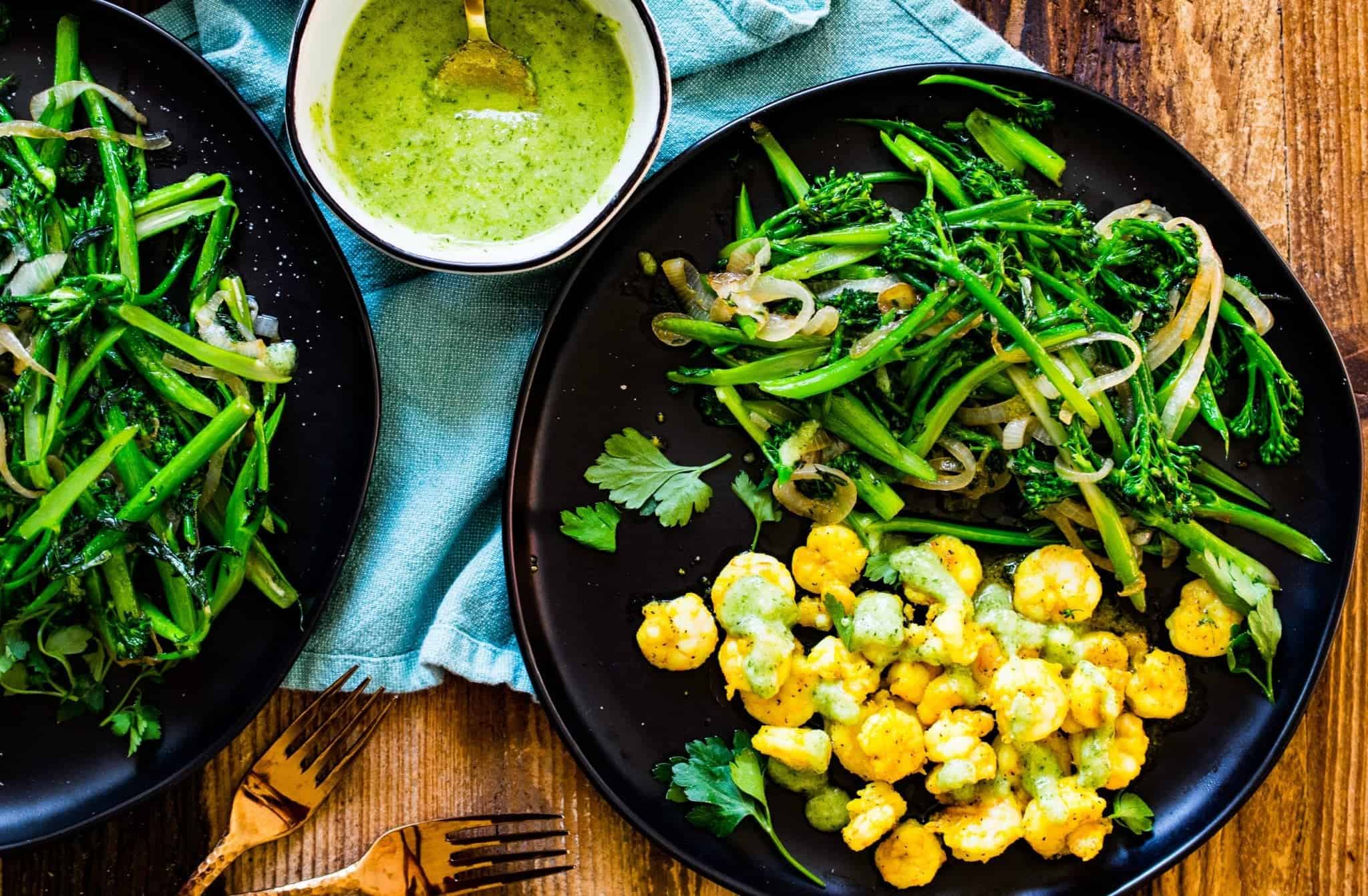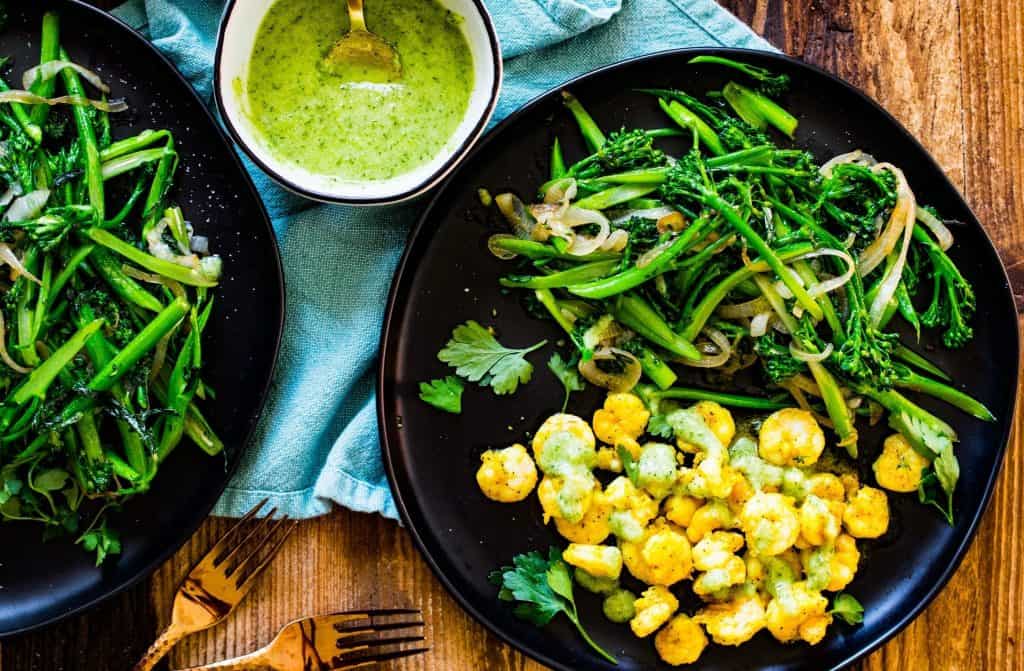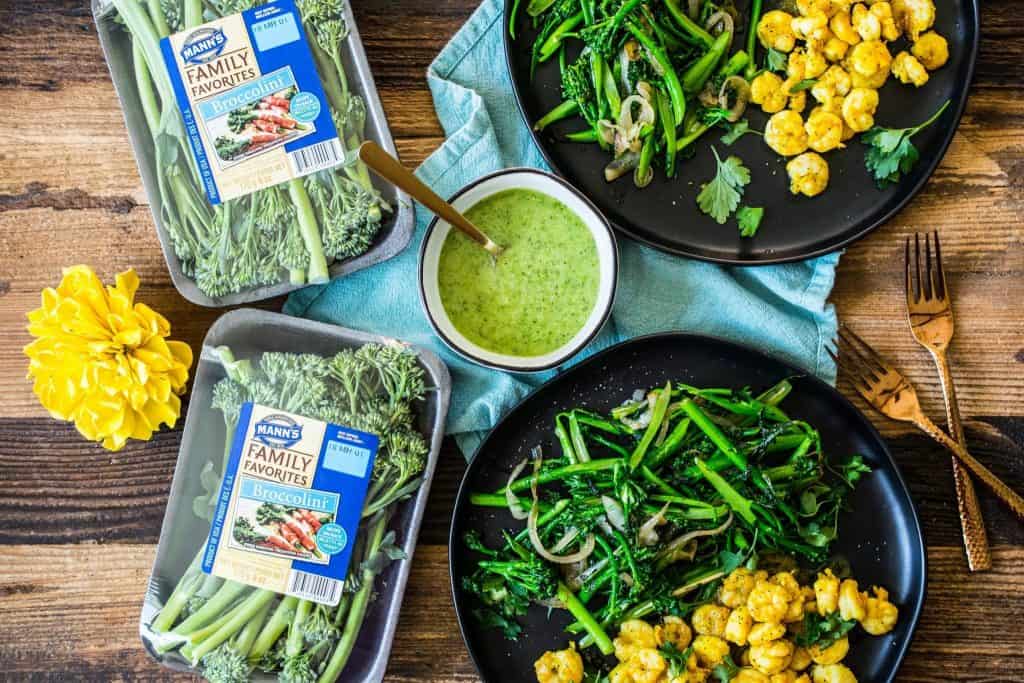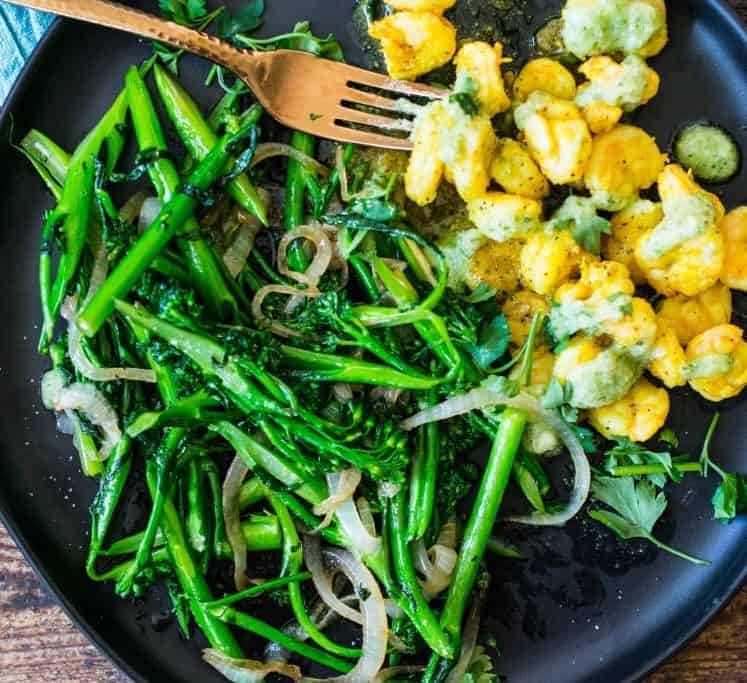 One Skillet Shrimp and Broccolini
---
Author: Cristina Curp
Prep Time: 10
Cook Time: 15
Total Time: 25 minutes
Scale
Ingredients
For the Broccolini
2 tablespoons bacon fat
1 small onion, thinly sliced
2 packets broccolini, 12 ounces
½ teaspoon fine salt
2 tablespoons coconut aminos
1 tablespoon gelatin
For the Shrimp
2 tablespoons bacon fat
1 pound shrimp, peeled- deveined
1 teaspoon fine salt
½ teaspoon turmeric
½ teaspoon ground ginger
½ teaspoon black pepper
For the Sauce
½ cup coconut butter or coconut cream
juice of 2 lemons
zest of one lemon
¼ cup chopped parsley
1 tablespoon vinegar
2 garlic cloves
1/4 teaspoon salt
---
Instructions
Heat a large skillet over medium- high heat.
Add in the onion and saute for a few minutes while you prepare the broccolini. Slice the broccolini from flower to stalk in thin strips. Add to the skillet with the onion. Add in the salt too.
Continue to saute until bright green and tender.
Place the coconut aminos in a small bowl and sprinkle the gelatin over it. Let it bloom (gel up).
Lower the heat on the skillet and add in the gelatin and coconut aminos. Stir until well combined.
Transfer the broccolini to a the plates.
Put the skillet back on the heat and bring the heat up to medium-high. Add in the bacon fat.
Quickly toss the shrimp with the seasonings and then add them to the skillet. Saute, stirring often until coiled, pink and lightly browned, about 7 minutes.
Transfer the shrimp to the plates as well.
To make the sauce, combine all of the ingredients in a blender or food processor until smooth. Spoon over shrimp and dig in!