We all need quick and easy sheet pan meals. Especially now that the school year is starting. Sheet pan meals for me are the best, they are hands off and create little to no mess. Very important on a hectic weekday.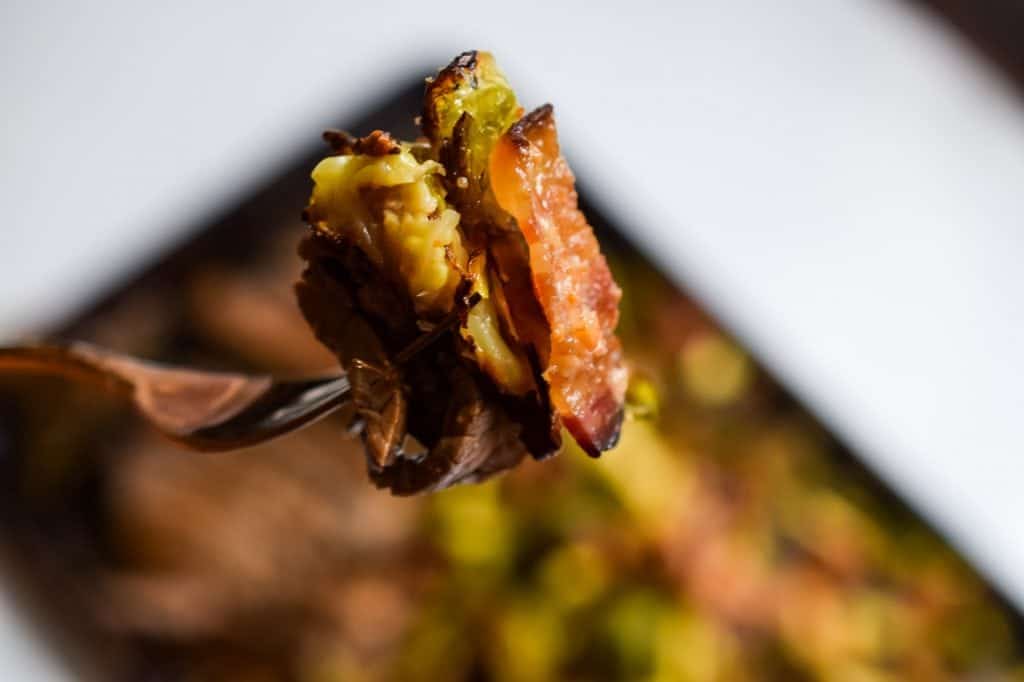 This Sheet Pan Meal Looks Fancy, But it's REALLY AFFORDABLE.
London Broil is a lean, usually pretty tough cut of meat, hence, it's cheap. However, with a good marinade and quick + high heat cooking method, you still get steak that's tasty and won't break your jaw.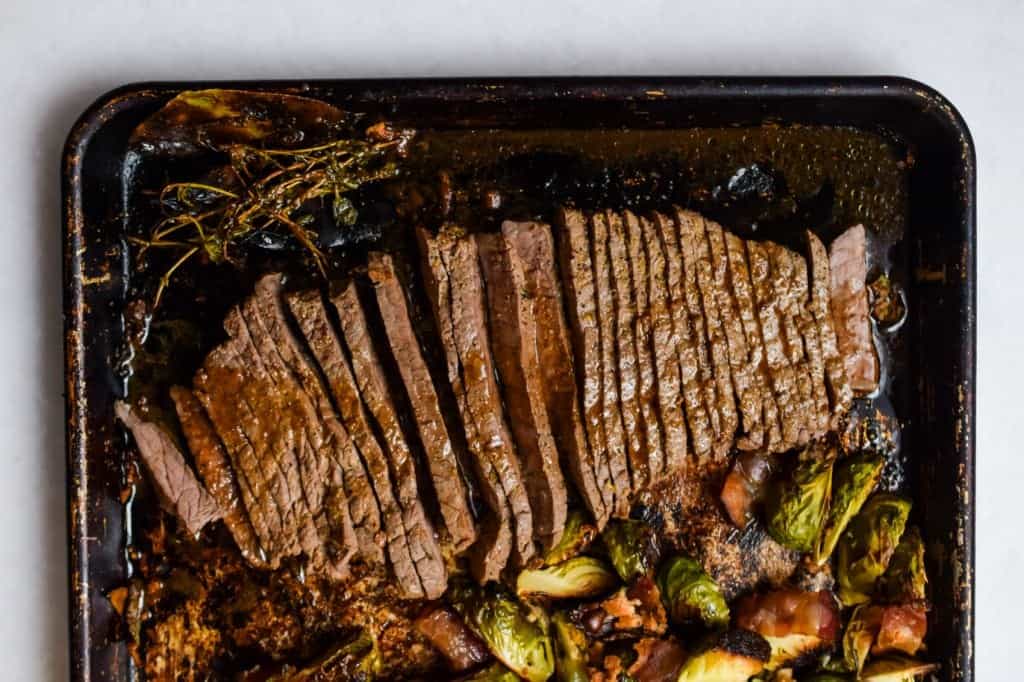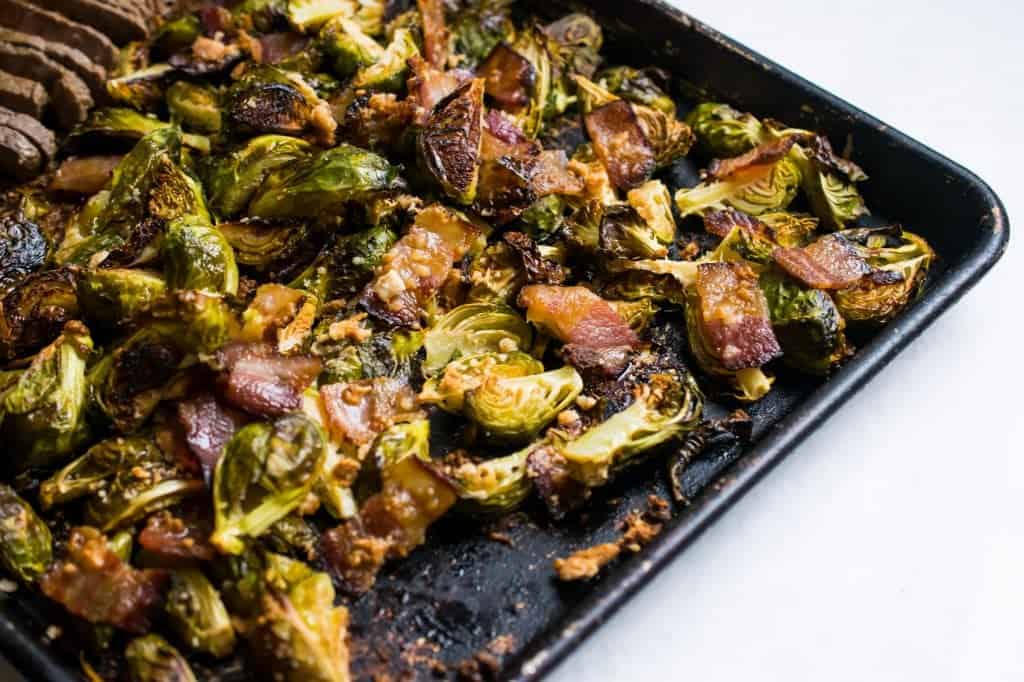 Vegetable Candy
Paired with crispy brussel sprouts cooked with crispy bacon, speckled with toasted clumps of coconut butter, I dare you NOT to eat them all up? Seriously. This sheet pan meal pairs the most delicious vegetable combination I have ever made, which bakes up in 30 minutes- with an affordable meat that cooks in 12. It. Can't. Get. Easier.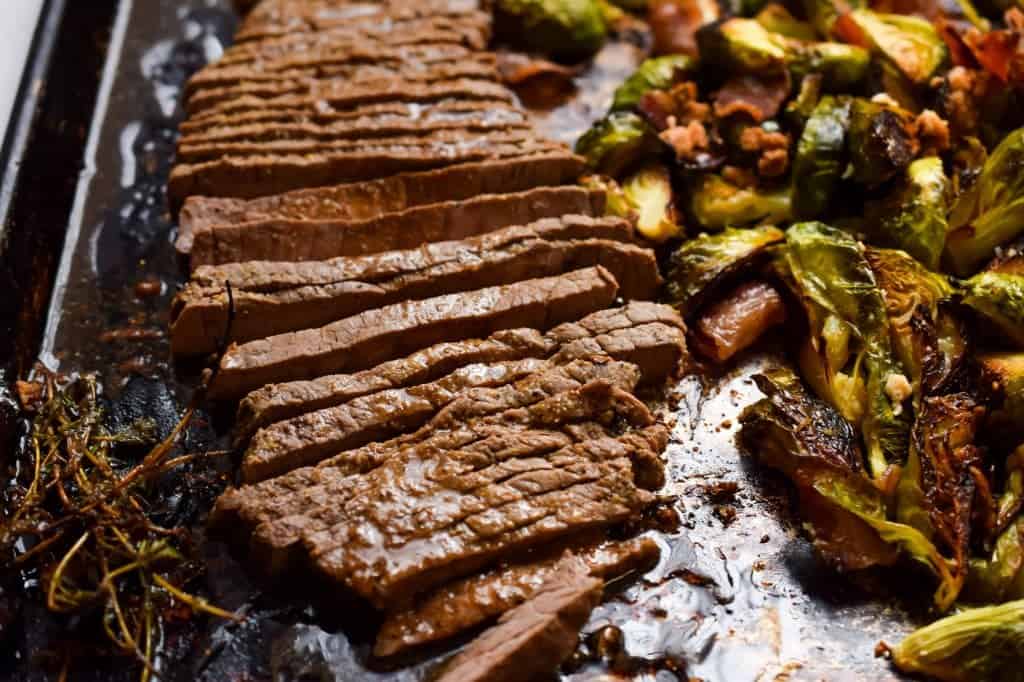 Ya'll already know I strongly prefer Grass Fed Beef. Reason number one being that inflammatory grains (ie GMO corn) that cattle are fed is highly inflammatory. Cows are not meant to eat grains. Much like humans that eat grains, these cows end up fat, unhealthy and with lots of inflammation. They're given medicine because their sick and pretty much are miserable. So their meat, no surprise there… is also sick. It's inflammatory and contains CORN. I don't eat corn, so why would I eat a cow that ate corn.
I get it, grass-fed can be expensive. Which is why I buy form Butcher Box. At about $6 a meal, grass-fed and finished beef, that I trust. It's delicious. Oh yeah, and you can customize your boxes, so you can get a lot of bang for your buck by choosing the more affordable options.
Bonus they always have killer deals going on! Watch my Instagram or sign up to my newsletter (on the sidebar) to get notifications of those. But you can ALWAYS save $10, get free shipping and free bacon when you sign up using MY LINK!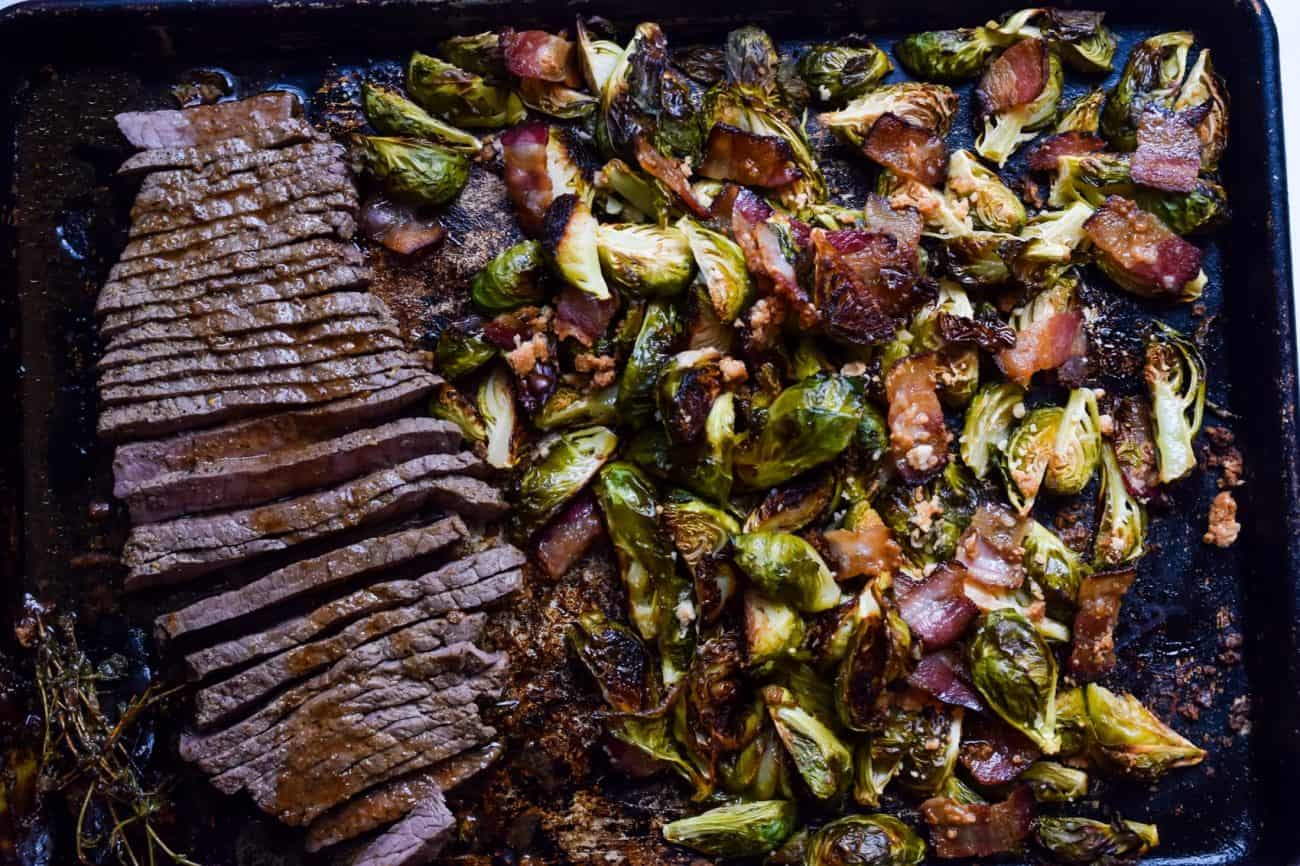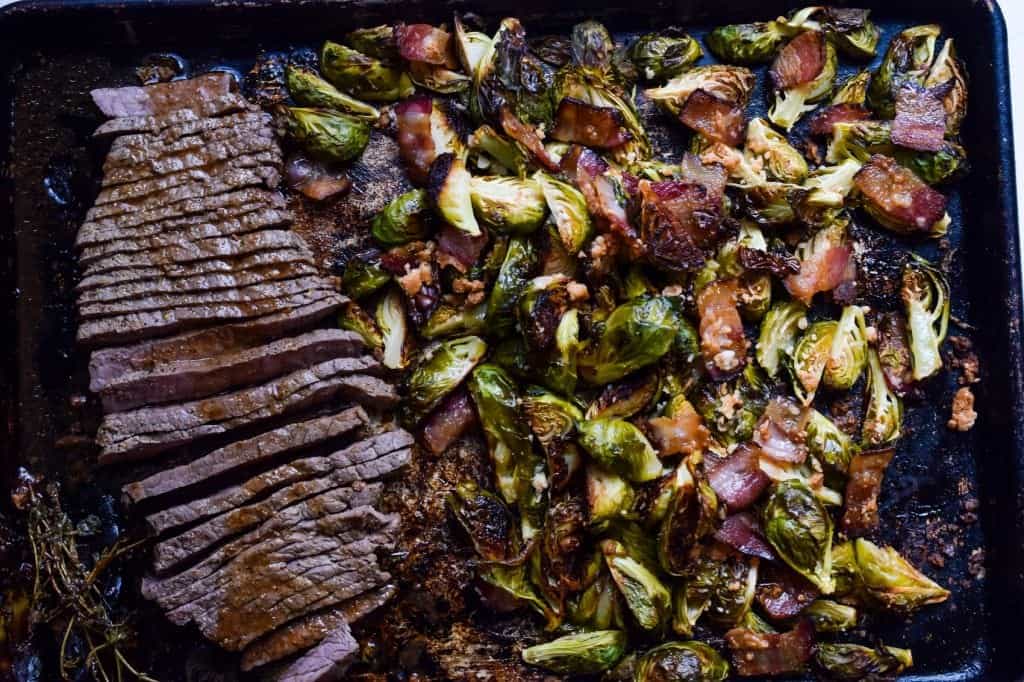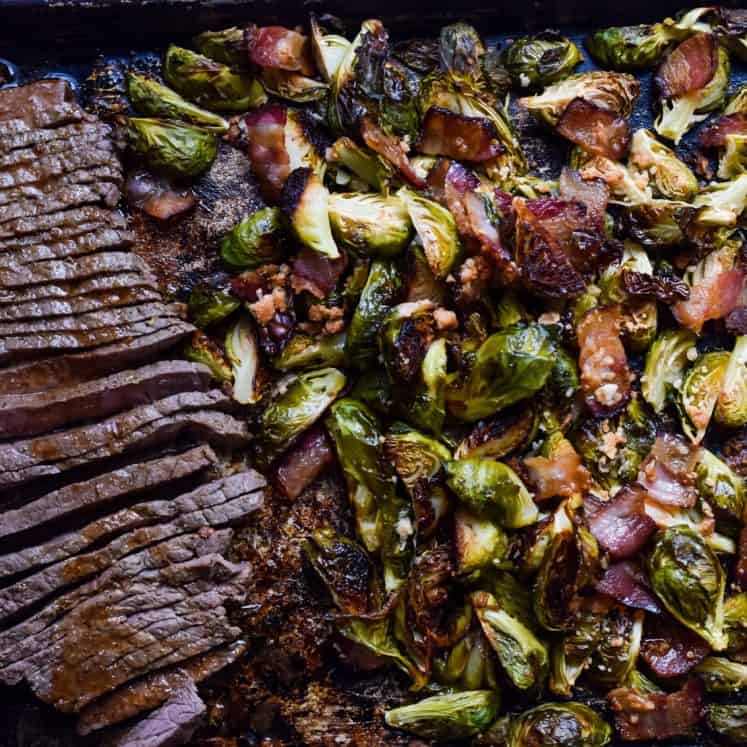 London Broil with Toasted Coconut Brussel Sprouts | Sheet Pan Meal
---
Author: Cristina Curp
Prep Time: 10
Cook Time: 42
Total Time: 52 minutes
Yield: 4 1x
Category: Entree
Method: oven
Cuisine: healthy
Description
An easy yet elegant meal the entire family will love. This sheet pan meal uses london broil for an affordable steak dinner!
---
Scale
Ingredients
For the Marinade:
1 teaspoon fine salt
1/2 teaspoon ground black pepper (omit for AIP)
2 cloves garlic, minced
4 sprigs fresh thyme
2 tablespoons avocado oil
Meat: 
1– 1 1/5 pound london broil
Brussel Sprouts: 
1 pound brussel sprouts, halved
2 tablespoons avocado oil
1/2 teaspoon fine salt
1 teaspoon onion powder
4 slices bacon, chopped ( I also use Butcher Box Bacon)
2 tablespoons coconut butter (I use this one)
---
Instructions
In a casserole mix all of the marinade ingredients. Add the meat and flip it around in the marinade to get it all over. Cover and set in the fridge overnight, turning over once before cooking (the morning of).
When ready to cook, remove the meat from the fridge, let it rest at room temperature in its marinade for an hour.
In the meantime, preheat oven to 400F.
Add your brussel sprouts to a sheet pan, toss with oil, salt, and onion powder.
Arrange bacon pieces all over it and then distribute the coconut butter in little clumps all over everything.
Roast on the middle rack for 30 minutes at 400.
Leaving the brussel sprouts in the oven, set oven to broil at the 30-minute mark, making sure your second oven rack is right under the broiler.
Add your london broil (in the casserole dish where it marinated- or move it to a sheet pan) and place it under the broiler. Cook for 4-5 minutes. Then use tongs to flip it over and cook it other 4-5 minutes.
Remove everything from the oven. Move the meat over to a cutting board. Let it rest for 8-10 minutes before slicing against the grain.
Transfer the meat to the sheet pan with the brussel sprouts and set that bad boy on the dinner table. Dinner is ready! Dig in.
Nutrition
Serving Size: 1/4 recipe
Calories: 298
Fat: 25g
Carbohydrates: 9g
Fiber: 3g
Protein: 12g
https://thecastawaykitchen.com/sheet-pan-dinner-hassleback-sausages-bacon-turmeric-brussel-sprouts/