This Korean inspired dinner is full of flavor and comes together really easily. The Whole30 Korean Beef is marinated and then cooked up in under 30 minutes! Served with bok choy and a tasty sauce, this recipe is versatile and oh so satisfying.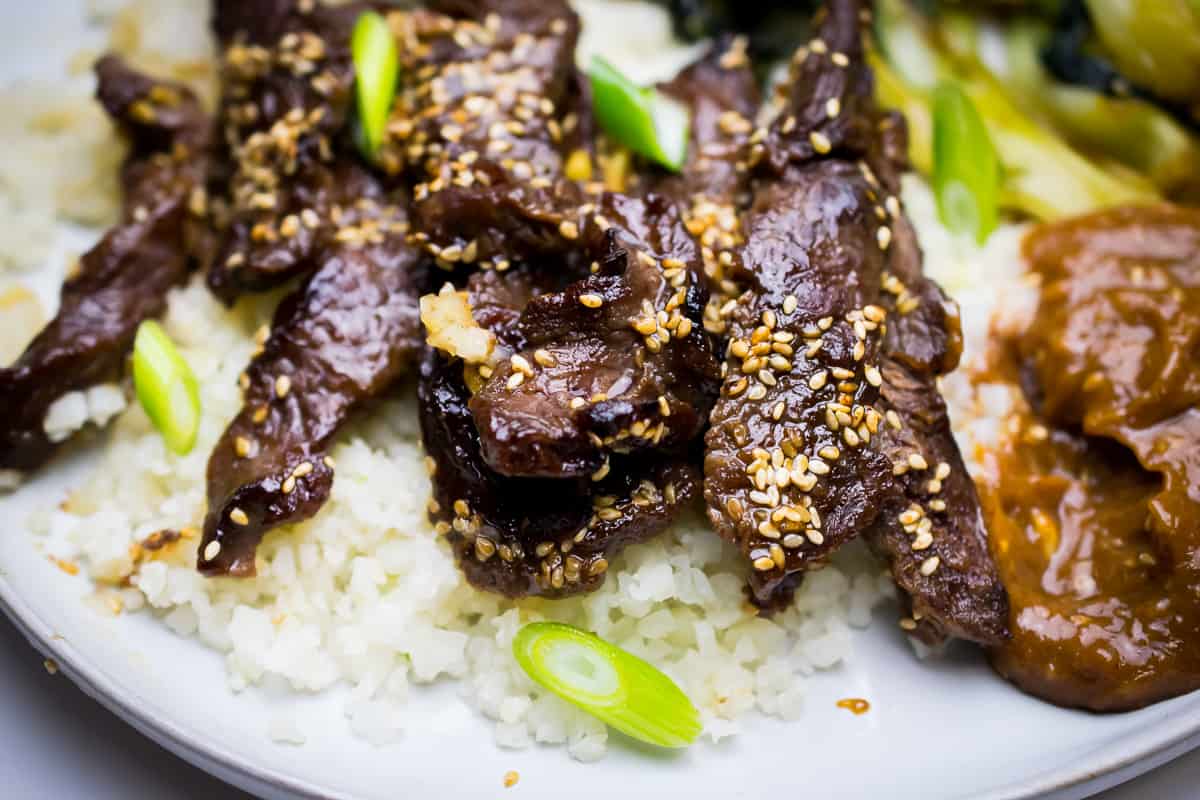 Why This Recipe Works- An Ode To Korean Beef
When I lived in San Diego we spent a lot of time on Convoy Street, with my friend Lisa as the guide. What amazing food, I love how healthy it is. Marinated meats with sides of fermented vegetables. So many wonderful flavors, many from soy sauce and chili oil. Neither of which I can eat these days… So, I create this Whole30 Korean Beef sheet pan recipe with much respect. Knowing that it's not authentic, but hopefully, it will help someone who also can't eat soy or nightshades make something delicious. The sweet and salt flavors and tender texture are truly reminiscent of Korean beef bulgogi- and after marinating this recipe comes together in 30 minutes. A wonderful way to offer your friends and family something new- while taking care of your body needs!
Grab Your Ingredients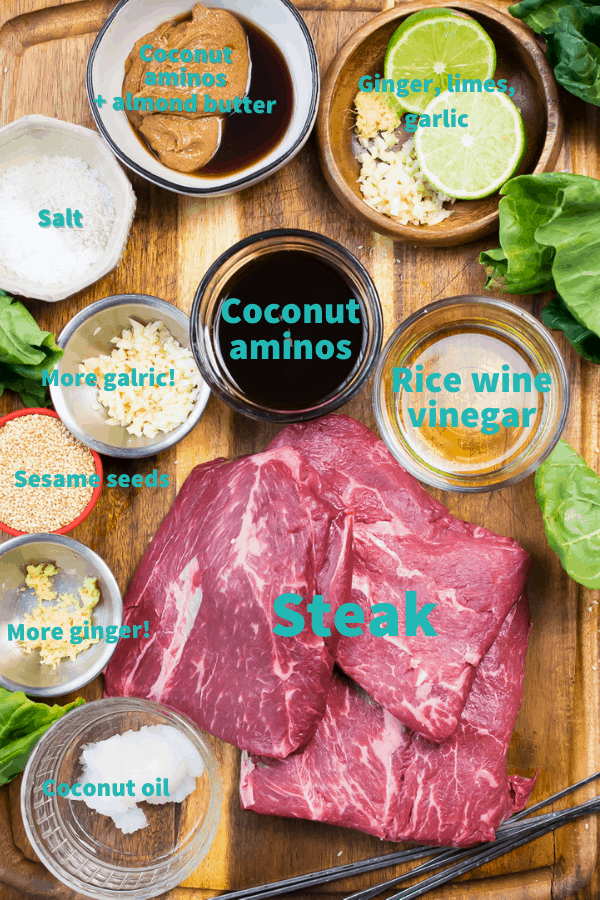 I used flank steak because it's what I had on hand, but traditionally you would use boneless rib eye or strip steak, you want the meat to be very tender.
Instead of soy sauce, I used coconut aminos, and this also brings in some sweetness, no need to add sugar, this way we keep it Whole30 compliant. This brand is my favorite.
I made a sauce to put on the side with almond butter, aminos and rice wine vinegar because I add sauce to everything.
Let's Make This For Dinner Step-by-Step
I served this delicious Whole30 Korean Beef with a side of braised bok choy! I'm including that in this recipe post too, that way you have a great dinner ready to rock. Let's get cooking. Start by measuring out all of your ingredients.
Start by mixing together all of the marinade ingredients in a large bowl.
Then slice your steak into thin slices, you can wrap it up in plastic wrap and set in the freezer for a bit, a cold steak is easier to slice into thin slices.
Add the meat slices to the marinade! Set it in the fridge for 2-4 hours.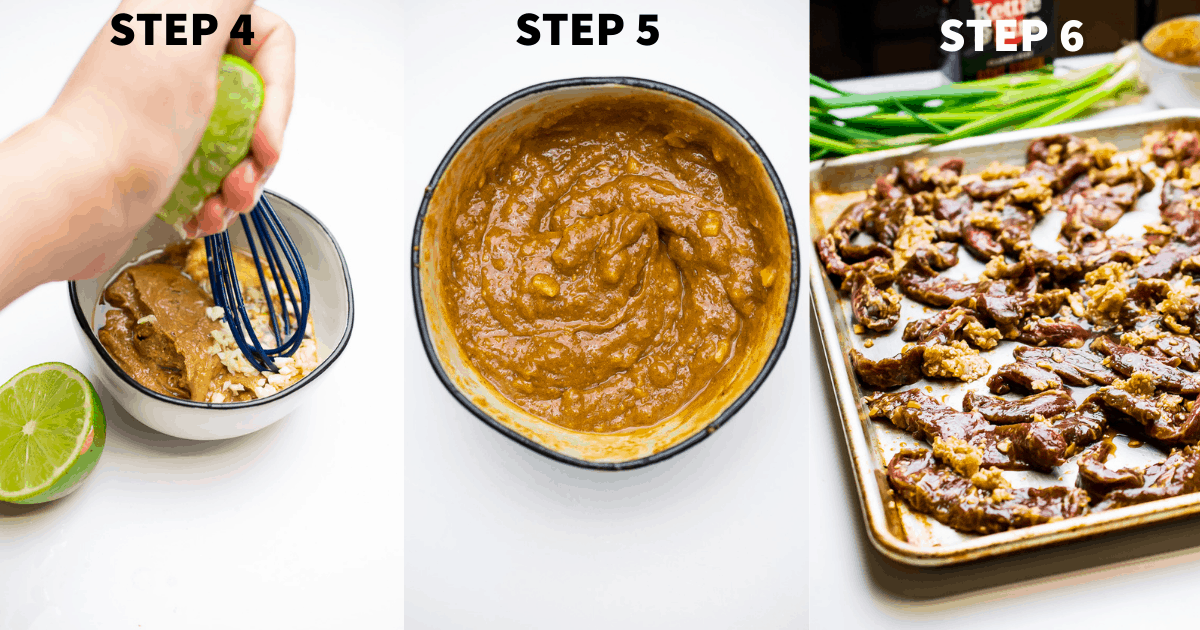 Make your sauce, whisk all of the ingredients together until smooth-ish.
Set aside and get ready to start cooking. Preheat broiler 550F.
Spread the beef strips out on a sheet pan and place it right under the broiler.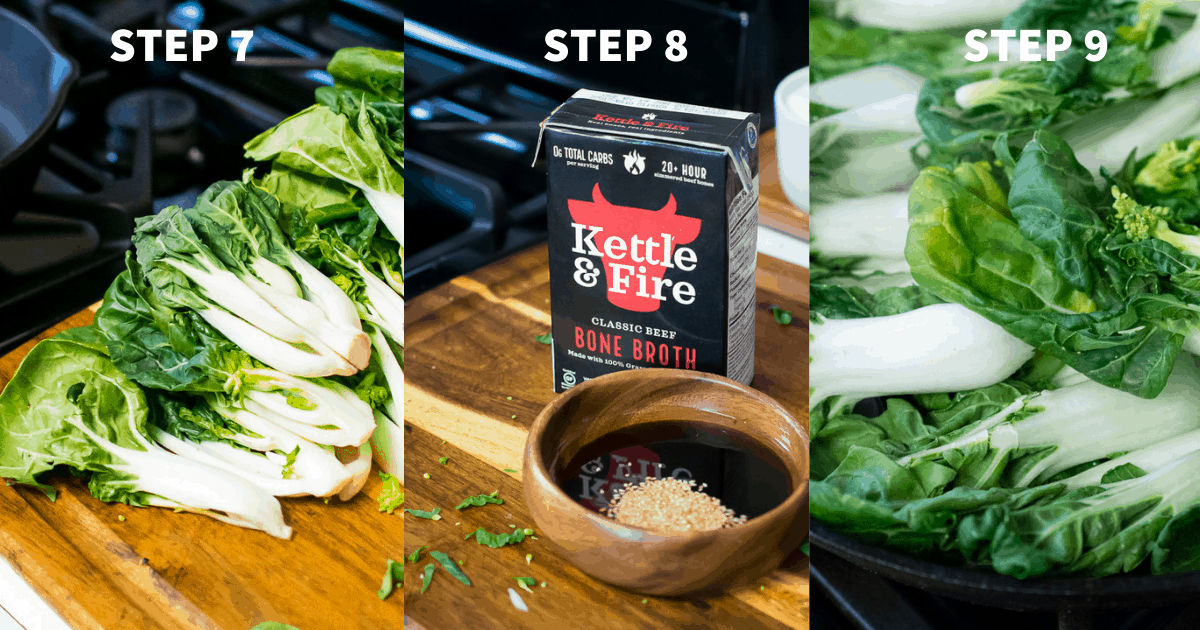 Heat a large skillet, you're going to halve your baby bok choy.
In a small bowl mix together bone broth, coconut aminos and sesame seeds.
Saute the bok choy for a few minutes in the skillet with coconut oil.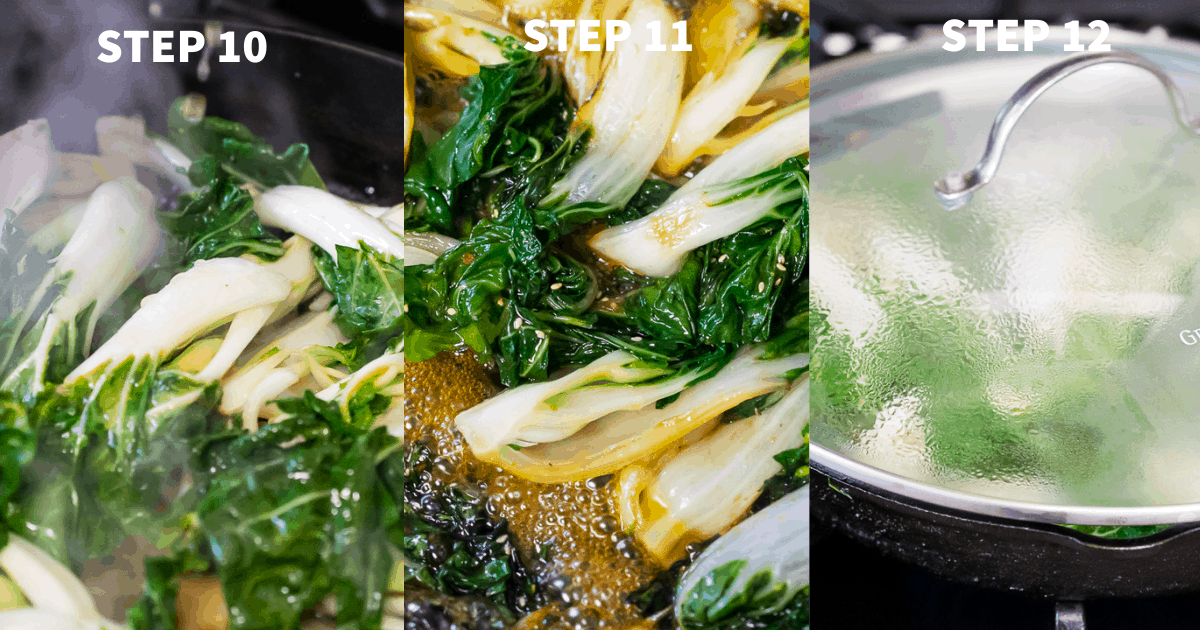 Add the sauce to the skillet.
Let it come to a simmer.
Cover and cook here until it's tender and bright green.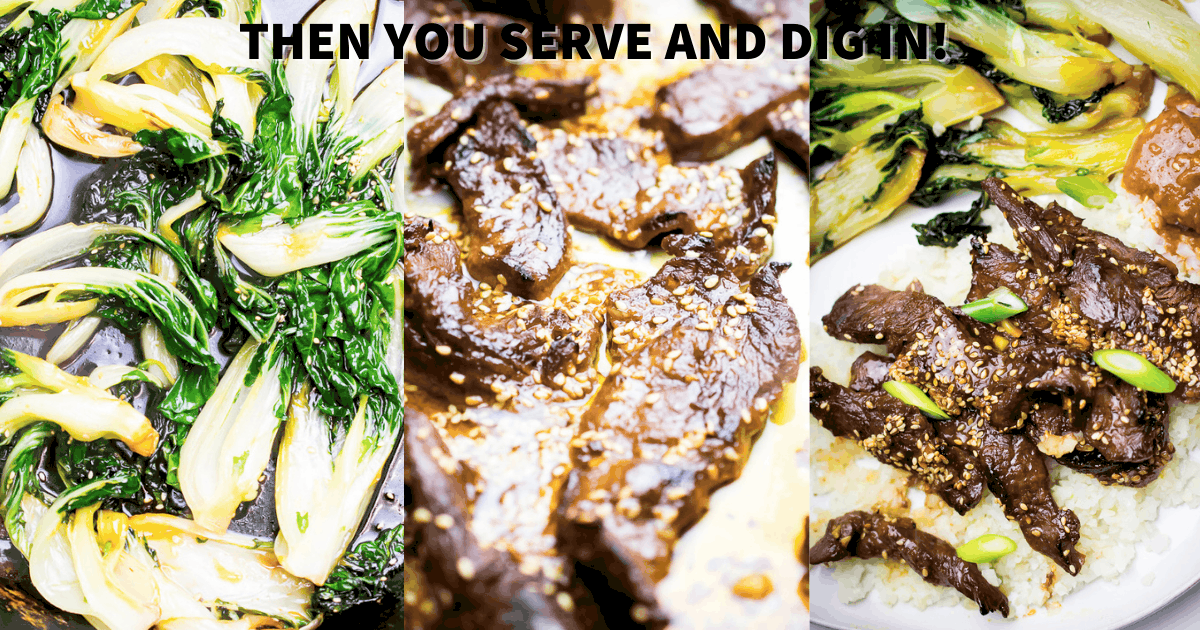 Remove the bok choy from the heat.
Remove the Korean Beef from the oven.
Serve over cauliflower rice with a side of bok choy and a dollop of the almond butter sauce. Enjoy!
What is Bulgogi?
It's a Korean dish that grilled or roasted, marinated steak cut into very thin strips. It can also be made with pork. The word itself means fire (bul), meat (gogi). I love the sweet and salty texture and very tender beef. It's always my favorite. At Korean restaurants, we would order the Bulgogi bowls with the crispy rice in a stone dish, the thin, saucy meat, and an egg on top. Don't forget the kimchi. Traditional bulgogi is made by thinly slicing boneless rib-eye steak, marinating it in a mixture of soy sauce, brown sugar, rice wine, Asian pear, onion, ginger, garlic, and black pepper.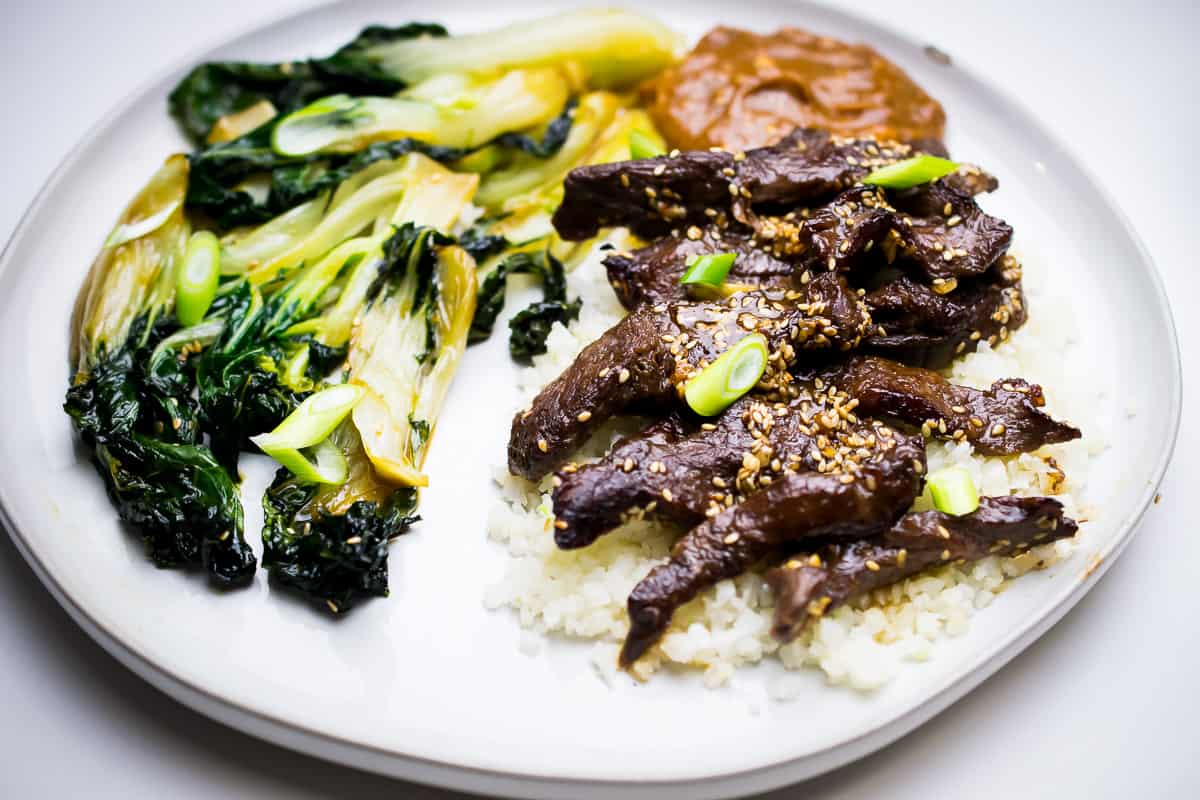 Paleo-fying Korean Beef
If you're looking for amazing paleo Korean recipes, look no further than my fellow NTP and friend Jen Choi of What Great Grandma Ate. You can listen to her on Body Wise Podcast here (episode 14). Grab a copy of her amazing book Korean Paleo too! Since my food intolerances are a little more specific to my readers, I gave Bulgogi a go. Actually inspired by a recipe in Real Plans. I use it with my Better Together Coaching Group and wanted to make sure the recipes didn't suck. They don't. So delicious. Of course, I had to modify it, but wow, so yum, I really wanted to share with all of you.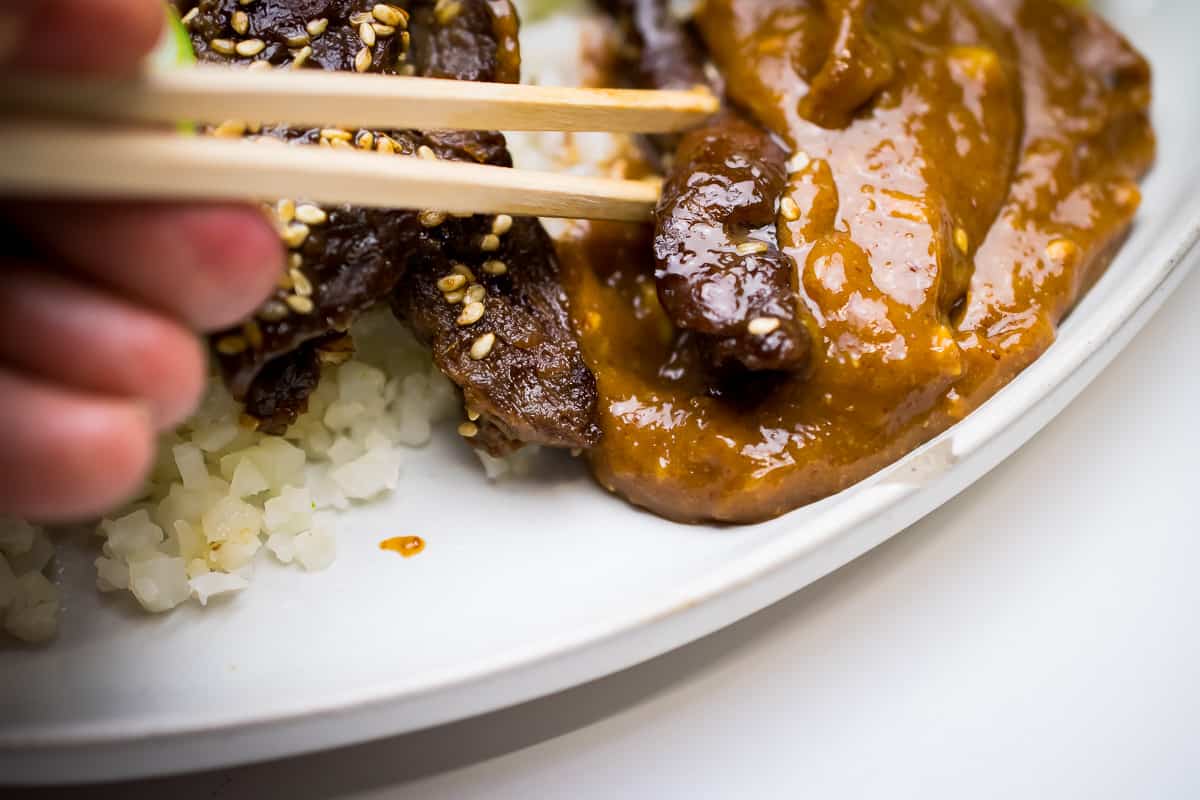 Frequently Asked Questions
Can I line the sheet pan with parchment paper?
You can, but if you have a gas stove, it could catch on fire.
I can't eat nuts, what can I use for the sauce?
Sunflower seed butter?
Can I make this AIP?
If you omit the sesame oil, sesame seeds and the sauce, yes. You could use tigernut butter for the sauce.
What steak do you prefer for this?
I love all steak, I have no favorite, this cooking method results in such a tender steak!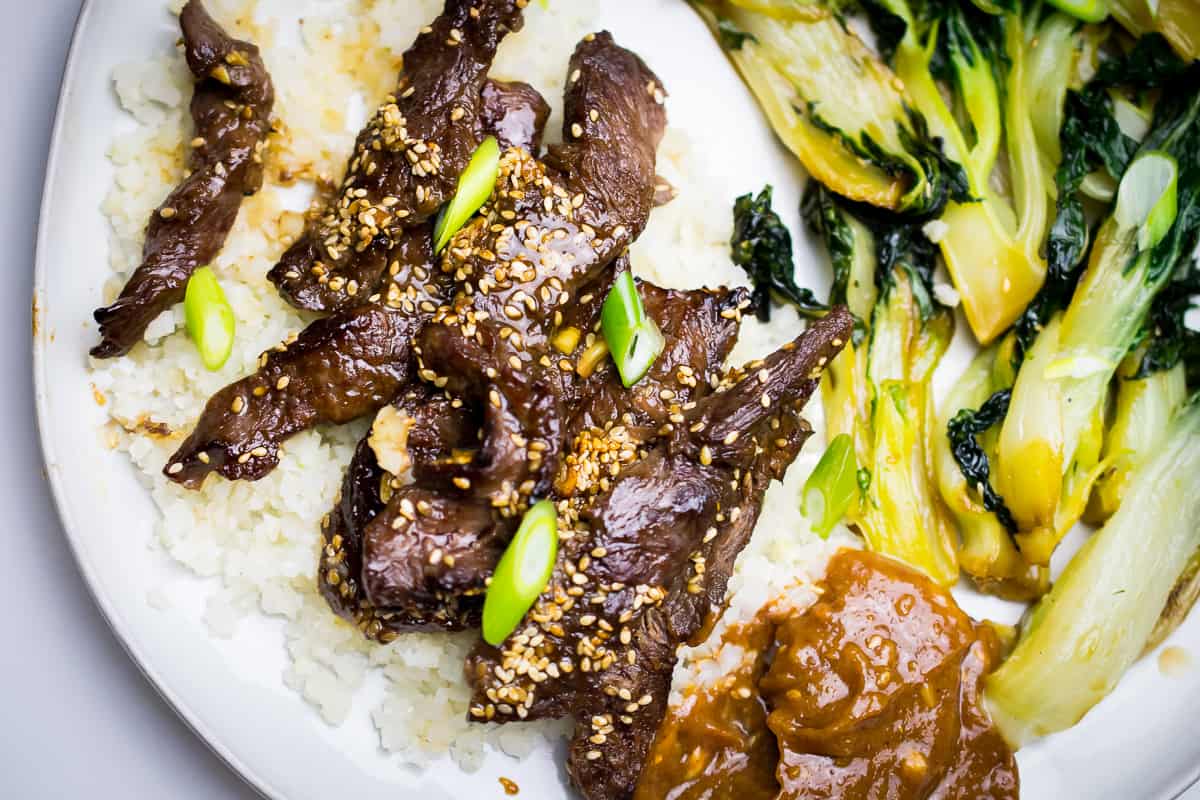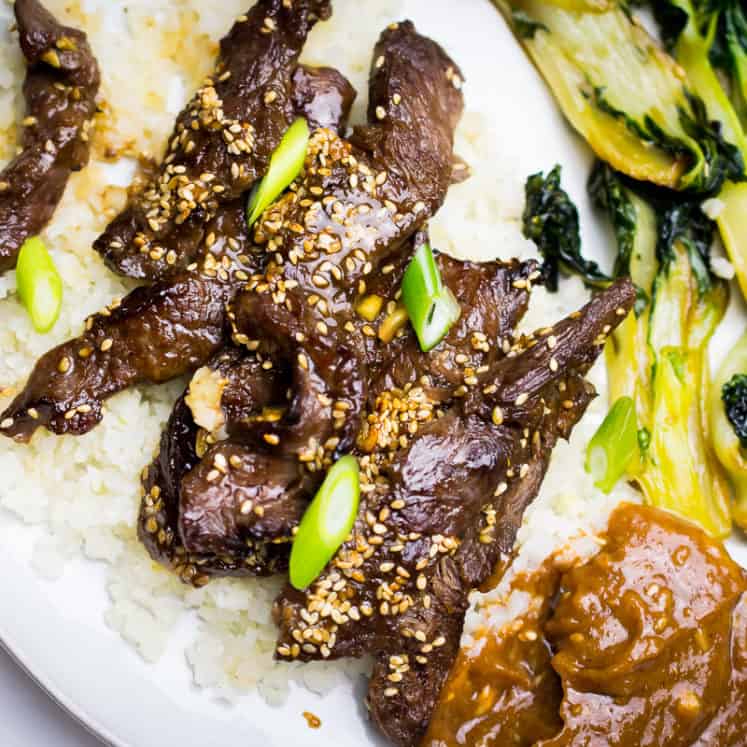 Whole30 Korean Beef Sheet Pan Recipe
---
Author: Cristina Curp, FNTP
Prep Time: 15 minutes (plus marinating time)
Cook Time: 15 minutes
Total Time: 30 minutes
Yield: 4–5 servings 1x
Category: Dinner
Method: Sheet Pan
Cuisine: Korean
Diet: Gluten Free
Description
Bulgogi-inspired sheet pan beef strips with braised bok choy. Soy-free and sugar-free!
---
Scale
Ingredients
 For the beef:
1 tablespoon fresh grated ginger
2 pounds steak (flank, sirloin, rib eye)
3 teaspoons minced garlic
1 cup coconut aminos
4 tablespoons sesame seeds
3 tablespoons sesame oil
2 tablespoons coconut oil
For the sauce:
2 teaspoons fresh grated ginger
Juice of 1 lime
2 teaspoons minced garlic
3 teaspoons rice vinegar
2 tablespoons toasted sesame oil
4 tablespoons almond butter or sunflower seed butter
3 tablespoons coconut aminos
For the bok choy:
6 baby bok choy, halved
3 cloves garlic, minced
2 tablespoons sesame oil
2 tablespoons coconut oil
1/4 cup bone broth
1 tablespoon toasted sesame seeds
1/2 teaspoon fine salt
---
Instructions
Whisk together all of the meat marinade ingredients in a bowl. Slice the meat into very thin slices. Add it to the marinade. Mix well. Cover and set in the fridge for 2-4 hours.
When you're ready to cook, remove the meat from the fridge 30 minutes ahead of time. Then spread the meat out over a sheet pan with the marinade.
Prepare the sauce by whisking together all of the sauce ingredients together in a bowl. Set aside.
Preheat the broiler to 550F. Heat a large skillet on the stove at medium-high heat.
Prep the bok choy and garlic. Add the coconut oil to the skillet, then the bok choy, cook here until the leaves begin to brown. Use tongs to turn them over. Mix up the bone broth, sesame seeds, and sesame oil.
Pour this mix over the bok choy and cover for 5 minutes.
Put the sheet pan with the beef in the oven under the broiler. Cook for 4-5 minutes. Open the oven, use tongs to turn over the meat, and cook another 5-6 minutes until nicely browned. Watch it, the fattier your meat, the quicker it will cook. 
In the meantime, open the lid to the bok choy, let the excess liquid simmer off.
Serve the bok choy with beef and almond butter sauce. I like steaming some cauliflower rice and adding it to the plate too.
Nutrition
Serving Size: 1/5 recipe
Calories: 663
Sugar: 2g
Sodium: 2218g
Fat: 49g
Carbohydrates: 11g
Fiber: 4g
Protein: 46g
Keywords: whole30 beef and broccoli