Winter Things
It's getting dark so early I'm often frustrated that I don't have proper light to photograph and share my dinner meals. The other night I made the most delicious roasted asparagus topped with bacon and pecans. The combination was to die for. It lingered on my palate and had my mind all a buzz with ideas to showcase duo! Enter my son's school Advent Garden Candle lighting ceremony. The perfect potluck opportunity to take a new dish! So I got my creative juices flowing and the test kitchen was in full effect.
This creamy beef and cauliflower rice casserole is spiced and warm with a toasty bacon and pecan topping. It's to die for. Whole foods, dairy free and just plain wonderful!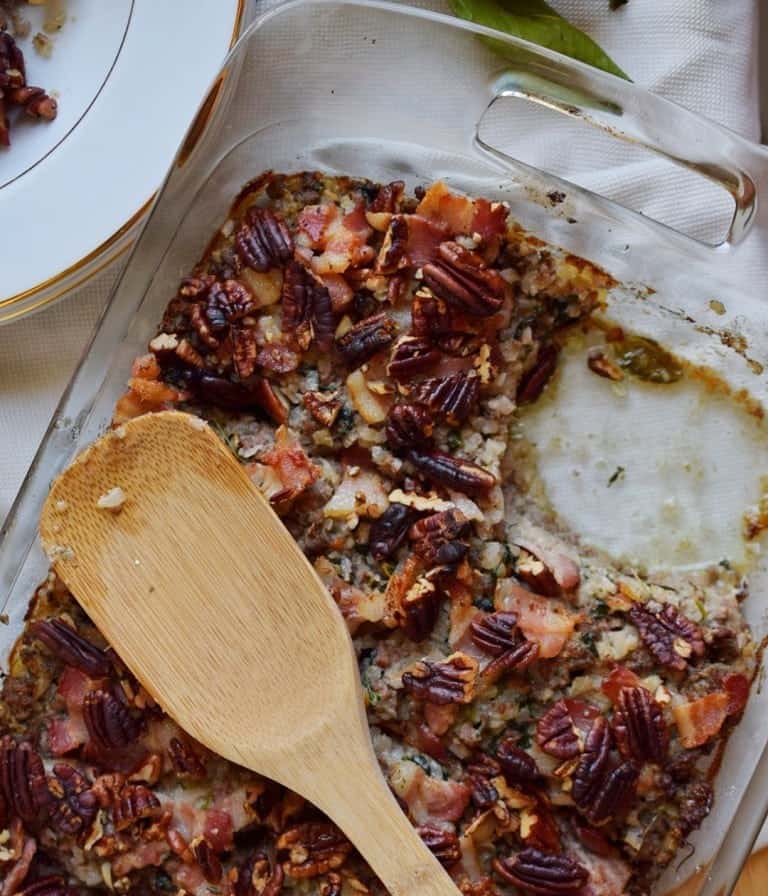 What is an Advent Garden?
Well it's a Waldorf Christmas ceremony. We make this beautiful garland spiral with candles and sing a beautiful song and the kids light the candles. I love this school, it really centers on the arts, on creativity and kindness. We also made these great centerpieces of wood and leaves and acorns with four candles to light one each week leading to Christmas! We had a lovely time and I was impressed by the healthy selection of food at the party, even a few Whole30 compliant dishes (sides of roasted vegetables, salad, a huge bowl of berries). One family even brought cold brew and kombucha. We weren't supposed to take pictures of the ceremony, which the teacher sternly reminded my husband.. but I'm glad he caught this snap ? It's rare that I get to see myself with my son. I guess that happens a lot to mamas… we're always taking the pictures and never of them!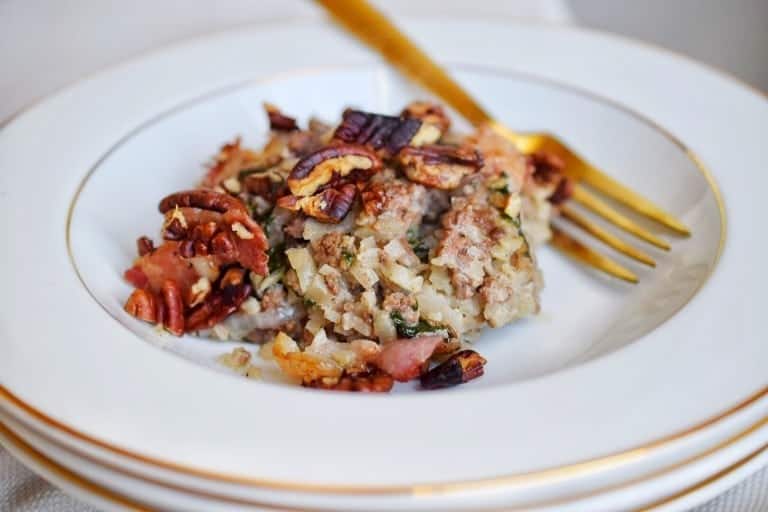 Potlucks are my Favorite!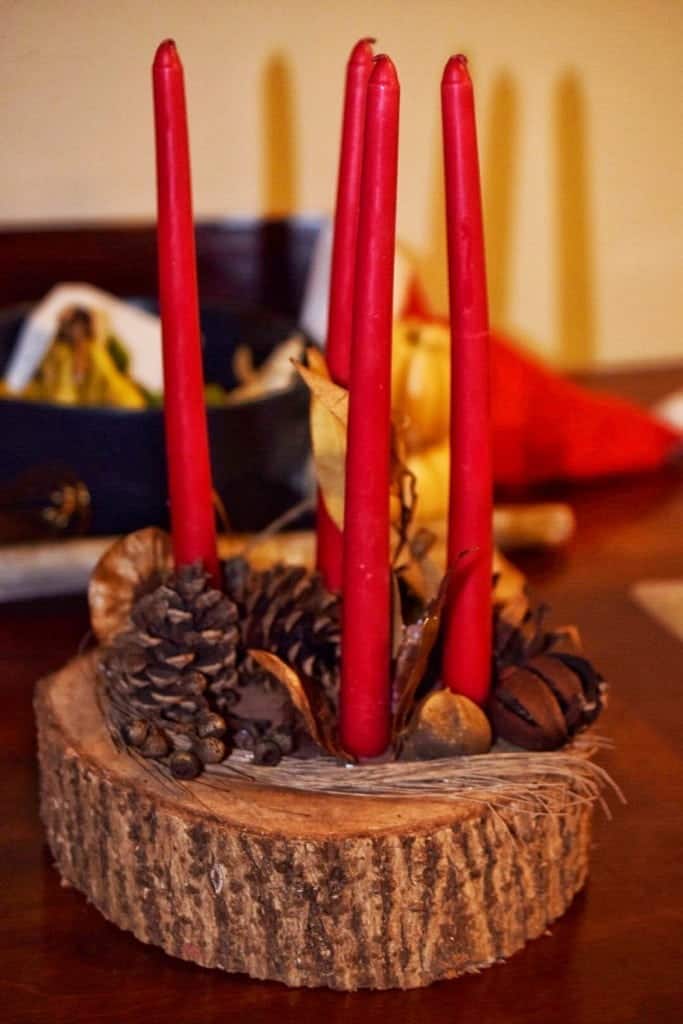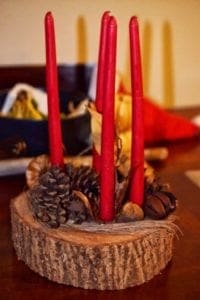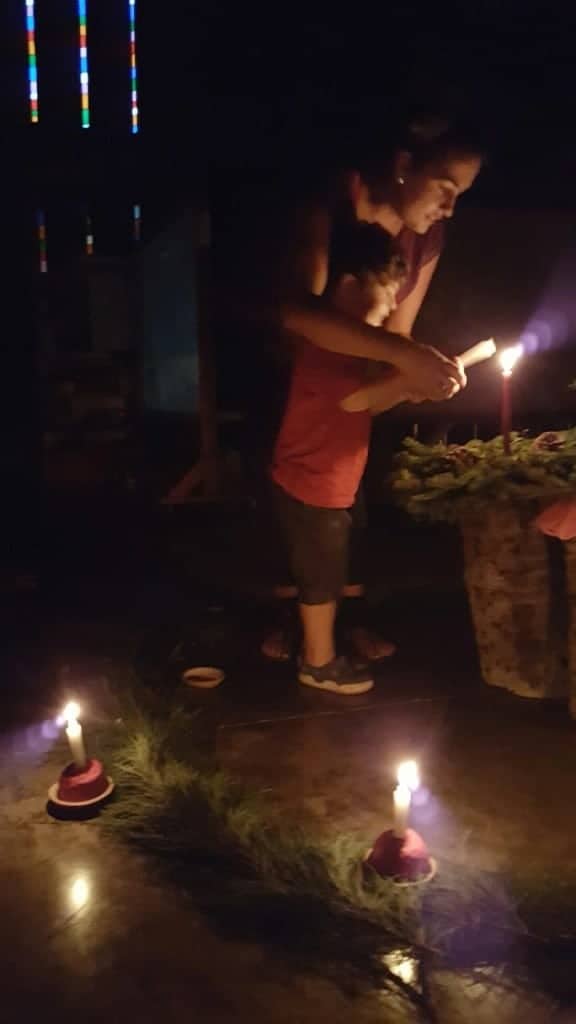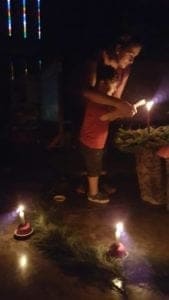 The perfect crowd to try out this bad boy. It was a hit. I love how people were eating and looking up at each other saying "Hey! did you try the beef dish? It's so good"… you should have seen my face… beaming of course! And then they'd asked if I had any… and I would sheepishly say… "I made it"… to which the obvious "give me all the details" pause followed. As I fired off ingredients I assured them it would all be posted here.
After all.. you all know how I roll… ALL the ingredients!

I used frozen cauliflower rice and it makes it sooooo much easier. At about 2.40 a 12oz bag for organic cauli rice… it's more affordable than buying a conventional

head of cauliflower.

Cray. Cray. Needless to say I have been stock piling this stuff. #sorrynotsorry
I can't help it. I mean, sometimes I don't use THAT MANY… but usually… yeah, it's quite a few. Although this one has about twelve (including salt and pepper), it's easy to make. Impossible to mess up. And obviously a crowd pleaser. I think this dish is ideal for potlucks… yet it looks lovely plated.. so bust this baby out on your holiday spread. Whole30 or not… folks will love it. And you will feel great that your family and guests are getting down with your totes paleo, dairy, grain, gluten, sugar-free goodness!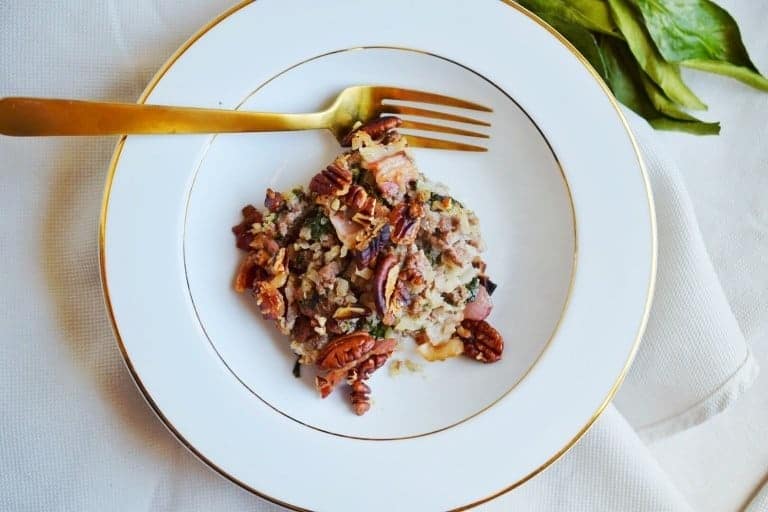 Creamy Beef & Rice Casserole (Paleo, Whole30, Keto)
---
Author: Cristina Curp
Prep Time: 10
Cook Time: 30
Total Time: 40
Yield: 12 servings 1x
Category: entree
Method: bake
Cuisine: american
Description
A rich and decadent casserole with spiced beef, cauliflower rice and a creamy sauce! The top crust is made of toasted pecans and bacon! Yum!
---
Scale
Ingredients
2lbs 92% lean grass-fed ground beef ( I use Butcher Box)
2 tbsp cooking fat
24oz riced cauliflower, thawed and strained (I used Whole Foods Market Brand)
2 cups baby spinach
4 sprigs fresh thyme
1 cup diced onion
2 tsp salt
1 tsp pepper
1 tsp garam masala
1/2 tsp fennel seeds
1/2 tsp cinnamon
1 cup cashew creamer (recipe link above)
6 slices Pederson's Farm Whole30 Compliant Bacon
1 cup whole pecans
---
Instructions
In a large pot or deep skillet (at least 12″) heat 2 tbsp of fat on high heat (I used coconut oil).
Add in the ground beef, stir, breaking up with spatula until crumbly.
Add in the onion, salt and pepper. Stir well.
Saute for 8 minutes, add in the baby spinach and stir well.
Cook, stirring often until the spinach is wilted & liquid is evaporated.
Add in the cauliflower rice. Stir well.
Add in the thyme leaves from your sprigs and the rest of the seasonings.
Stir often, still on high heat until well combined.
Make sure any fluid the cauliflower released is evaporated.
Mix in the cashew milk. Stir a few times and take it off the heat.
If you are using store-bought nut-milk or canned coconut milk you will need to cook it down until it's creamy. My homemade cashew cream thickens when it cooks so it's perfect for this. I really suggest you make it.
Get your casserole dish out. Add the whole mix to your casserole dish, spread out and flatten with a wooden spoon.
Chop up the bacon and distribute it evenly over the top.
Rough chop the pecans and do the same.
Pop it in the oven, then set it to 400F. Bake until the oven reaches temperature, and then another 10-15 minutes. When the bacon is crispy and the pecans are toasted, it's ready!
Serve hot! This baby is a whole meal in one… but some greens would look lovely next to it!
Nutrition
Serving Size: 1/12 of recipe
Calories: 200
Fat: 13
Carbohydrates: 7
Fiber: 3
Protein: 12
Keywords: creamy beef and rice casserole