Officially NINETEEN days until my December Whole30 is done, and I'm feeling good. Feeling strong. Feeling energized. For me Whole30's are all about the little victories, and getting Primal Kitchen Whole30 compliant ranch in the mail is totes a victory! I immediately started thinking of a recipe for it… other than putting it on all my salads of course? Although crispy chicken ranch salad will be happening, SOON.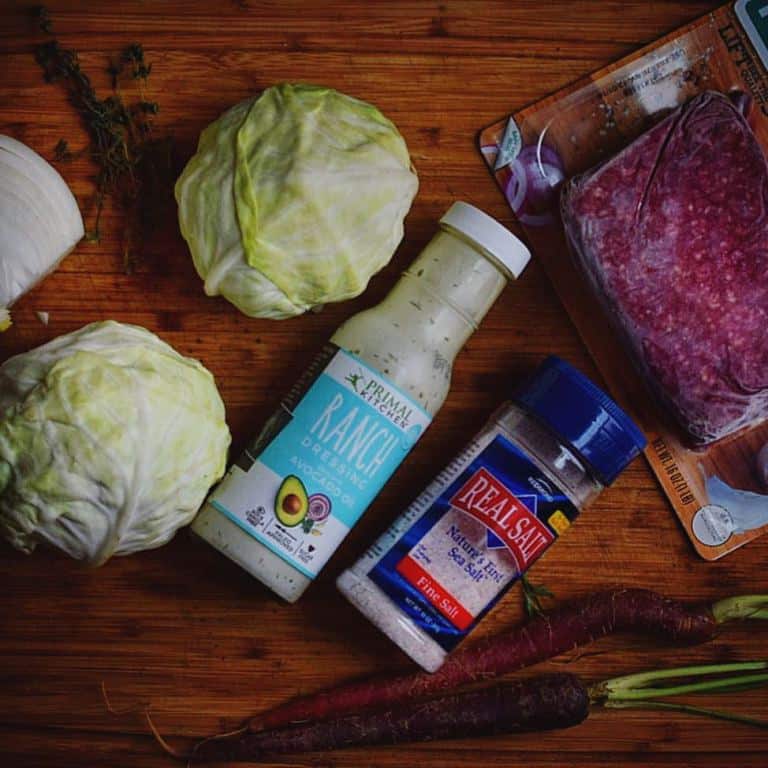 Over the weekend I bought the cutest, tiniest little heads of cabbage. Perfect single portion babies. I am such a sucker for tiny produce. Then I thought, let's stuff these little baby cabbages… with ground beef… and RANCH OMFG YES. 
So if you don't know, now you know: every Tuesday, 5pm EST (11am Hawaii time) I'm live on Facebook, usually cooking something, sometimes just chatting. Come hang out with me. I made this on there today, so if you're a visual person, go check it out. It's not a fancy video, it's me, post-gym and slightly frazzled, cooking. I showered though, so there's that. Real talk, my kid took the thing-maggigy that I use to connect the phone to the tripod to film these little things and disappeared it. So after prepping the ingredients I spend a good 45 minutes frantically looking for it… which I did. Thank goodness… in his damn magna-tiles bin. WTF! Toddlers are like the terminator.. sent here to destroy you. Or me. Or not. Whatever at least he's in school today.
Alrighty on to the food. This is good. It's easy to make. It's a great cold weather dish. It's Whole30 compliant, low carb, easily made AIP (change the sauce) aaaannndddd it's purdy. Here's how to make it!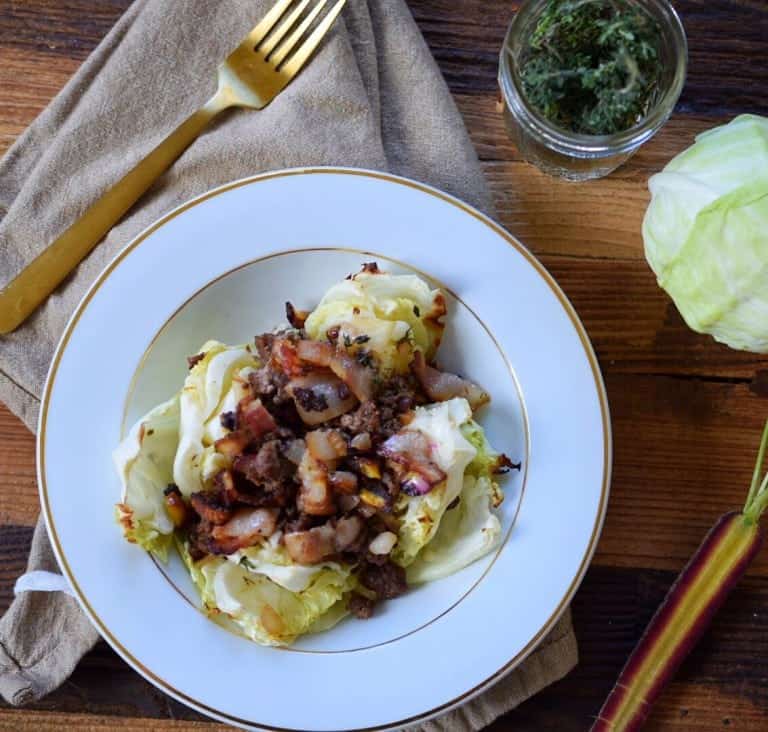 Stuffed Cabbage: Beef, Bacon & Ranch (oh my!)
---
Prep Time: 20
Cook Time: 20
Total Time: 40
Yield: 2 1x
Scale
Ingredients
2 small heads of cabbage
*you may also use regular cabbage, and make big ones or peel them until they are small and save the outer leaves for something else.
1 lb grass fed ground beef, you'll need about half of it
2 slices Whole30 compliant bacon, I use Pederson's Natural Farms
1/2 large onion
3 sprigs thyme
2 rainbow carrots
1 tbsp cooking fat
2 tsp salt (one for the beef, one for boiling water)
1/4 cup Primal Kitchen (or other) Ranch Dressing
---
Instructions
Pre-heat your oven to 375F.
In a medium sided pot, or deep skillet heat the cooking fat on high heat.
Once it's hot, add in the ground beef and one tsp salt. Break it up with a spatula and cook it until it's dark and crumbly, stirring often. No fluid should be pooling in the skillet.
In the meantime, dice your onion, carrots and bacon into small pieces, and take the leaves off your sprigs of thyme.
Remove the beef from the skillet, set aside.
Add the onion, bacon, carrot and thyme to the skillet, lower the heat to medium. Cook, stirring often for five to eight minutes.
Remove the from the skillet and set aside.
Then fill the skillet or pot with water and add in the second tsp of salt.
Set the burner to high and bring to a boil.
While the water comes to a boil, use a knife, in a circular motion at a diagonal angle to cut the core out of your cabbages.
Then take the knife and give it a shallow slice horizontally and then vertically. You want to be able to open it up gently after you boil it.
Once the water is boiling place the cabbages in the water, cut side up for 2 minutes.
Use tongs to carefully remove from the water and shake out any fluid that's in them.
Place in a loaf pan, or snug skillet and gently open them, spooning in beef until it's packed.
Drizzle 2 tbsp of ranch over each one.
Top with bacon and onion mix.
If they are opening too much, use toothpicks to pin the leaves back up.
Place in the oven for 20-25 minutes.
Remove any toothpicks and serve in a shallow bowl with a little extra ranch on the side!