When you think of stuffed cabbage, you think of rolled-up cabbage leaves that take forever. That's not what this is. Here we picked the smallest cabbage heads you ever did see. We cut out the core and stuffed it with ground beef, onions, and ranch. It's a super tasty meal that takes a lazy approach.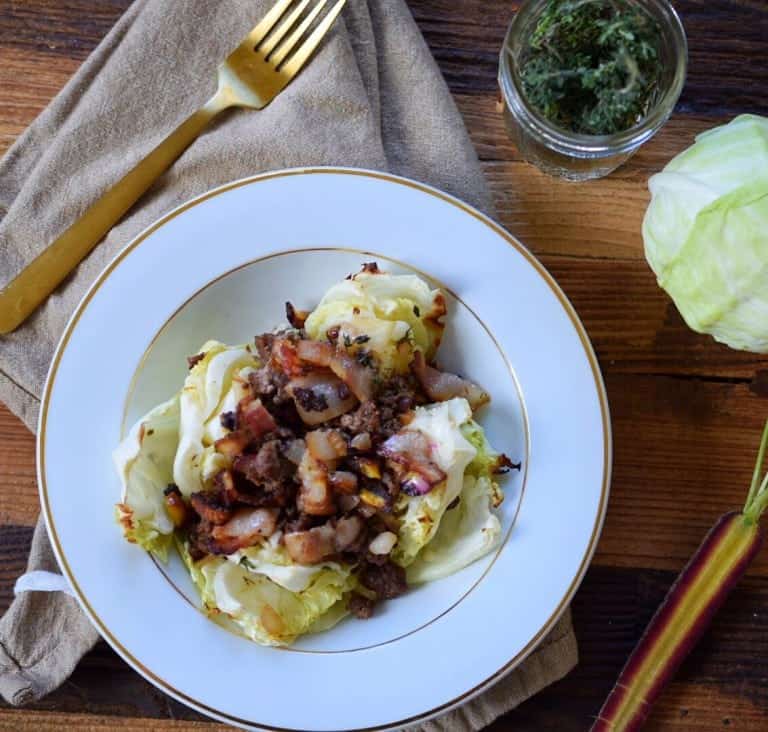 Ingredients
Grass fed ground beef, 85% lean, or you can use your favorite kind.
2 very small cabbage heads, this won't work if they are big. If you can't find small ones, peel the outher layer of larger baccages until you have a cabbage just bigger than your fist.
Primal Kitchen Dairy Free Ranch
Onion, herbs and carrots.
A good quality salt.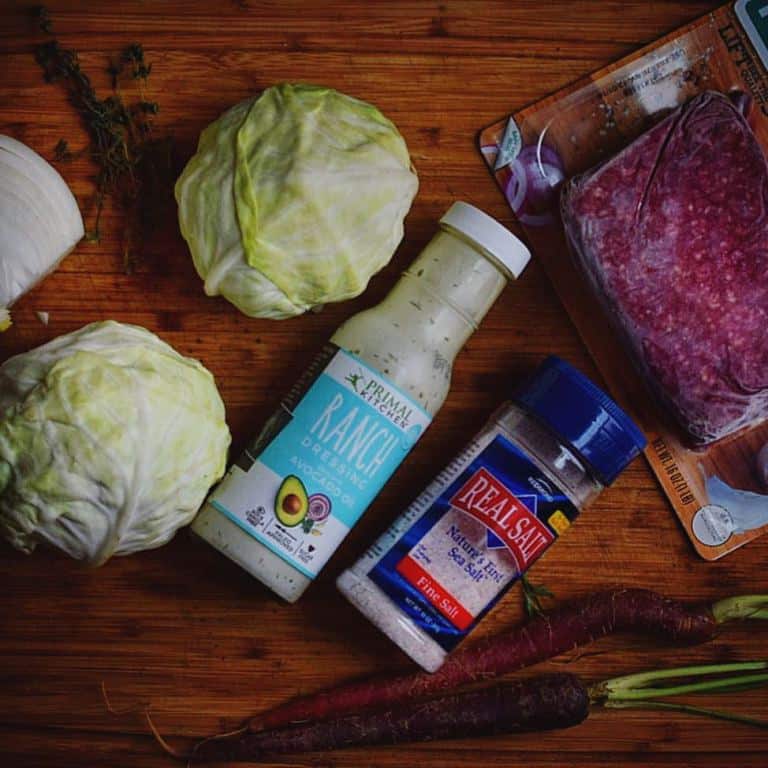 Tips and Tricks
If you lightly steam your heads of cabbage and let them cool ahead of time, it will overall cook faster and be easier to handle.
Cook the beef until crispy, this takes time, 15- minutes beyond browning, but its worth it.
Bacon Ranch Stuffed Cabbage
---
Author: Cristina Curp
Prep Time: 20
Cook Time: 20
Total Time: 40
Yield: 4 1x
Category: Entree
Method: Varied
Cuisine: American
Diet: Gluten Free
Description
Lazy mans stuffed cabbage that just works.
---
Scale
Ingredients
4 small heads of cabbage
1 pound ground beef
3 slices of bacon, diced
1/2 large onion, diced
3 sprigs thyme, minced
2 rainbow carrots, diced
1 tablespoon olive oil
2 teaspoons of salt, divided
1/4 cup Primal Kitchen (or other) Ranch Dressing
---
Instructions
Pre-heat your oven to 375F.
Bring a large pot of water to boil. Core the cabbages and boil for bout 5 minutes, or until tender, then remove from the water to drain an cool.
In a medium sided pot, or deep skillet heat the cooking fat on high heat.
Once it's hot, add in the ground beef and one tsp salt. Break it up with a spatula and cook it until it's dark and crumbly, stirring often. No fluid should be pooling in the skillet.
In the meantime, dice your onion, carrots and bacon into small pieces, and take the leaves off your sprigs of thyme.Remove the beef from the skillet, set aside.
Add the onion, bacon, carrot and thyme to the skillet, lower the heat to medium. Cook, stirring often for five to eight minutes.
Take the knife and make a criss cross cut to the open side of the cabbage so you can open it up a little more.
Place in a loaf pan, or snug skillet and gently open them, spooning in beef until it's packed.
Drizzle ranch over the cabbage then spoon in the beef mix, followed by onions and carrots, and lastly bacon. Drizzle more ranch.
If they are opening too much, use toothpicks to pin the leaves back up.
Place in the oven for 20-25 minutes until the cabbages are tender.
Remove any toothpicks and serve in a shallow bowl with a little extra ranch on the side!
Nutrition
Serving Size: 1 cabbage
Calories: 510
Fat: 25g
Carbohydrates: 47g
Fiber: 19g
Protein: 34g
Keywords: stuffed cabbage