I have never been a soup person, but I love this Roasted Butternut Squash Soup! I always preferred to chew my food, despite the fact that my mother made amazing soups. Seriously. I have talked about this before, her killer home cook skills that eventually pushed her to open a restaurant.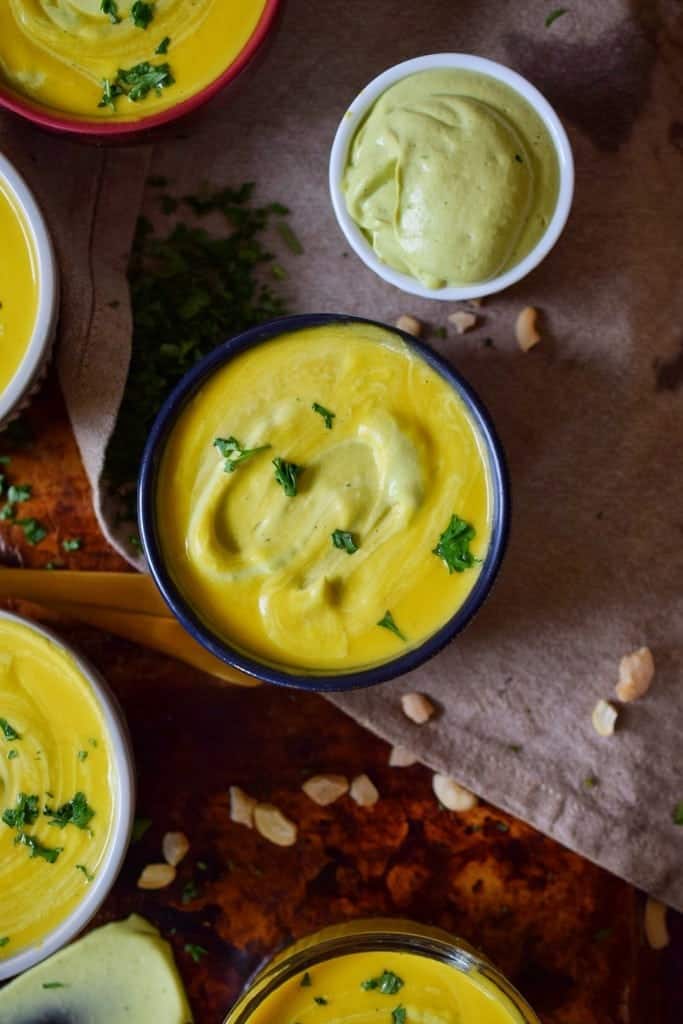 Soup Story
What started out as a little hole in the wall with two tables, is now a full-scale farm-to-table cafe, thriving, now celebrating nine years of success. Cool, right? Well, one of the things Green Gables Cafe is famous for is the soups! They still make them just how my mom used to. No fillers. None. The soups are all vegetables, broth, and seasoning. On Thursdays, they serve Roasted Butternut Squash Soup. A favorite of course. The basis of all good soups is the SOFRITO.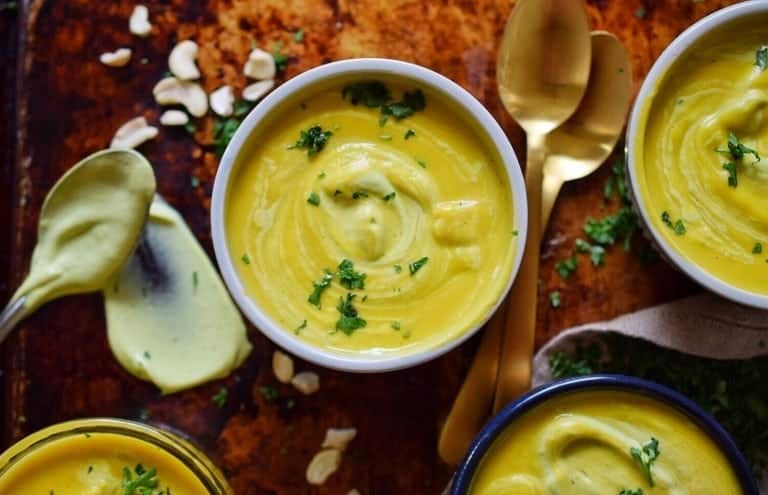 Sofrito is a Cuban word for the sauteed vegetables that make the base of all good things. Traditionally onion, garlic, peppers, bay leaves, salt, and peppers. Good, right? Well, I can't eat peppers, so goodbye to all the amazing soups at Green Gables. It's ok though, I live in Hawaii anyway, very far from Coral Gables, Fl. So I make my own soup. And then text my mom about it. Ha!
This Butternut Squash Soup
Not to be a B… but this one came out better, I think than my mom's. For real. So I had to call her. She was my teacher after all. Well, like all good teachers, she always tells me that I surpassed her years ago. To which I say… Never! Mama's food will always be the best. Except for this soup. I nailed this shit. If you follow me on Snapchat you saw me make an enormous batch of this bad boy yesterday. I have halved the recipe for you all today because I don't think you need to make 12 servings of soup…. but if you do… no biggy, just double it!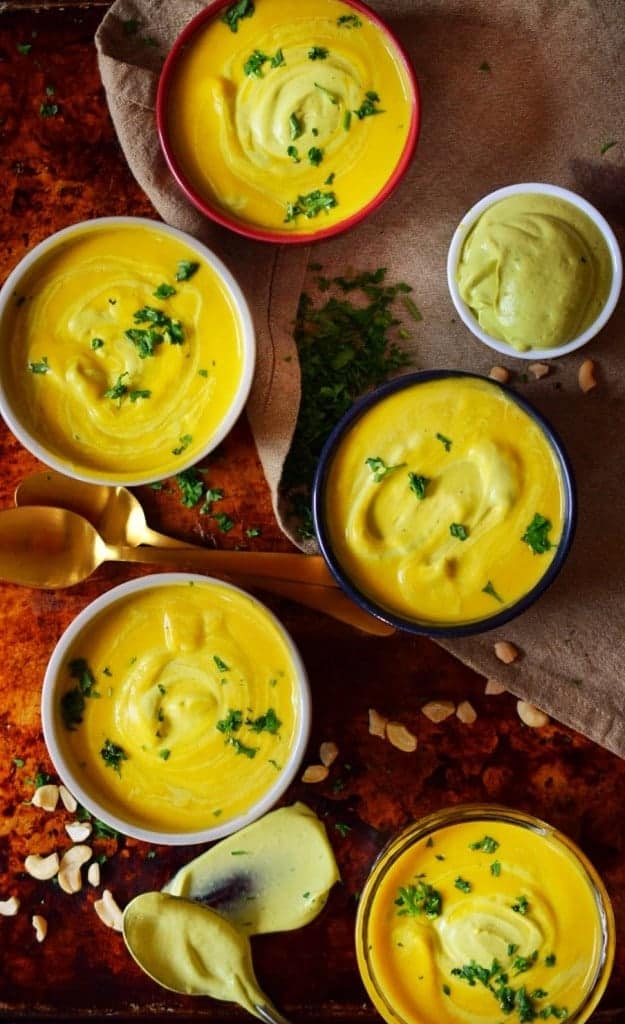 The Ingredients
I used a lot of stellar ingredients in this soup. I think when making these simple, delicate combinations, top-notch ingredients are worth it.
Organic Butternut Squash. I find the organic (non-GMO) squash are creamier and usually a little less orange, but so delicious.
Primal Kitchen Avocado Oil for roasting the squash, along with Redmond Real Salt
For the cream, I used whole raw cashews, ripe hass avocados, and Primal Kitchen Extra Virgin Avocado oil (dark green and rich in flavor).
Fresh Thyme. Do it. Use the fresh herbs here! Sweet onion. I'm very partial to Vidalia or Maui sweet onions.
Homemade bone broth. I used 48 hours of brewed pastured chicken bone broth with garlic, bay leaves, apple cider vinegar, and all the goodies. You can also use Bonafide Provisions Bone Broth, it's legit. None of that box store-bought crap. A good broth, that gels when cold is the basis for a silky soup. Most commercially made soups have fillers like starch, flour, heavy cream, and emulsifiers (true story). At home, you can skip all that junk and fill your bowl with creamy roasted squash and broth!
You don't NEED the avocado cream. The soup is FANTASTIC and CREAMY without it. I just love the bright, fresh, tangy flavor it brings to the soup, truly making it entree worthy.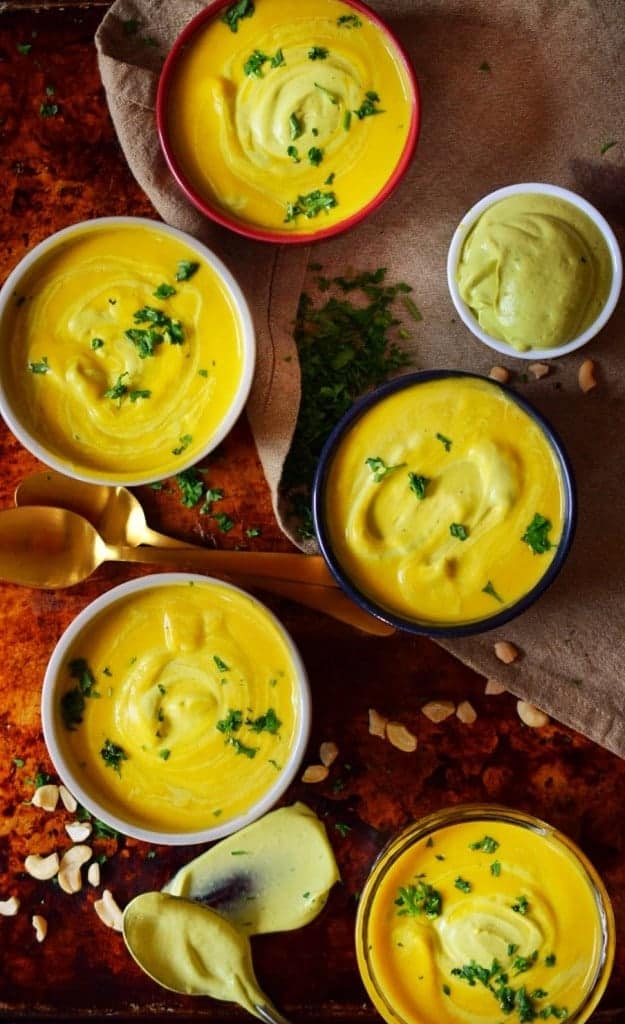 Frequently Asked Questions?
Do I peel the butternut squash?
No! That delicious, toasty skin will blend right up into the soup!
Can I use vegetable broth?
Yes, you can, but I prefer chicken or beef bone broth.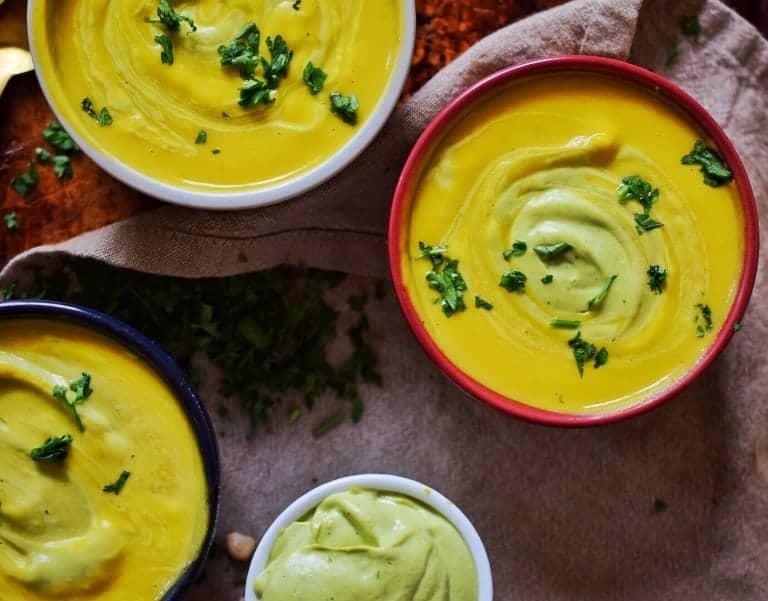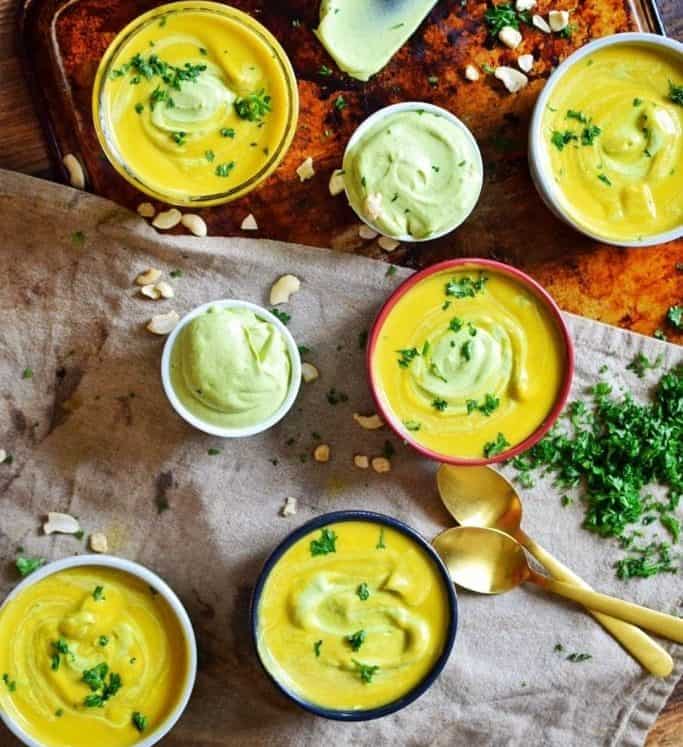 Roasted Butternut Squash Soup with Avocado Cream
---
Author: Cristina Curp
Prep Time: 10
Cook Time: 60
Total Time: 70
Yield: 6 servings 1x
Category: Soup
Method: Classic
Cuisine: Fall
Diet: Gluten Free
Description
Rich and creamy roasted butternut squash soup
---
Scale
Ingredients
For the Soup:
2 large butternut squash
2 tablespoon avocado oil
2 teaspoon real salt, divided
1 large sweet onion, diced
2 bay leaves
1/2 bunch fresh thyme (about 6 sprigs)
1 teaspoon black pepper (OMIT FOR AIP)
2 tablespoons coconut oil or avocado oil
5 cups chicken stock (or other quality bone broth)
1–2 cups filtered water (depending on how thick or thin you want the soup)
Avocado Cream
1 ripe hass avocado (you can use two if they are small or you want a greener color!)
1 cup soaked cashews (SUB COCONUT CREAM FOR AIP)
2 lemons, squeezed
1/2 teaspoon black pepper (OMIT FOR AIP)
1/2 teaspoon salt, more to taste
1/2 cup minced parsley, basil or cilantro also work (mince extra for garnish)
---
Instructions
Pre Heat oven to 400F.
Place 1 cup of cashews in a bowl, submerge with water, add a pinch of salt. Set aside.
Halve your butternut lengthwise, then use a spoon to scoop out the seeds. Lay them flat side down on the cutting board, halve again, then dice. Place all your diced squash on a sheet pan (or two). Drizzle with 1 teaspoon salt and oil. Toss to thoroughly coat. Spread out evenly over sheet pan.
Place the sheet pan or two in the oven. Roast for 45 minutes. When they are done the squash should be soft, golden and browned in parts.
While the squash roasts prepare your soup base and cream. Heat a large stock pot on medium heat on the stove. Drizzle in the oil.
Dice the onion, add it into the pot with the bay leaves, thyme sprigs, 1 teaspoon salt and pepper. Saute on medium heat, stirring often until tender, about ten minutes.
Add in the broth, lower the heat. Let it hang out until the squash is done. When the squash is done, bring the heat up to medium high. Let it come to a simmer.
Carefully add in the roasted squash. Let it simmer for a while (twenty minutes). If the broth won't cover all the squash, then add in the water.
Make the cream
Drain and rinse cashews.
Add them to a blender with the rest of the ingredients.
Blend until smooth, use prod to keep to keep it moving.
It will be very thick, I have a Vitamix, if you're blender isn't making it smooth, add in a little water to help move it along.
Once it's perfectly smooth, taste it, adjust salt and pepper as needed.
Continue with the Soup
To blend your soup you can just insert a big immersion blender into your pot and let her rip until the soup it totally smooth. Or, like me, CAREFULLY use a measuring cup to carefully transfer the soup to your blender in batches and blend until silky smooth. Because I have a high powered blender I blended up the thyme sprigs and all. But you can always fish them out if your blender won't pulverize them.
Note: I do not peel my squash. Between the roasting and simmering, the skin will be tender enough to blend and I love the flavor it adds!
Once all your soup is totally smooth, mix it all up well to blend the thicker and thinner batches.
Serve your soup in bowls, add a dollop of cream on top and use the spoon to swirl it in. Sprinkle with extra minced parsley.
Enjoy!!
Recipe Notes:
net carbs per serving: 20.9g
Nutrition
Serving Size: 1 cup
Calories: 447
Fat: 33g
Carbohydrates: 32g
Fiber: 11.g
Protein: 10.3g
Keywords: Roasted Butternut Squash Soup