This Roasted Acorn Squash with Brown Butter is going to knock your socks off! It's such a stunning vegetable dish! Perfect as a stand-alone snack or side dish for a juicy steak or pan-seared fish. Really, you can serve this roasted acorn squash with just about anything.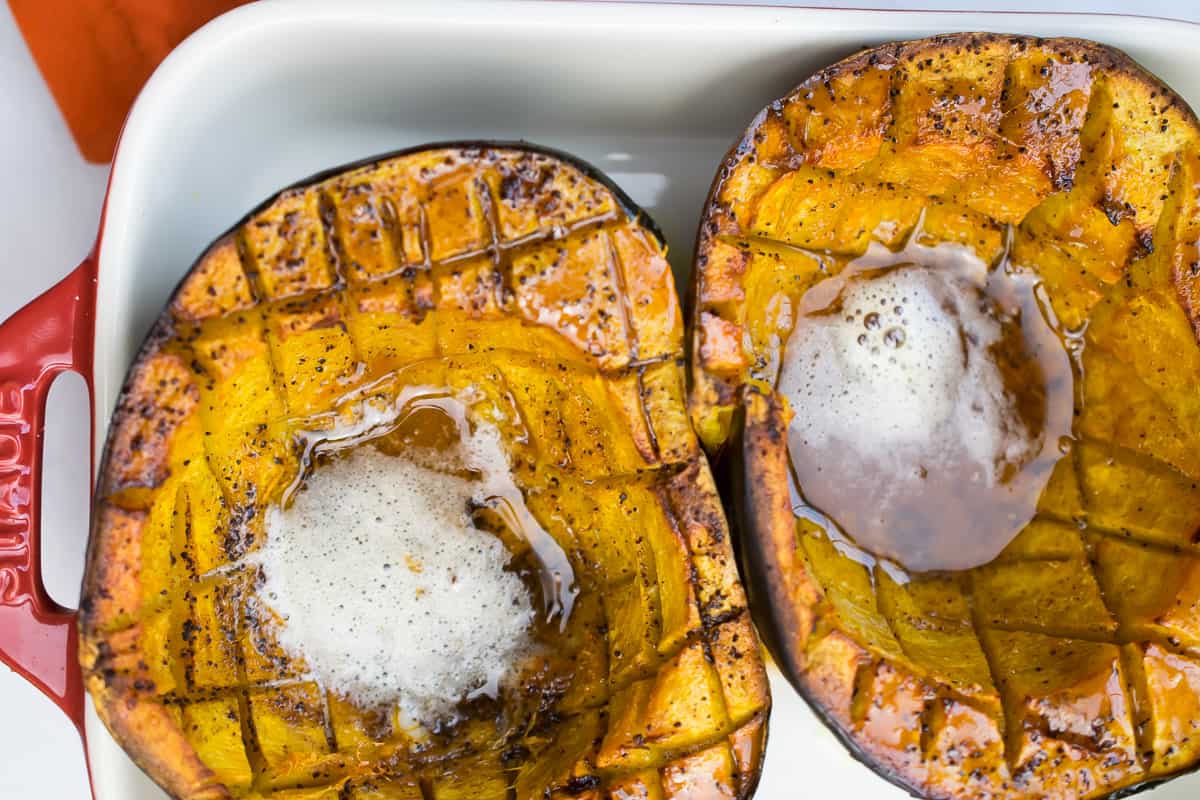 Table of Contents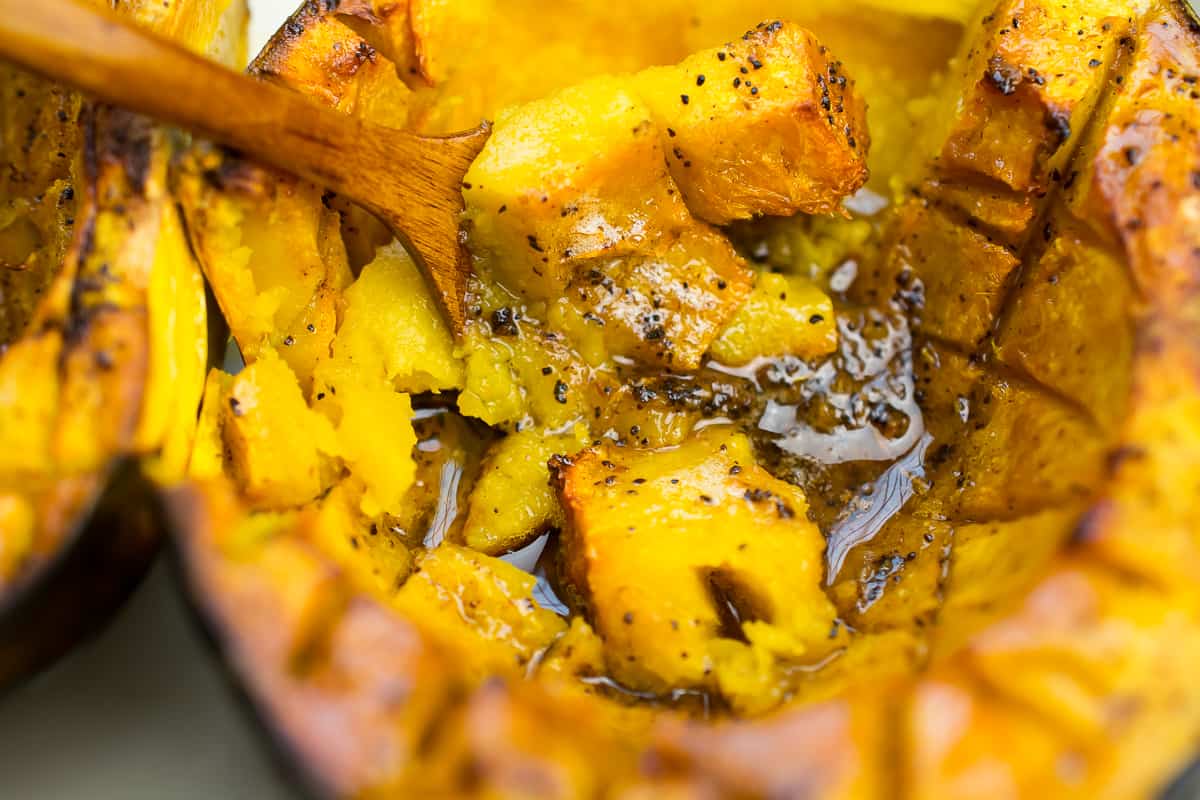 Roast the Squash
These take a bit of time to cook. For larger squash, you will need 45 minutes to an hour. For a smaller one, 35-45 minutes will do. I like to score the insides so that you get lovely browned tips that hold a creamy, dreamy mash on the inside. These roast at 400F until tender.
You will need to trim the top, halve it and use a spoon to scrape out the seeds. A little bit of salt and a brush of olive oil and into the oven!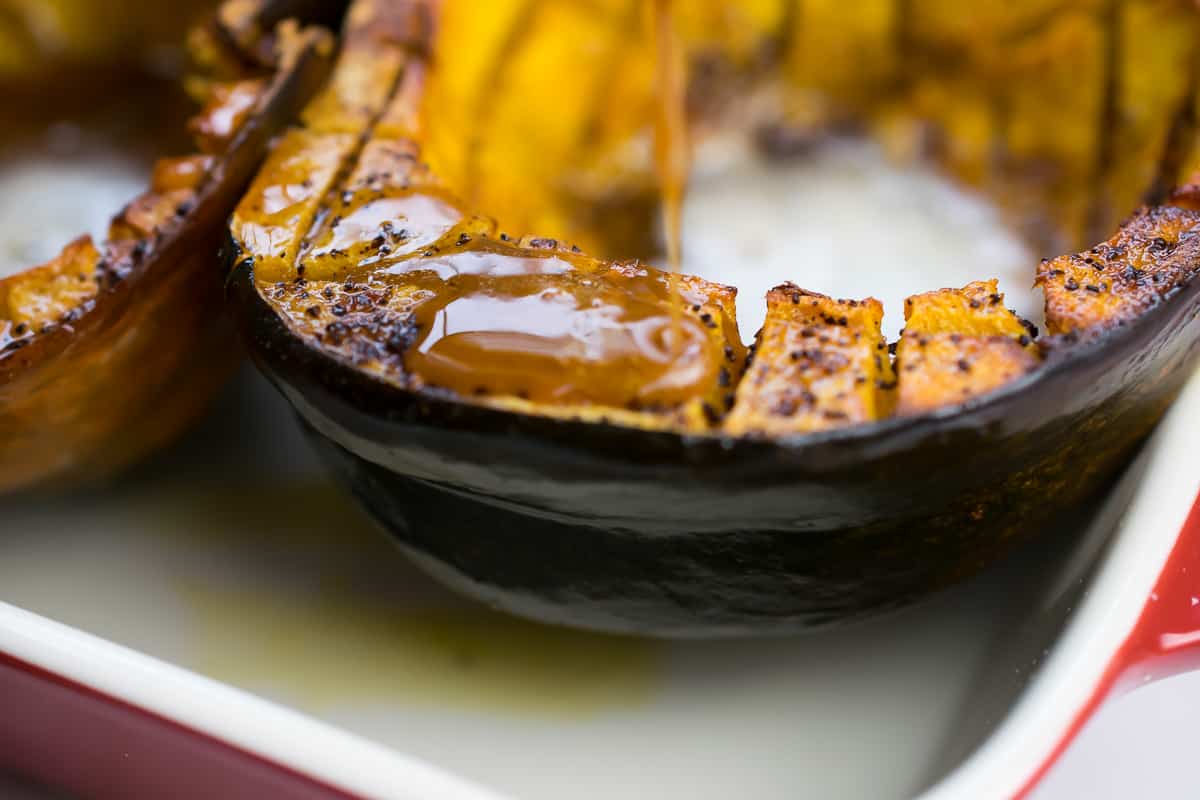 Sweet + Savory Seasonings
Roasted Acorn Squash can lend itself to sweet or savory dishes. I prefer it on the savory side, while still playing to the natural sweetness of the squash. Think of it as a dry rub! I mixed allulose (you can use sugar), cinnamon, ground cumin, coffee grinds, and more salt. This goes on toward the end of cooking, just long enough so the sugar has a chance to melt. Then we remove it from the oven and douse it in brown butter sauce.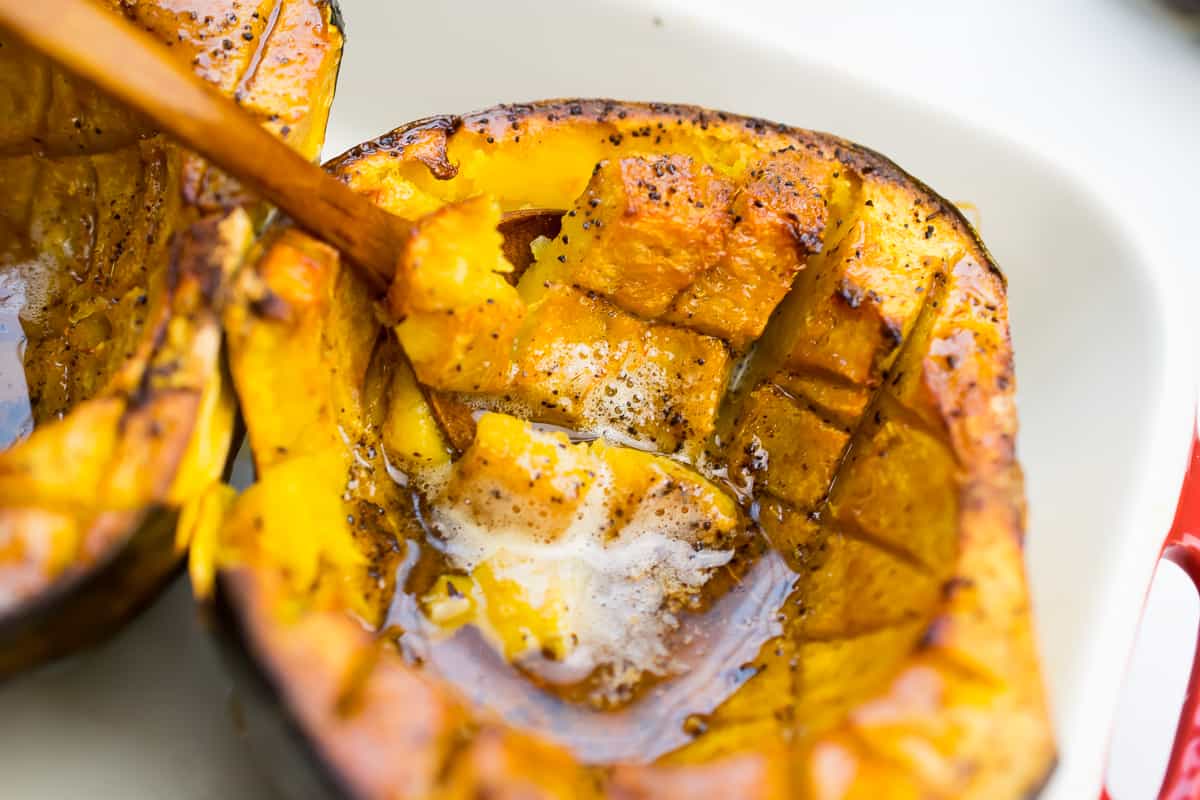 Brown Butter
Brown Butter Sauce is really just melted butter that's taken off the heat right before it burns. Easy enough to make, you melt butter in a small saucepot or skillet, whisking continuously until it's a light brown color. Take it off the heat and pour it into a measuring cup or ramekin and it will continue to brown. So why make brown butter sauce for this roasted acorn squash? Because brown butter, unlike regular melted butter has a deep nutty flavor and a slightly thicker consistency which compliments this dish beyond measure.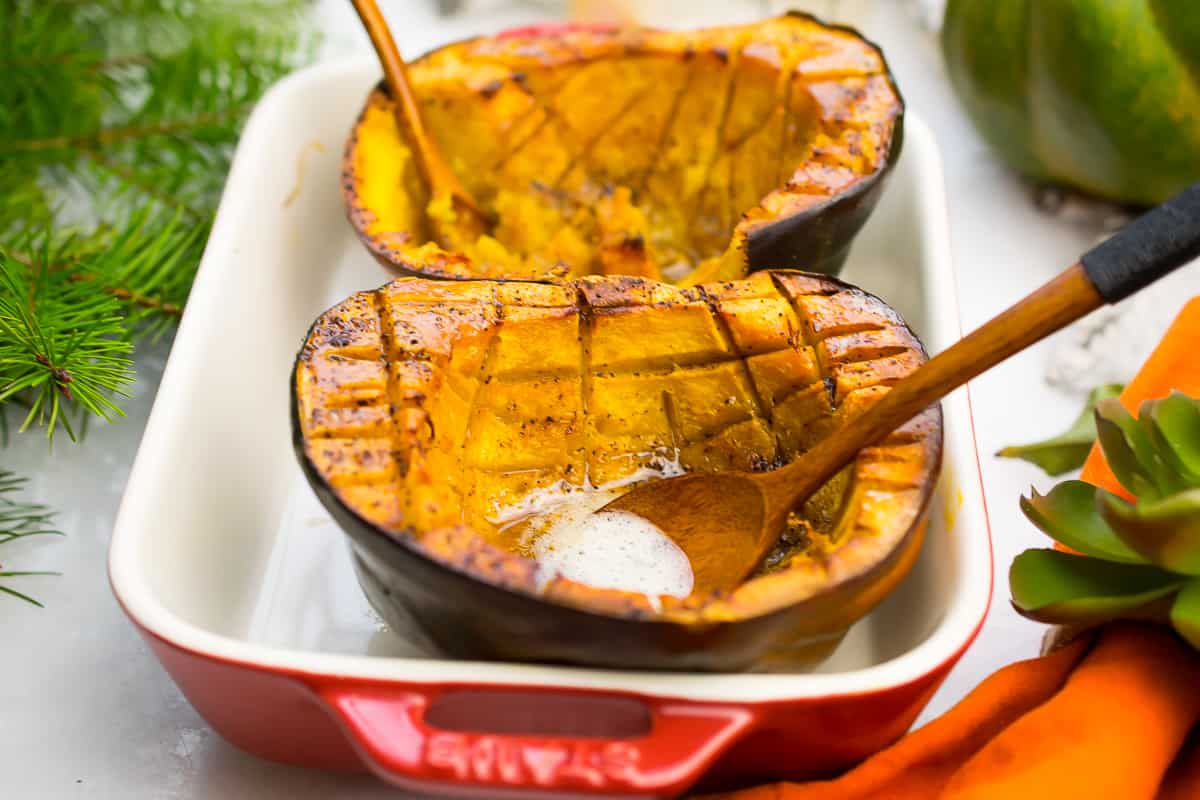 Put It All Together
Roasted Acron Squash that's tender and sweet, with a sweet and savory seasoning and finished off with nutty and rich brown butter. This show stopper side dish takes a little time but it quite simple to prepare. Just serve it alongside your entree with a spoon to scoop out the goodness.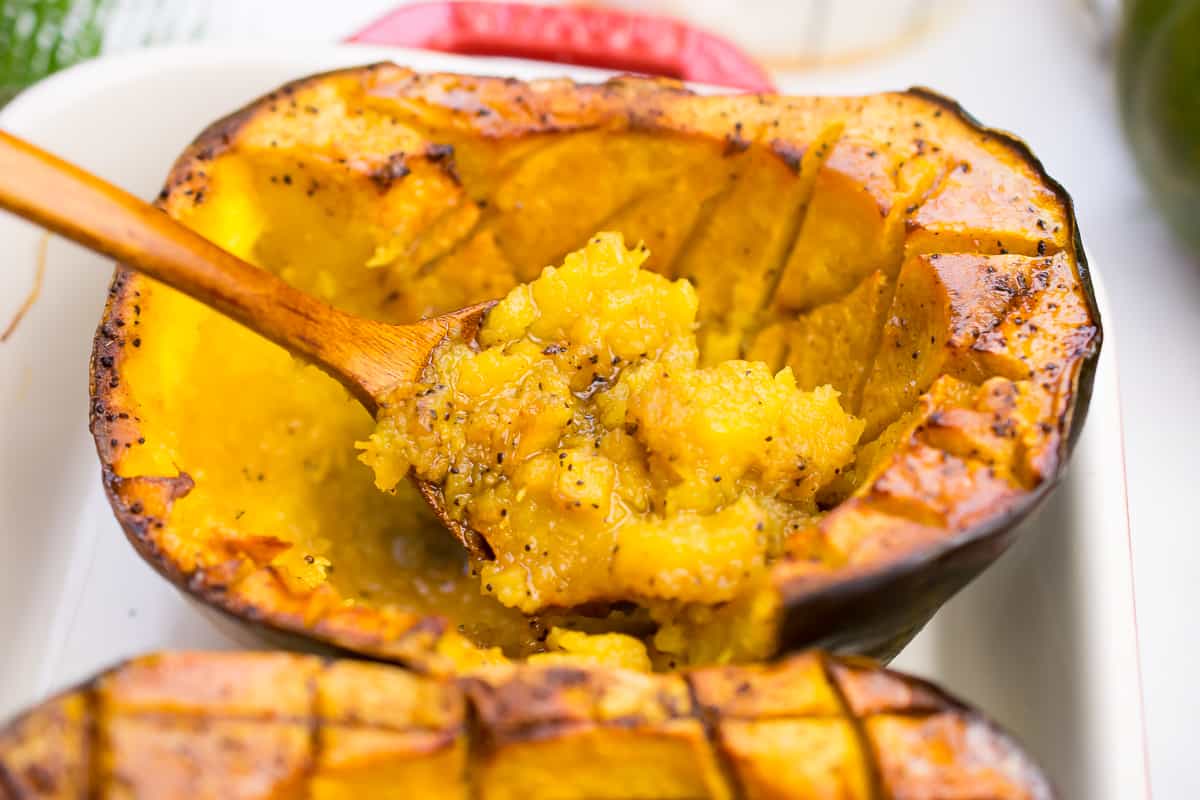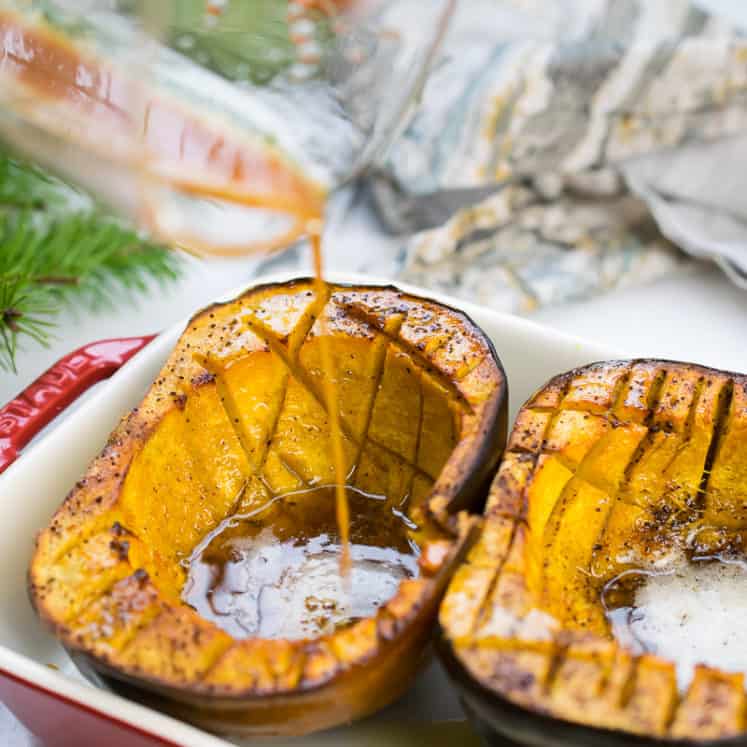 Roasted Acorn Squash with Brown Butter
---
Author: Cristina Curp
Prep Time: 10 minutes
Cook Time: 45 minutes
Total Time: 55 minutes
Yield: 4 servings 1x
Category: Side Dish
Method: Roasted
Cuisine: Fall
Diet: Gluten Free
Description
Everything you need in a roasted acorn squash recipe and more!
---
Scale
Ingredients
2 acorn squash
1 teaspoon of salt, divided
2 teaspoons olive oil
1 tablespoon allulose or sugar of choice (optional)
1/2 teaspoon ground cinnamon
1/2 teaspoon ground cumin
1/2 teaspoon ground coffee
4 tablespoons butter
---
Instructions
Preheat oven to 400F.
Cut your squash(es) in half then spoon out the seeds. Use a knife to cut a shallow criss-cross pattern in the meat of the squash. Brush the inside with olive oil, and sprinkle with 1/2 teaspoon salt. Place on a sheet pan and roast cut side up. Set timer for 30 minutes.
In a small bowl or ramekin mix the remaining salt with the sugar and spices. At the 30 minute mark sprinkle the seasoning mix generously on the meat of the squash. Close the oven and roast another 10 minutes or until they are very tender with browned bits (see the pictures).
Make the brown butter. Heat a small saucepot over medium heat. Add in the 4 tablespoons of butter, cut up into pieces so it melts evenly. Whisk continuously. It will bubble, then foam, then you will see it get brown on the bottom of the pot. Remove it while it's a light brown color. Continue whisking it and pour it into a jar, ramekin, etc.
Remove your squash from the oven and pour the brown butter over it! Dig in!
Recipe Notes:
To make this Whole30, omit the sugar. Use ghee instead of butter for the brown butter.
To make this AIP use coconut sugar, cinnamon, ground ginger, and carob for the seasoning. Instead of brown butter sauce, use Toasted Coconut Butter. 
For me low carb or keto folks if you have 1/4 squash (half of a half) this recipe is 9.5 net carbs (13g total).
To make it vegan use Miyoko's Creamery Butter for the Brown Butter or Toasted Coconut Butter
Nutrition
Serving Size: Half a Squash
Calories: 210
Sugar: 5g
Sodium: 97.5g
Fat: 14g
Carbohydrates: 26.3g
Fiber: 7.2g
Protein: 1.9g
Keywords: Roasted Acorn Squash with Brown Butter