Nightshade-free blackened chicken with tender balsamic winter squash: this Sheet Pan Spiced Chicken and Balsamic Winter Squash has a subtle seasonal sweetness and tons of fall flavors in a Whole30 compliant 30-minute meal.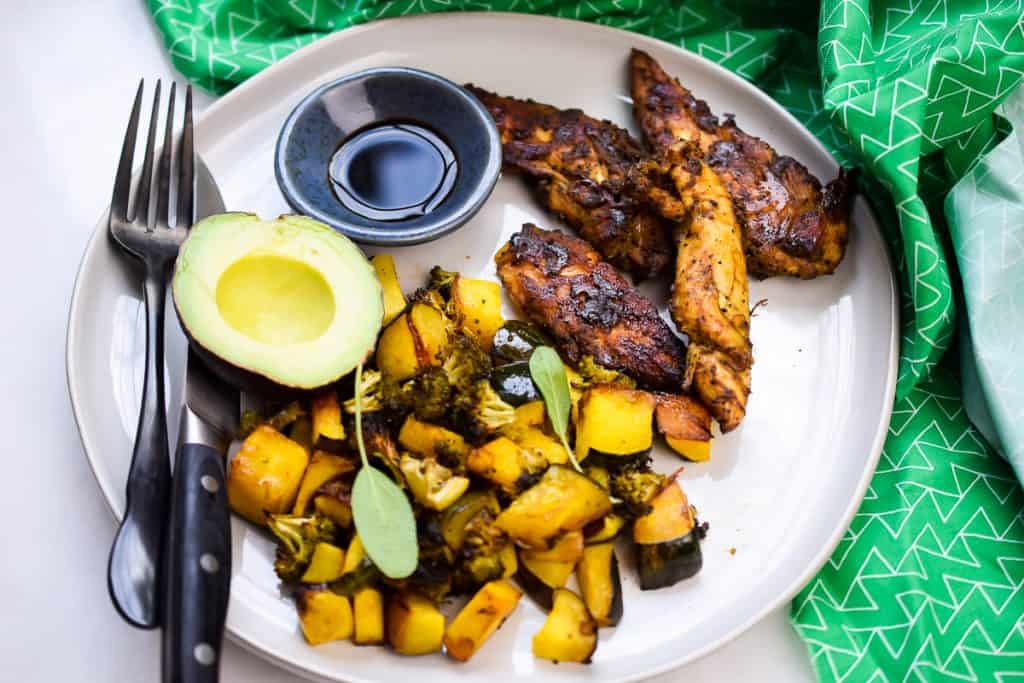 Table of Contents
Why I love this paleo 30 minute meal
Juicy roasted chicken with notes of cacao, coffee, and savory seasonings, then drizzled with fat for extra flavor. Plated with tender balsamic squash and diced broccoli, this is a meal that the whole family can enjoy. Plus, it reheats well so you can take it on the go if needed.
Fall schedules can be pretty hectic — it seems like the days are getting shorter but my to-do list is getting longer. That's why I love sheet pan meals: you don't have to sacrifice whole food ingredients and delicious flavor to master your schedule.
This Sheet Pan Spiced Chicken and Balsamic Winter Squash combine a Whole30 chicken recipe with a Whole30 squash recipe for a satisfying feast that's full of warming spices and ready in 30 minutes.
How to make a nightshade free seasoning blend
The star of this recipe is the nightshade-free blackened seasoning, and no, that's not an oxymoron. I used cacao powder and decaf coffee to get a deeper flavor, plus garlic powder, cumin, salt, turmeric, and black pepper for a savory blend that really packs a punch. You could use this to season chicken breast for a salad or even as a dry rub for pork. These flavors are so comforting this time of year, especially paired with seasonal veggie-like acorn squash.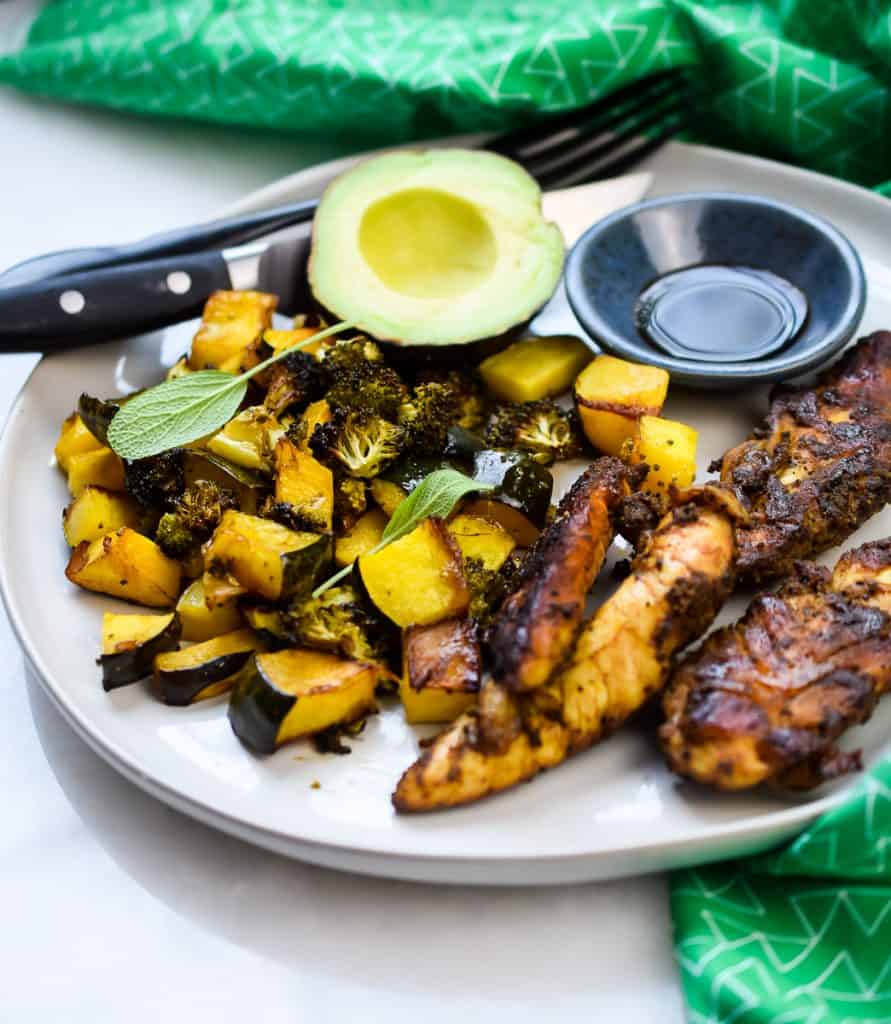 Is squash keto?
While the 20g total carbs goal seems like the law of keto land, it's not the law here. Each person has a different carb threshold; I've seen clients eat upwards of 70 total carbs per day and still stay in ketosis.
Of course, the source of the carbs matters: 70 grams of carbs from leafy greens (loaded with fiber, vitamins, and minerals) goes a lot further than 70 grams of carbs from PopTarts.
But if we're looking strictly at the numbers here, acorn squash has 12.49g net carbs per 1 cup. Each serving of this Sheet Pan Spiced Chicken and Balsamic Winter Squash has 12.2g net carbs.
Bottom line: food isn't "keto" or "not keto," and when we talk about the nutritional value of food, we need to go far beyond the carb count. Yes, squash is higher in carbs, but it's also loaded with vitamins and minerals like vitamins A, B, and C, plus potassium, magnesium, iron, and manganese.
If you're keto and you want to try this recipe, you can go for a smaller serving of squash and a larger serving of chicken, or double up on the squash and try this recipe as a carb up, then see how it affects your body.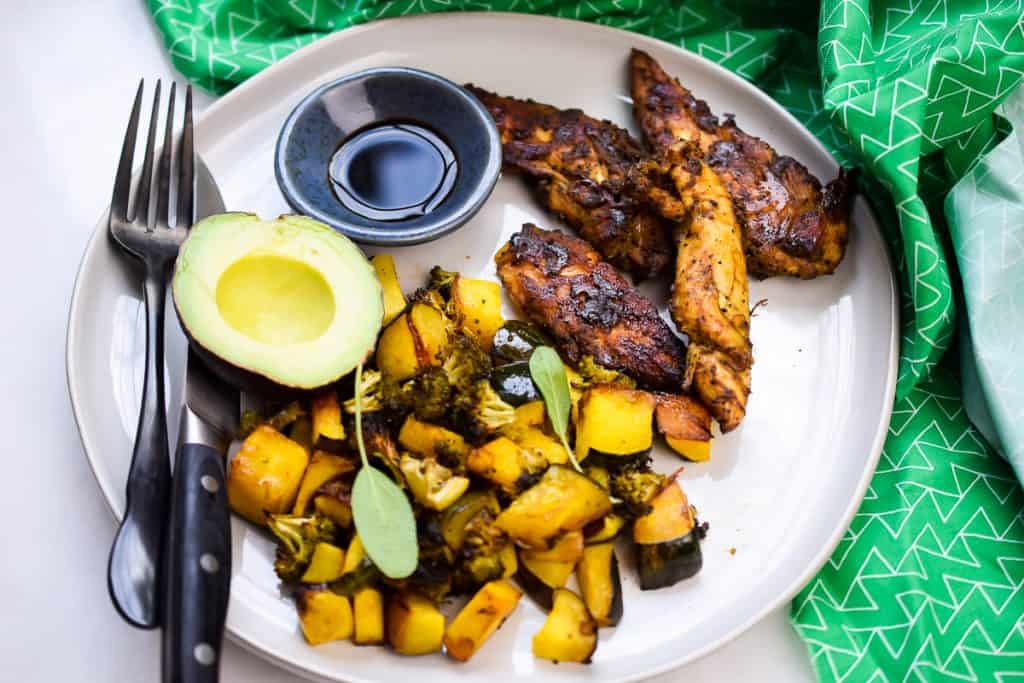 How to do a carb up
People use carb-up meals for many different reasons, and the results differ from person to person. In general, if you're doing a carb up, you'll want to add an additional 45 to 60 grams of carbs to your daily macros by incorporating a meal that's higher in carbs and lower in fat. Your body will burn through the carbs (glucose) before it burns the fat, so having a meal that's high in carbs and high in fat means more of the fat will be stored as fuel for later.
A carb-up can be used to replenish glucose stores before or after an intense workout. Carb-ups can also reset hunger and satiety hormones, which can be helpful if you've been keto for a long time. For all the ladies dealing with hormonal imbalances, carb cycling can be a great way to work with your cycle — more info in this blog post. Eating a higher carb meal can also make you feel less deprived on a low carb or keto diet; if your body is screaming for a banana, bread, or pasta, a carb up might be just what you need.
Make this Sheet Pan Spiced Chicken and Balsamic Winter Squash a carb up meal
If you want to use this recipe as a carb-up, I would double up on the squash. Carb ups usually work best if they're your last meal of the day, that way, if your blood sugar is impacted and you feel sleepy, you can get to bed and enjoy a blissful carb sleep. Notice I said "sleep" and not "coma" — there's a difference! The next day, just go back to eating like you normally do, and pay attention to how you feel. If anything is different, make a note of that.
I'll be writing more about carb ups in the future, but for now, just know that they're a tool that I've used to help recover from an intense workout, or just make my body feel more nourished in times of stress.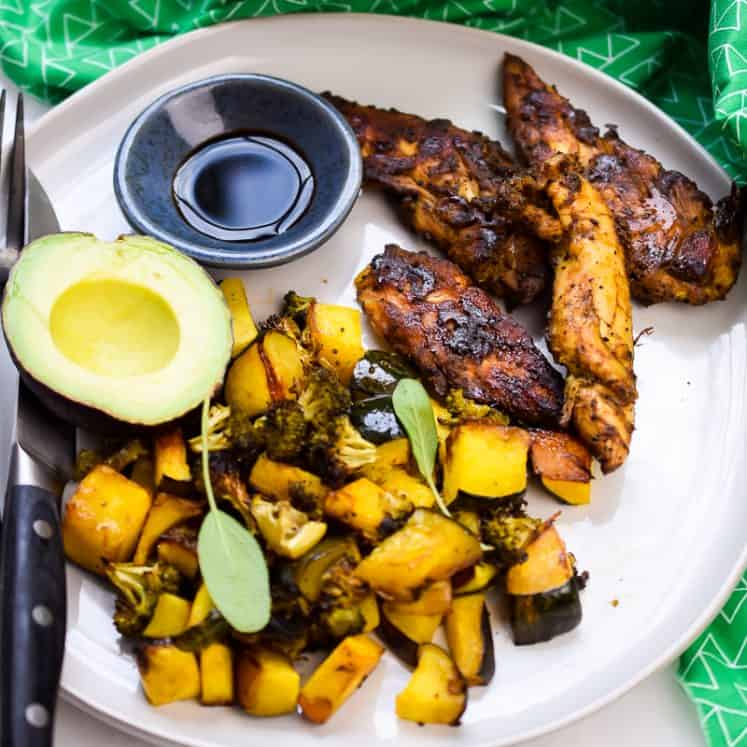 Sheet Pan Spiced Chicken and Balsamic Winter Squash (Whole30, Nut Free, Coconut Free)
---
Author: Cristina
Prep Time: 10 minutes
Cook Time: 20 minutes
Total Time: 30 minutes
Yield: 4 servings 1x
Category: Entree
Method: Roast
Cuisine: Chicken
Description
Nightshade free blackened chicken with tender balsamic winter squash: subtle seasonal sweetness and fall flavors in a Whole30 compliant 30 minute meal.
---
Scale
Ingredients
For the Squash
12 ounces diced acorn squash or kabocha squash
1 crown broccoli diced
½ teaspoon salt
½ teaspoon ground cinnamon
1 tablespoon olive oil
1 tablespoon balsamic vinegar
For the Chicken
2 pounds chicken tenders
2 teaspoons cacao powder or carob powder
2 teaspoons decaf ground coffee (optional)
2 teaspoons salt
1 teaspoon black pepper
1 teaspoon garlic powder
1 teaspoon ground cumin
1 teaspoon turmeric
2 tablespoon ghee or tallow, melted
---
Instructions
Pre-heat oven to 400F. 
Toss the diced squash and broccoli with salt, cinnamon and olive oil. Spread out over a sheet pan, drizzle with balsamic vinegar, and roast for 10 minutes on the center rack. 
Combine the chicken and all of the seasonings in a bowl. Toss well to coat, then mix in the melted fat. Toss well to coat again, then arrange the tenders flat on a sheet pan. Add the sheet pan to the oven, bottom rack. 
Roast everything at 400F for 20 minutes. Remove the chicken from the oven and then broil the veggies for 2-3 min. 
Serve with extra balsamic and avocado. Serves 4.
Recipe Notes:
Make sure your balsamic isn't syrup. Some aged balsamic is all grape must or concentrate — always check the label!
12.2g net carbs per serving
Nutrition
Serving Size: 1 serving
Calories: 460 calories
Fat: 19.4g
Carbohydrates: 17.7g
Fiber: 5.5g
Protein: 53g